The truth will out
Luca faces up to his misdeeds and awaits Donald's judgment…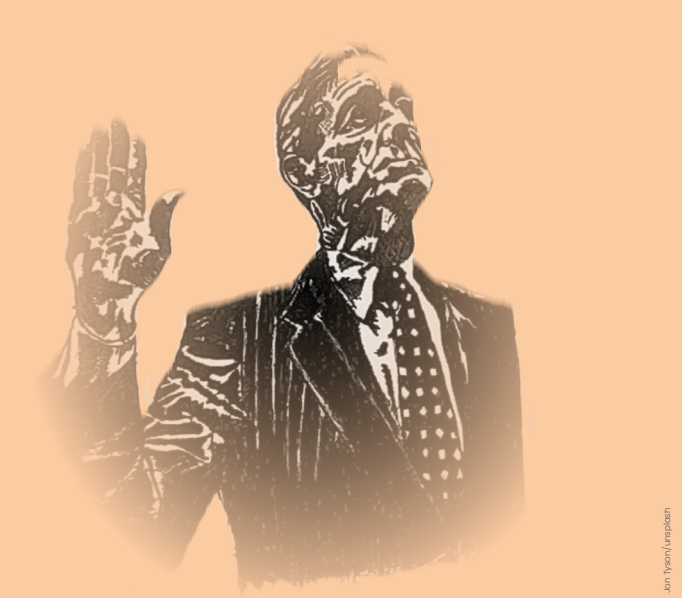 Luca stood outside Donald's new office in Chelsea. The red Georgian door was now behind him and the two stone steps would lead him on to the pavement. The dry winter's day required him to be wrapped up warmly, but although the black shiny down-feather Moncler bomber jacket sufficed, his denim jeans were no match for the biting wind. Perhaps he should have taken a lesson from Donald and worn tweed in town, grey of course. Never brown in town, or was that just shoes?
As Luca looked up towards the fading late-afternoon sunshine, he took a deep sigh of relief because he doubted wehther he'd still be in a job after finally telling Donald about the gift of the Audemars Piguet Royal Oak Offshore Tourbillon watch or the deal that would have him sitting on six figures in his new secret offshore bank account. Luca's loyalty had been misplaced. He now realised he had but one master. He thought he could ride two horses at the same time and, insofar as the horses were galloping in the same direction, he had got away with it. However, one horse had become lame and was drifting and threatening to dismount the rider. And getting away with it did not make it either legal or remotely ethical. The interior fit-out of the yacht was not going well.
Materials were late, the quality of the work, although somewhat disappointing in parts, was adequate but the interior fit-out contractor was in some difficulty and behind schedule. The money from the builder was late in coming and what money they had received was funding another build in another yard. Luca could see that Donald was becoming increasingly and visibly infuriated by this tale of what Donald considered to be the corruption of his captain and financial mismanagement by the yard and the interior fit-out contractor. Donald understandably believed that when he paid the builder they would pay the subcontractors; what he hadn't appreciated was this complex historic series of underpayments and late payments that led to a crisis of unintended consequences across a series of yachts. Donald looked across his art deco desk into the nervous eyes of Luca.
"Bottom line, break it down for me. Is my boat going to be late? Is this project going to cost me more?" Luca looked away, stood up and walked over to window. Then, looking back at Donald, he shrugged and launched into his mea culpa. "Yes, and I have known about this for months. I thought I could fix it and that you would never know. I spoke with the yard and have had so many meetings with subcontractors, you just can't imagine, and all they would say to me was that they needed more money. I pleaded with them, I begged them and I even offered to return the money they had given me, yet it appears that this money came from sources which are completely unconnected from the subcontractor.
Questions would be asked, more questions would be anticipated from those questions and who knows where that would lead." Before Donald could respond, Luca took a deep breath and continued. "Sir, I have had sleepless nights for many months now. What I did in taking the watch and the money, well that's something everyone has been doing for years. We all know there is a pot in any deal which is shared around the owner's team to make those difficult moments go away. I've done it before, captains I've worked with have done it before and, to be honest, most of the owners know that we supplement our income with these little payments here and there. They are not so naive…" Donald suddenly sparked into life. "Naive? Luca, are you calling me naive?"
Luca went, somewhat unconvincingly, on the defensive. "No sir, sometimes my English is not so good." But Donald was not to be deterred. "Your English is good enough Luca, and perhaps good enough for a charlatan. You have often quoted Shakespeare to me and now you claim your English is not good enough?" Luca sighed once more. "If I may, from the bottom of my heart, say I'm sorry to you sir. It won't happen again. Tell me what to do with the money. I would give you this watch, even sell it. Never was there a king so mightily betrayed! Yet at the first I saw the treasons planted." Donald laughed. Somehow, much to his own surprise, Luca had broken the ice. "Luca, I'm no king and your quote is actually from Cleopatra, a queen not a king. But I get the sentiment and sadly you are one of the plotters against me. I will deal with the full enormity of your indiscretions later. Right now, that is a lot to process."
Calmly and quietly Donald continued but this time with steely menace in his words. "However, I will say that for now you're still in a job. I could not contemplate bringing in a new captain to finish the build. That will not do. But you are on notice. One more mess-up like this and you are gone. I want you to organise a meeting, here in London with the builder and the subcontractors. Call it a progress meeting if you will, but do not let on that I know about your arrangement. I will use that against them." Then, to hammer home the point, Donald fired off a final ultimatum.
"Luca, if I believe for one moment you have tipped them off, not only will I fire you, but the authorities will know about the payments. Do I make myself clear?" An icy chill ran through Luca's bones. His heart pounded. He was genuinely scared. He had never heard or seen this side of Donald before. Donald had made himself clear enough
---
Click here to become part of The Superyacht Group community, and join us in our mission to make this industry accessible to all, and prosperous for the long-term. We are offering access to the superyacht industry's most comprehensive and longstanding archive of business-critical information, as well as a comprehensive, real-time superyacht fleet database, for just £10 per month, because we are One Industry with One Mission. Sign up here.
Related news