On track
Donald finds himself a stranger on a train, with an outcome he didn't expect…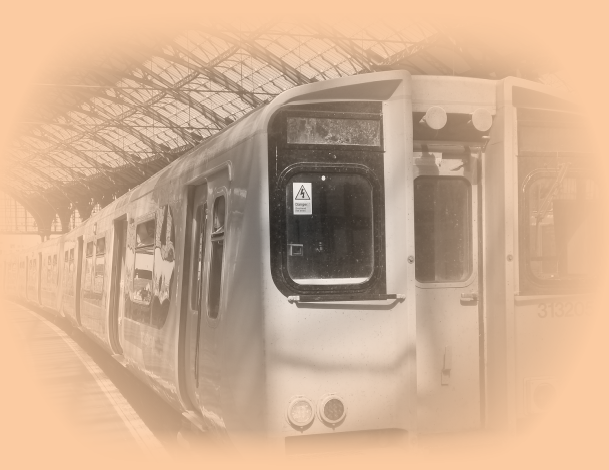 Donald would never forget the very first time he met this particular crewmember. Notwithstanding his significant wealth, he'd occasionally take public transport and, in particular, was fond of travelling by train. Although the toasty warm carriages run by the franchise railway companies were comfortable, there was something unnervingly anodyne, bland and beige about modern railway travel. The romance had been choked by health and safety.
Donald fondly remembered the Christmases of his childhood and the overnight sleeper to Edinburgh that his family embarked upon from London Euston. As the years passed and the memories became mistier and shrouded in perfection, he imagined that his journey had had the ambience of the 1945 film Brief Encounter with Celia Johnson and Trevor Howard, but the 1960s and '70s had never been like that. The diesel electric trains rattled and were a little unstable and, unlike modern trains, not hermetically sealed. Travelling by train then was not cosseted and was quite exciting because of it. You felt you were on a journey. You were moving with the train much like a boat moves with the waves. On reflection, perhaps Donald had been unconsciously trying to tap into the spirit of romantic train travel when he'd thought about yachting. Perhaps his design choices for the interior of his new yacht accidentally referenced the great railway journeys of the past. It wasn't deliberate but in some way his DNA was attuned to things that were not too sleek or too minimalist. He liked machinery with a soul.
It was on a cold November evening that he found himself on the last train from Brighton to London Victoria. Donald had been attending a black-tie charity dinner at the request of an old university friend for a cause he had already forgotten. It's not that he didn't care but he was suffering from black-tie charity dinner fatigue. Since his good fortune, people had great expectations of him and he genuinely wanted to help whenever he could. His problem now was to find anyone vaguely interested in sharing the box he'd bid for in the silent auction for a ballet at the Royal Opera House in Covent Garden.
As he was mentally making a list of people he would actually like to spend the evening with, Donald caught sight of a woman stumbling through the train towards him. She was thin and her greasy black hair was pulled back into a ponytail. She wore a black nylon zipped-to-theneck parka coat with a sandy fake fur trim to the hood. The hood and its fake fur rested on her shoulders. The train was warm yet she was clearly shivering. Her bone-thin legs barely supported the drainpipe black jeans she wore and the black Converse All Stars seemed a size too big. She could have been 25, she could have been 45; poverty, cigarettes and booze ages one, he thought. The woman had gnarly rotten teeth and equally gnarly hands. A grimy open hand and stinking breath were shoved into Donald's face. The hand contained a handful of coins. "I need to get to the hospital." The cigarettes had had an effect on her voice. Looks can be deceiving. He was expecting a slur and an uneducated working-class voice. However, although pitiful, the voice was unmistakably cultured.
Somewhere in there was received pronunciation. Certainly, it was a voice that didn't belong with the grimy open hand and the stinking breath but, as they say, everyone apart from a millionaire is one pay cheque away from homelessness.
Donald was assuming a degree of destitution. Normally, he would have dived into his trouser pocket and pulled out a fiver and sent the woman away in the hope she would get a good hot meal inside her but, for some unaccountable reason, he wanted to know her story. "Got this damned hole in my leg," she said as she tried to roll up her trousers, but they were so skinny she couldn't get them past her ankle and Donald pleaded with her that it was not necessary. "Sit down," he said in a calm voice. She was agitated and went to move away but Donald grabbed her by the wrist. "I want to help you," he said. "No one wants to help me. Not since my accident," replied the woman, and then, in a moment, the superyacht world deposited itself on the Brighton to London train. She had once been crew on a very old Feadship.
One day, about four years earlier, she had been taking part in a drill to launch the rescue boat. Something went wrong. She never really knew what happened but one minute she was enjoying life and the next she was in a French hospital. All her medical bills were met and salary paid, but she was let go.
"The letter said 'Thank you for your service but we cannot keep the position open for you indefinitely. We have paid you three months' salary in lieu of notice' and there I was without a job," she continued. "I was going to miss a charter season and all the tips I would earn from that. I threatened to sue for my injury and then I found myself blacklisted. I've got a reputation. I really didn't have the money to sue, and as for adjusting to a normal life ashore well, I didn't do too well, did I?" Donald had the wherewithal to make a difference to someone's life. What were the chances that he'd meet a yachtie – and a destitute yachtie at that – on the Brighton to London train? To say it was destiny would be too trite … but perhaps? He gave the woman his card. "Call my office tomorrow," he said. "Let's see what we can do to get you back on your feet." She thanked him then, as she turned to leave, Donald asked her name. "Eliza. It's Eliza," she said.
---
Click here to become part of The Superyacht Group community, and join us in our mission to make this industry accessible to all, and prosperous for the long-term. We are offering access to the superyacht industry's most comprehensive and longstanding archive of business-critical information, as well as a comprehensive, real-time superyacht fleet database, for just £10 per month, because we are One Industry with One Mission. Sign up here.
Related news