Feadship – On the Road to Zero
CEO Henk de Vries assesses Feadship's plan to build carbon-neutral superyachts by 2030, and the wider sector's green ambitions…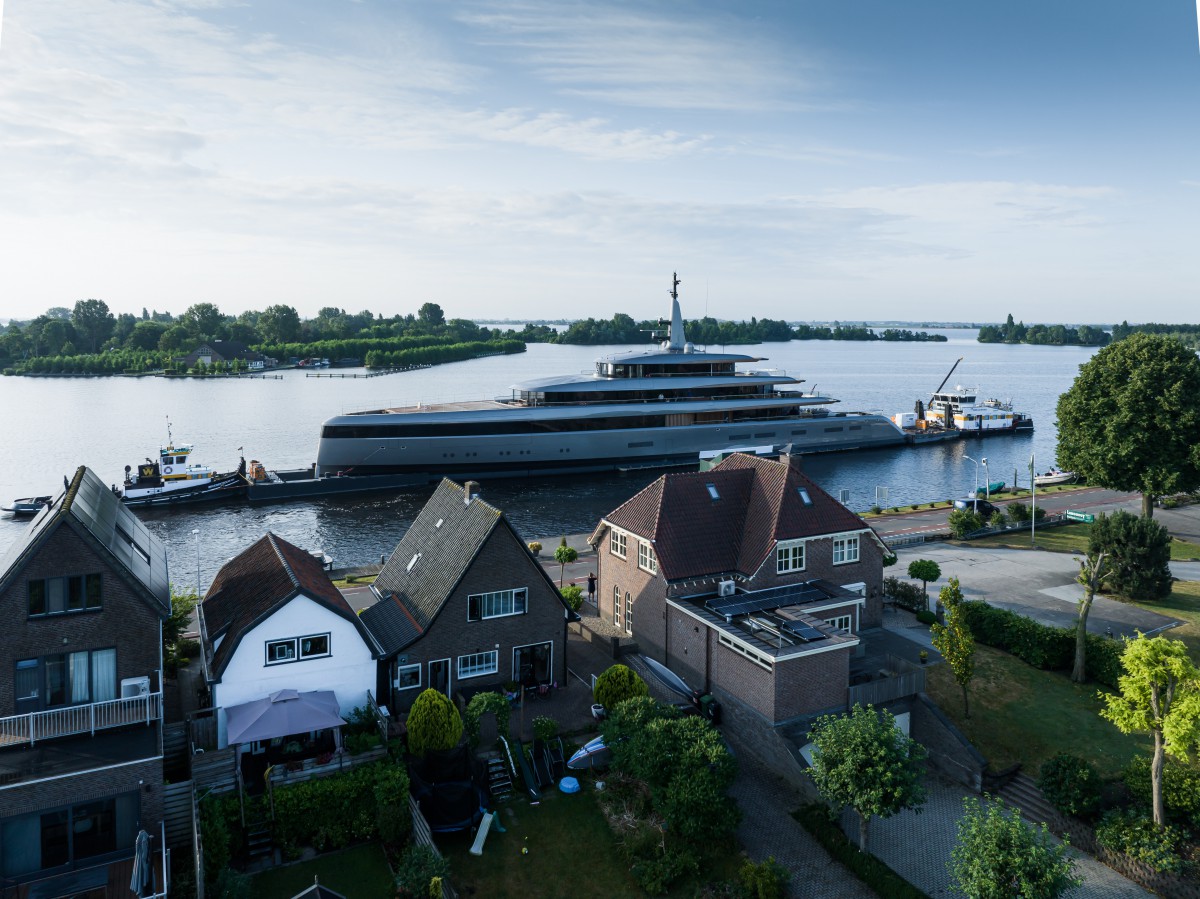 The timeline for the Dutch shipbuilder started, at least publicly, when the plan for carbon neutrality was announced at The Superyacht Forum 2019. When I meet De Vries in July at an organic cafe adjoining a supermarket on the outskirts of Amsterdam, it seems like a perfect time to take stock of the progress that the shipyard has made.
"I remember thinking then, 'How do I engage this audience?'," says De Vries. "Mentioning the IMO's goal of reducing shipping emissions by 50 per cent by 2050 caught their attention, mainly because so few in the room were thinking about it at the time. But unlike shipping, we build products that are completely unnecessary, so we'd better start building something that has no impact!"
What De Vries went on to say at the time, somewhat improvised according to him, was that Feadship would go one step further and aim to launch carbon-neutral motoryachts by 2030. "With summers scorching in southern Europe while we sit here, and while the Netherlands and the UK are flooding, we had better be making progress on our promises," he says.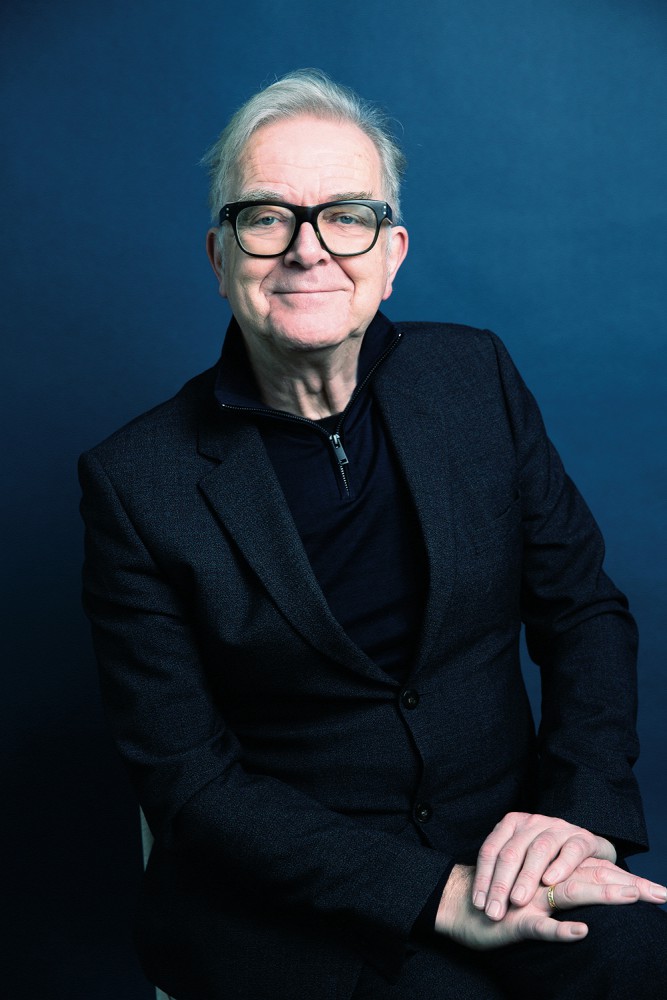 Henk De Vries
"We had better be making progress on our promises"
'The Roadmap to Zero' is a catchy title, and it's easy to overlook how many barriers need to be cleared to realise its ambitions. In a nutshell, as published in greater detail by Feadship, the roadmap takes Feadship's new builds from conventional diesel to zero-impact fuel cell propulsion in roughly 10 years.
As a journalist, it's easy to become jaded by the number of 'blue-sky thinking' concepts that we see from shipyards and designers. Wildly ambitious and adorned with green innovations that claim incredible efficiencies using unproven or immature technologies, these concepts appear periodically.
Of course, they are reliably never built and, if questioned, the shipyards can simply blame risk-averse owners or a lack of foresight from classification societies, etc. We all move on, and another generation of conventional diesel propulsion is laid down.
But the Roadmap to Zero has real checkpoints and, theoretically, accountability. With the halfway point just over the horizon, it seems a perfect time to look at its progress. Phase One covers 2019-2021 and focuses on IMO Tier III-compliant exhaust-gas treatment and waste-heat regeneration. Both are proven and mature technologies that require minimal modification and, in truth, are not the highest bar to clear for a shipyard.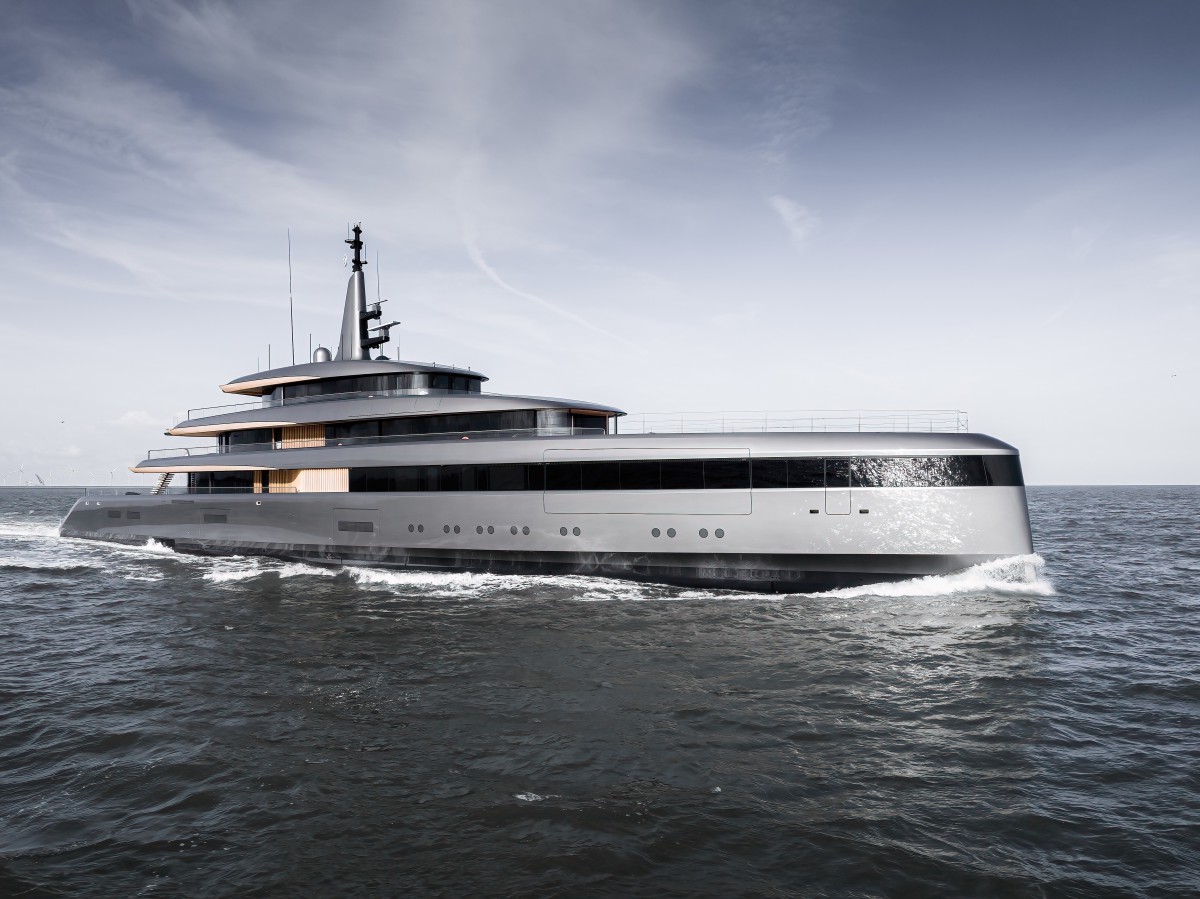 The 84-metre Obsidian (pictured above) is finishing its sea trials as we speak, and De Vries eagerly shows me the clips he filmed while on board earlier in the week. It is, according to him, exceeding all expectations in terms of efficiency. "The guys came back to me and said, 'We're a bit fast ...' and I thought, 'Oh god, not again'."
Once considered a glorious benchmark for all large motoryachts, De Vries's slight frustration about speed was clear. "We put two big engines in there, like all builders do because everybody is still fixated on top speed. But we have come a long way in terms of through-water and propeller efficiency.
"This is the first boat that I have sold that has been tied to cruising speed and related efficiency." (Top speed is still in the contract, he reminds me, but it's refreshing to hear that the focus is changing.)
Aside from its striking exterior lines, the Roadmap to Zero unwinds inside the hull and below the waterline. Obsidian's propulsion and steering are supplied by two Veth contra-rotating thrusters that deliver both shaft and rudder functions. These are powered by a direct current (DC) primary electrical power system where four generators are connected to a 4.5MWh battery bank for rapid load response while maintaining an even load on the gensets. The custom generators –two large and two small Cat C32 engines have permanent magnet alternators – to balance the electrical output.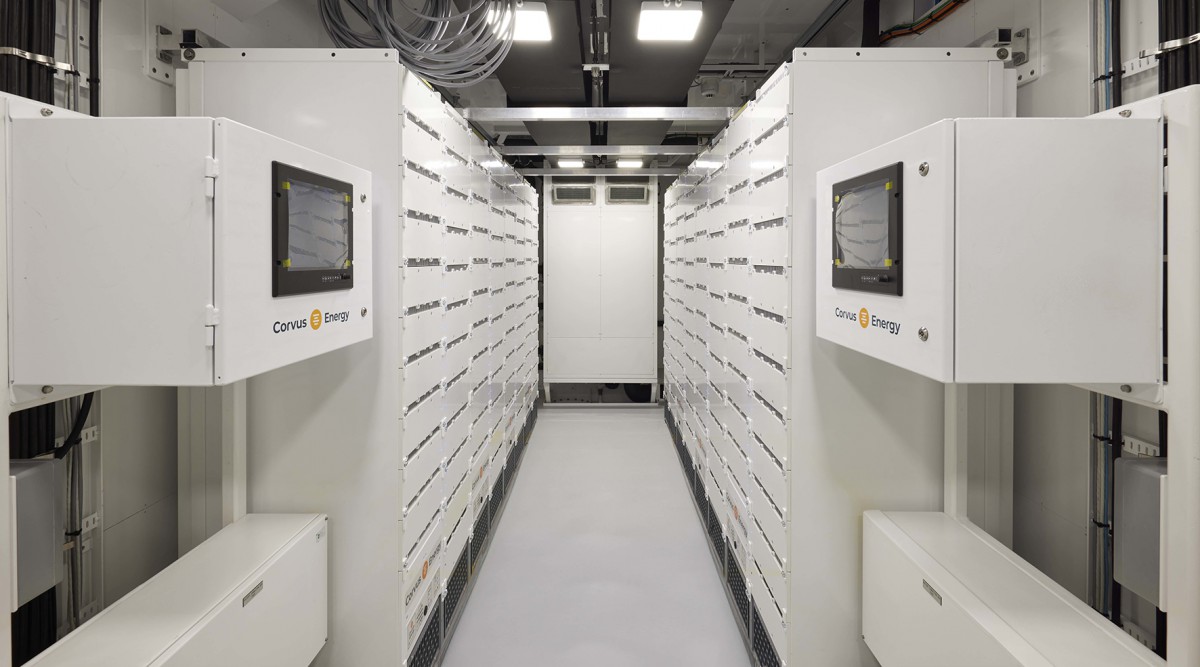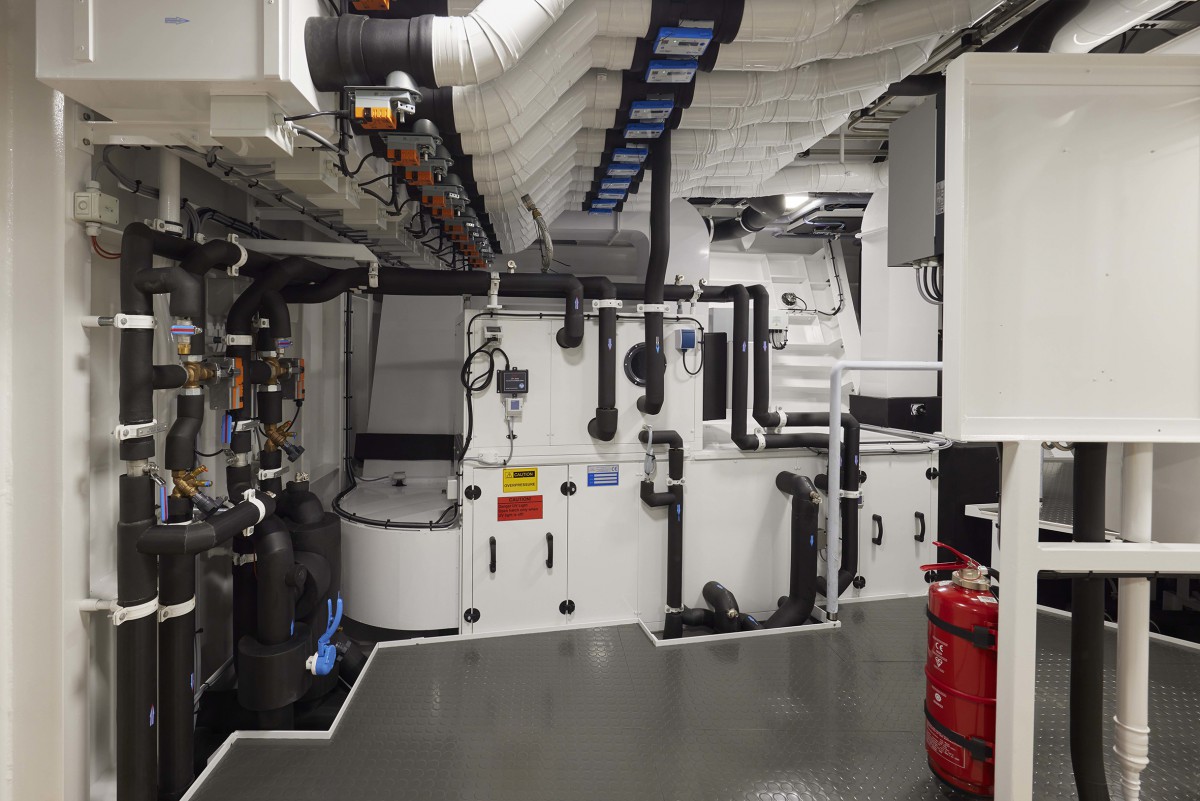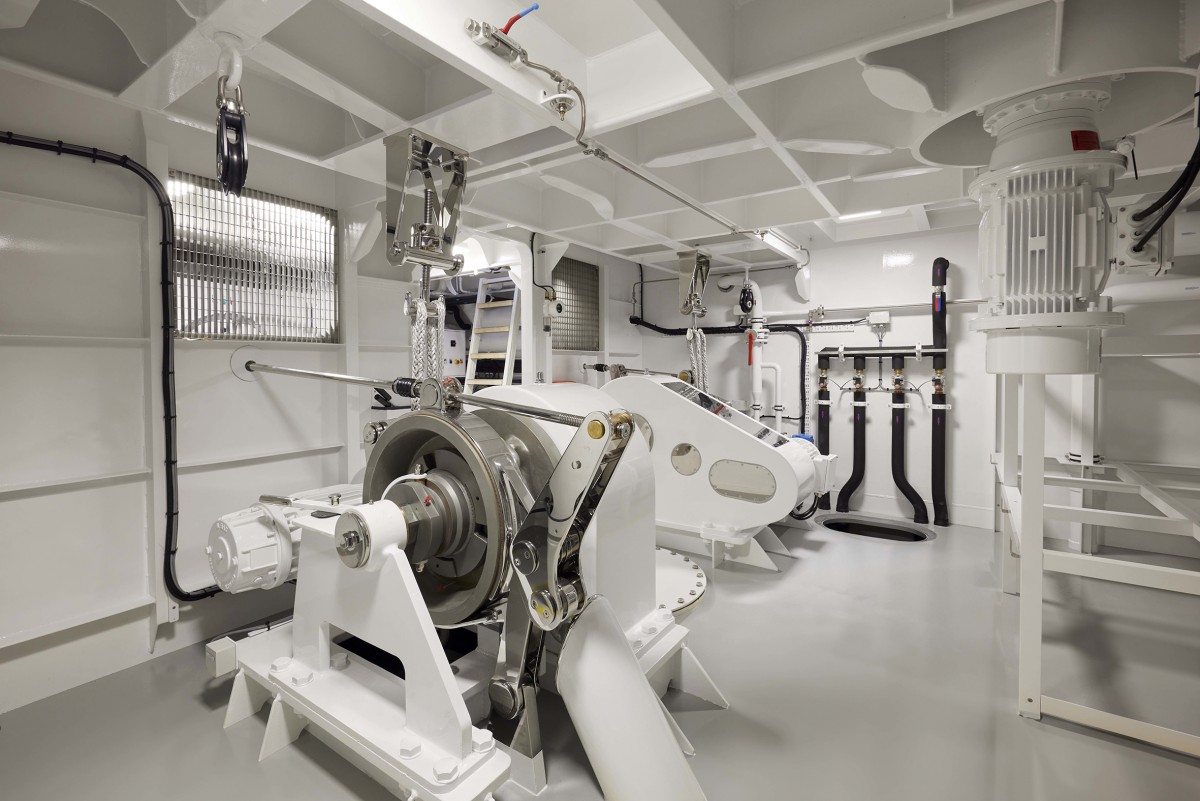 Obsidian's battery room (top), bow thruster room (middle) and anchoring (above).
De Vries says one of the key briefs for the project was to be more efficient than Feadship's previous benchmark, the 83.5m Savannah, which launched in 2015. As well as being an unofficial predecessor of note for Obsidian, Savannah is a key marker of progress on the Roadmap to Zero (before it was officially named as such).
Combining a streamlined hull with Feadship's first hybrid diesel and electric propulsion system, Savannah achieved a 30 per cent reduction in fuel consumption compared to its peers at the time. It also introduced a DC bus, developed with Schneider Electric, linked to the propulsion and main power systems, which was replicated in future builds.
A DC bus regulates the voltage and frequency across a DC system on board a diesel-electric vessel. Now, using Feadship's Advanced Electrical Drive (FAED) programme for diesel-electric hybrid power, Obsidian is reported to have a 4.5 times larger battery electrical storage capacity than Savannah.
Obsidian has no drive shafts and no rudders. Because the propulsion and steering are supplied by the Veth contra-rotating thrusters that deliver both functions, the drag is reduced. Veth's experience with compact units for ships operating on rivers was seen as a perfect fit for a yacht specified for a relatively shallow draft. "Being on board is like nothing you have experienced," says De Vries. "It is almost completely flat while cruising, there is only the most minimal of disrupted wakes produced and next to no vibration."
Where Savannah and Lonian – which launched in 2018 – operated on 560 volts, the DC system on Obsidian is 1,000 volts. A total of 560 battery modules are housed in a specialised chilled-room tank deck. According to Feadship, Obsidian should be able to cruise for 35nm at 10 knots on batteries alone. At anchor, the batteries will provide silent operation for 10 to 15 hours.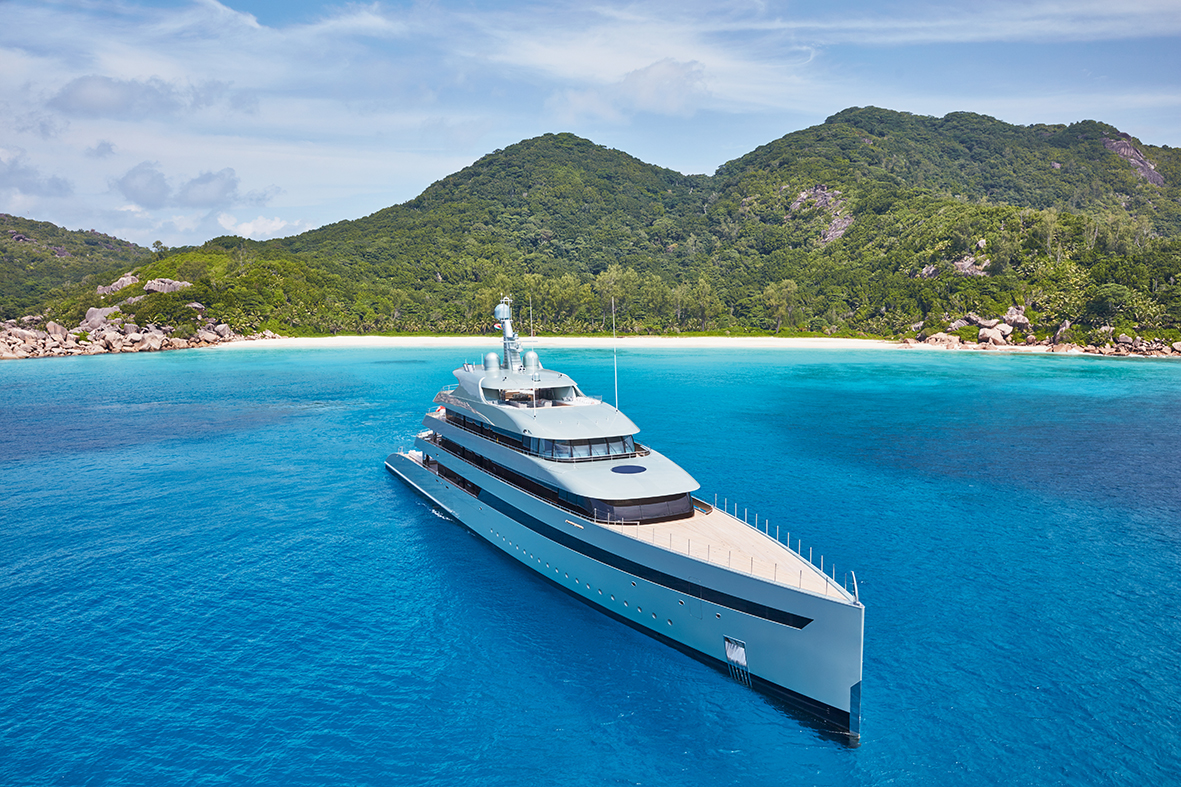 Savannah
According to Bram Jongepier, senior design manager at Feadship De Voogt Naval Architects, by using YETI, Water Revolution Foundation predicts that Obsidian will operate with 27 per cent less total environmental impact than a yacht of similar size when powered by fossil fuel and 60 per cent less when using hydrotreated vegetable oil (HVO).
Mandatory Tier III measures such as exhaust-gas after-treatment, waste-heat generation and DC electric systems for propulsion and hotel loads are now all mature technologies and have been installed on numerous superyachts. Obsidian straddles both phases one and two of the Roadmap to Zero.
"It's not HVO-ready, it is HVO-fuelled," says De Vries. "That was part of the deal, that we deliver it fully pressed with HVO and that will be the same for future Feadship launches."
Being synthetic fuel (HVO) compatible, using high-efficiency batteries and peak shaving with short battery-only operation possible, are key components of phase two in Feadship's roadmap, the others being hydrogen hybrid compatible for large GT launches and leaving the possibility for fuel-reforming technologies.
HVO, a 'second-generation' biofuel, utilises by-products instead of competing with the food and feed chain. However, critics highlight the irony of shipping a low-carbon fuel such as HVO using carbon-heavy methods. Yet, De Vries points out that although HVO – a clean kerosene by-product – may be in limited supply on shipping industry scales, it could easily service the entire superyacht fleet.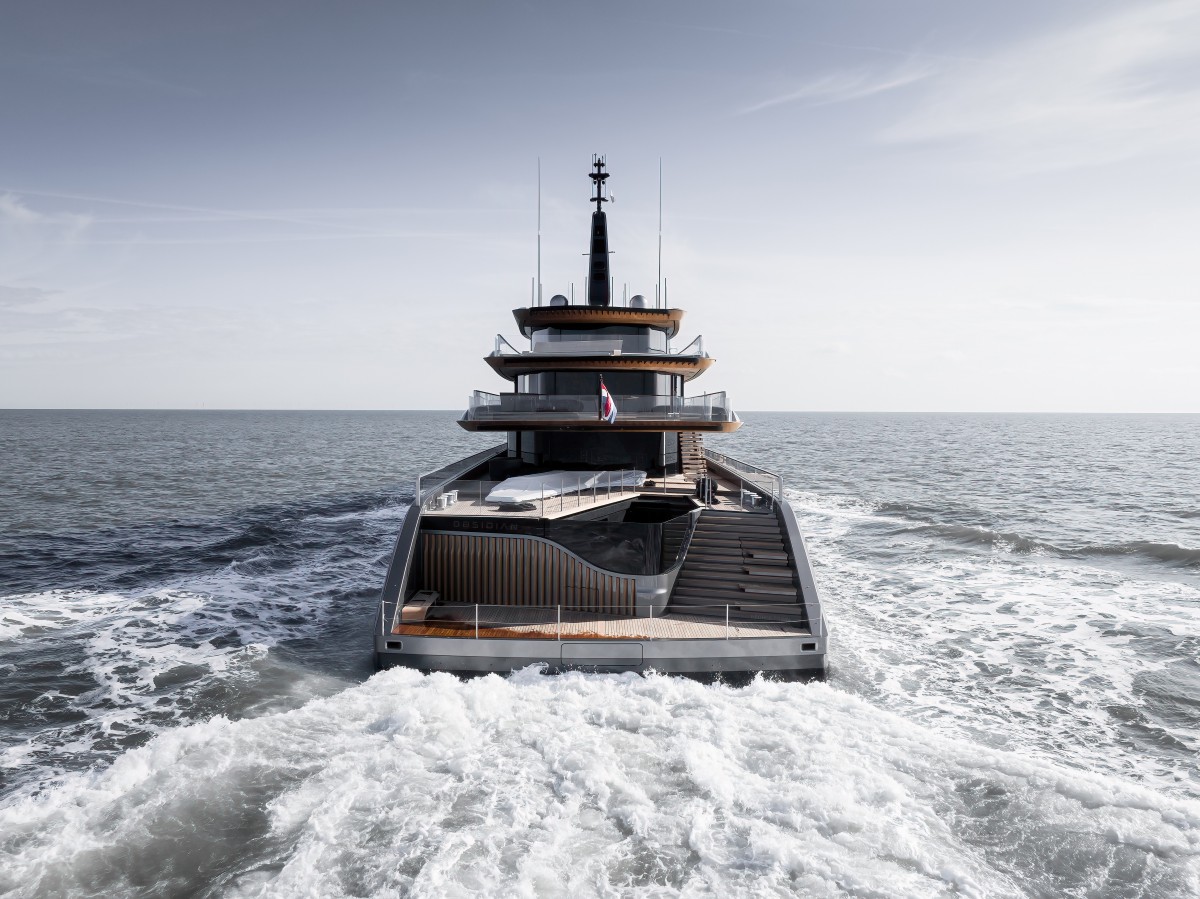 "Every boat we've sold in Aalsmeer, including Obsidian, will feature our newer, cleaner output drive system until 2026," says De Vries. "Starting in 2027, our boats will be equipped with alternative fuel-tank arrangements that are approved by Lloyd's and Flag. This will allow the use of alternative fuels like methanol."
"This is the crucial next step for Feadship," says Giedo Loeff, head of R&D. "The need for a flexible fuel system, meaning it has to work with the fuels of today but also those of tomorrow."
The fully integrated system that will underpin the next generation of Feadship yachts can store both non-fossil paraffinic fuels (for example, HVO and e-diesel) and alcoholic fuels (such as bio- and e-methanol or ethanol) at full capacity.
"On the new boats, if we take it in stride during the design process, there is hardly any extra cost," says De Vries. "Now it is a standing order. All new boats will have a flexible fuel system."
There is a sacrifice for doing this in terms of energy storage capacity. Methanol has a lower energy density and requires a double-walled tank and piping system since it has a low flashpoint. This has a volume sacrifice, albeit one that is much easier to absorb when you are building large custom yachts with high internal volumes. Currently, these large yachts have a considerable fuel over-capacity.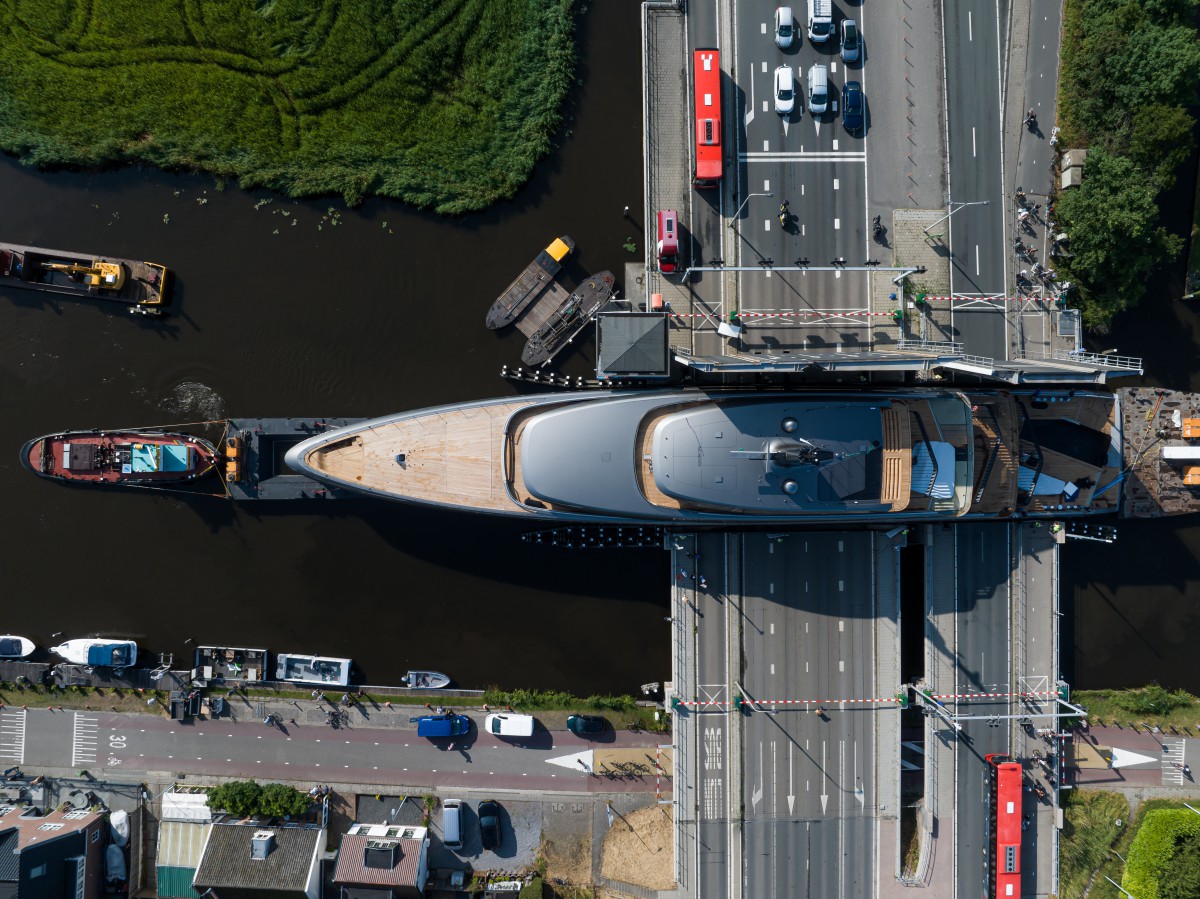 "My story with clients these days is that when running on methanol fuel they lose around half of the range," says de Vries. "This would have been a horrible discussion 10 years ago, but the built-in flexibility will still provide the maximum range they are used to when they bunker HVO or diesel. So even a 1,000gt yacht will maintain a transatlantic range without compromising onboard space. Clients say, 'OK, so I get it, if I can make the transition we can do it'."
Feadship's roadmap is at an intriguing moment. Phase three calls for the integration of fuel cells via methanol reforming, striving for an as yet unproven fully mature and power-dense technology that will give full range and net-zero carbon/zero local impact.
With methanol-ready tanks now Class-approved and due to be integrated in 2027, phase three Feadships then have two directions they can follow. Firstly, the methanol can be fed directly into a methanol combustion engine, which is possible through a refit or replacement, depending on ignition technology, of modern marine diesel engines. This option exposes the limitations of the decreased energy density of methanol compared to diesel because the equivalent tank volume leads to a relatively significant decrease in range.
The second option is to run the methanol through a reformer and to run a hydrogen fuel cell. Several low and higher temperature fuel cells are becoming available that use either external methanol to hydrogen or syngas reforming. The most promising technologies are low and high-temperature proton-exchange membrane fuel cells or so-called solid-oxide fuel cells.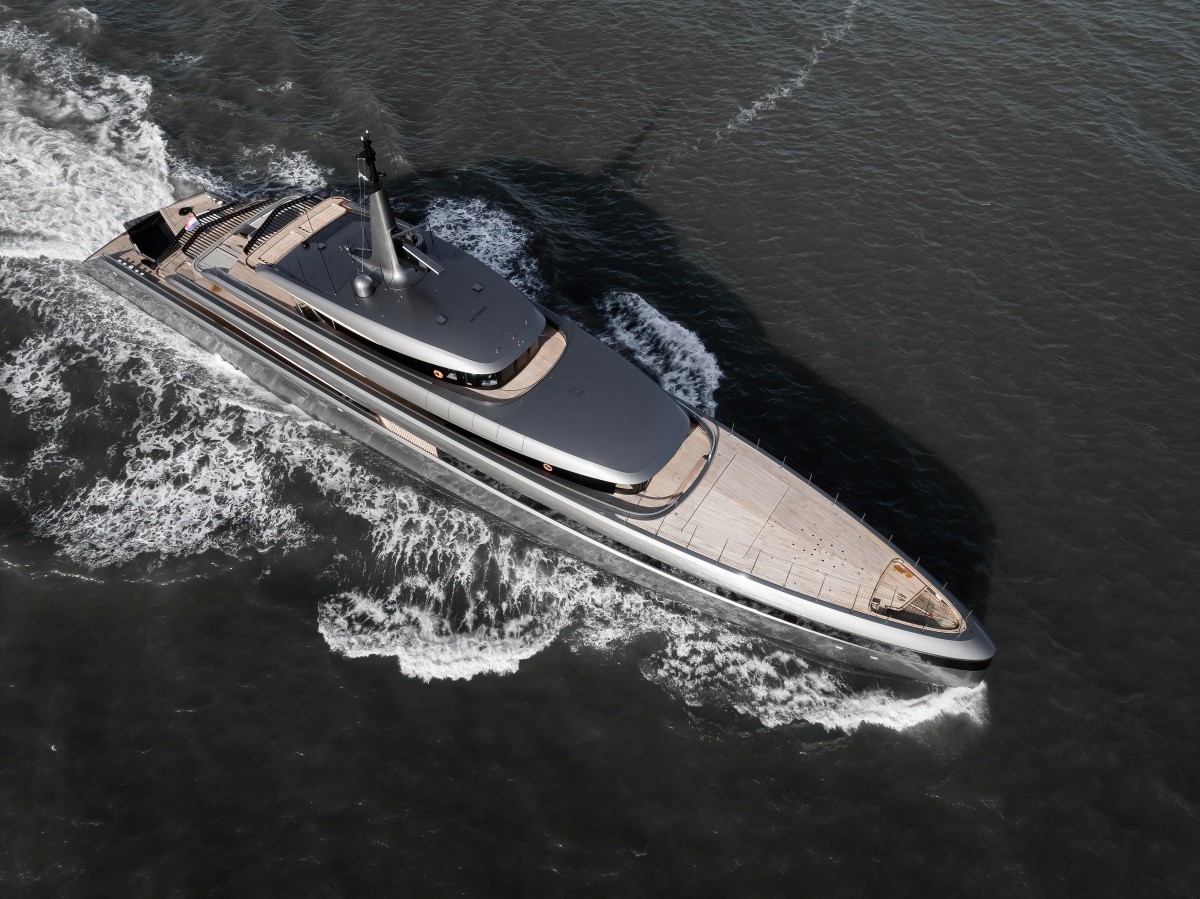 "I'm hoping that by 2025, halfway through our pathway to zero, there will be substantial developments in fuel-cell technology," says De Vries, who points out that there are already 1,000kW fuel cells in development. "Obsidian is sailing with 3,000kW of power and it goes too fast!" he reminds me.
Through the increased efficiencies and with the speedily evolving landscape of non-fossil fuels and fuel cells, the transition to stage three of the roadmap looks less daunting than it did when I first saw the plans.
"By dropping the cruising speed to 12 knots, and incorporating the efficiencies and technologies we have developed on yachts like Obsidian and Savannah, we can get the same range out of this drive train using methanol."
Superyachts and luxury cars are inextricably linked. We, as an industry, have often marvelled at the other's production efficiencies and market growth. But De Vries points to a divergence in attitudes and an opportunity to differentiate that we should seize.
"I find the strategy of Porsche, Audi and BMW incomprehensible. They build fantastically heavy cars with the streamlining of a brick. They have enormously powerful engines that go from 0 to 100 in three seconds, enjoying a top speed of over 200. I've driven a lot of them and it's like driving a tram. They plough through the road instead of on top of it."
"I'm one of the 300 idiots in the Netherlands who drive a hydrogen Toyota, forever trying to find fuel for it!" adds De Vries. "Not because I love the brand, but because it was a bit of putting your money where your mouth is." (De Vries also admits to owning a few other cars that aren't quite so efficient.)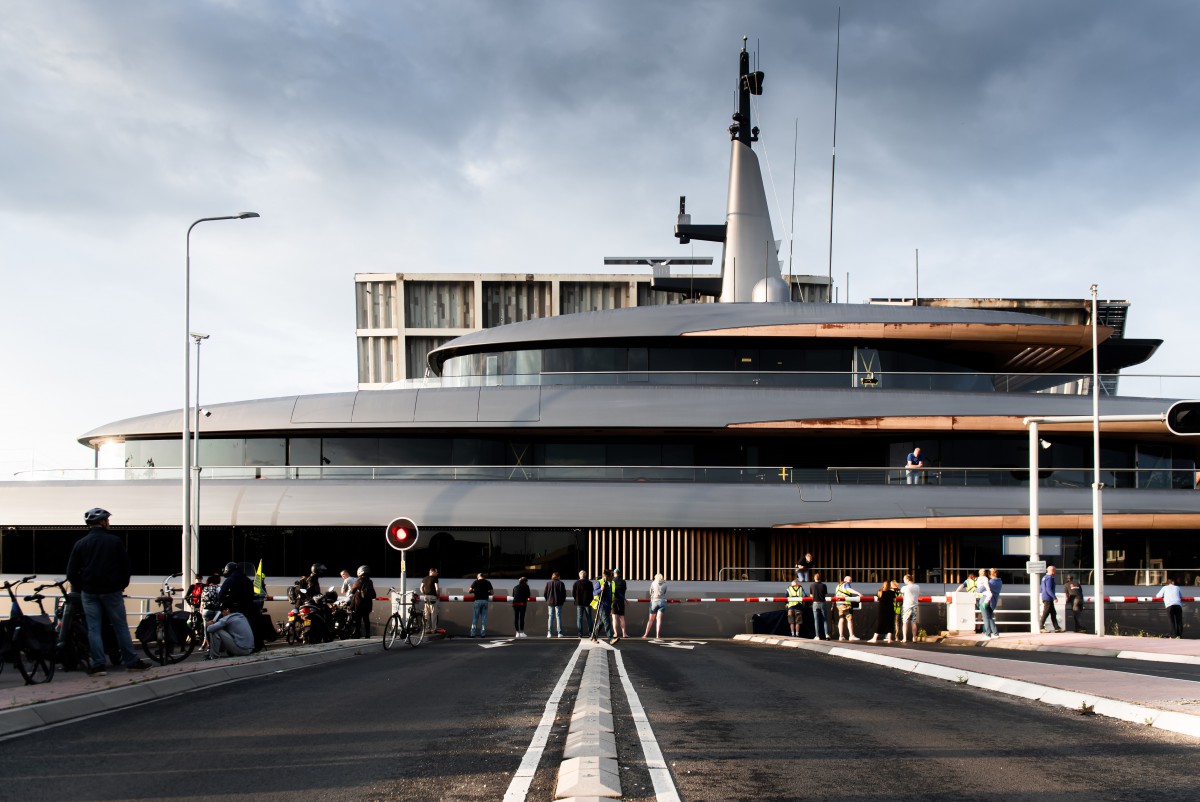 The topic we discussed the most intensely in the two hours over lunch was the efficiency of Obsidian, how it was measured and the way the client was pushing for advancements. While this yacht is not breaking the laws of thermal dynamics (the energy is coming from somewhere) and I am still fully aware that 35nm silent cruising is still a long way from zero emissions, it was encouraging to have such a future-focused and frank conversation with one of the industry's veteran yacht builders.
"I met with some people in the boat-building industry at a conference recently," concludes De Vries. "I was shocked to hear them talking about implementing a net zero carbon strategy by 2035. This was a serious builder with a long history. All I could think of then was, 'Look, you are not going to be in business in 2035'."
Feadship is in a relatively rare position of having a reputation for convention-defying large (and expensive) custom builds. This gives the yard the flexibility to push the technology forward and implement processes that lead to carbon neutrality.
However, with enough buy-in from owners and support from shipyards, the industry's imperative – that of zero-impact yachts – may be attainable within the timelines laid out. The next stages of Feaship's roadmap will involve more significant deviations from conventional energy generation. All this is to say nothing of the challenge of retrofitting the existing fleet (a topic for another edition).
The case studies along the Roadmap to Zero, such as Obsidian, will be there for all to see. Having Feadship, and De Vries personally, so closely linked to Water Revolution Foundation and the YETI programme will provide further transparency and accountability to each milestone on the Roadmap to Zero.
The eyes of a more discerning public and a new generation of owners are looking at our industry. To paraphrase De Vries at the start of our interview, we'd better make good on our commitments.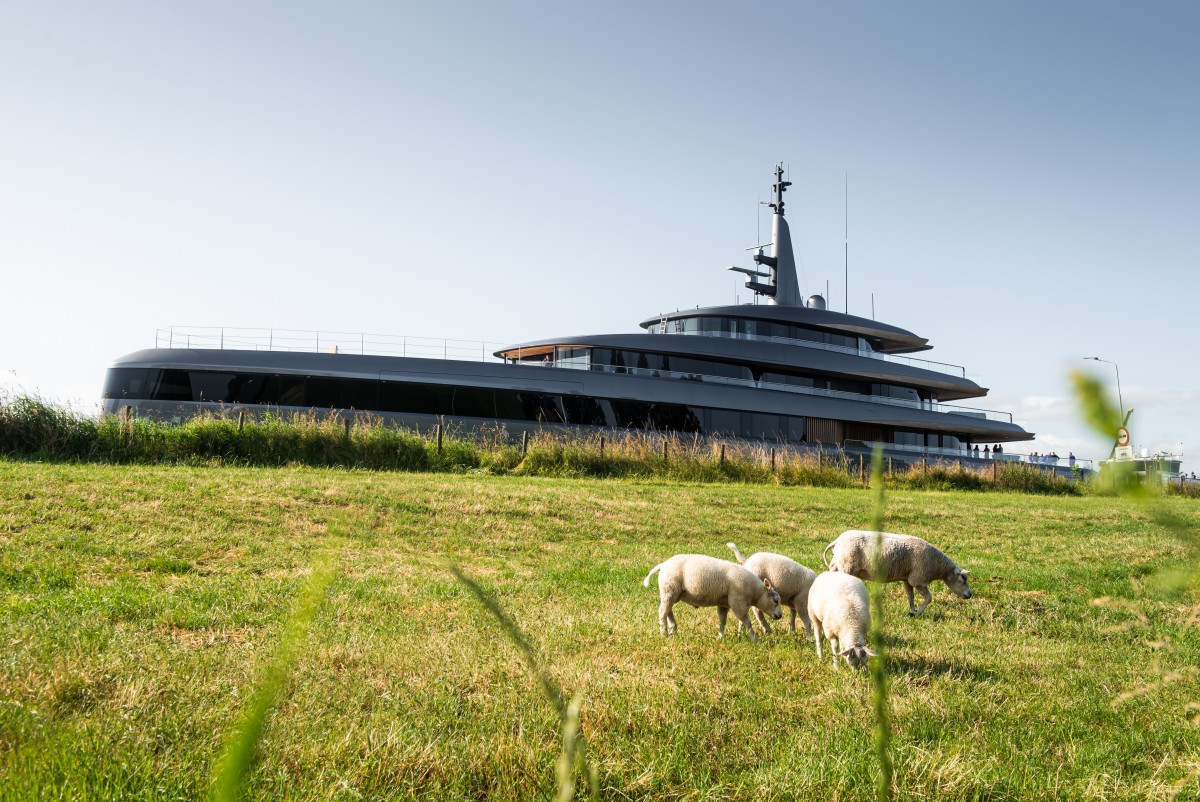 All images copyright Feadship
This article first appeared in The Superyacht Owner Report. To gain access to The Superyacht Group's full suite of content, publications, events and services, click here to join The Superyacht Group Community and become one of our members.
Profile links
---
Click here to become part of The Superyacht Group community, and join us in our mission to make this industry accessible to all, and prosperous for the long-term. We are offering access to the superyacht industry's most comprehensive and longstanding archive of business-critical information, as well as a comprehensive, real-time superyacht fleet database, for just £10 per month, because we are One Industry with One Mission. Sign up here.
Related news