About The Superyacht Forum
For over 25 years, The Superyacht Group has delivered events that position market-leading brands in front of their most valuable target audience. Through innovative, workshop-focused programmes, we create intimate environments within international showrooms to spark debate among the most pertinent and specialist topics that have a direct impact on the superyacht industry.
Taking place within the RAI, Amsterdam, The Superyacht Forum is our flagship event, this year following the crucial theme for all industries: Building for the Next Generation. As our largest event, with over 800 of the industry's most respected stakeholders in attendance, The Superyacht Forum 2019 was set to provide a platform for an urgent discussion into the route our industry must take to ensure its future prosperity. We discussed how to future-proof markets, introduce new technologies, debate energy efficiency and consider innovations from future thinkers who are driving ancillary industries forward.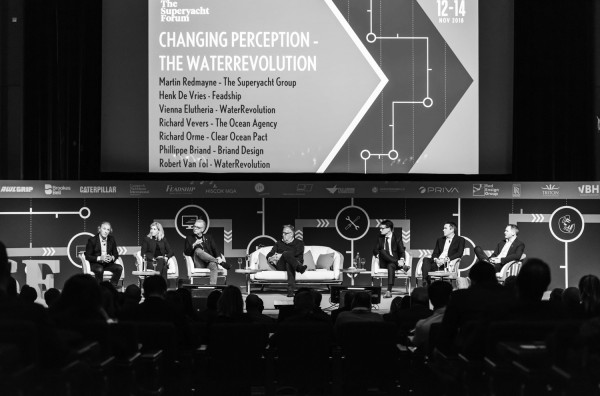 Day one of The Superyacht Forum 2019 (18th November), 'The Business Day', delivered a programme of future thinking keynotes and workshops devoted to building robust business models, anticipating market challenges, while laying the foundations for the next generation of C-suite executives to structure their businesses. What is the superyacht industry's current pipeline of projects across various sectors? Who will be running our businesses in the future? And how will they differ from the businesses of today? These questions require an urgent response, in order to ensure the next generation of the superyacht industry is prepared with the answers.
Day two, 'The Owner Day' (19th November), focussed on the future of superyacht ownership and painted a picture of tomorrow's client profile. Findings from The Superyacht Agency have revealed a large generational shift in wealth that will result in an increasing number of 30 to 40-year-old billionaires. It can be argued that the next generation of superyacht owners will be far more eco-conscious than their predecessors, driven by corporate social responsibility and averse to the concept of conspicuous consumption. How do we make superyachts appealing to this new demographic?
Day three, 'The Technology Day' (20th November), brought together leaders in technology at the forefront of their fields. These captains of industry outlined how the technologies of tomorrow can be applied to the yachts of the future. There are many innovations and technologies that were explored in line with the Building for the Next Generation theme, and the catalysts for many of them are sustainability and future-proofing the industry – core components of The Superyacht Forum 2019.
We are confident that by bringing together the shipyards, the strategic thinkers, the financial, tax & business community, designers and the owner advisory network & family offices, alongside a unique mix of experts, with the existing community of The Superyacht Forum, we have created the most valuable and powerful meeting place for everyone invested in the business of yachting
Click here to register your interest for The Superyacht Forum 2020.
Follow and tag us:




Instagram: @thesuperyachtforums
Twitter: @SuperyachtForum
#TheSuperyachtForum
#BuildingNextGen