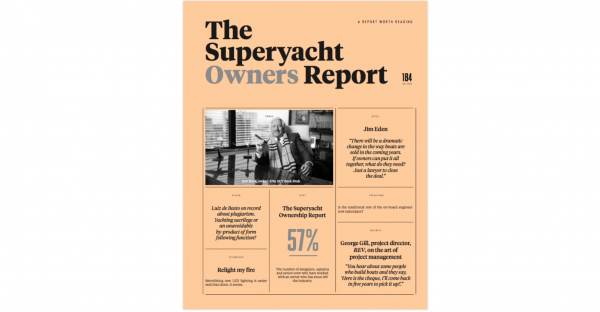 For the first issue of The Superyacht Report in 2018, we are concentrating on owners, the lifeblood of our market. Although at the heart of many of the stories we produce, we wanted to bring the subject of ownership to the fore of each article found within The Superyacht Owners Report. Here are a few previews of what you can expect from the latest issue...
At The Superyacht Forum back in November 2017, the team behind the revolutionary Research Expedition Vessel (REV) first revealed the project's details. Before this presentation, I sat down with the owner's right-hand man, project director George Gill, to procure some exclusive insight into this trailblazing vessel. "This is not a toy expedition boat," explains Gill, "This is a bruiser. She is a ship. She is being designed for a purpose." The owner of REV is intent on changing the world with this new kind of yacht, will more ultra-high-net-worth-individuals follow suit?
The Superyacht Ownership Report provides a thorough, accurate picture of superyacht ownership today. According to its findings, 57 per cent of designers, captains and senior crewmembers have worked with an owner who has left the superyacht market. This statistic, undeniably quite shocking, encapsulates the importance of removing the ownership headaches that cause owners to wash their hands of superyachts altogether. The same report also looks at the intrinsic link between the charter and ownership markets; 63 per cent of all owners had extensive chartering experience before they took the ownership plunge.
57 per cent of designers, captains and senior crewmembers have worked with an owner who has left the superyacht market.
The woes of ownership are explored in greater detail within this issue's Business section. "If various global wealth reports are to be believed," argues Rory Jackson, "Then, the world's ultra-wealthy are progressively moving away from traditional luxury consumption models based on the ownership of products and assets, and towards those that allow them to experience luxury without the headache of ownership." How can the superyacht industry adjust to this ever-changing landscape of global wealth? Will the Airbnb or Uber models that have fundamentally changed the hospitality and transport worlds enact the same shock waves in our market? With insight from a range of experts – from within the superyacht world and beyond – this report looks at the ever-present renting vs ownership dynamic.
Bob Book, owner of 47m Book Ends, sits down with Felix Sowerbutts to discuss his lengthy journey in the superyacht market. Book has been the proud owner of 17 yachts over 30 years, and when the two caught up at last year's Fort Lauderdale International Boat Show, the conservation flowed from business deals to Book's penchant for orange. We also hear from Matty Zadnikar of SeaNet Europe, who aims to shake up the co-ownership market, using his experience as a yacht owner. What lessons are to be learned from his time in the industry?
Looking into the world of design, this issue asks: At what stage does influence and inspiration become plagiarism? A sensitive subject explored by Georgia Boscawen, who speaks to designers and lawyers to ascertain how frequently this issue occurs within the market, and why it's kept under wraps by many design studios. Speaking of secrets, discover the article uncovering the hidden design world of concealed rooms aboard superyachts, what creative opportunities lie in these hideaways and why do owners request these?
Don't miss all this and more in issue 184 The Superyacht Report, out later this month. Not receiving a copy? To find out if you're eligible for a VIP subscription, click here.
To ensure our content continues to be the market's leading source of information, we are asking our readers to spend five minutes taking this short audience survey. Share your thoughts and shape the content that we produce.
---
If you like reading our Editors' premium quality journalism on SuperyachtNews.com, you'll love their amazing and insightful opinions and comments in The Superyacht Report. If you've never read it, click here to request a sample copy - it's 'A Report Worth Reading'. If you know how good it is, click here to subscribe - it's 'A Report Worth Paying For'.