Brokerage readjusts to its 'old normal'
As data suggests a daunting downturn in activity, representatives from five top brokerages assess the current state of the market…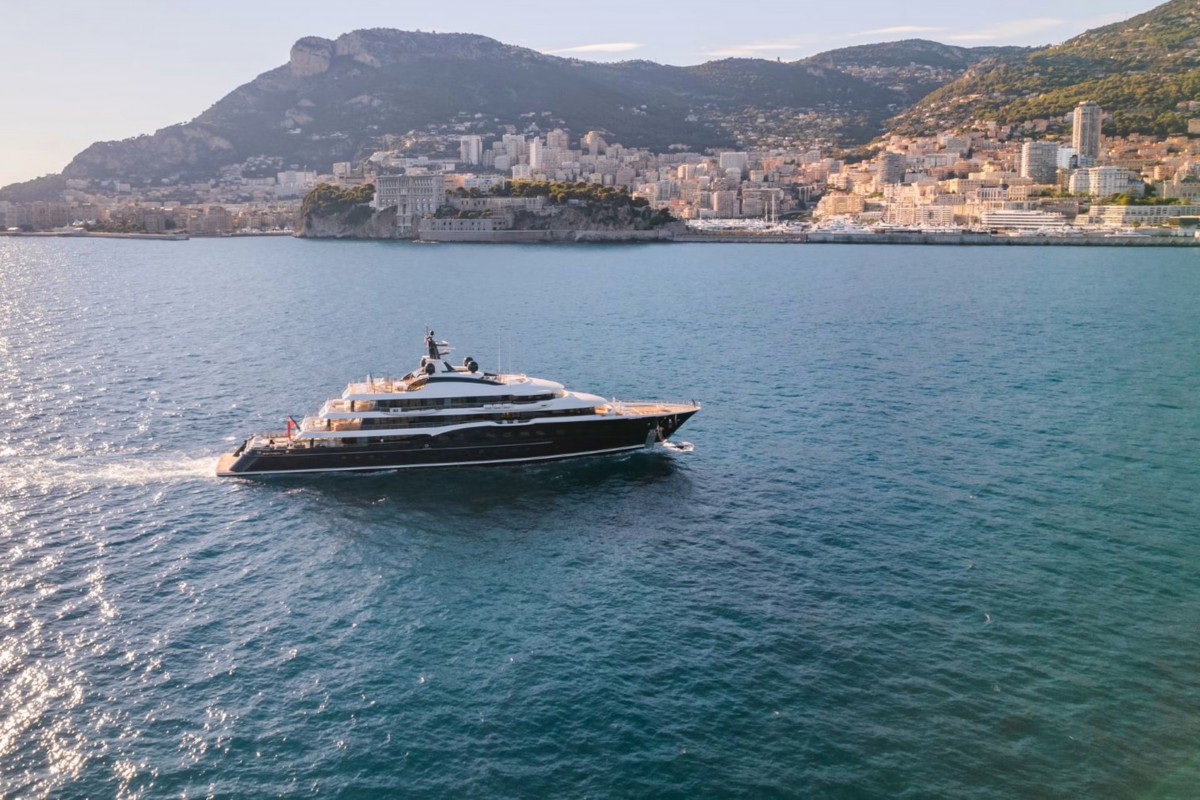 Image Credit: Amels, Here Comes The Sun
It was easy to fear the worst in the first few months of this year. A dramatic drop in sales, accompanied by economic instability, sky-high interest rates, and rising production costs, seemed to signal the beginning of the end for the stable superyacht market. However, while the euphoric highs of 2021 and 2022 may be a thing of the past, the industry isn't on the brink of disaster.
The reality is that business is good, at least according to the top brokerages. But trepidation surrounding the bubble bursting is inescapable. While 2022 wasn't as strong as 2021, it was still up on pre-pandemic levels. This year has been a slow burner, with alarmingly low sales until June, causing concern for the health of the market.
Our data, aggregated from publicized transactions from the top 10 brokerage houses, suggests that while there have been some significantly large yachts sold this year, the overall volume of sales is in decline. But after discussion with some of the top brokers in the industry, this could be more indicative of a return to stable pre-pandemic levels, seasonality, and the rise of boat shows as sales opportunities.
The final quarter of 2022 displayed a surge in sales probably due to a successful autumn show season. Richard Lambert, head of sales, Burgess, says that after such a buoyant period for yacht sales, the market often corrects itself and is followed by a few quieter months. This was the case for the first quarter of 2023. 'I believe we should view the market as a rolling 12 months to get a more realistic depiction of the industry's strength, especially since a significant number of deals close towards the end of December," he says.
"This year, in comparison to last, started a bit slow. The first four or five months suggested that the number of transactions will likely be lower than the previous year," adds Lambert. "However the summer months picked up and brought the market back on par with last year."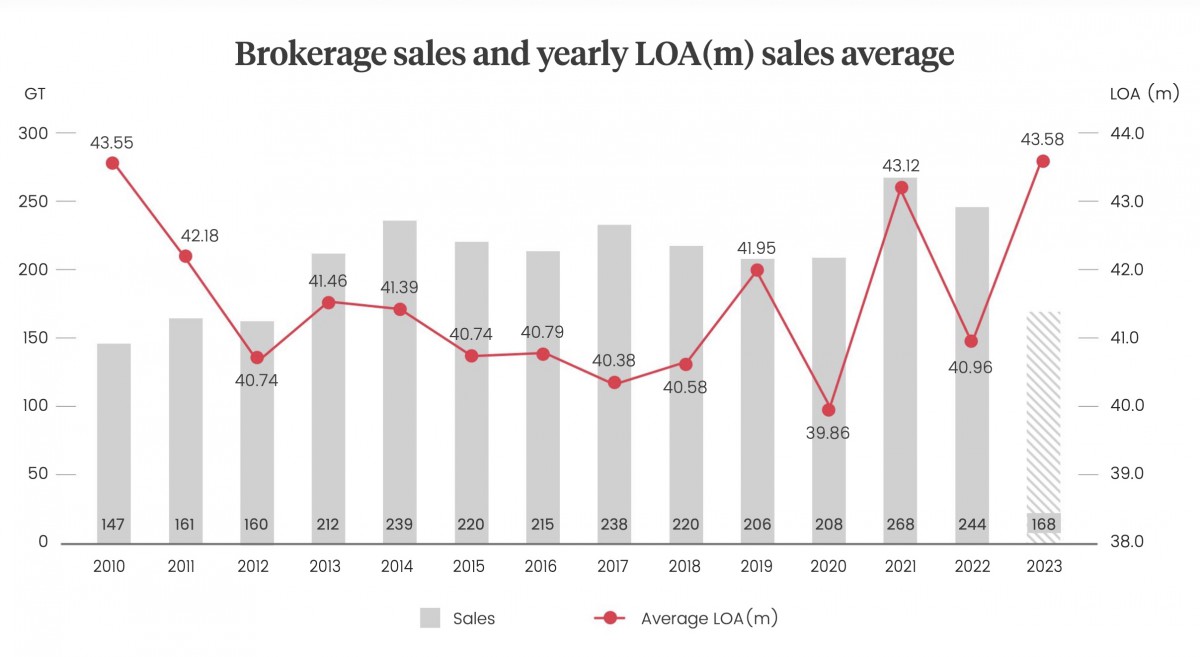 After discussing the current state of the market with brokers, it's clear that activity is slowing. That doesn't necessarily mean that it's stagnant, but it does mean the sales and growth figures are declining from the highs seen in the post-Covid boom.
"It's always a bit of a crystal ball when forecasting the market, but if you look at the five-year average number of sales, we're returning to a similar level of transactions that were seen pre-Covid," says Lambert. "It is still a fairly reliable and stable market. It's not overinflated, but it does appear to have returned to a more traditional long-term average consistent with the five years prior to 2019."
There are a few key reasons for the slowdown, with one main factor being the lack of quality inventory, particularly in the larger sectors. "The market, if anything, is lacking choice right now," says Antoine Larricq, sales broker, Fraser Yachts. "We've been in a position where it has been quite difficult to find anything around 60 metres. When you look at available yachts between 70 and 90 metres, there's hardly anything left."
Another reason is that owners are simply not selling, in somewhat of a perpetual cycle of waiting for quality boats to come to the market before selling theirs.
"If you look at the shipyards there is a long waiting list for yachts over 50 metres, especially for custom projects," adds Larricq. "Then, of course, if you go above 60 metres you have a long building time, as well as the waiting list. So 50-meter yachts will take at least 24 months, 60-metre two-and-a-half years, maybe three. And then 70-metres-plus you're looking at maybe three to four years. Clients are keeping their yachts, and that simply means available inventory is less."
Geopolitical tensions and conflict have played a part in the decline too. While the war in Ukraine hasn't had the catastrophic effect on the industry that was initially feared, it has had an impact nonetheless. "There is a knock-on effect from what has happened in the war," says Geoff Moore, managing director, West Nautical. "A lot of Russians have been stopped from buying a lot of the new boats. It doesn't mean they are not buying used boats, and it doesn't mean they're selling their boats, which was a big expectation. But a large part of the market has been handcuffed somewhat."
Lambert adds that buyers have also been cautious before coming to market in light of the current economic climate. "Prospective yacht owners likely held back from entering the market earlier this year when considering the increasing interest rates and global financial instability. Perhaps it was a time people took a bit of a step back to observe the market too. Yachting is all about confidence, about feeling happy to invest.
"There is also the fact that current owners are still getting a lot of use out of their yachts. It's a safe environment to enjoy with family, with friends. Because of this, they are not listing them for sale, and therefore are also not seeing other options on the market that satisfy their interests. It is a bit self-perpetuating in the sense that if you don't see something you are interested in buying, then you are unlikely to put your own boat onto the market to the same degree."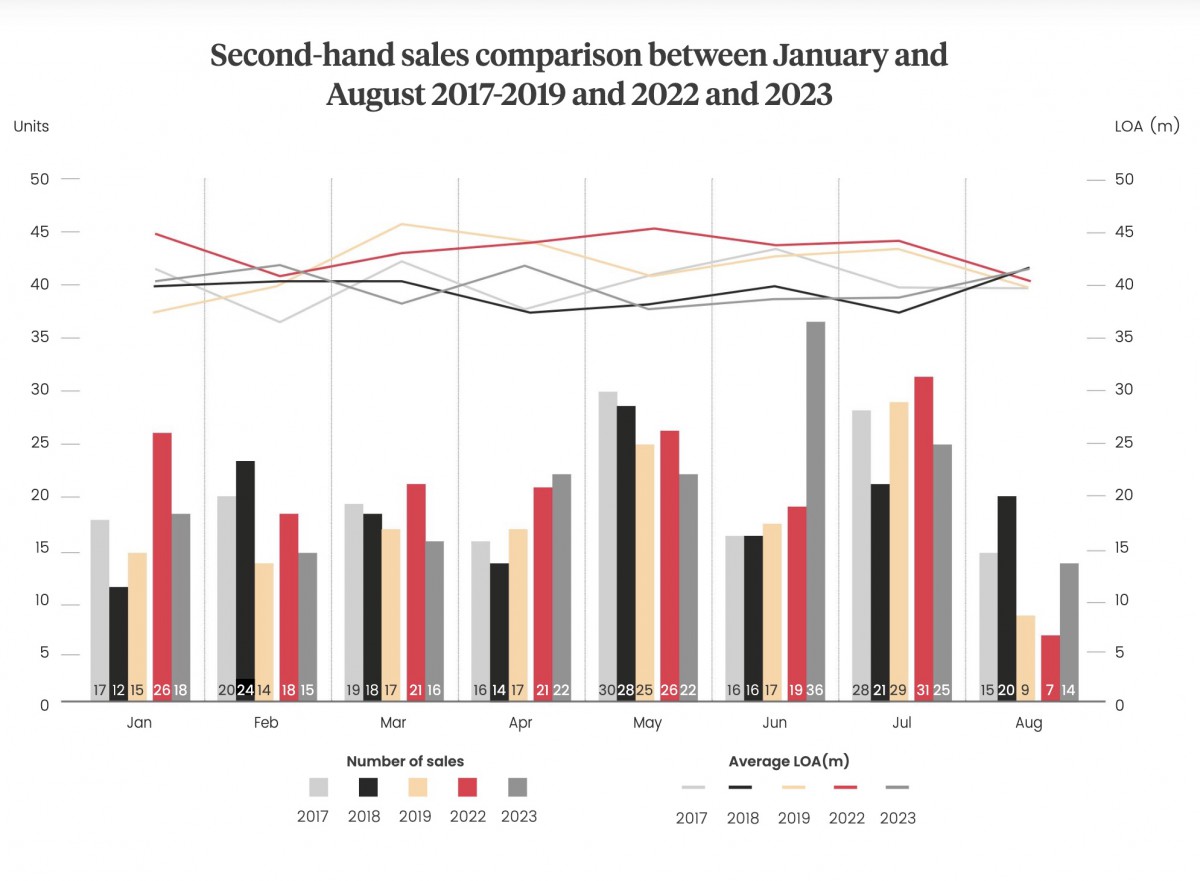 When the yachting industry was enjoying record demand it could afford to keep prices high. While strong interest in the market remains, the softening of demand could mean that yacht valuations may need to be readjusted.
"In 2021 and 2022 demand was high, and as a result, this led to some unusually high prices," says Ben Bensahel, Europe head of sales and brokerage, Camper & Nicholsons. "Today, a large percentage of buyers are faced with the same or similar prices but they are waiting for them to drop. The question is, will this happen or are we looking at a new norm? Yes, there have been some price reductions recently, but I believe that more buyers will come back to the market once they realize the prices seen in 2018 and 2019 are a thing of the past."
There are also a lot of yachts that are not brought to market publicly. "Something we are seeing more and more of in the larger yacht segments is deals being conducted off-market," adds Bensahel. "So instead of listing the yacht publicly, if an owner of a quality yacht is looking to sell, a broker will contact his clients one by one to gauge interest. Then they can discuss numbers in-house and conduct the sale without the yacht even hitting the market. Few of these deals happened recently, like the Mangusta 165 AAA that we sold off-market in July or the 95m Lürssen Midsummer sold this summer."
Ben Farnborough, chief operating officer, Denison Yachting, agrees and adds that some sellers may be deterred from selling for less than they paid. "There are quite a few people who bought boats during Covid and not necessarily paid a premium due to demand, but spent a lot of money for their boats," he says.
"Now some people are looking to sell, whether it is because they are in love with yachting and want to upgrade or because they didn't love it as much as they thought. But, of course, there is naturally some depreciation to their asset, and some might not be inclined to settle for less than their asking price." However, Farnborough adds that there has been an increase in price reductions in the build-up to show season, and as a result, there seems to be fluidity in the market again.
There were numerous price reductions prior to several yachts being sold this year. Although this raised some concerns towards instigating a race to the bottom in order to get boats off the market, Farnborough maintains that this isn't the case. "If someone has a well-built, well-maintained yacht, it will always hold good value. A lot of owners who reduced the asking price of their yacht have sold it. I don't know if there is a direct correlation, but it is an indication of people getting slightly more realistic of their post-Covid valuations than anything else."
Despite the price reductions and slight increase of available inventory towards show seasons, Moore believes that it is still a seller's market. "We thought this would change last year, and it didn't, as when a good boat comes on the market, it sells very quickly. Just look at Here Comes The Sun, for instance,' he says. 'So buyers are out there, especially for the bigger boats from brands with good reputations. It's the smaller boats, or ones from slightly obscure brands, the older yachts or ones that need a lot of work, they are the boats that are struggling the most."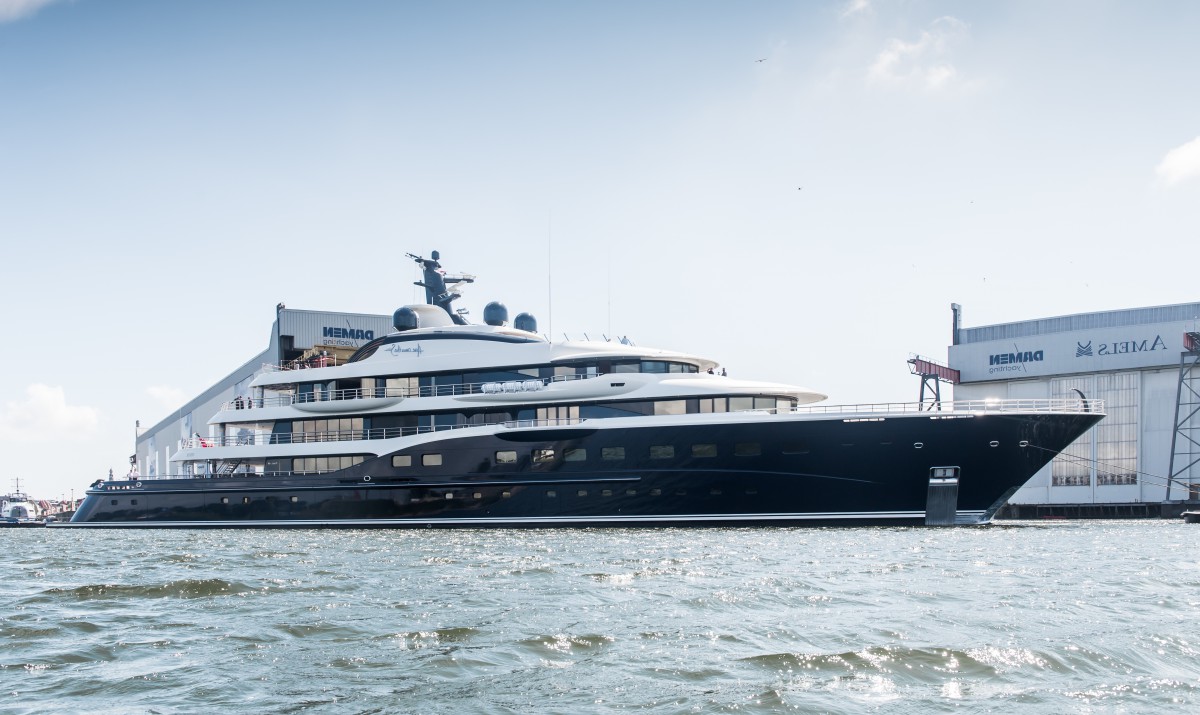 Here Comes The Sun takes to the sea following a complete refit at Amels' shipyard.
There is always the fear that the market will crash if sales continue to decline, however. "I think if you look at global superyacht sales, the number of boats sold will be way off what it has been for the last five years," says Farnborough. "As a company, we are always trying to be ahead of where we were the year before. But I think if you look at the record books in the future, it will show that 2023 wasn't the greatest year for superyacht sales by the numbers."
For Larricq, it's only a matter of time until the bubble bursts. "That being said, I was expecting it to burst last year, and I was proven wrong," he says. "The market is still very strong. And unless there's a major meltdown, I don't see anything dramatic happening to the industry.
Notably, listings were increasing in the build-up to show season. Despite the challenges to the market and the slow start to the year, the boat shows will likely be lucrative for sellers. Most brokers mentioned here reported full bookings for their Cannes, Genoa, Fort Lauderdale, and Monaco slips by July, some as early as May.
Considering that the sharp increase in sales at the end of last year was likely a consequence of sales that originated in shows, Bensahel believes it is likely the same thing will happen again. "The boat shows are full. The quality on display is quite good. If we look at the last few years, we secured a number of transactions from clients that came to the yacht shows," he says, "and while the Northern European or Italian ships gain a lot of attention traditionally, we are seeing increasing interest in Turkish shipyards. Bilgin is definitely one to follow closely. So there is definitely a lot of potential in new and emerging markets."
The appetite from buyers is still there, and with the increase in available inventory during show seasons, it's likely the sales following the boat shows will bring this year's figures to similar levels as 2022.
"Judging by the market's current position and seasonal trends witnessed in previous years, we foresee more owners making a move and bringing their yachts to market for the Mediterranean season and as we enter the Caribbean season," says Lambert. "Shows have become more and more sales-orientated over the years, so we are feeling positive going into the final part of the year. The 50m-plus market looks particularly active too, and that is positive for the entire market. This segment typically leads the way, so if they have the confidence to move, you'll suddenly have a trickle-down effect with more yachts coming to market."
As the industry descends from its crescendo of 2021, it's time to prepare for the old normal. Adjustments in yacht valuations may be necessary to stimulate the market further, but ultimately it remains in good health and could improve further with a return to a more stable global economy and peace in Europe. For now, the market looks set to cruise into similar figures as seen in the years before the pandemic, which is stable enough to continue to foster the growth of the industry.
This article was originally featured in The Superyacht Owner Report 218, which is available to read and download now.
---
Click here to become part of The Superyacht Group community, and join us in our mission to make this industry accessible to all, and prosperous for the long-term. We are offering access to the superyacht industry's most comprehensive and longstanding archive of business-critical information, as well as a comprehensive, real-time superyacht fleet database, for just £10 per month, because we are One Industry with One Mission. Sign up here.
Related news