Sea Eagle – a true sailor's superyacht
Three years after a low-key launch, Captain Mike Douglass discusses the striking schooner as it embarks on a busy charter schedule…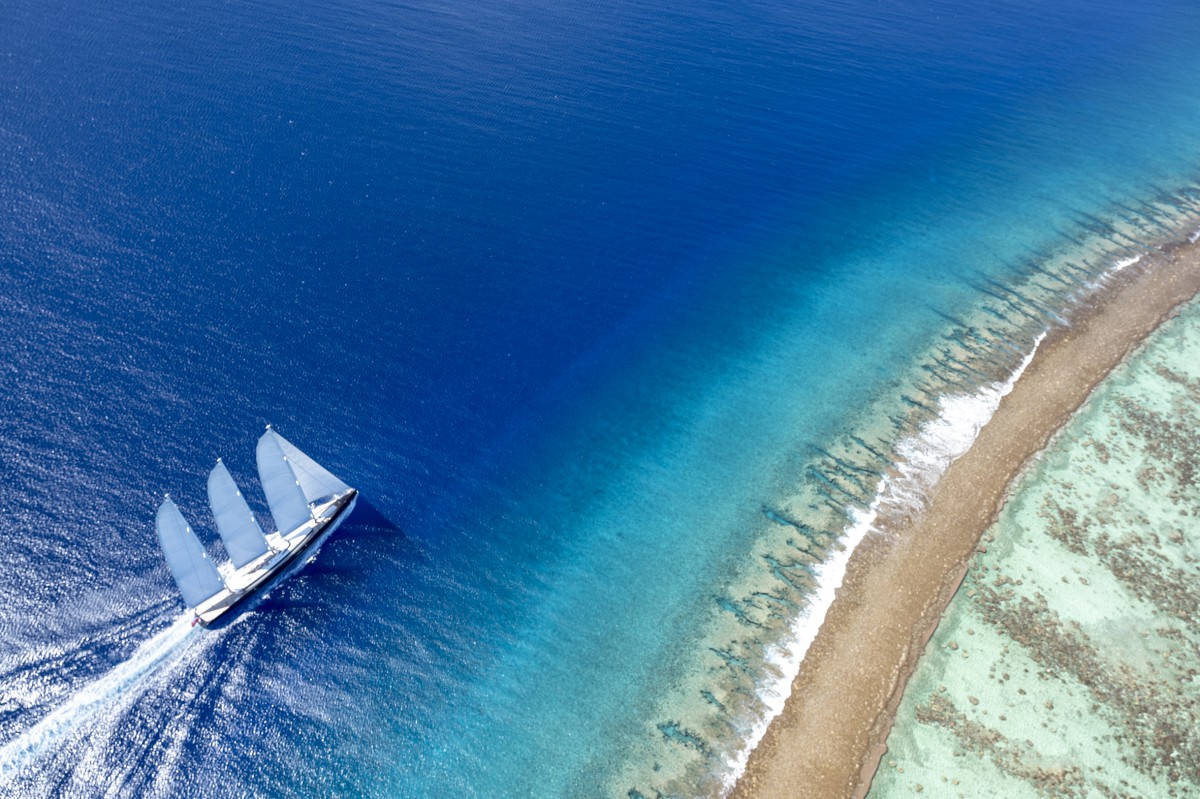 Photo: Tim McKenna
Delivered in 2020 at the height of the pandemic, Sea Eagle's arrival on the superyacht scene was, as even Royal Huisman admits, 'low-key' compared with the stature it has now gained in the upper bracket of sailing superyachts.
TSG caught up with the stunning 81-metre schooner as it was completing a yard period at STP Palma ahead of a busy charter season. Cutting an imposing figure at the end of the dock, Sea Eagle has very few contemporaries for true comparison, whichever way you look at it.
As the world's largest aluminium sailing yacht, it takes its place in the top 10, alongside Huisman's Athena. A contentious list at the best of times, the key criterion that elevates Sea Eagle relates to the word 'sailing'. Sea Eagle's comparatively light weight, long waterline and powerful, yet manageable, Panamax rig ensure it lives up to the cliché of being 'a true sailing yacht'.
Originally built for a discerning owner with blue-water cruising and private usage in mind, it's now under new ownership and ready to make a bigger splash. At the time of writing, it's in Sweden, where it will spend the summer cruising the Nordic region before returning to the Mediterranean in late September.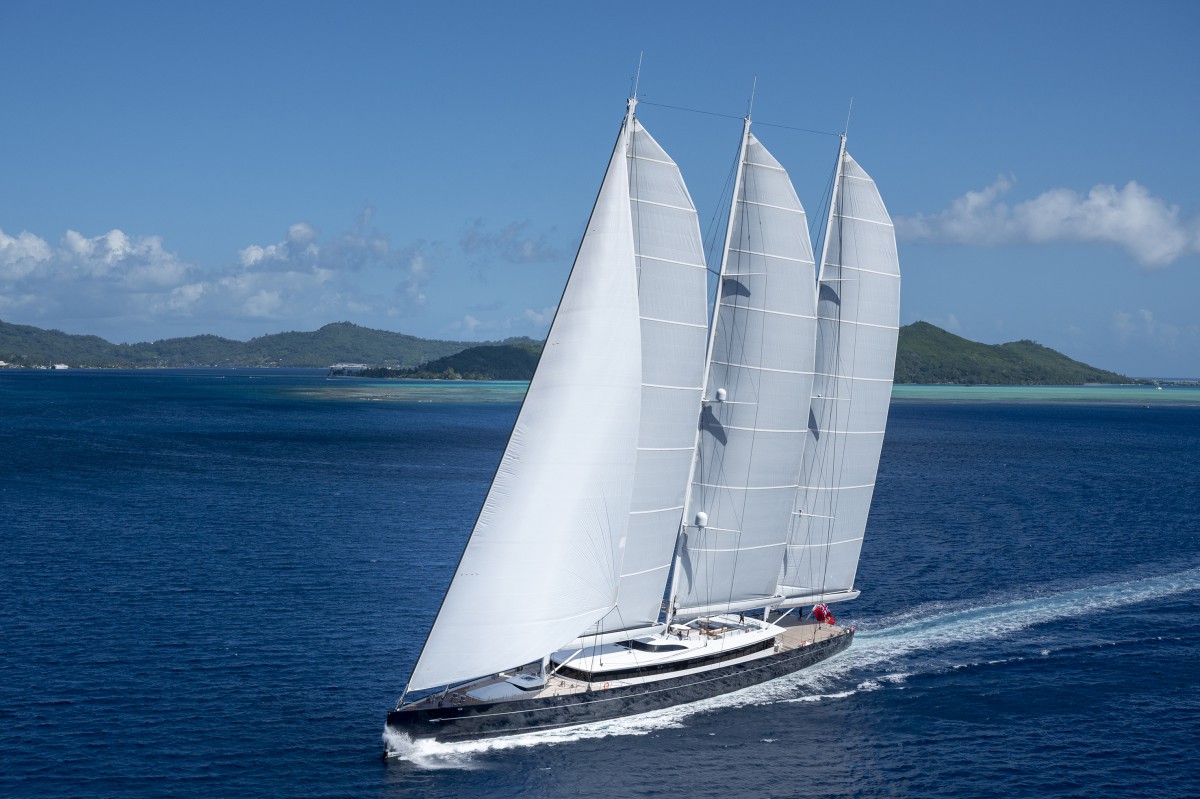 Photo: Tim McKenna
According to Royal Huisman, the original brief for Sea Eagle was to "create an extremely comfortable and spacious yacht with good seakeeping and exceptional amenities for both guests and crew, offering outstanding passage-making performance so that the owner could take in as much of the world under sail as possible. A true sailor's yacht – practical, powerful, safe and easily managed. Finally, it had to be functional, favouring simplicity and reliability over unnecessary frills."
A walkthrough of the yacht clearly reveals that this brief has certainly been followed. The guest accommodation is spacious but not excessive. Undoubtedly, the designers could have taken more space for the owners' areas, considering the available volume. Instead, it's obvious that it has been intelligently used to provide the necessary storage, working areas and crew accommodation to fulfil the rest of its brief: that of an efficient world cruiser.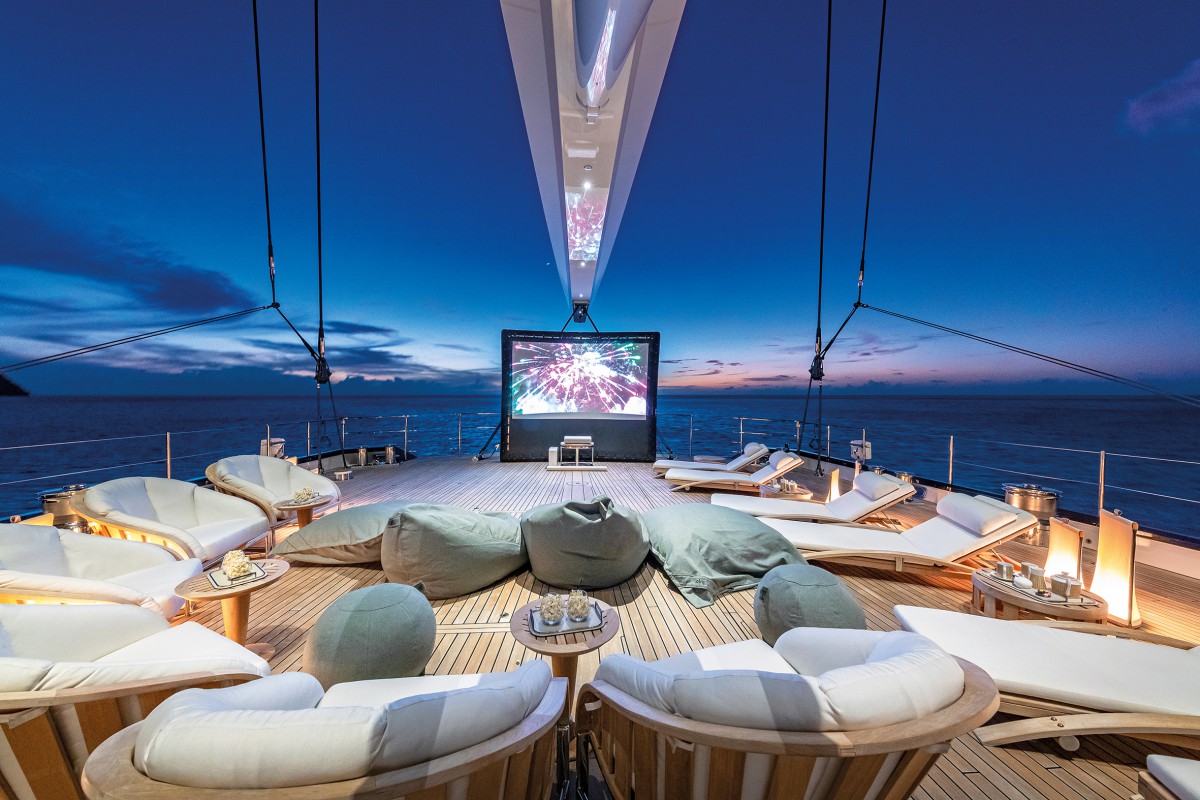 Photo: YachtingImage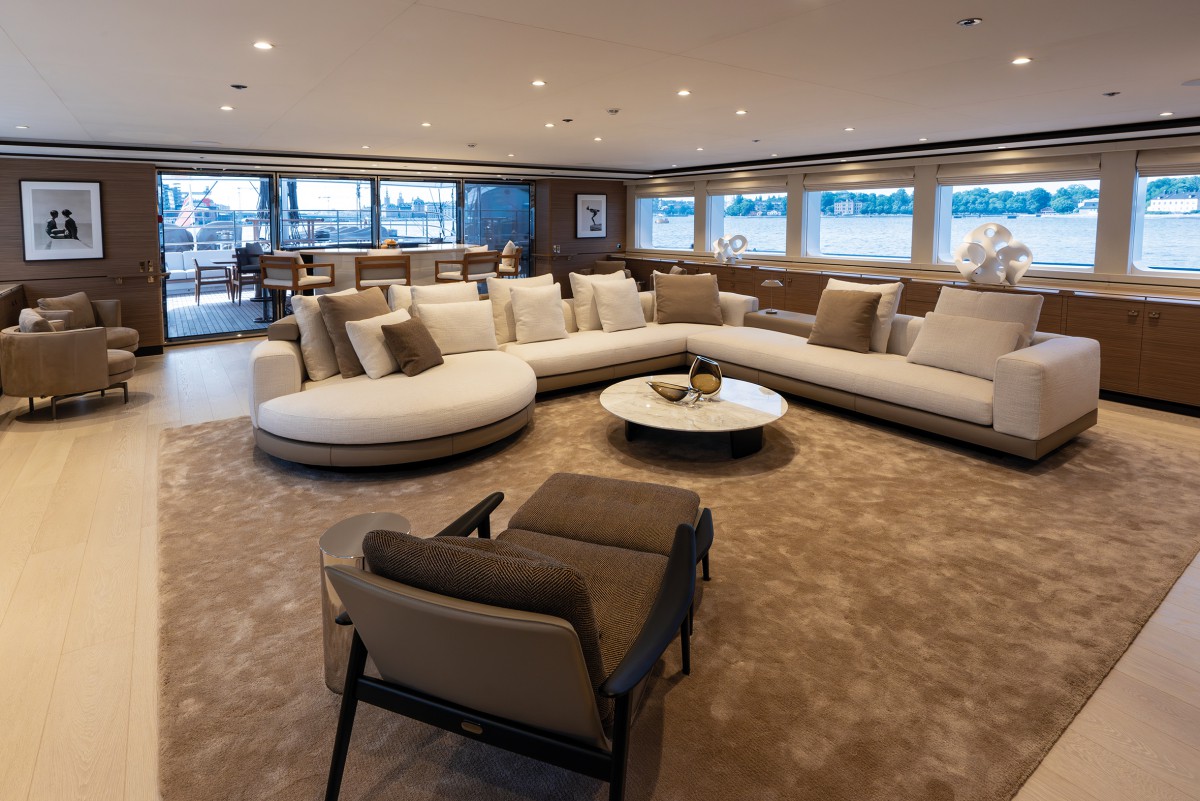 Photo: Team Sea Eagle
In the pantheon of very large sailing yachts, Sea Eagle is in the minority. It may seem like a misnomer, but a dirty secret of some large sailing yachts is that they don't sail as much as their smaller cousins or common conception suggests.
The reasons for this are manifold. A combination of the extreme forces at play, the danger associated with accidents and the high cost of replacement and associated lead times in case of mishaps can leave crew skittish when it comes to hoisting solely for the purposes of a passage.
"Sea Eagle has sailed over 55,000 miles in the first three years," says its captain, Mike Douglass. "A lot of that has been under sail and without engines. It handles very well, and having the confidence to do these passages with very little engine use is a testament to the build quality."
A contributing factor to this confidence is the fact that the massive sail area (2,580 sq m/27,770 sq ft upwind; 3,552 sq m/38,233 sq ft downwind) is spread over three masts. The hoisting and furling time is roughly equivalent to a sloop of 50 metres, meaning managing this kind of sail set-up is not as daunting as it may have been half a generation ago.
Behind this ability is the energy-generation and management system. Electrical and hydraulic power come mainly from the twin generators. In addition, there is a hydraulic take-off from each main engine and peak shaving from the powerful battery bank, resulting in a significant volume of hydraulic capacity (500kW) – well in excess of requirements to hoist fore, main and mizzen sails simultaneously.
The 60-metre carbon Rondal masts, as with all that leave the Rondal factory, are built in one piece. The carbon-fibre roller furling booms, captive reel and drum winches, and flush deck hatches were also manufactured by Rondal, while continuous carbon-fibre standing rigging was supplied by Carbo-Link. The sail plan is then managed by Rondal's Integrated Sail Handling System which interfaces spars, rigging, winches and sailing hardware in a custom configuration.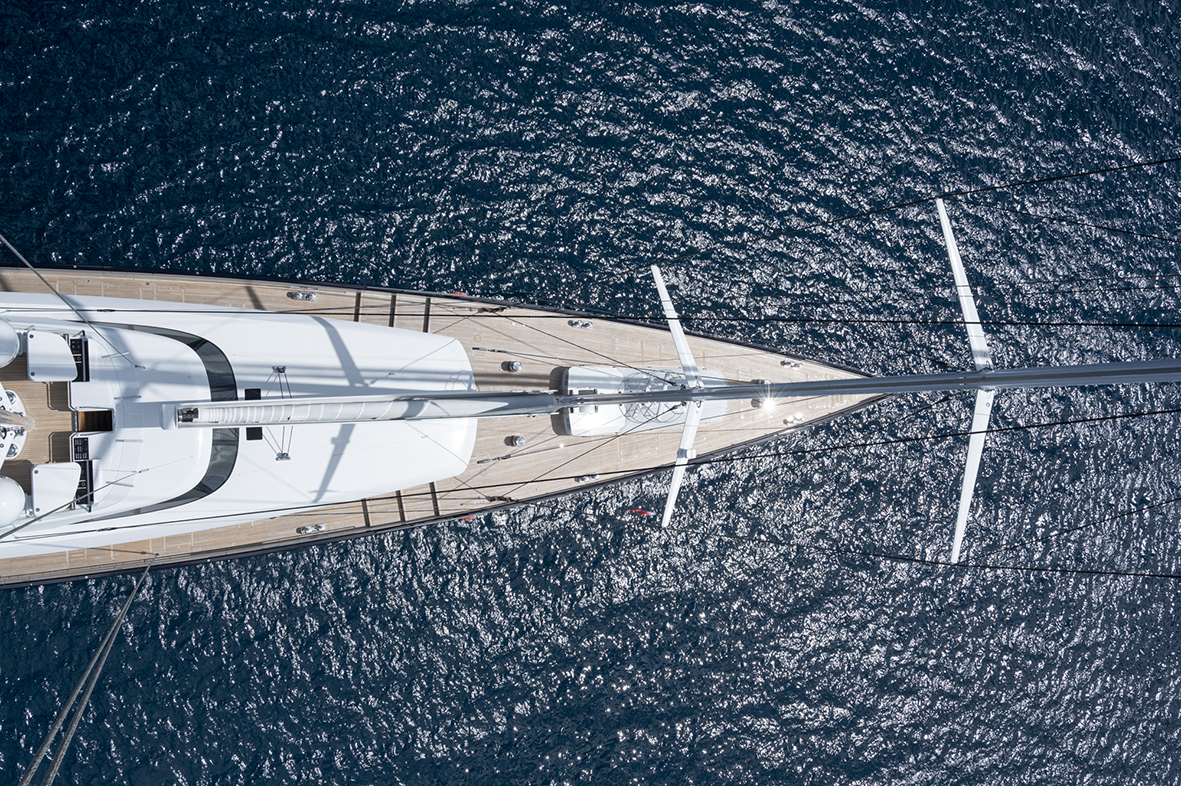 Photo: Tim McKenna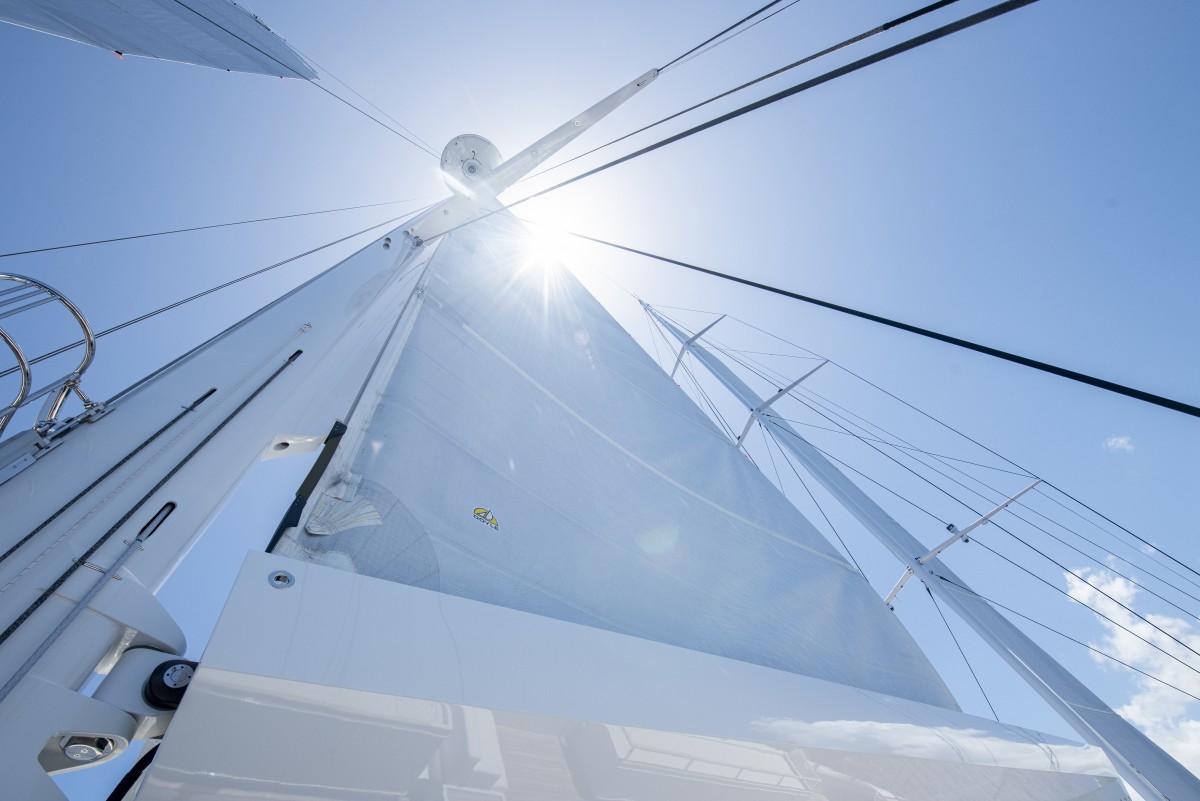 Photo: Tim McKenna
"Environmental impact reduction is better achievable when the vessel is responsive to the breeze and can sail by wind to the desired destination," says Erik Wassen, of Dykstra Naval Architects. "The powerful rig geometry of Sea Eagle can be quickly adapted to the conditions encountered, allowing her to safely sail for proportionately more miles of the journey."
Douglass adds, "When you look down the line of the great Huisman sailing yachts using similar rigs – Blue Papillon, Hyperion – they are tried and tested. We're just running three of them side by side."
Sea Eagle's Panamax rigs are integral to its world-cruising credentials. The ability to transit the Panama Canal (while fitting under the Bridge of the Americas with a 61-metre clearance) means the yacht can sail from the Caribbean to the Pacific without the arduous trip around Cape Horn.
After a planned Caribbean charter season, and hopefully a racing schedule, that's exactly where it will head. As with increasing numbers of intrepid yachts, the wilds of Central and South America await.
Large sailing yachts are idiosyncratic, none more so than Sea Eagle. They appeal to a smaller section of the charter market and have to contend with a smaller pool of prospective clients. And, at 550,000 euros per week (via Burgess as the sole CA), it's at the sharp end of the sailing charter market.
"I have no doubt that what Sea Eagle offers more than overcomes this price point," says Douglass. "We have a very experienced charter crew and some great sailors. The space on board, the comfort underway and the experience that we can offer, compared to what the same price gets you in the motoryacht market, it's incomparable."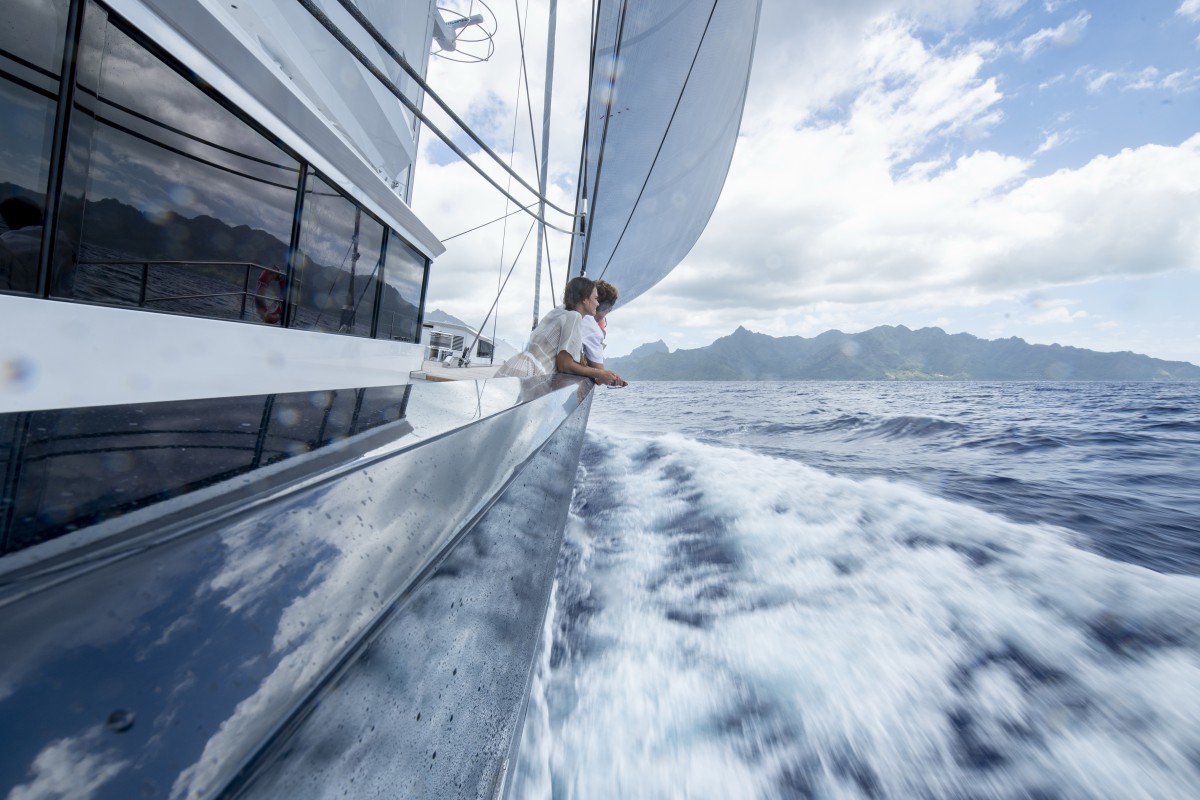 Photo: Tim McKenna
Having been on the build crew and eventually captaining sailing yacht Vertigo, the 2011 67-metre Alloy Yachts ketch, through one of the busiest sail charter programmes imaginable, as well as more recently the 83-metre Abeking & Rasmussen motoryacht Secret, Douglass understands the finer points of successful sailing charters.
"There are minor adjustments that need to be made," says Douglass. "For example, with a six-metre draft like we have on Sea Eagle, it's vital to explain to guests who may not have experience on sailing yachts our limitations versus opportunities. We may not be able to get all the way into this bay, but we can offer this other experience in return."
There are other subtleties that set Sea Eagle apart – less glamorous than the sailing capability but no less vital for its global chartering aspirations. The Pacific specifically tests the boundaries of a conscientious vessel's garbage-management systems. Ironically, many will run out of cold storage before they run out of fuel. Having systems in place to manage overlooked factors such as this is vital to effective and low-impact chartering.
As experienced charter brokers will tell you, aligning the right client with the right boat in the right place is tough. Many owners are taking their yachts on global programmes that are redefining yachting's global boundaries. is looking to follow suit.
However, the bread and butter of the charter market remains the Mediterrranean/Caribbean split season. Attracting clients to the furthest reaches of the Pacific, although richly rewarding for those willing, is still a challenge.
"Rather than sporadically picking up charters, the vision we have is to slowly build a network of charter guests that have an emotional investment in the yacht and are interested in its programme – people who have been on board, perhaps in the more traditional destinations, who we can share the yacht's plans with and look 12 to 24 months down the line," concludes Douglass.
"We are embarking on a busy and challenging programme. It's great to have an owner who's open to discussion and happy to let the expertise, both on board and in various fields or regions, guide us. Our approach is always to assess the process and make sure we are operating the boat as safely and effectively as possible."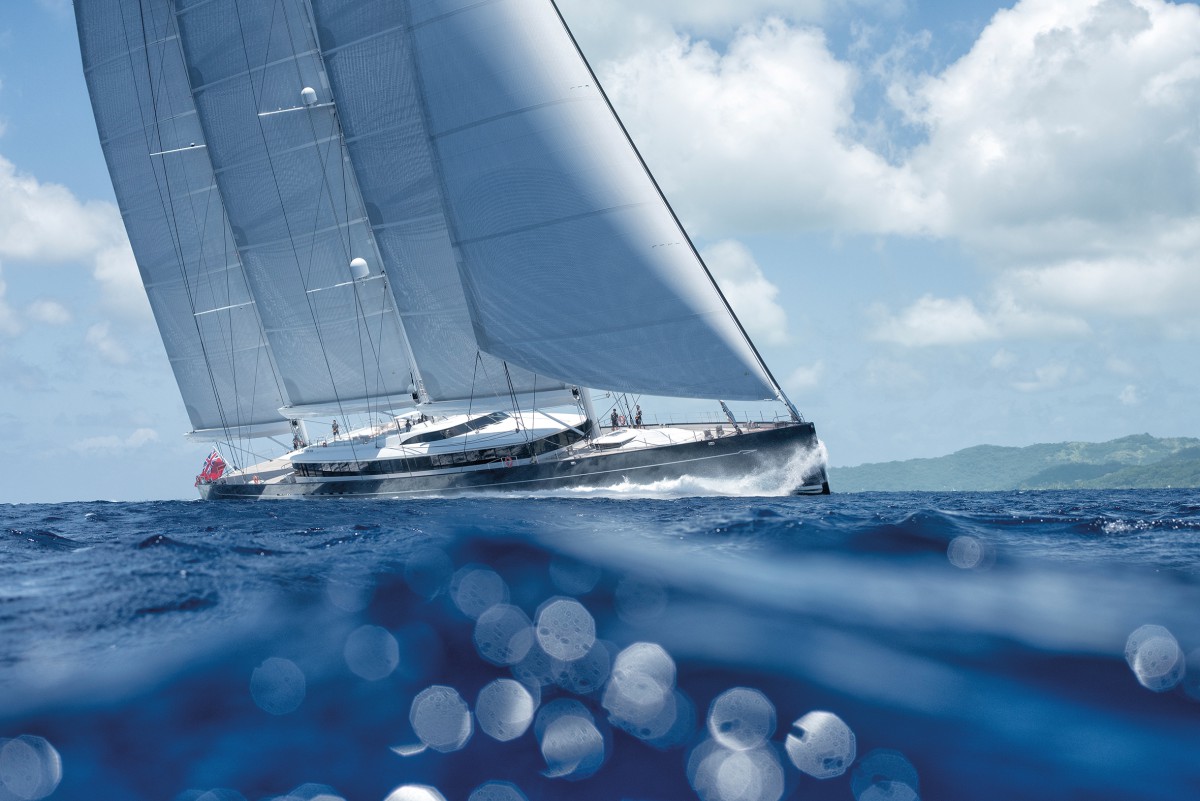 Photo: Tim McKenna
This article first appeared in The Superyacht Operations Report. To gain access to The Superyacht Group's full suite of content, publications, events and services, click here to join The Superyacht Group Community and become one of our members.
Profile links
---
Click here to become part of The Superyacht Group community, and join us in our mission to make this industry accessible to all, and prosperous for the long-term. We are offering access to the superyacht industry's most comprehensive and longstanding archive of business-critical information, as well as a comprehensive, real-time superyacht fleet database, for just £10 per month, because we are One Industry with One Mission. Sign up here.
Related news