Triton, trailblazer of the dark oceans
Triton Submarines CEO and co-founder Patrick Lahey reflects on a challenging year but remains optimistic about private deep-sea exploration…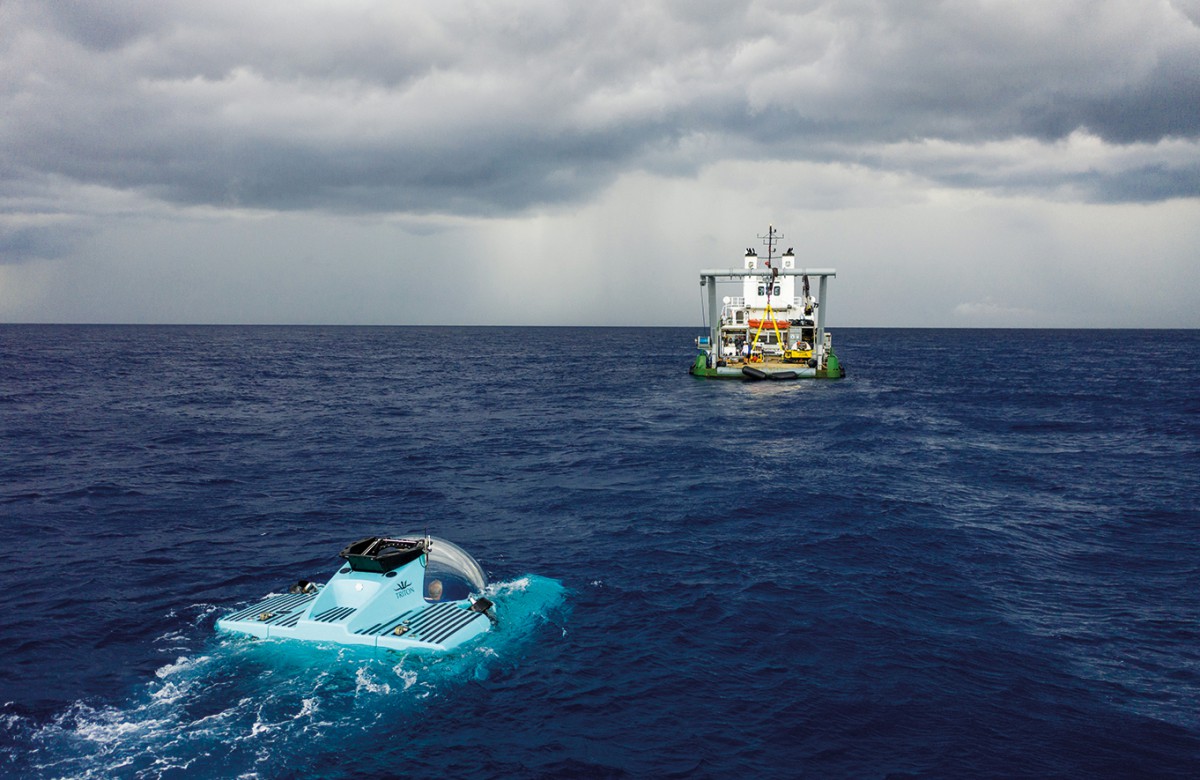 Triton 3300/6 and support vessel photo © Triton Submarines

Private submersibles have been an intriguing part of the superyacht story, viewed by some as the pinnacle of what is possible when private capital meets exploratory ambition, and by others as the ultimate overindulgence for elite adventurers. Although the total representation of full ocean-going subs across the fleet is relatively small, their influence in the marine environment has punched well above their weight.
While they have been favourites of the yachting press and have contributed to some landmark documentaries and expeditions, it's fair to say that not many outside the industry thought too deeply about the world of private submersibles until June this year. The media frenzy that followed the Titan disaster was intense as the attention of the world was transfixed on the North Atlantic.
At first, it seemed like the worst-case scenario for the exploration submersible industry, but if one looks beyond what was a terrible, yet wholly avoidable tragedy, the future looks bright.
"Although the OceanGate tragedy has cast a dark shadow over our industry, the public has become aware of the stark difference between the thoughtfully designed and carefully engineered products created by legitimate manufacturers of certified or classed submersibles and the abomination created by OceanGate, which should never have carried a human being," says Patrick Lahey, CEO and co-founder of Triton Submarines.
Patrick Lahey Photo © Reeve Jolliffe

It was through the dogged determination of the highly experienced stakeholders in this field, such as Triton, EYOS Expeditions and none other than filmmaker James Cameron that a more informed narrative took hold and a wider appreciation of the field seemed to permeate through.
Hearing media outlets such as CNN and The Guardian examine the finer points of classification societies and pressure boundaries was due to the direct and informed interviews and information-sharing from the industry's key players.
As Lahey and many others from across the submersibles sector have pointed out, the safety record for deep-sea exploration is exemplary. No classed and certified submersible has been involved in an accident of any kind in more than five decades, a perfect operational track record, underscoring the vital distinction between the OceanGate sub and the type of vessels Triton and other top players in the field are producing.
"The OceanGate monstrosity was built without the benefit of any sort of oversight or peer review and as such was unfit for human occupancy," says Lahey. "The difference between the vehicles that people in the legitimate sector of our industry produce, which go through a very arduous, very time-consuming, necessarily thorough, and expensive accreditation process, is vast. There's just no comparison between them.
"It was encouraging for me, as someone who has devoted his entire adult life to the creation of these wonderful machines that take people into the deep sea and allow them to enjoy extraordinary experiences, to see the media begin to understand the stark difference between classed and certified submersibles and the experimental craft built by OceanGate."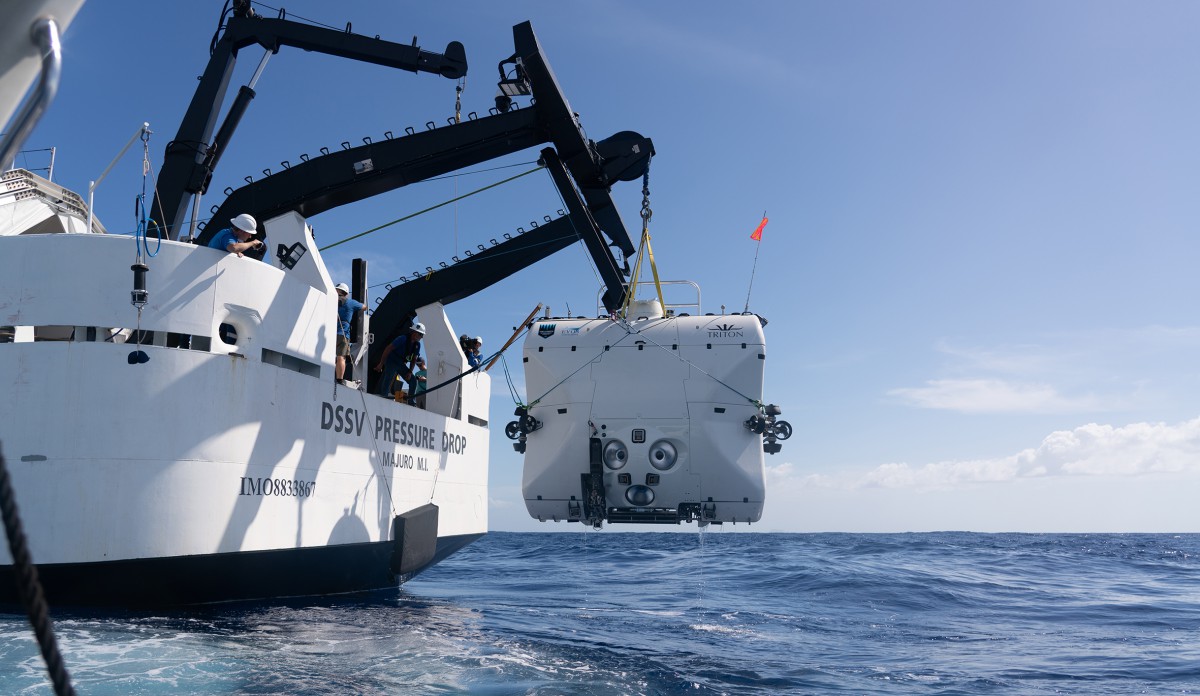 Triton 36000/2 being lowered into the water from the DSSV Pressure Drop Photo: Richard Varcoe
Groundbreaking is an overused cliché in our industry, but it seems a fitting description of the engineering and calculated boundary-pushing pioneered by Triton.
It has been 63 years since Don Walsh and Jacques Piccard made the first manned descent to the bottom of the Mariana Trench, a point known as the Challenger Deep, in the Italian-built bathyscaphe Trieste. Reaching this point, nearly 11km down, was not replicated until James Cameron returned in 2012. Notably, both of these subs made only one dive to full ocean depth before being retired from service.
Triton redefined what was considered possible when it built the reusable TRITON 36000/2, the world's first and only manned submersible that is certified to full ocean depth. In 2019, Victor Vescovo then became the first person to reach the deepest point in all five oceans, including the Challenger Deep, using his TRITON 36000/2.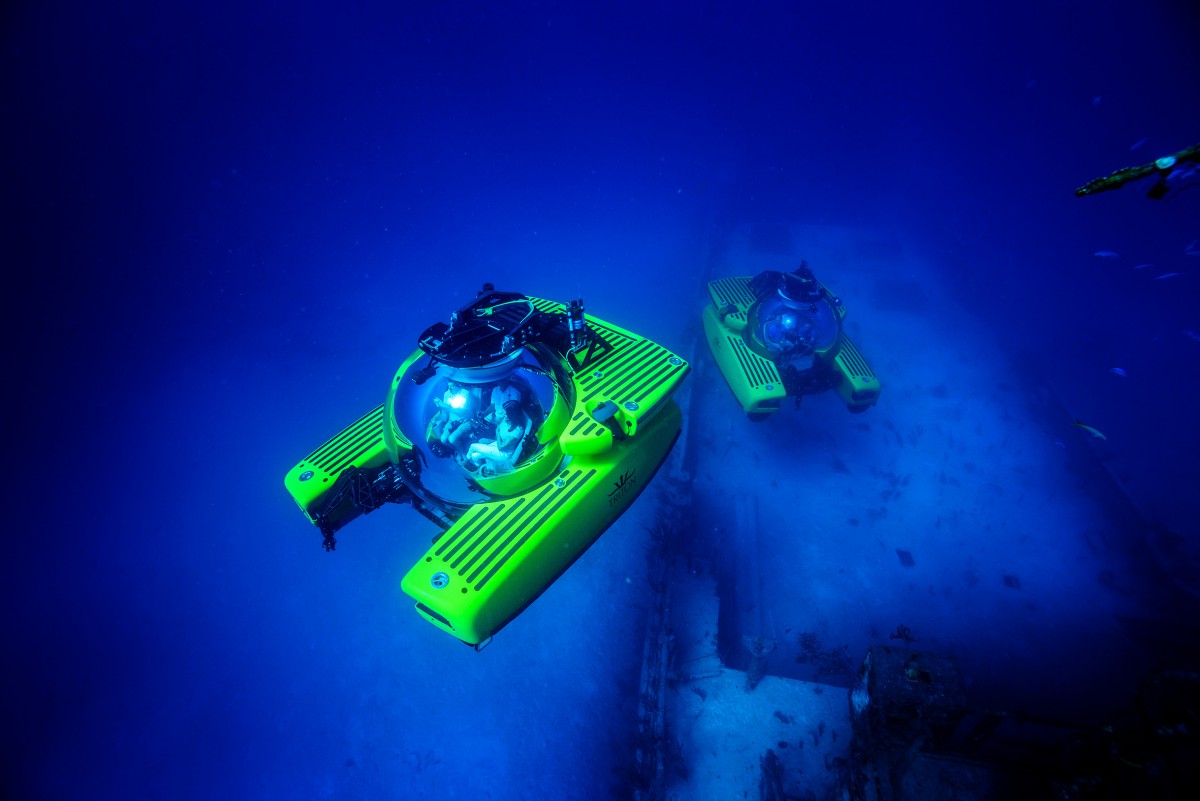 Triton 3300/3 twins diving Photo: © Nick Verola & Triton Submarines
Where do you go as a company when you have been to the most technically hostile environment over and over? Once you have gone that deep, the subsequent innovations may not be as headline-grabbing, but actually they are plentiful, as Lahey explains.
One of the most exciting and challenging projects underway at Triton involves a fully transparent pressure boundary. Rated to 4,000 metres, an immersive transparent acrylic hull will be both a monumental engineering feat and a significant driver of user experience.
Triton's principal design engineer John Ramsay says, "After you have created something that's gone to 11,000 metres, and you then realise what is possible with a spherical pressure hull, it opens up the thought process."
After a significant innovation in materials, Ramsay explains the fascinating limiting factor for this pressure boundary: eventually, the amount of acrylic needed to withstand the pressure has a higher volume than the interior space of the sphere itself.
"When you look back at the history of acrylic subs, they have all followed these principles," adds Ramsay. "But as technology advances, so do the materials and our ability to analyse complex shapes and structures with analytical software.
"That's an example of truly transformative technology, and these innovations exist all over a new submarine. Being able to incorporate them into underwater vehicles is continually making them even safer and enhancing the user's experience."
Triton 1000/2 and jellyfish Photo: © Triton Submarines
Keeping these innovations simple and safe is also vital on a yacht. Without the time or often the crew to dedicate as much attention to an underwater vehicle, simplicity and reliability are critical. Lahey says, "You don't want to build something that is a source of frustration for the people who own it."
Another transformative piece of technology, albeit on a smaller scale, is that of lighting. When I first learned to scuba dive 20 years ago, what was considered the cutting edge of underwater lighting now feels archaic. Preparing for a night dive or even a shallow, moderate visibility dive in the day required some fairly cumbersome technology.
I'm sure that divers of a certain generation can recall the oversized pistol-grip hand cannons they had to carry – arranged with a double stack of D-cell batteries, precariously set out and sealed, all to power a temperamental halogen bulb with the output roughly equivalent to candles on a toddler's birthday cake, and with about the same operational window.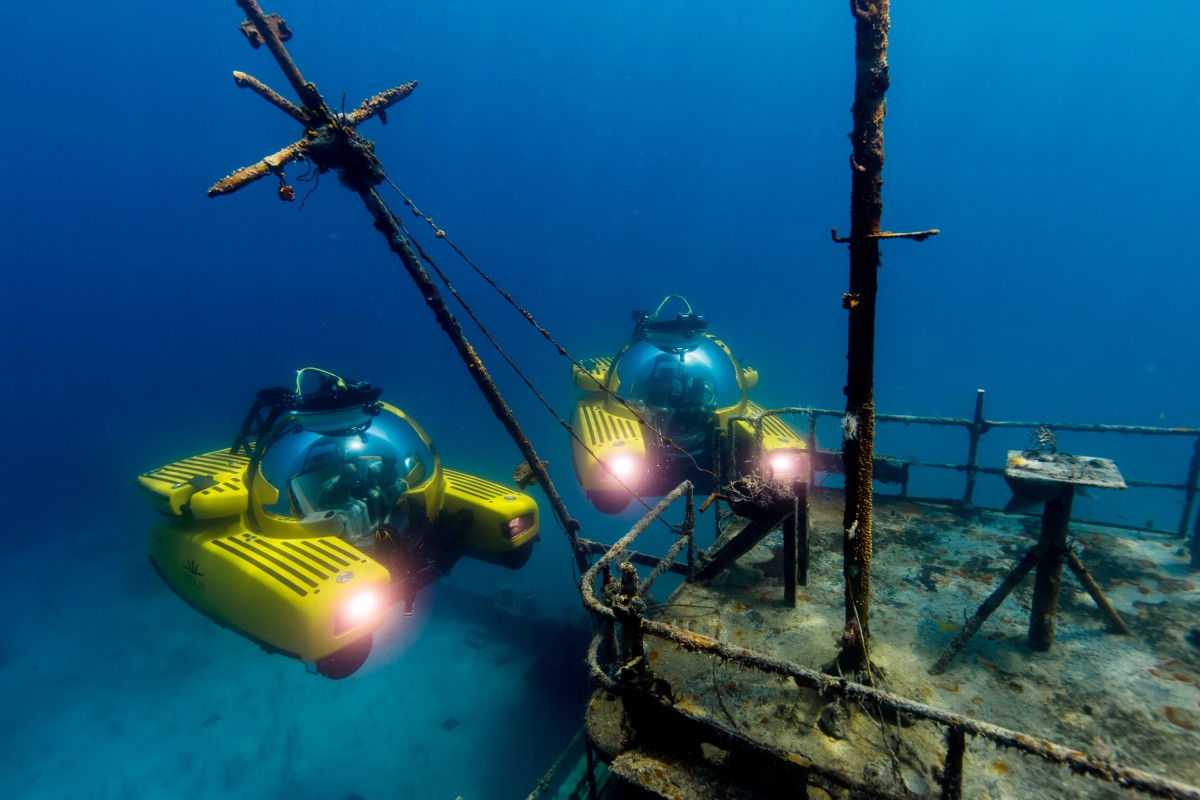 Twin TRITON 3300/3 at wreck Photo: © Nick Verola & Triton Submarines
Today's torches are small and sleek rechargeable LED units sealed in milled aluminium. Producing a blinding and adjustable beam, they illuminate the water column in unprecedented detail. This is amplified in the world of private manned, deep-sea exploration. The depths explored by Triton subs are bathed in permanent and total darkness, and having effective illumination is the key to the whole experience.
The entire operation is underscored by its energy-storage capabilities, and therefore the evolving technology of batteries is pivotal to the safe operation of underwater vehicles. Today's batteries require significantly less maintenance and provide a much longer operational window.
"I often say that every sub Triton builds is like a Swiss army knife and has the capacity to support a whole range of systems," says Lahey. "It's really up to the owner to decide what they want to do with their sub. The tools we can equip the sub with are really limited only by your imagination."
So does Lahey feel that Triton has an obligation to encourage its clients to maximise the scientific and exploratory capabilities of its vehicles beyond their user experience? "Often, both we and our clients don't know what direction their journey will take once they experience the deep sea. A great example of this is Ray Dalio and the OceanX programme."
Rebuilt and converted at Damen, the 87-metre OceanXplorer is widely regarded as the most advanced private exploration vessel on the water. Dalio's predecessor yacht, Alucia, was one of the first private deep-sea exploration vessels, famous for its involvement in the filming of the BBC's Blue Planet II.
"I don't think Ray would mind me saying this, but when he bought his first subs from us 12 years ago, I don't think he had any idea of the trajectory he was on," says Lahey. "But he went right out of the gate and filmed these two extraordinary documentaries, which included the first ever footage of the giant squid in its natural environment, and that created even more interest and excitement in human-occupied vehicles and the things they could do.
"Mr Dalio now has two of our subs on board what I consider to be the most advanced ocean exploration and science vessel that the world has ever seen. I've been going to sea for my whole adult life, and when I went inside this boat, I was inspired. The OceanXplorer gives you hope for humanity, and we're fortunate there are people like Ray Dalio in the world."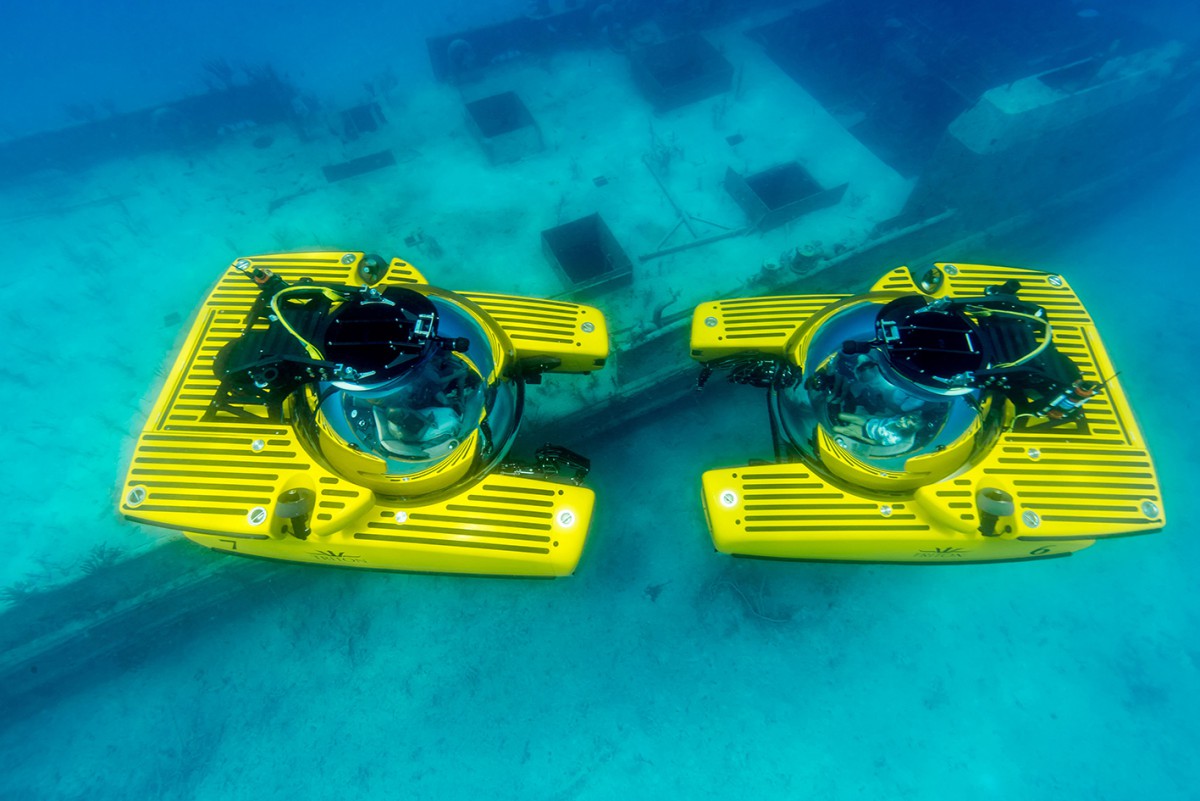 TRITON 3300/3 twins diving Photo: © Triton Submarines
Lahey adds, "Isn't it wonderful that I don't think if you were to ask Ray Dalio 12 years ago what he had planned, he would have had any idea it would lead to where they are today and the things that they're contemplating in the future."
"That's powerful stuff. I think back to myself and how much Jacques Cousteau's documentaries meant to me in the 1970s. There is no doubt they changed the trajectory of my life and they encouraged me to consider that an oceanic career was my calling. I expect these new documentaries will have a similar impact on the next generation."
The preoccupation with the unexplored nature of the deep sea provides a rich canvas for storytelling. In so much of the world's oceans, any foray below a few hundred metres is almost certain to be witnessing something that nobody has seen before, and that, as Lahey puts it, is the hook.
Lahey concludes by stressing the need, now more than ever, to tell the stories of the underwater world. Many of his clients have broken the boundaries of exploration, but so many of their feats remain unknown in the public consciousness.
As the next generation of immersive and safe subs enters the fleet, it's vital that we communicate the crucial role that private underwater vehicles and exploration are playing – and will play – in the quest to understand the underwater world and our role in its future.
This article first appeared in The Superyacht Owner Report. To gain access to The Superyacht Group's full suite of content, publications, events and services, click here to join The Superyacht Group Community and become one of our members.
Profile links
---
Click here to become part of The Superyacht Group community, and join us in our mission to make this industry accessible to all, and prosperous for the long-term. We are offering access to the superyacht industry's most comprehensive and longstanding archive of business-critical information, as well as a comprehensive, real-time superyacht fleet database, for just £10 per month, because we are One Industry with One Mission. Sign up here.
Related news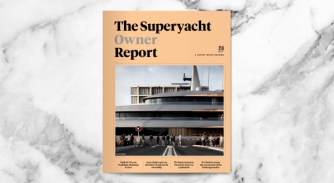 Issue 218: The Superyacht Owner Report is now available to read and download online
Owner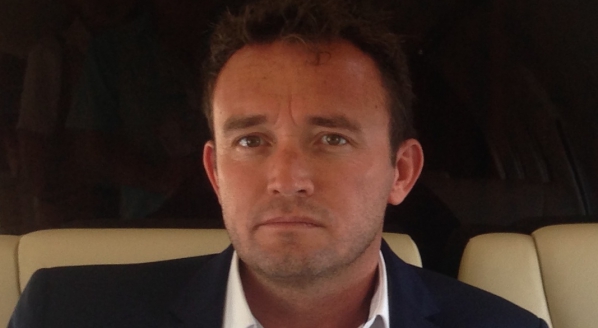 Purposely electing to operate in an environment of extreme pressure is not for the fainthearted, but at Triton Submarines, Craig Barnett finds it offers extraor
Design