In conversation: Luca Bassani
Yachting design visionary and Wally Founder Luca Bassani explores the trail of innovations that have rewritten some of the longstanding rules of yachting…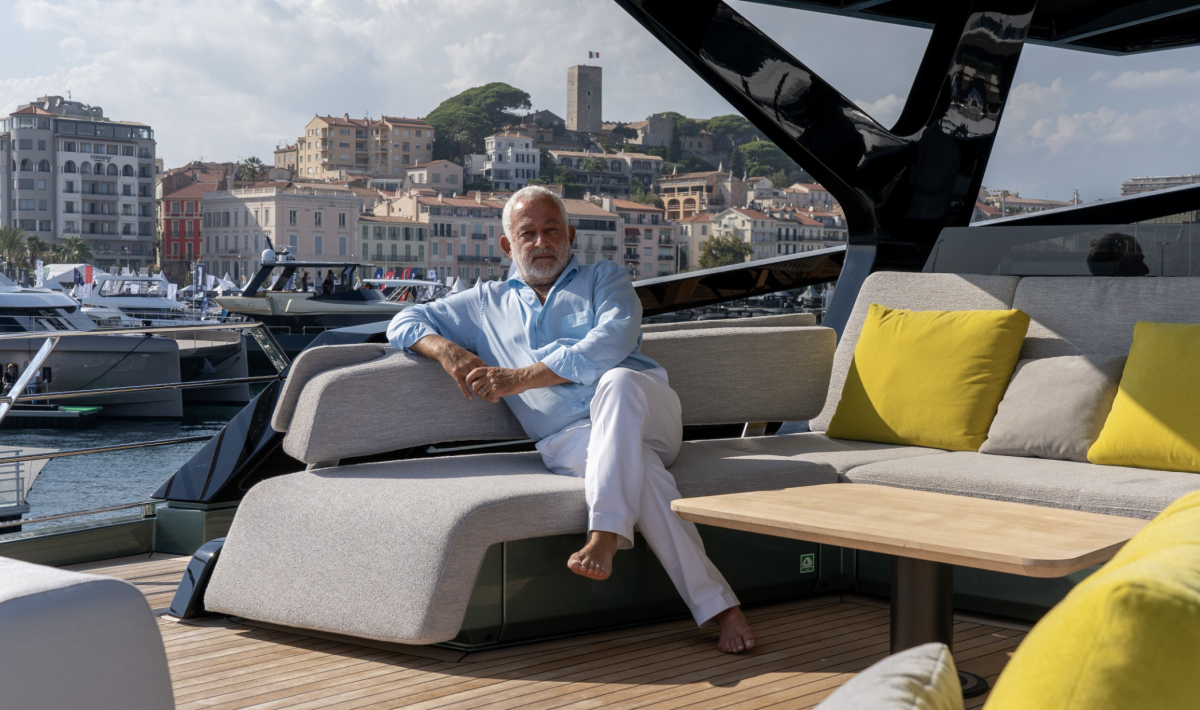 "My innovations are the reinterpretation of a boat system that is so different that it changes the way we experience the sea." Says Luca Bassani, pictured above.
This journey began in 1936 when Arnaldo and Luigi Bassani, Bassani's father and uncle, established a small metal parts company. Over time, the business expanded to include the production of switches for homes and industries. In 1974, the brothers founded Bassani Ticino, which developed devices for controlling low-voltage energy distribution.
Amidst this climate of innovation, they created the first main switch with red and green buttons, a pioneering success at the time that foreshadowed today's circuit breakers. The Bassani family became synonymous with innovation, high quality, and reliability. In 1989, the company became part of the Legrand group, and its name changed to BTicino.
"My passion for the sea was instilled in me by my father, who believed that racing together would teach my brother and me to work as a team," says Bassani. "We owned several sailing yachts, from the Swan 43 in 1970 to the 66-foot Phantom in 1975, which, along with Kialoa, were among the first maxi sailing yachts ever. After the Phantom, we ventured into 6m international boats, where we had the privilege of learning from great helmsmen like Ted Turner and Pelle Peterson.
I was the only professional in the racing world who wasn't paid but paid out of my pocket! In 1978, after my father's retirement, he set his sights on a round-the-world sailing boat: the 29-meter sloop, designed by me on squared paper and built by Camper and Nicholsons. I positioned the owner's cabin amidships to reduce pitching, placed the engine room further aft to minimize noise for the guests, and added two cockpits—one protected and one exposed to the sun.
As a former customer, I knew what to design. My parents circumnavigated the globe twice with this vessel, thanks to innovations like the first furling mainsail, furling jib, and furling foresail. The centre-board keel ensured a shallow draft for navigating bays and excellent sailing performance. We named this boat Calabuig after a charming village in Spain featured in a film my father adored—a film about a gentleman who retired there."
In 1979, together with a group of friends, we bought the first seven J24s worth 6 million lire each after a night of intense negotiations with Paolo Vitelli. In 1989, following the sale of BTicino, I designed a boat that met all my criteria. Until then, I had only encountered boats that were either very slow and comfortable or fast but exceedingly uncomfortable."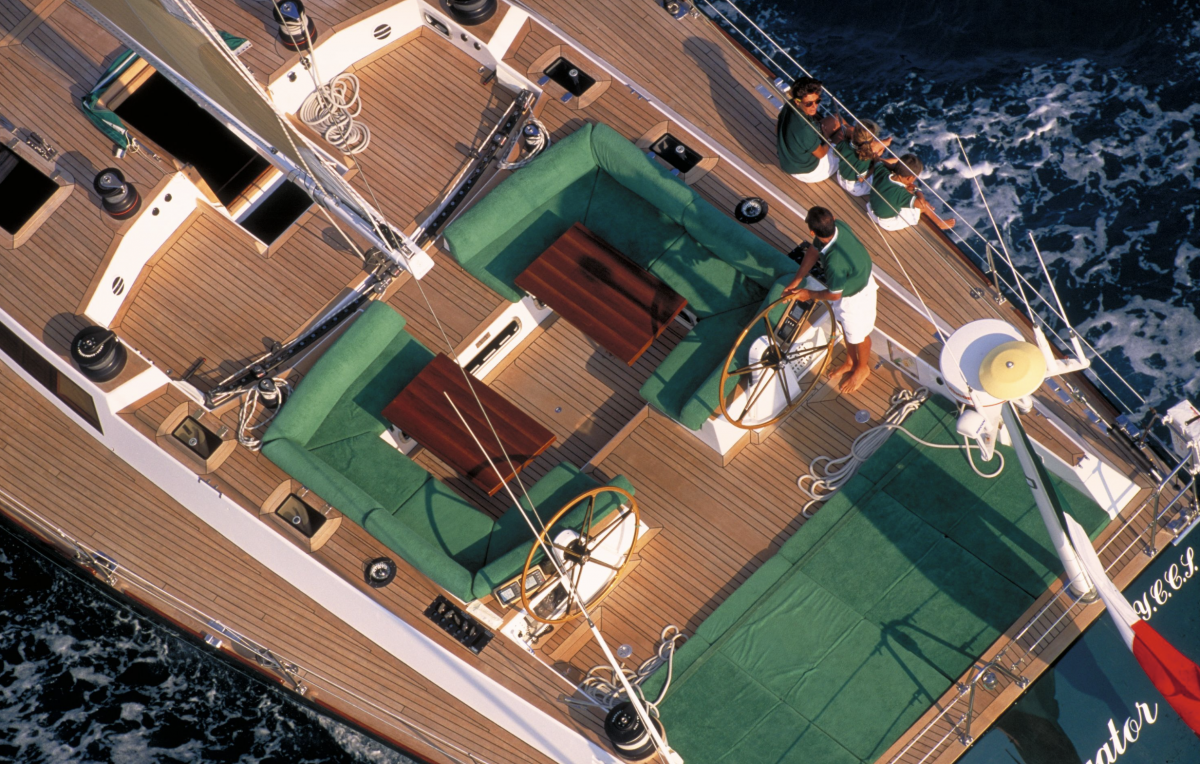 Wallygator, 25.3m built by Sangermani in 1991
In 1991, we witnessed the birth of the first cruising sailboat with a carbon mast, but for Bassani and Wally, that was just the beginning...
Bassani approached designer Luca Brenta with a request to design a 25m boat, resulting in the Baltic 57. This custom yacht featured the first carbon mast, which was 40 per cent lighter than its aluminium counterparts. Carbon enabled a taller mast and a larger sail area and crucially eliminated the need for steering wheels and stays on board, enabling self-steering on a cruising boat for the first time, Bassani explains. The owner's cabin was moved to the bow for better ventilation, as well as providing a spacious cockpit with two tables and ample sundecks.
"This was also the first boat to have quartered spreaders on a carbon mast. At that time, carbon construction was a rarity, but with help from New Zealand designer Chris Mitchell, we found a way. This marked the birth of the first Wally, christened Wallygator, at the Sangermani shipyard on March 19, 1991. The Wallygator featured a carbon composite hull and an all-carbon mast, groundbreaking in the world of sailing.
In 1994, I founded Wally and introduced the ketch Wallygator, which also successfully experimented with carbon fibre sails—a feat achieved well before 3DL (laminate sails). Another remarkable innovation was the retractable bow and stern propellers, increasing speed by one and a half knots when closed and providing exceptional manoeuvrability when open. These thrusters were controlled by two joysticks, inspired by the gearboxes of Ferraris of that era.
This 105-footer introduced the first roll bar, positioning the mainsail traveller above the cockpit, reducing hazards during sailing. Both the first Wallygator and the second incorporated the first telescopic bulb keel with a carbon drift. The Wally era had begun, accompanied by the slogan 'Fast and Easy.' I have always believed that it's the product that defines the brand, not the other way around."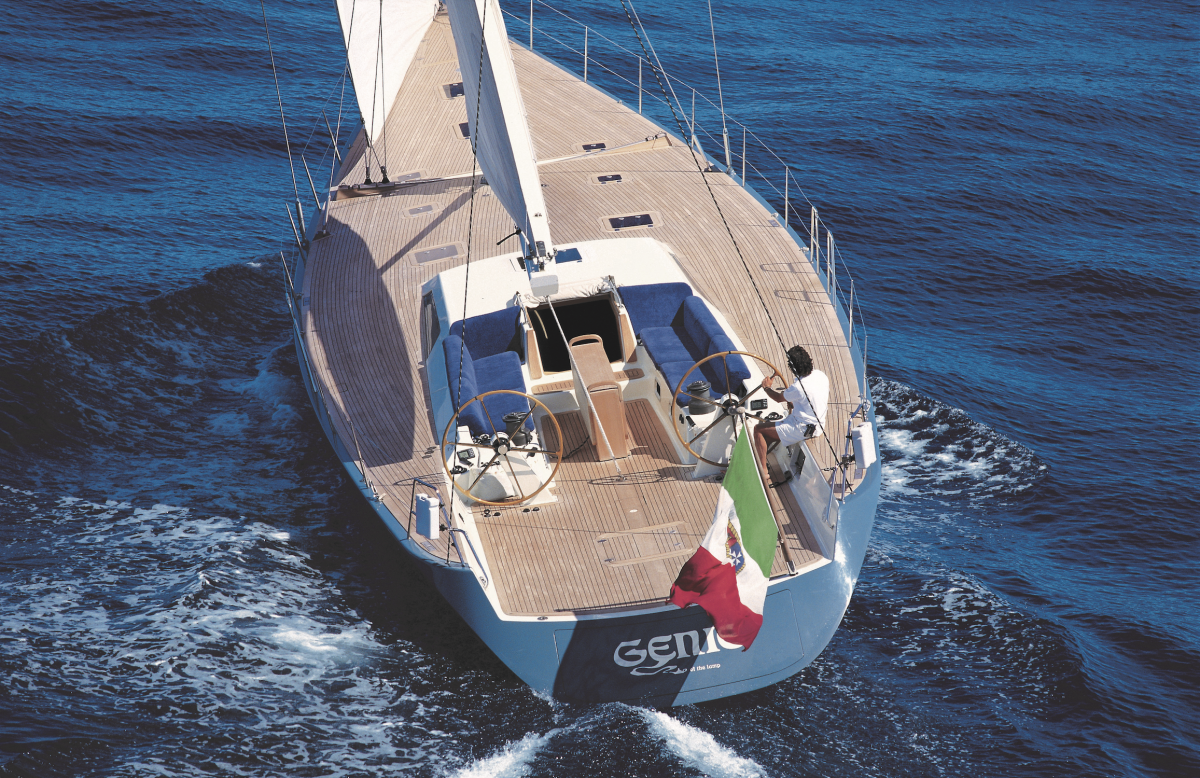 Genie of the Lamp 1994 Photo: Guido Grugnola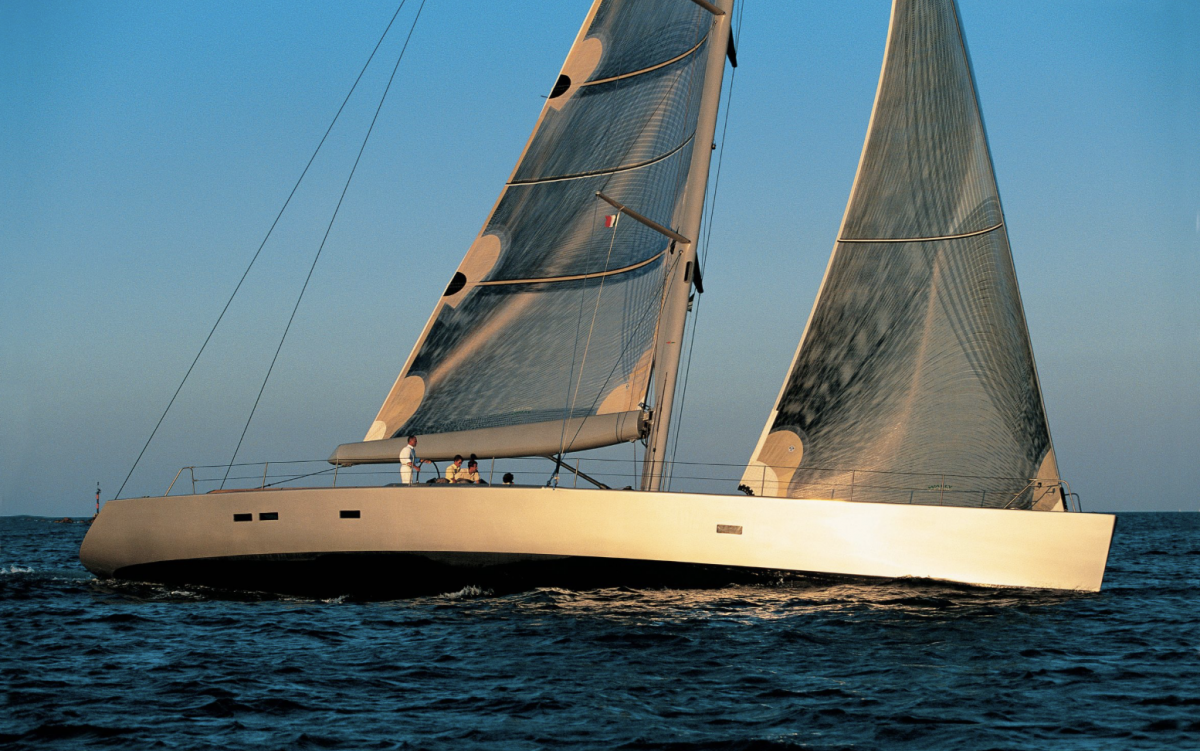 Tiketitan 1998 Photo: Guy Gurney
"In 1995, we introduced Genie of the Lamp, an 80-footer designed with German Frers, featuring only two winches. The significant innovation lay in minimizing manoeuvres, with all deck rigging positioned below the deck. The mainsail and jib were operated with hydraulic pistons, controlled with just two foot-operated buttons. In 1998, we unveiled the first cruising boat with a canting keel—the 88-foot Tiketitan, the first vessel with an open stern, which we aptly named 'Terrace on the Sea' at the time. The aft saloon boasted a massive window overlooking the sea. The name derived from the hull's colour, a blend of teak and titanium."
In 2001, the Wally Power 118 burst onto the scene—a revolutionary motor yacht with large mirrored surfaces and high-tech materials, powered by three formidable gas turbines capable of reaching speeds of 60 knots. It was a true game-changer for motor yachts and a departure from some of your previous work.
"Yes, it all began when a German customer approached me, expressing a desire for a motorboat inspired by Tiketitan. In truth, I had been contemplating the idea for a while, but this request finally pushed me to take action. I had observed that, in terms of innovation, motor boats had remained relatively stagnant. The common belief was that more horsepower equated to better performance.
However, little attention has been given to hydrodynamics. Most motorboats, especially those with a sporty profile, had pronounced bows and flat hull sections. In rough seas, these hulls proved inefficient, incapable of cutting through waves. I drew inspiration from Wally's sharp-bow design, which excelled in this regard. The challenge was to create a hull that could perform optimally across various sea conditions, without sacrificing performance.
This led to the birth of what many consider the most revolutionary boat of the new millennium. The futuristic bow design reduced vertical acceleration by 50% due to the deep-V hull. Lazzarini Pickering crafted the interior and exterior with a seamless, sculpted appearance, marking a new era in nautical design."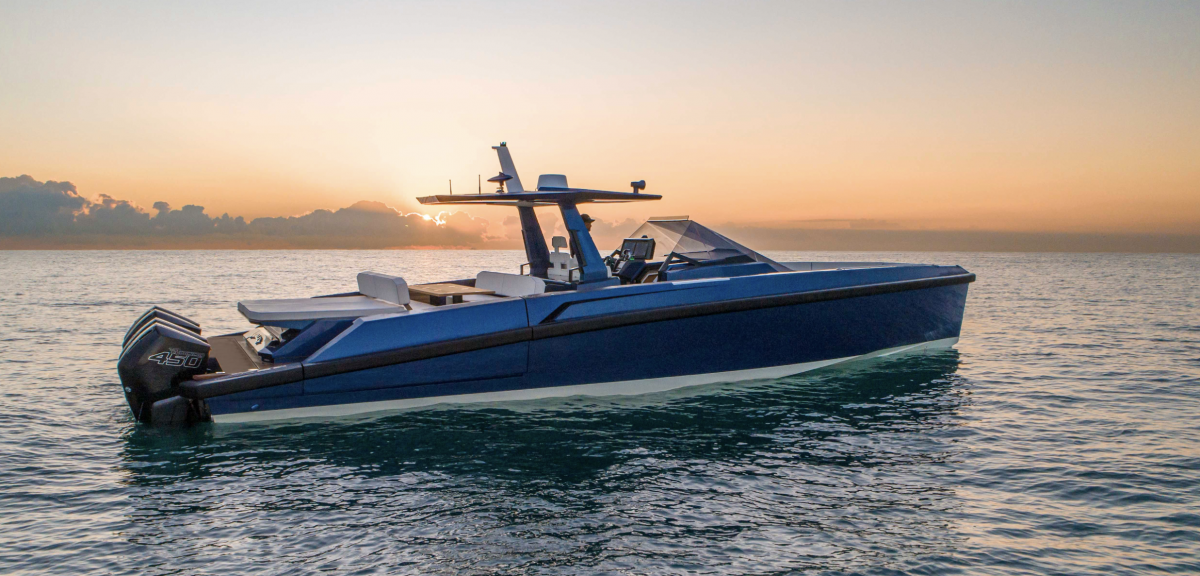 Here, I presume you are also talking about the Wally Tender, what was the inspiration that led you to look to innovate this side of the sector?
"Yes, indeed. I drew inspiration from Gianni Agnelli's tender, originally purchased from the Australian Kookaburra III consortium in the late 1980s. While it was initially intended as a sail carrier, he transformed it into a people-carrier tender, essentially inventing the concept of a service boat for mother ships. Until then, large motor yachts typically carried tenders with a maximum length of 6 meters. In 1998, I acquired a copy of Agnelli's tender and, after thorough analysis, developed the iconic 45-foot Wallytender, launched in 2001. We sold over 100 units within a few years, creating a new market segment that has since become one of the most significant in our industry."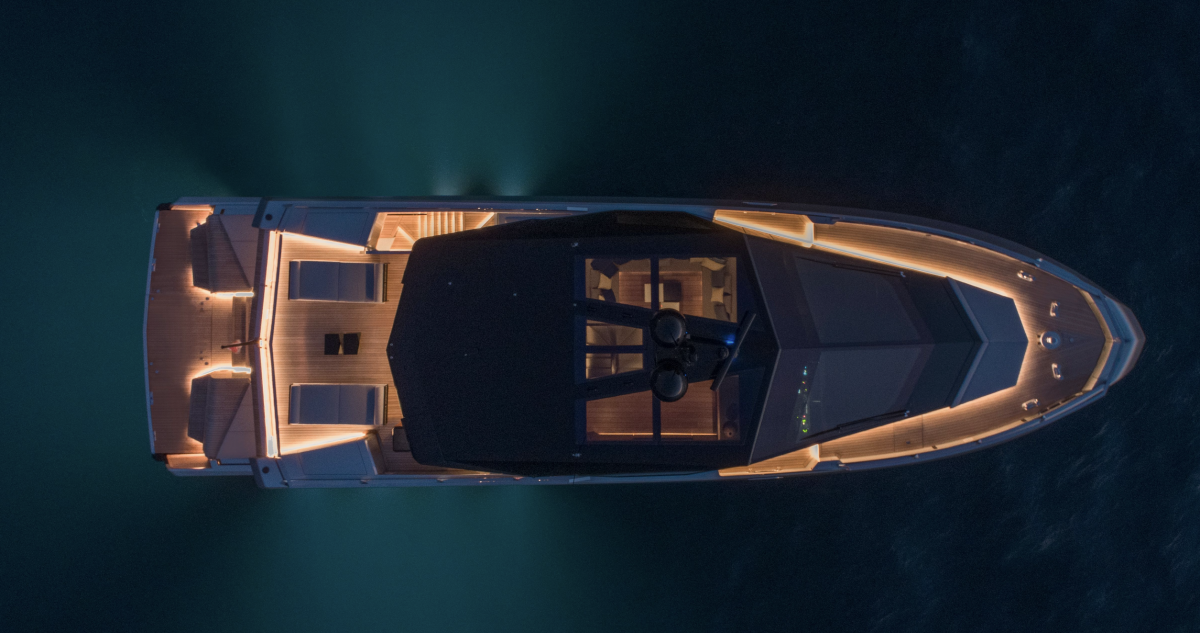 2009 saw the introduction of the Wally WHY (Wally Hermes/Hybrid Yacht), how did this iconic collaboration with Hermes come to be?
"My vision was to create a floating island. Initially, I contemplated using an oil tanker for this purpose. However, fate led me to discover a triangular-shaped boat on the cover of a magazine in Bonifacio. It was designed by Roar Ramde for oil extraction, offering remarkable stability.
During my initial meeting with Hermes, I presented this hull as a perfect fit for our project, measuring 58 by 38 meters. Unfortunately, due to the subprime crisis, Hermes withdrew from the venture, and I repurchased its shares, with the only stipulation being that we couldn't use the WHY brand for several years.
When the restriction was lifted, we renamed it the Wally Hybrid Yacht—a vessel that combines elements of an SUV, an explorer, and a crossover. In 2012, we achieved another milestone with the launch of the 50.5m Better Place, the world's largest carbon-fibre sloop and the first to receive RINA Green Star certification."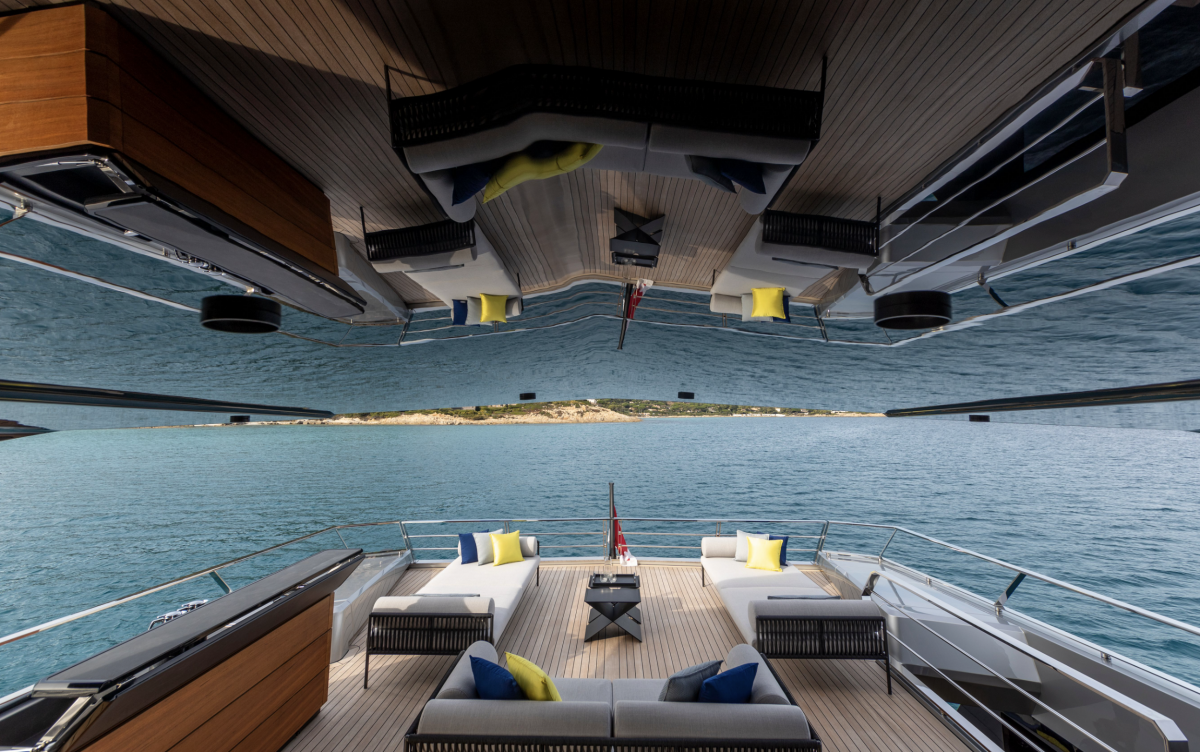 Today, Wally is proudly present in the Ferretti Group's portfolio of brands and Luca Bassani continues to pioneer cutting-edge boats. Today's market requires major investments to develop new products and new markets.
Bassani explains that Ferretti Group has the perfect industrial, organisational and commercial capabilities to let Wally grow, allowing him to concentrate on the design and development activities of his futuristic creations, ensuring the continuity of Wally's DNA. Just think of their latest creation: The Wallyrocket51, where passion has been channelled into a new design that represents a new direction for the brand.
Profile links
---
Click here to become part of The Superyacht Group community, and join us in our mission to make this industry accessible to all, and prosperous for the long-term. We are offering access to the superyacht industry's most comprehensive and longstanding archive of business-critical information, as well as a comprehensive, real-time superyacht fleet database, for just £10 per month, because we are One Industry with One Mission. Sign up here.
Related news