Whether its with guests on board, during crew downtime or refit and maintenance periods, superyachts will have a significant impact on the local economy they visit. A large proportion of a yacht's operational expenditure (OPEX) will be spent locally on berthing, fuel, maintenance, provisioning and supplies, in addition to the onshore spending of crew and guests, which means a boost to the economy for local people and businesses.
Destinations around the world are starting to realise the economic benefits of visiting superyachts and considering what steps can be taken to ensure their waters are more likely to attract this additional and valuable source of revenue. In most cases, this means regulatory change and investment in infrastructure, which of course demands the support of the local government.
Concrete data is a very useful tool that the superyacht market can use to help organisations and authorities understand the economic impact of a superyacht on a region, and this is where The Superyacht Agency can help. Tahiti's tourism and marketing board Tahiti Tourisme recently worked with The Superyacht Agency's intelligence team to undertake a comprehensive study of the superyacht industry's economic impact on the region, as well as its market position and potential for growth.
"The data from the report will be used to raise local awareness about the positive impact of superyacht visitations on our local economy."
"We need to make sure that the local population and the local government stakeholders understand why we are promoting our destination to superyachts," explains Manoa Rey, research and niche marketing coordinator for Tahiti Tourisme. "Consequently, the data from the report will be used to raise local awareness about the positive impact of superyacht visitations on our local economy."
Using its industry-specific expertise, network and data, The Superyacht Agency conducted a detailed analysis of superyacht OPEX data in the context of current superyacht activity in the region. To fully assess the economic impact of superyachts visiting Tahiti and identify areas of market growth, OPEX data from a sample size of 325 yachts was presented alongside data provided by Tahiti Tourisme, including charter and customs entry data regarding the number, type and length of superyacht visitations.
The key findings from the economic impact analysis were then complemented by data garnered from a market sentiment survey about Tahiti as a superyacht destination to understand the challenges faced by yachts when cruising the area and what needs to change. This formed the basis of a SWOT analysis to identify the potential strengths, weaknesses, opportunities and threats surrounding the region, followed by strategic recommendations for Tahiti Tourisme to grow its position within superyacht market.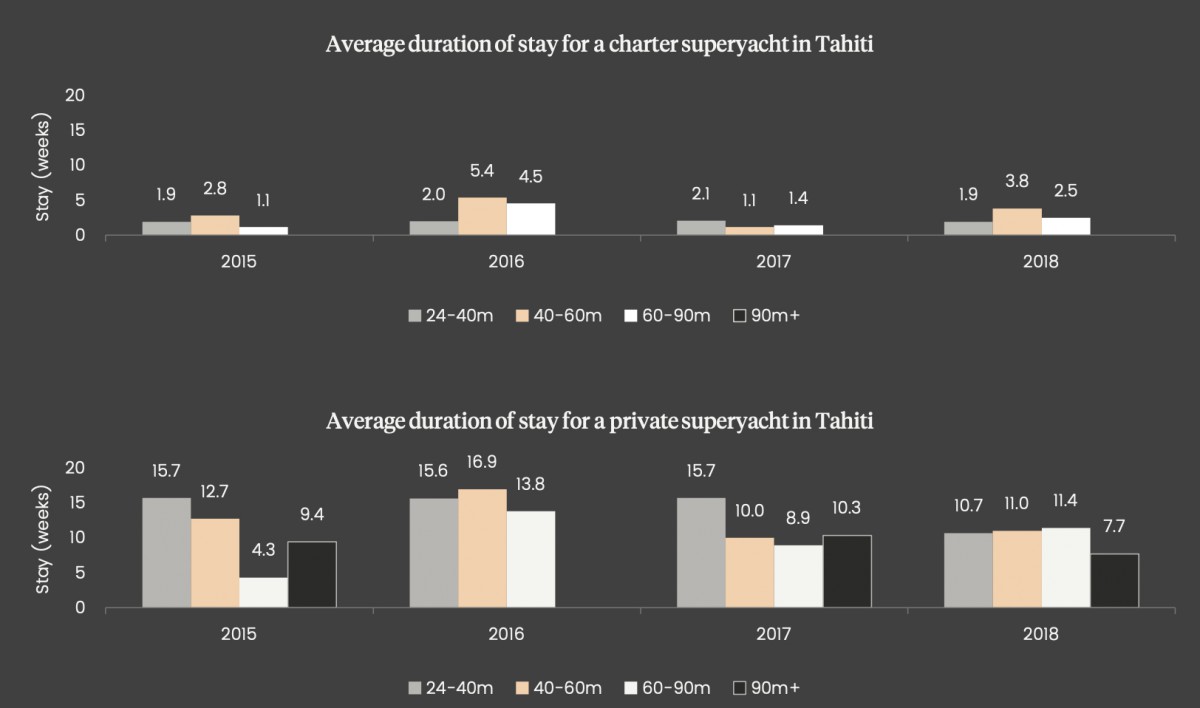 One of the findings highlighted the difference between the behaviours of private and charter superyachts. In 2016, for example, the average length of stay for a 40-60m charter vessel was 38 days, compared with an average of 118 days for a private superyacht of the same size. Qualitative data from the market sentiment study indicated that Tahiti's five per cent charter tax could be a reason for the difference, and the OPEX analysis revealed that one charter yacht's average expenditure in the region of €234,788 vastly outweighs the average amount of tax levied per charter superyacht of €11,739. Therefore, there's an argument that if this tax were to be decreased, and the Islands of Tahiti attracted more charter yachts as a result, the revenue accrued from superyacht visits would make an even more significant impact on the local economy.
It's key findings such as this that can be hugely influential when discussing superyacht-related regulations and issues with local governments and authorities. Armed with this study, Tahiti Tourisme will be able to communicate the benefits of visiting superyachts and what needs to be done to attract more, and there are many more destinations around the world that could profit from the compelling arguments that a similar study would create. With its detailed industry expertise and network, alongside a team of expert analysts, The Superyacht Agency can work with any organisation on providing a superyacht economic impact study relevant to its specific needs.
This is just one example of how this bespoke intelligence service can benefit the market. The Superyacht Agency will respond to any request, provide the resulting data in the specified format, and all at a cost that makes more sense than some other market options. If you or your business have a bespoke data request, please visit https://www.thesuperyachtagency.com/intelligence.
The Superyacht Group will unveil the next-generation Intelligence subscription service for customisable superyacht market data at The Superyacht Forum next week. And if this article has piqued your interest, or your organisation requires empirical evidence to prove the economic impact of superyacht visitation, the Intel team will be hosting an Ingenius Bar at the forum, where you can stop by for a coffee and informal discussion about your business needs.
---
If you like reading our Editors' premium quality journalism on SuperyachtNews.com, you'll love their amazing and insightful opinions and comments in The Superyacht Report. If you've never read it, click here to request a sample copy - it's 'A Report Worth Reading'. If you know how good it is, click here to subscribe - it's 'A Report Worth Paying For'.