The Oasis revolution
We track the history of one of the most iconic design innovations to come from Italy and ask where it's heading next…
Call it al fresco, the open aft deck or the Oasis Deck … the name doesn't matter but the fact is that the new open stern with pool and wings that can be opened has become one of the biggest innovations in yacht design of the past 30 years. It's not known who first came up with this concept; it was more a process of evolution – of the design lines, the way the yacht was used and the type of clientele.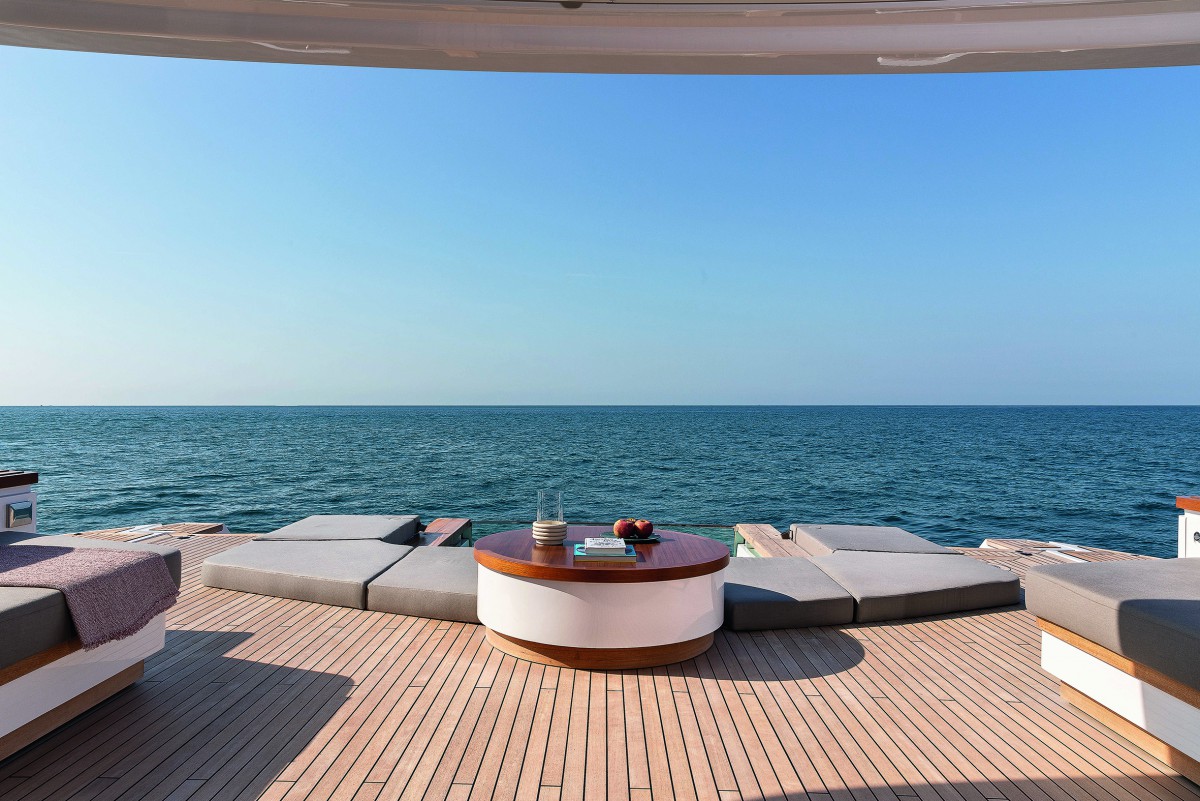 Benetti Oasis 34m
Looking back through the storied history of yacht design, one of the first exercises in style of this kind dates back to Wally in 1998. The reasons for the success of the open stern are multiple and it appears this trend may last for at least another decade. Designers are already working to understand the natural evolution of a revolution that has reshaped the market, espousing, almost by accident, the post-Covid yacht owners' briefs to have a happy and safe floating island to spend time with family or close friends.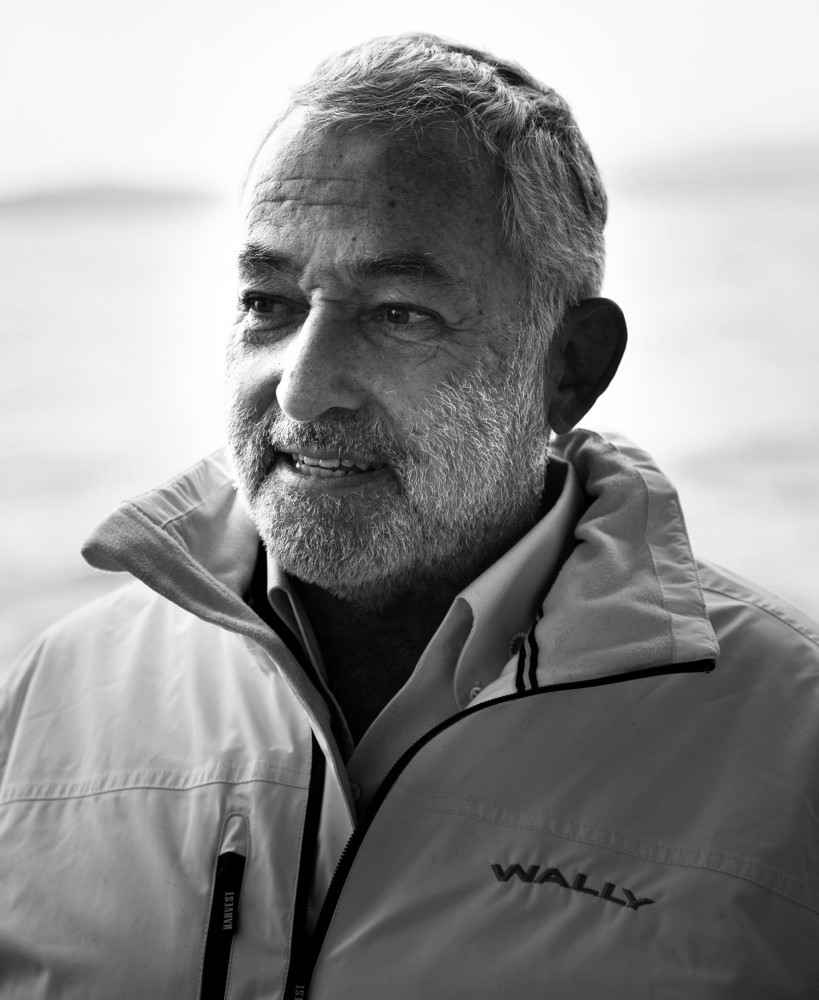 Luca Bassani, founder and chief designer of Wally

When speaking of Wally and the island, we have to mention the Wally Why, with the visionary Luca Bassani, founder and chief designer of Wally, in collaboration with Hermes fashion house, anticipating the trend and inventing a travelling island in 2009 with complete freedom.
It was design that laid the foundations of many of the features we find today in modern yachts: comfort, privacy, space, independence and sustainability, all with elegance and refinement. The Wally Why had anticipated almost all the essentials of today's yachts – a 38-metre stern that is totally open, terraces, plenty of solar panels and the need to isolate itself as much as possible from the outside world.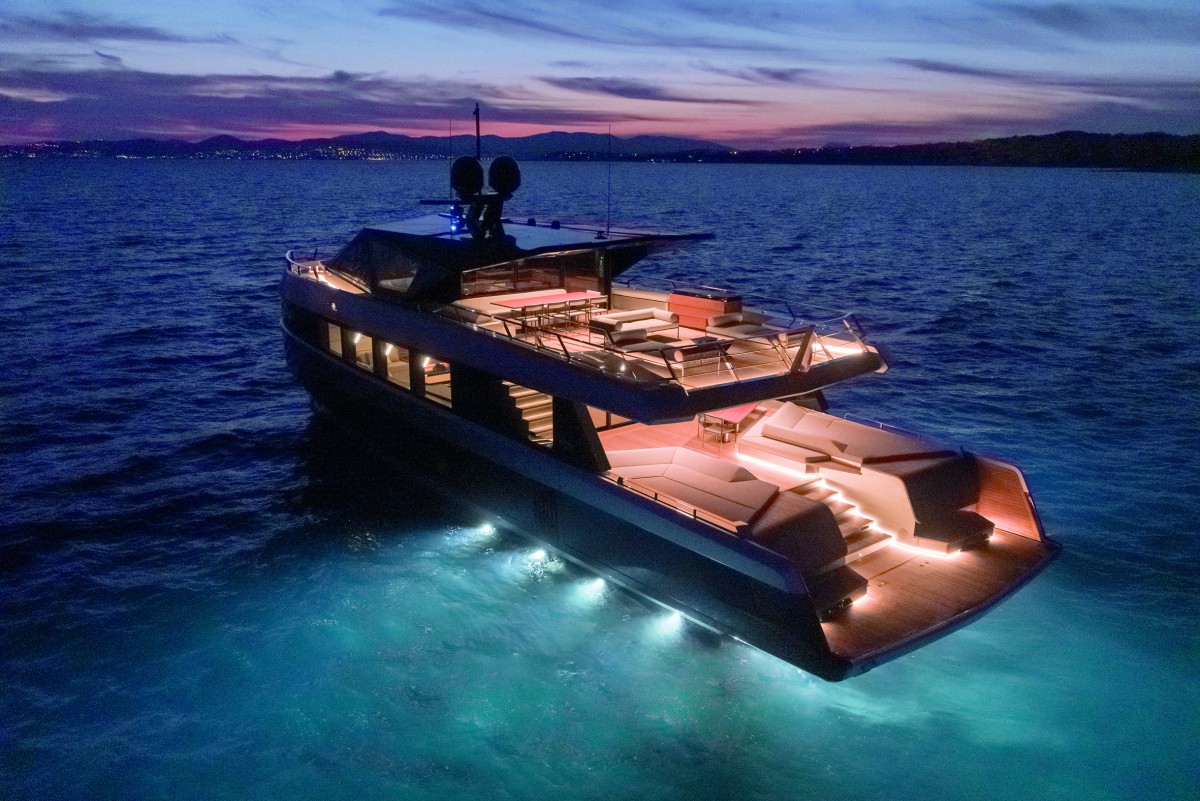 Wally Why 200 Photo: Gilles Martin Raget
However, it's also true that the first evidence of this evolution goes as far back as 1954 with Christina O, one of the most iconic motoryachts ever launched and best known for its grandiose interior and unparalleled level of luxury services. Born as a Canadian frigate during World War II, Christina O was purchased by Greek tycoon Aristotle Onassis, who transformed it into the most luxurious private yacht of the era. It hosted a large number of illustrious guests, from Winston Churchill and Frank Sinatra to John F. Kennedy and Marilyn Monroe.
Another nautical cult example was the iconic Eco motoryacht (featured in The Superyacht Report, issue 175), now Zeus, delivered to its Mexican owner Emilio Azcarraga in 1991 by Blohm+Voss. Even back then, it proposed a stern emptied of volumes for the use of guests and tenders while underway, providing a clear view of the sea.
Scrolling further up the timeline, in 1998 another irrefutable early example of the open deck can be found in the 27-metre Wally sailing yacht Tiketitan, where for the first time a boat was made liveable even in the stern area at sea level. In Tiketitan, the contact with the sea becomes crucial, one of the characteristic features of the current Oasis Deck.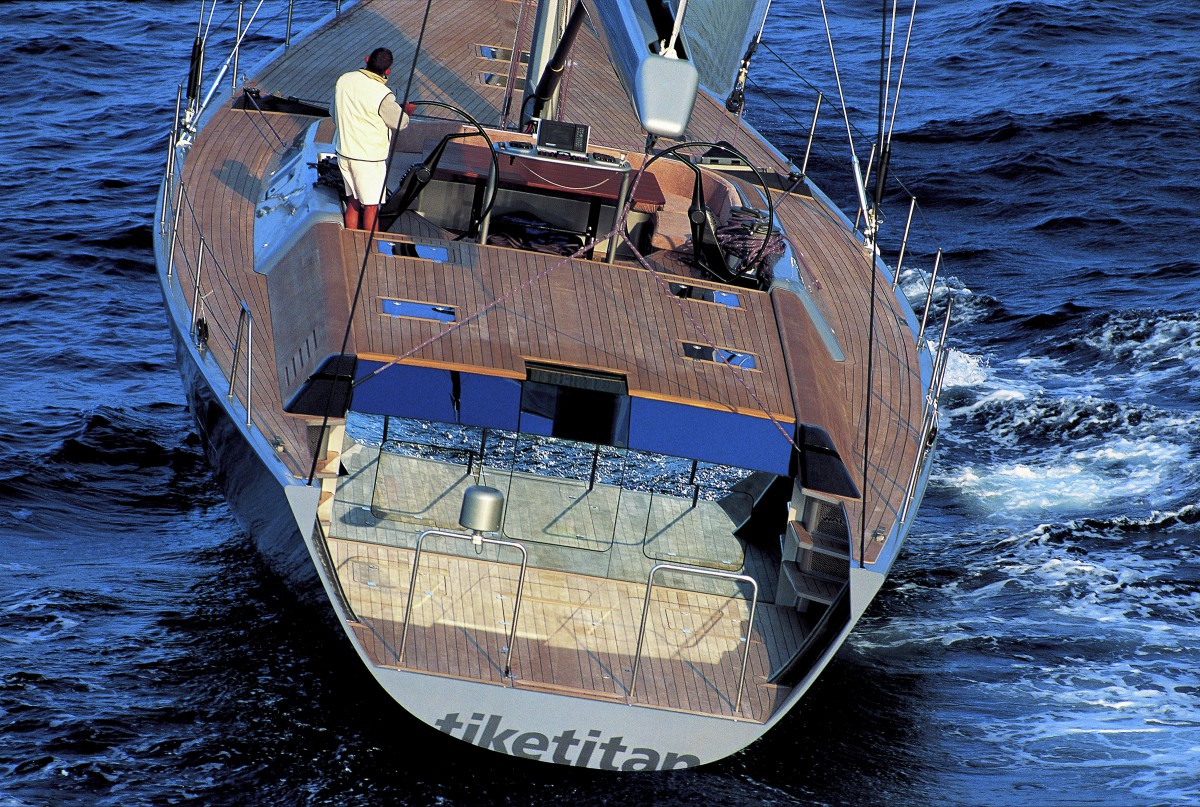 27m Wally sailing yacht Tiketitan – an early example of the Open Deck Photo: Guy Gurney
Bassani's genius, perhaps too far ahead of its time, 'emptied' the stern to create an overwater terrace overlooked by the salon that was no longer amidships – as was typical at the time – but in an unusual set-back position. It was the first step towards modern beach clubs. In 2012, this concept was further reinterpreted in the Wallyace displacement line, with the owner's suite and aft VIP cabins opening on to the terrace.
The 82-metre motoryacht Alfa Nero, delivered in 2007, featured the first infinity pool positioned on the aft deck. Introduced by Nuvolari Lenard for Oceanco, the aim of the project was to create a new way of enjoying the aft deck because they had realised that with the increasing size of superyachts, owners and guests were getting further and further away from the sea. This led to negative reactions, with the impression of being on a small cruise ship rather than a large luxury yacht.
The same philosophy was adopted in 2017 on Chantal Ma Vie, a 54-metre royal-blue hull motoryacht designed by naval architect De Voogt and built by Feadship in 1993. This yacht underwent an extensive refit that included an 11-foot transom extension and the installation of a luxury spa pool very close to the sea.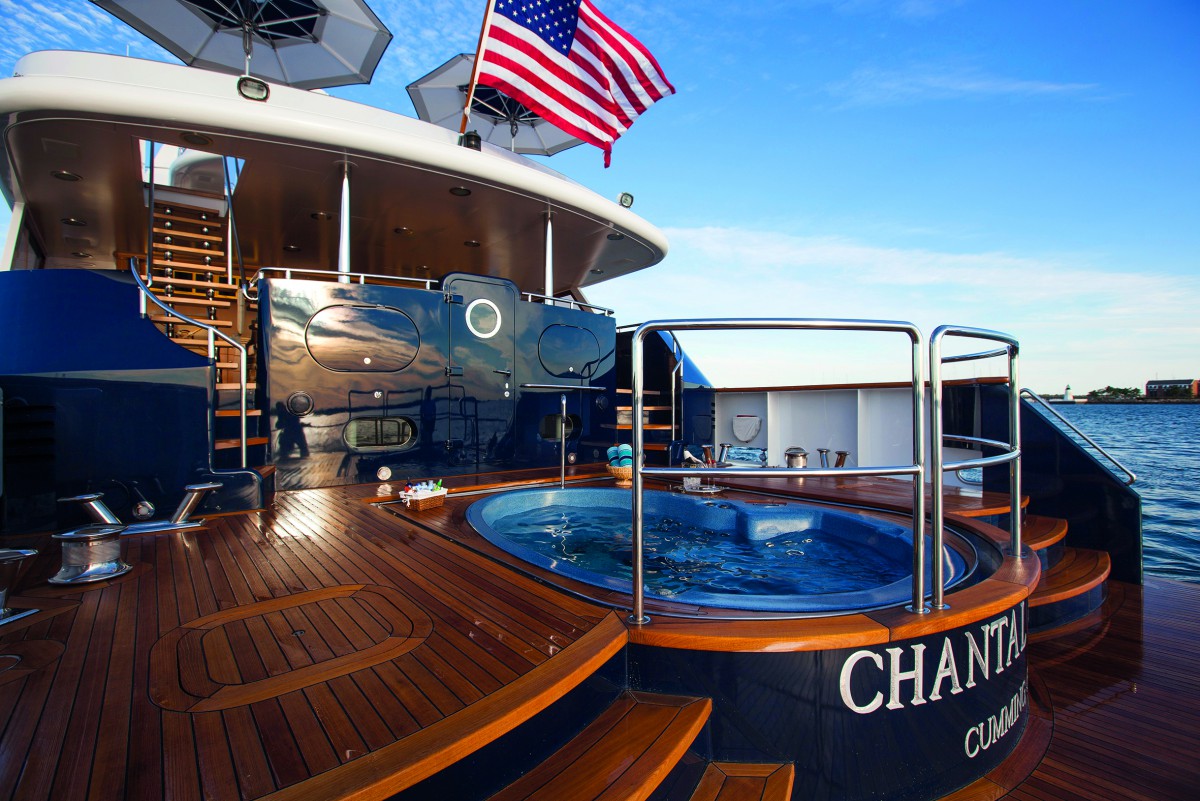 54m Feadship Chantal Ma Vie, refitted to include a transom extension and a luxury spa pool close to the sea
Coming to the present day, there are many boats or projects of all sizes that incorporate the Oasis Deck philosophy. To name just a few of the most important ones: Wally Why 200, Oasis 34 and 40 metres by Benetti, Bilgin Yachts' 80-metre Tatiana, Overmarine's Mangusta 104 REV, Maiora 30 Walkaround by Next Yacht, Ferretti 1000 Epic, Admiral's 75-metre Kensho, Baglietto's 40-metre Attitude, Sanlorenzo's SD118 and Cantiere delle Marche's Acala.
To better understand why yachts with open sterns are so successful, and what the evolution might be of this true 'game changer' of nautical design, we spoke with four Italian designers who work extensively with international shipyards: Giorgio Cassetta, Luca Dini, Cristiano Gatto and Francesco Paszkowski.
"That kind of shape brings us psychologically closer to the sea and to the pure enjoyment and pure pleasure of being at sea," says Cassetta. "Those who were not previously interested have found in that kind of design an innovation very similar to their beach houses in the Hamptons, to their beach clubs, to the places where they go to the seaside with friends instead of thinking of the yacht as an enclosed, tall, separate element with that connotation of safety given by the large enclosed sterns, as motoryachts have been for so many years.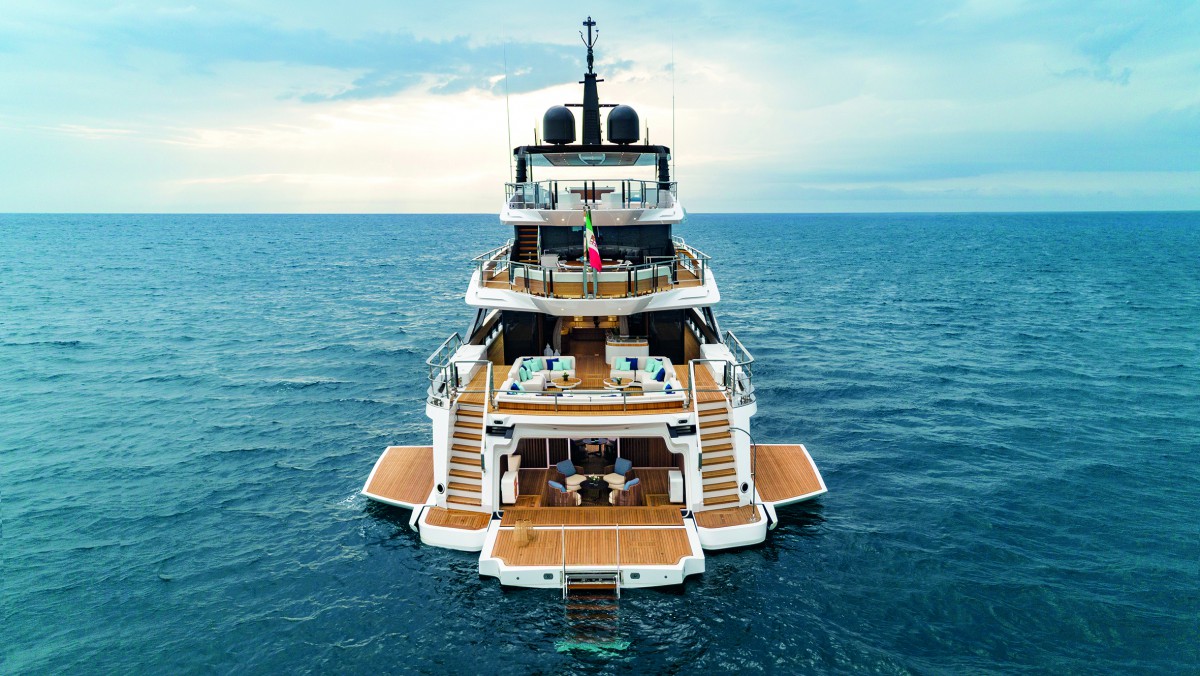 Mangusta Oceano 50
"So, I think the strength of these types of solutions lies in their great immediacy of communication of 'Here you relax!'. As with all things, there is also the other side of the coin. From a functional point of view, there are negative points regarding boats with an open stern."
Dini feels the same way. "I think this is yet another message that design can give in yachting," he says. "After so many years of thinking about building palaces on the sea – the antithesis of contact with the sea – it is now some time since we started to open up to the outside, starting with side balconies, which has been the trend over the last 10 years.
"Today, the owner demands and wants direct contact with the sea and the outside environment ... so that there is more contact with the water. I would call it a pieds dans l'eau approach."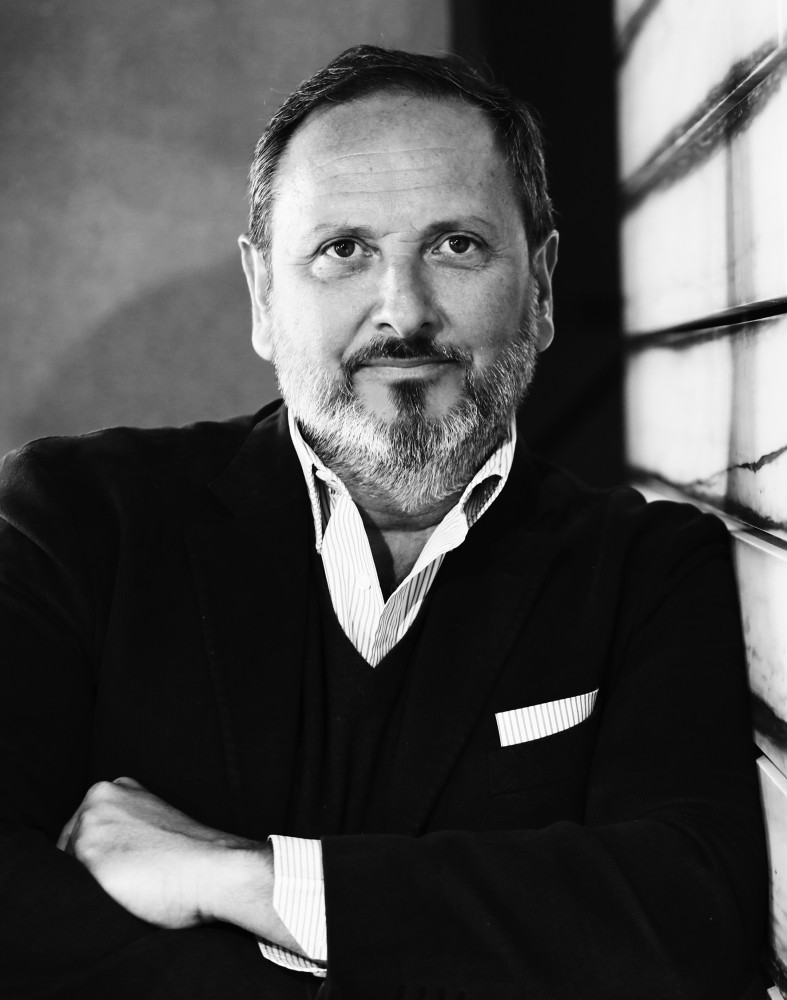 Designer Luca Dini
"Today, the owner demands and wants direct contact with the sea and the outside environment, even going so far as to sacrifice the old beach clubs [another real revolution of the past 20 years], transforming them so that there is more contact with the water. I would call it a pieds dans l'eau approach. The desire, especially after the Covid period, is to get back to being with friends and family rather than just having a yacht as a status symbol.
"It's important to enjoy those few days of leisure with your loved ones as best you can. I am pleased that the boat is becoming a boat again and not just something to show off."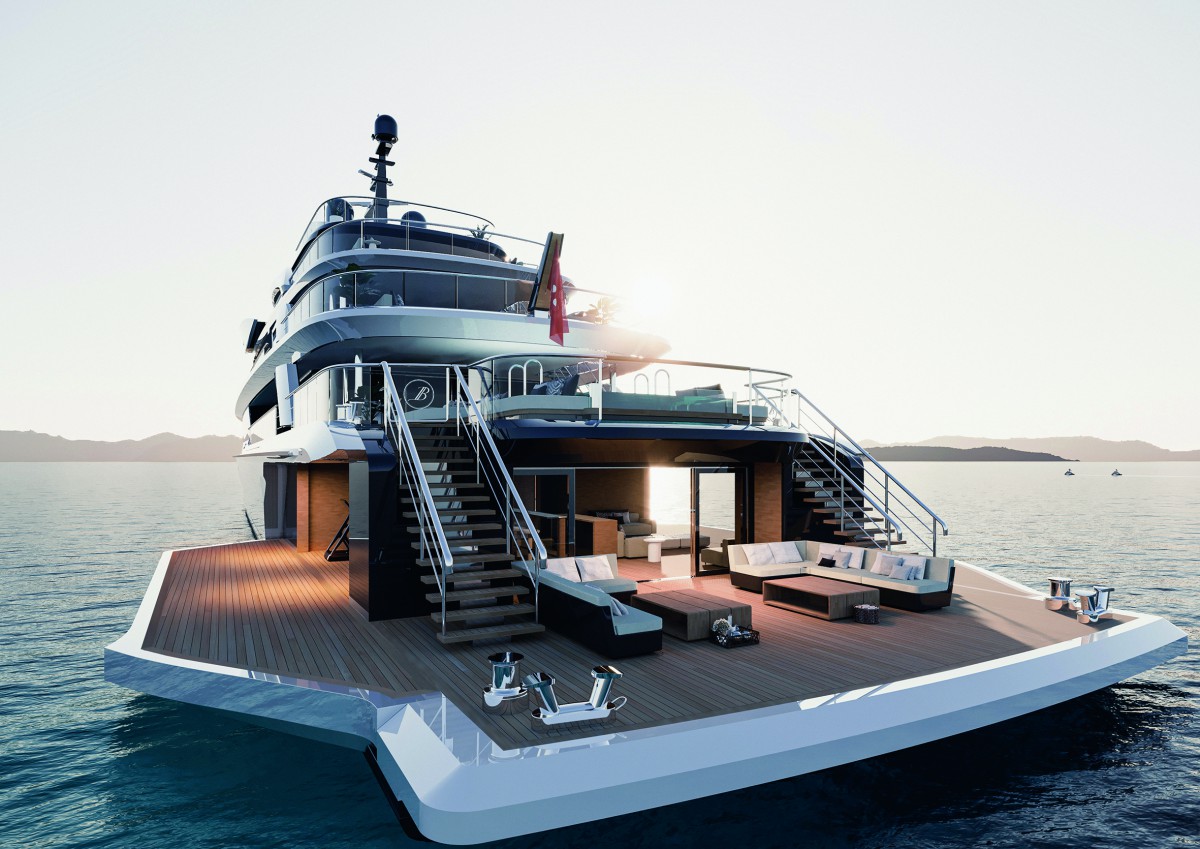 B.Century 75M, designed by Giorgio Cassetta
Gatto's approach is also very similar. "People have begun to have a greater connection with nature, with watersports, with the idea of being on a boat to feel good, enjoying a spa and a gym, all with contact with nature, and only a boat stern can give you all this," he says. "So the stern platforms got bigger, initially with rubber sausages which, let's face it, were not really in style."
The 50-metre M/Y Home by Heesen, delivered in 2017, had this concept. Gatto adds, "There was the very large beach club, the tender garage is not aft but forward in front of the wheelhouse, leaving a lot of area dedicated to enjoyment and contact with nature and water. So you always have your own piece of paradise on board the boat and no longer feel like you're inside the belly of the whale.
"From a technical point of view, wings are the cross and delight of this period. They are beautiful, they give the possibility to emphasise the beach club more, but they can give problems. Evolution of the Oasis Deck, everyone agrees, will last much longer and fold-down platforms will disappear."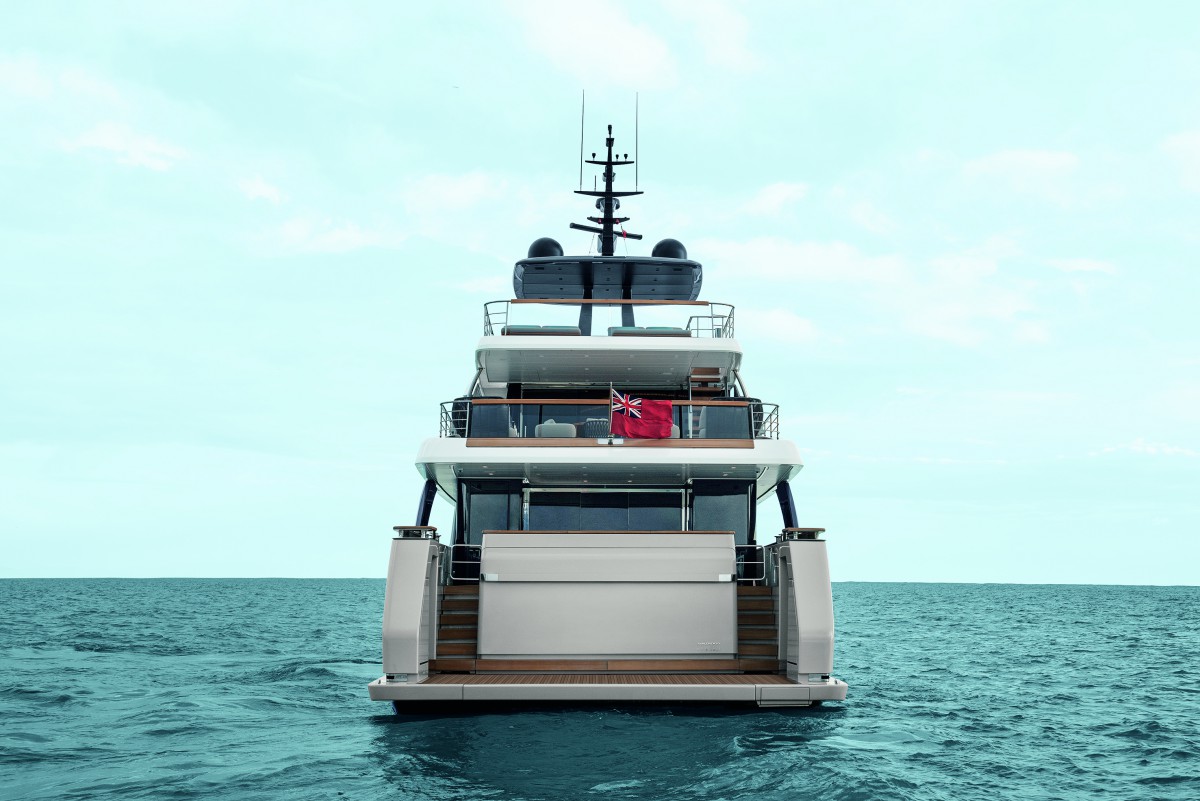 Sanlorenzo – open stern
Cassetta is sceptical about fold-down platforms. "I don't like things that move because they are a harbinger of problems," he says. "We talk about when they will give problems not if they will give problems. On the other side of the coin, it is true that by now certain mechanisms are perfectly constructed, even the most sophisticated ones."
Cassetta adds, "As far as evolution is concerned, I believe that the guests' relationship with the sea will not go backwards in the sense that for years yachts were symbols of power, status symbols, where business meetings were held [by] noble families. Now the wealth is much more polarised, even for very large yachts.
"Until 30 years ago the megayacht of the King of Spain was 35 metres. Now, a vessel of that length is called a small yacht. With more and more people being able to afford big boats, it has become more normal to own a yacht. Owners now want less standard, more informal boats, no longer floating palaces. The important thing is that they now feel less at risk of not being able to resell them because they are less classic.
"The relationship with the sea will be increasingly in demand, not only at the stern, but also for the contact with the sea achieved through the windows."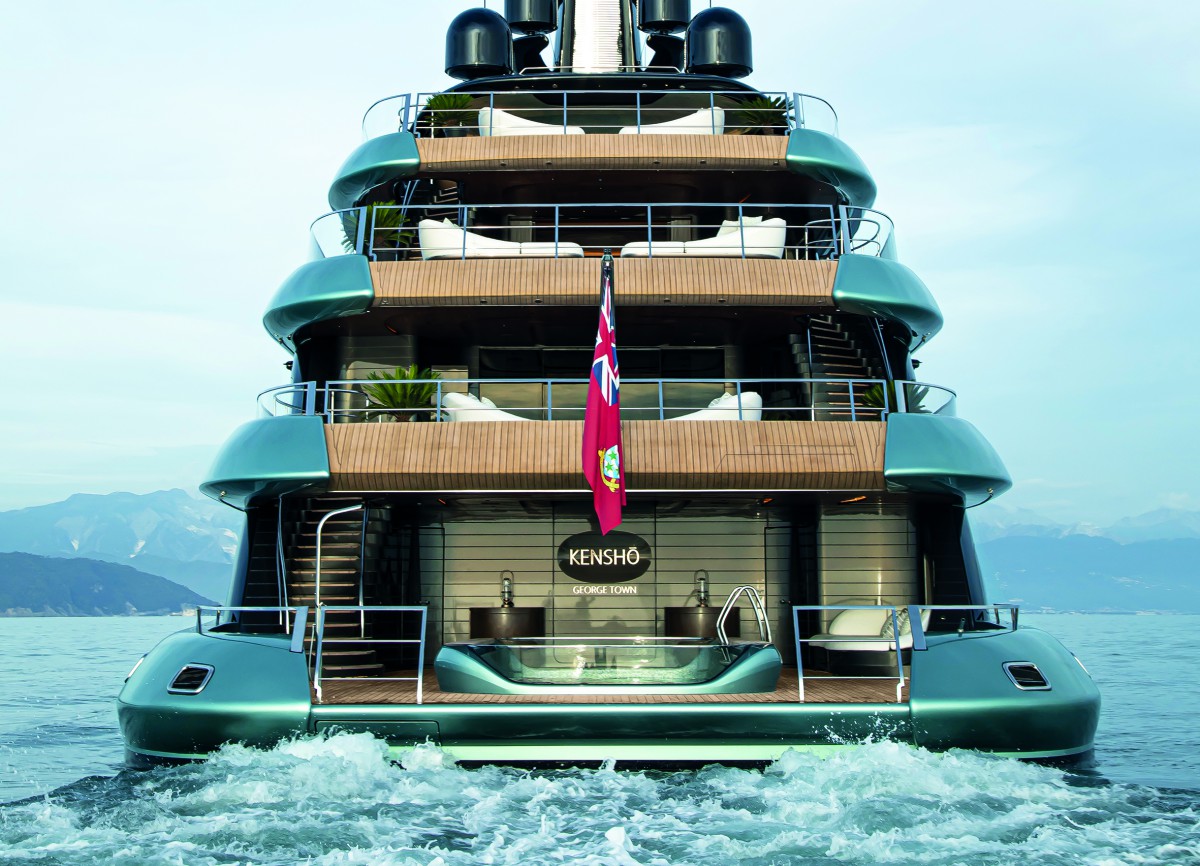 Kensho Photo: © Giuliano Sargentini
Gatto anticipates an expansion of the concept. "We have already seen the windows become structural by expanding over a good surface area of the hull," he says. "Recently, seating areas have been created where the sofa looks towards a glass pane positioned more or less at the height of the water line, making it possible to practically snorkel while sitting inside the yacht."
Paszkowski is adamant about the limited future of mechanical openings: "In my opinion, all kinematics, as I myself first introduced balconies on yachts, have too high production costs, to which high maintenance costs must be added. Many yards, including Sanlorenzo, continue to produce yachts with this solution because owners keep asking for them. It also depends on the size of the yachts because proportions have a big influence. I hope to come up with something different. Every time there is an innovation, you stimulate the market to come up with more."
Dini also has no doubt about the use of balconies. "They're going to disappear because they're a big complication, and there's also a safety issue. They are not used much. I believe much more in those recessed in the superstructure, even if only to smoke a cigar."
"You always have your own piece of paradise on board the boat and no longer feel like you're inside the belly of the whale."

"I don't expect the beach club to move towards the bow," says Cassetta. "The nature of the boat is not made for liveable areas in the bow [wind, waves, spray, technical areas] although, about 15 years ago, I tried to develop a 90-metre [yacht] with the beach club amidships. But it is unnatural. At anchor it works, but at sea not so much."
Dini also remains convinced that the bow is a purely technical area. "I don't think this kind of solution can be adopted at the bow because it is a technical area. In our latest projects, we tend to put the tenders at the bow, otherwise, they would occupy a fundamental liveable space at the stern. We tend to hide them in the bow, which is hardly used by guests, freeing up the stern. In the bow, therefore, there are only the toys and tenders."
Paszkwoski, on the other hand, is convinced that the bow will be further developed. "The bow is an area that is being rediscovered and that the market is paying more attention to. It is a very exciting world to discover, certainly bearing in mind that the dynamics of form and use limit it a great deal."
Gatto adds, "In the latest projects we have gone so far as to put spaces even in the middle of the ship, putting the dining area transversal to the ship, with the possibility of opening up two terraces overlooking the sea, preferably at night for candlelight dinners."
Cristiano Gatto
"Recently, seating areas have been created where the sofa looks towards a glass pane positioned more or less at the height of the water line, making it possible to practically snorkel while sitting inside the yacht."
Deck revolution and new technologies
"There will be an increasing reduction in volumes," says Dini. "GTs will be reduced and, therefore, so will the cost of the boat, which has reached unrealistic levels. Yachts nowadays cost a lot. It is true that we faced an increase in price, but it is important to reduce volumes by increasing enclosed parts and large openings. The main deck saloon for 50- to 70-metre yachts is used very little. Instead of the saloon, another more intelligent solution is advisable."
Gatto suggests working more with shapes "to transform the air-conditioning panels so that they become aesthetic and practical objects at the same time".
Paszkwoski, meanwhile, is focused on technology. "With Baglietto, we are starting a product with hydrogen engines, so we will need a lot of solar panels, which will become an element that contributes to the function of hydrogen, and then we will need a lot of surfaces dedicated to solar panels, so the shapes will change in relation to this. I think we are talking about another revolution."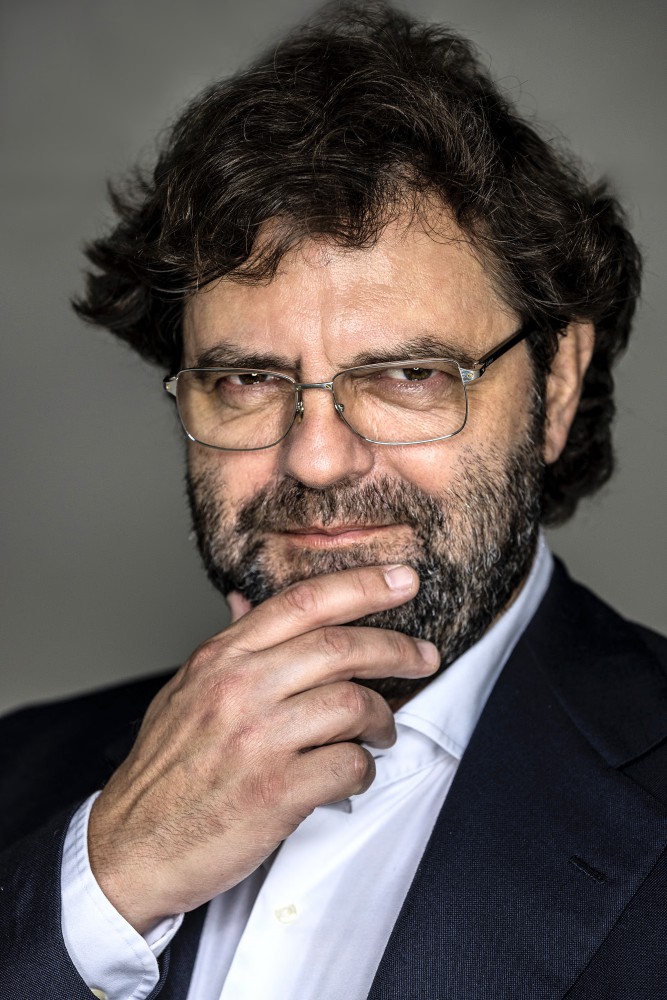 Francesco Paszkowski Photo: Giovanni Malgarini
"The bow is an area that is being rediscovered ... it is a very exciting world to discover, certainly bearing in mind that the dynamics of form and use limit it a great deal."
Cassetta, too, is convinced about new technologies related to yacht propulsion. "These will allow a different redistribution of interior volumes, and thus think of yachts that have a lower deck in direct communication with the water and a different distribution of living spaces on board. The shapes and proportions of the spaces in direct contact with the sea will change."
At this point, what is clear is that yacht design is an ever-changing project. A yacht is no longer just a status symbol or a floating office but is increasingly becoming a source of inspiration not only for those who live it but also, and above all, for those who think, create and build it. Today it is the stern that stimulates the senses, tomorrow who knows. We remain watching, confident that the world of yachting will be able to surprise us for a very long time to come because boats are not objects but essential components of a lifestyle.
This article first appeared in The Superyacht Owner Report. To gain access to The Superyacht Group's full suite of content, publications, events and services, click here to join The Superyacht Group Community and become one of our members.
Profile links
---
Click here to become part of The Superyacht Group community, and join us in our mission to make this industry accessible to all, and prosperous for the long-term. We are offering access to the superyacht industry's most comprehensive and longstanding archive of business-critical information, as well as a comprehensive, real-time superyacht fleet database, for just £10 per month, because we are One Industry with One Mission. Sign up here.
Related news