Inside Project Aeolus
Lateral Naval Architects explains how a bold new concept developed with Oceanco hopes to bring carbon neutrality to the 90-metre-plus sector…
The 131-metre Project Aeolus represents a pathway towards Oceanco's vision of a carbon-neutral future. The Giles Taylor-designed motoryacht is both elegant and bold, and the design highlights a contemporary interior, with renderings that show off all the features that we've come to expect from one of the world's pre-eminent shipbuilders and a motoryacht of this scale.
However, it was page 22 of the extensive brochure (see image below) that really caught my eye: The Energy Transition Platform (ETP), developed by Oceanco and Lateral Naval Architects in partnership with technical partners ABB and MTU, "offers a future-proofed pathway to net zero".
As the superyacht industry and the wider marine sector seek to decarbonise, they are entering into a significantly more complex energy market and associated technologies. The adaptable architecture of Aeolus has been designed to enable it to anticipate future changes in fuel types and associated technologies, allowing for upgrades that will integrate these technologies and alternative fuels in the least invasive way possible.
As such, Aeolus's ETP will be configured in three stages: the initial stage, with a 100 per cent diesel-electric system (with batteries); the mid-life upgrade in stage two, which is upgradeable in line with available fuel-cell technology developments, making it dual-fuel-capable with a reduced carbon footprint; and the final stage three, which will have no diesel on board, and full range and speed capabilities maintained via fuel cells and internal combustion power generation.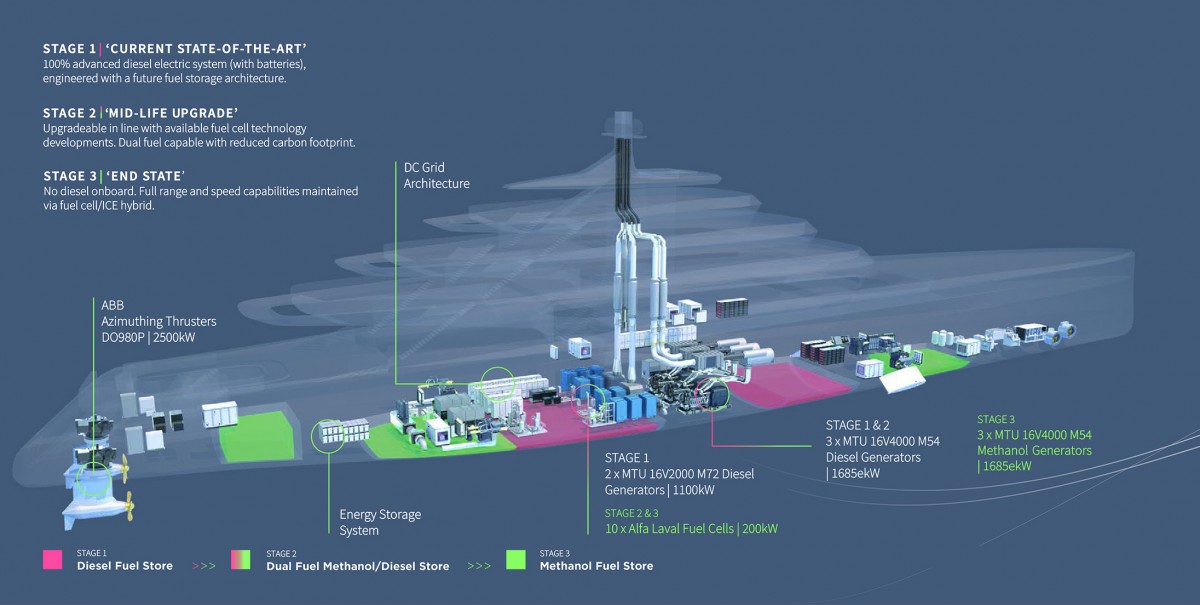 The Energy Transition Platform (ETP), developed by Oceanco and Lateral Naval Architects with ABB and MTU
Arguably we, as an industry, should have been designing yachts with this kind of platform a generation ago. EU and IMO regulations have been constricting the maritime sector, and by extension the large-yacht sector, in a predictable way. The need for fuel flexibility has not exactly crept up on us. The ETP sounds great, but a few lines in a brochure belies the ambition, and difficulty, of implementing such a transition platform.
Speaking to Lateral's managing director James Roy, chief engineer mechanical Simon Brealey and principal naval architect Adrien Thoumazeau offers some invaluable insight into this fascinating project and how the ETP may work in practice.
"Any yacht built today will have to span the energy transition, a period of significant change in available fuel types and associated technologies," says Roy. "This demands an adaptable technical architecture that can accommodate the alterations to layout, configuration and specifications needed to integrate future technologies and alternative fuels in the least invasive way possible. Lateral and Oceanco have developed the ETP to ensure multiple technical pathways can be pursued as technologies mature during the energy transition timeline."
The first conundrum, often repeated across these pages and at industry events worldwide, is that while clients ask about future technology and energy transition to net zero, and are interested to learn, very few are actually prepared to make the investment if there is no fuel availability. As Roy puts it, "The reality is that when you get to the commercial signing of up to 300 million euros of your hard-earned money, people get cold feet pretty quickly."
The idea of the energy transition platform is to pre-engineer a technical architecture that can span the energy transition timeline. As the divergent pathways develop towards net zero, the ETP is designed to have the in-built flexibility to pursue different solutions.
What Lateral is proposing is a fully warrantied, commercially available, lower-risk product today that also does not lock the client out of future technologies. According to Roy, this also has a significant positive impact on the potential resale value of any vessel. Anecdotally, many of the reasons for hesitance around these products is the justifiable concern as to whether an owner can resell such a high-value asset in 10 or 15 years.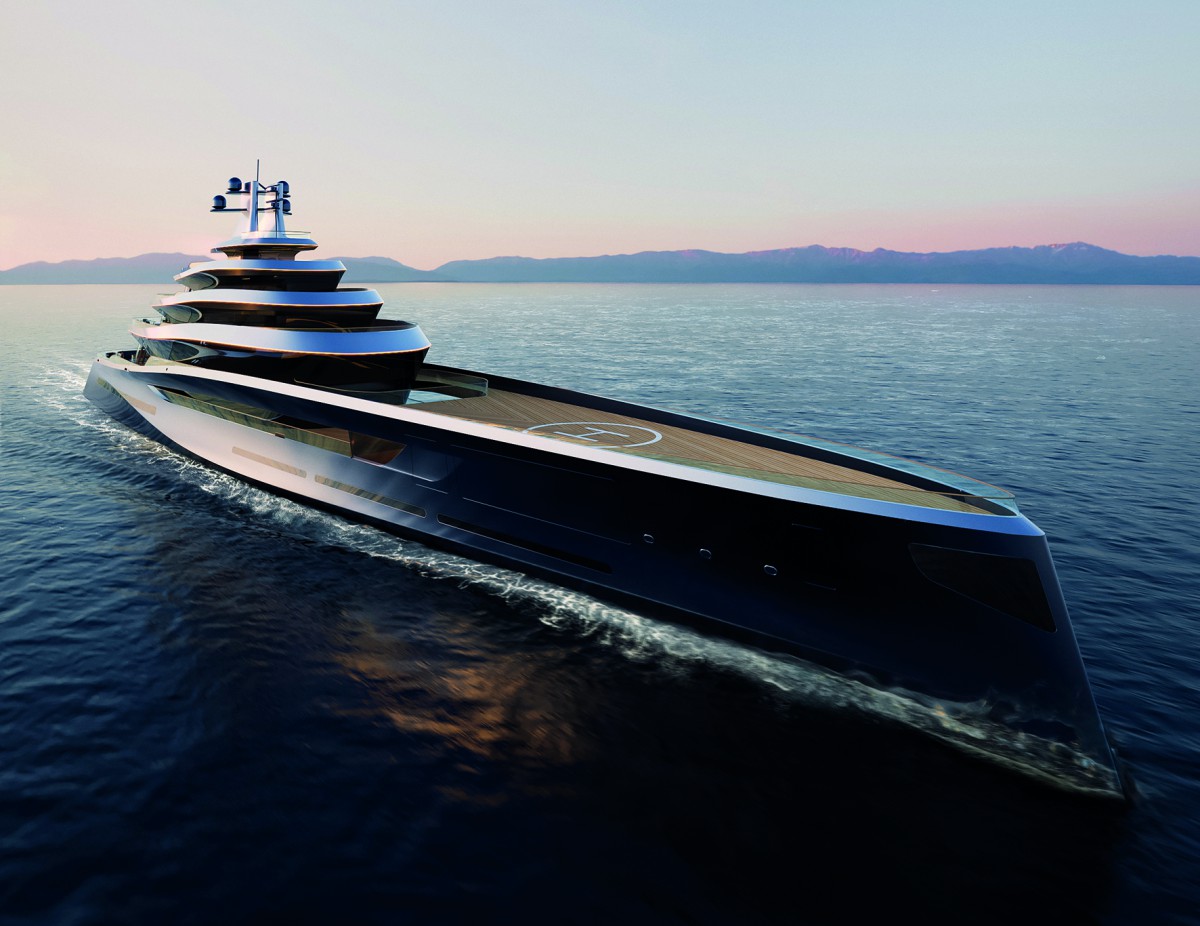 Like Lürssen, Oceanco, with Aeolus, has opted for methanol as its future fuel of choice. As is highlighted elsewhere in this report, the energy density of methanol, and its storage at ambient temperature and pressure, make it easier to integrate, relatively speaking.
The point that Brealey stresses is that this ease of integration has a knock-on effect on the design considerations. "What we can do with methanol is design a yacht [of this size] that is recognisable as a yacht. The tankage is going to be more than we would require for diesel but overall the yacht retains the look of a superyacht, and that is attractive for clients."
Stage one of the ETP is relatively self-explanatory. While state of the art, the diesel-electric system combining two MTU 16V2000 M72 main diesel engines with a battery bank and ABB Azipods is relatively conventional for a vessel of this size. It's stages two and three where the truly intriguing challenges begin.
Yachts are built around their engine blocks. As such, even mid-range motoryachts will require some seriously invasive engineering to replace an engine or generator. This is the looming hurdle that one can see at stage two of the ETP. Although not as scary as it may seem, the prospect of cutting through the fairing and hull below the waterline is a daunting one.
Roy stresses that the engineering required to adapt the yacht to methanol must be integrated during the build because without these considerations, the refit to methanol will be very technically complex and perhaps one barrier too many. For these reasons, Aeolus will be designed with all diesel and ballast tanks capable of conversion to methanol by including the necessary cofferdams and methanol systems for fuel, bilge, tank-venting and inerting.
"We have taken great care to ensure that we are not running cable trays or tanks between the existing path for any of the components that may have to be removed," explains Roy. "Looking ahead to stage two also requires careful calculations of loading considerations relative to the requirements of future machinery. Additionally, the requirements of future adoption of fuels cells with respect to the ventilation systems have also been considered."
It's still unavoidable that a hull cut will be required to change machinery; however, this will be pre-engineered with removal routes via dedicated soft patches considered in the machinery layout.
Having the freedom to design this type of system is supported by such a large internal volume. One pressing question for the future is how might this be applied to the rest of the fleet?
"That is the 64-thousand-dollar question," says Brealey. "How small can we take this? Of course, a large yacht like this is an easier platform to work on. If we take our performance metric as metre square of luxury per gross tonne, the smaller the yacht, the more impact methanol will have. In the 90-metre-plus class, of course, this makes total sense. Smaller than that, it is still a compelling proposition but then the product has to change a bit. The full focus then has to be on efficiency."
"When we say that Aeolus is quite easy, that is a relative term," says Thoumazeau. "There is still some compromise and with Aeolus we have a calculated range of 4,500 nautical miles. To get this there is some compromise in terms of tankage."
Thoumazeau explains that the issue with coming down in size is not necessarily the technicality of the backbone of the ship. A significant factor in the downward scalability of a system such as the ETP is the reliance on the availability of hardware such as gensets, for example. "Building a methanol-ready 60-metre is technically possible, but the supply of hardware in these size ranges is much more limited," he says.
While Aeolus can be built on the regulatory and technical developments stemming from the commercial ship-building sector, Roy says the idea of approaching an energy transition in this way is actually quite yacht-specific. Many of today's new builds in shipping are being designed as duel-fuel methanol ships. However, in most cases this is simplified as there is good availability of large two-stroke dual-fuel methanol engines in this size range, while yachts generally require smaller machinery.
Brealey quips, "Cruise and shipping vessels tend to have a very different idea of overhead heights in engineering spaces."
"If we look at the alternative energy carriers in shipbuilding today, LNG is still the number one but it is rapidly being overtaken by methanol dual-fuel ships, primarily in the container shipping sector," says Roy.
To this point, he adds that there are Class notations from the shipping industry, and Class societies such DNV already describe many of the transition scenarios, especially for methanol, that superyacht designers and shipyards are now grappling with.
This leads to the next major hurdle, one that, crucially, the superyacht industry is not alone in tackling. The technical challenges of the build, at least for stages one and two, are in many ways secondary to the complexities of the fuel-supply market in which it will enter.
"What we really need is a spot-fuel market for methanol," says Brealey. "When we buy fuel today it is offered on an open market. There is a lot of supply competition met with a lot of demand. While we cannot say for certain, the current markers and indicators for methanol suggest that it will get there eventually, but it is complicated."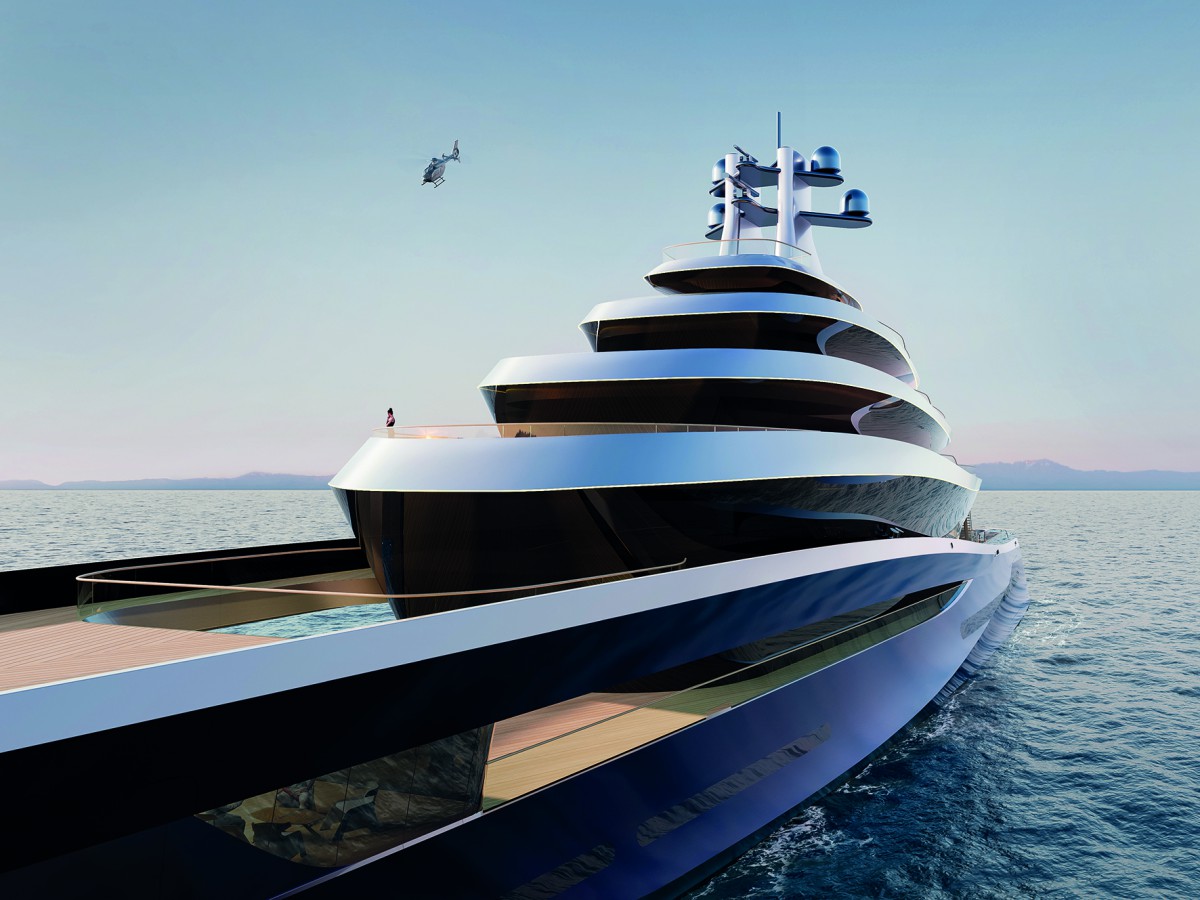 While the scientific and economic theory may be nothing new, its application to the marine sector certainly is. Wading through the literature and navigating biases presents another fascinating challenge. If an academic or institution has spent 10 years studying or advocating for a particular pathway or outcome, this is often where their conclusions will land. In academia this is termed 'confirmation bias', the tendency to seek, interpret and remember information in a way that confirms one's pre-existing beliefs or hypotheses while ignoring or downplaying contradictory evidence.
"There are very few independent sources of information out there," adds Brealey "Pretty much everyone you speak to in the alternative-fuel sector has some form of bias, unconscious or not. A big part of what we do is to try and cut through this. However, notwithstanding these reasons, we still see methanol as the easiest alternative fuel to integrate into a superyacht design.
"Understanding the fuel network is key. You can go on to a few websites today and see a graphic that shows a collection of methanol or LNG bunkering sites across Northern Europe, for example, but it is not that simple."
I've seen these graphics, and the nodes on the map do look enticing. However, as Brealey explains, they very often have 'take agreements' in place, whereby there is a contract between a fuel supplier and a buyer, and the supplier agrees to provide a certain amount of fuel at a fixed price over a specified period. The buyer, in turn, commits to purchasing the agreed-upon amount of fuel within the specified time frame.
"If you show up on your superyacht expecting to bunker, it most likely won't work," adds Brealey. "These sites are designed specifically for a certain carrier, such as a cruise or container ship, that will come through at a certain time. They are not producing surplus on the off chance that a yacht may come through. They want to maximise their utilisation of the plant or storage facility, which have significant CapEx and often government subsidies, as is the case in Spain.
"This presents an interesting discussion for the superyacht industry about how we, as clients, approach the issue. We are entering into a transition period before a spot market is created, and because of the CapEx very few, if anyone, is thinking about building a methanol bunkering station for the yachting market on the off chance the ships will appear."
An interesting corollary is that certain dual-fuel LNG cruise ships never use LNG due to its lack of availability. While adopting some of the technologies and regulations, the superyacht sector and projects such as Aeolus are likely to diverge once again from the commercial sector. The idiosyncrasies of its operational profiles and areas of operations will necessitate further innovation on its own pathways to carbon neutrality.
"The shipping industry is being very creative with how it achieves its carbon targets, and some of the solutions may not actually be that green," concludes Brealey. "We need to be better than this standard. When we design and build yachts like Aeolus, we need to recognise that as an industry we have a lot of attention on us. We have high-profile clients and conspicuous assets. With the rise of investigative journalism and attention on the industry, as well as data transparency, there is nowhere to hide."
"We shouldn't forget that methanol is a carbon-based fuel," adds Roy. "So its use as a zero-emissions solution is contextual, more accurately it's a net-zero fuel. And for that there has to be some accountability and transparency. When you buy the fuel, you have to know if it's in a net-zero state."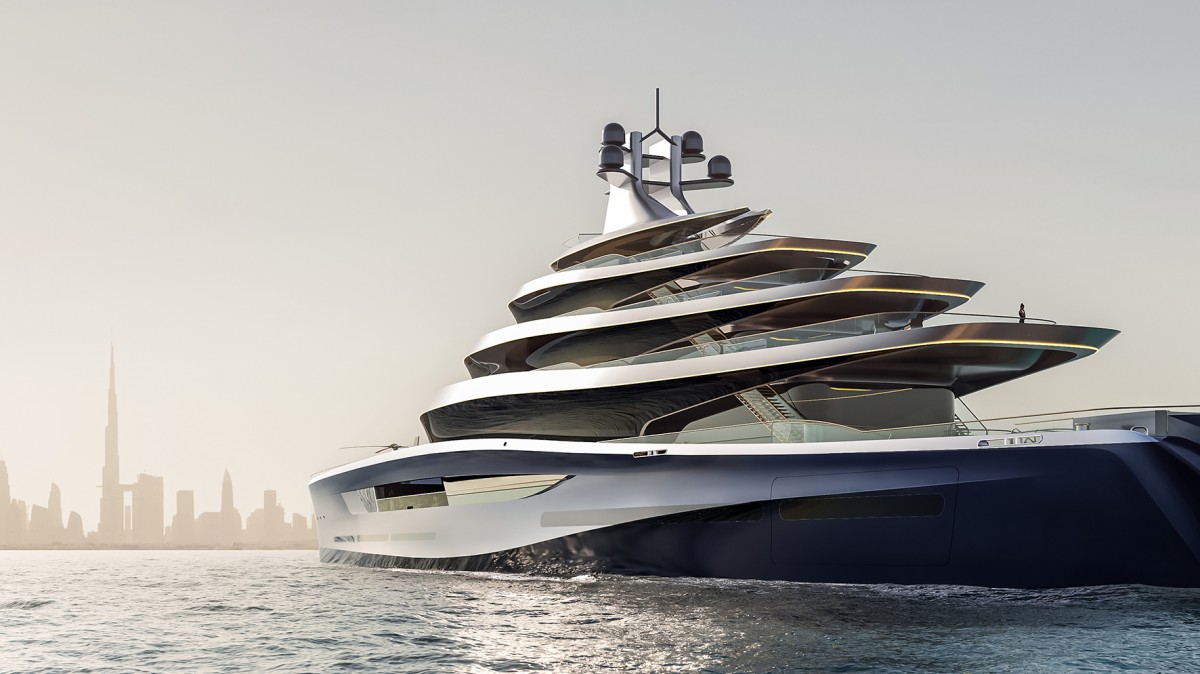 When asked to forecast the next developments, Lateral gave a broad timeline for the feasibility of stages two and three, with the energy transition to methanol depending on a variety of factors such as the availability of fuel cells, reformers and methanol engines with the appropriate performance, as well as the infrastructure to support yacht operations worldwide with a supply of green methanol.
It's anticipated that these technologies will be available towards the end of this decade. However, the wider issue of infrastructure is somewhat difficult to predict, and the superyacht industry may need to invest in developing a viable fuel network.
The desire of owners to be early adopters of new technology will also be a significant factor driving the timeline. If a yacht such as Aeolus is contracted today, Lateral explains, some owners may decide to jump straight to stage two immediately, while others may wait and install stage two during a refit two to five years after delivery, perhaps around 2030.
Conversion to full methanol in stage three could then be imagined in the latter half of the 2030s. This timeline may vary and is subject to change based on technological developments, infrastructure availability and owner preferences. This is where the flexibility of the ETP comes into play, allowing Aeolus to transform in step with the evolving landscape of decarbonisation technologies and infrastructure.
This article first appeared in The Superyacht New Build Report. To gain access to The Superyacht Group's full suite of content, publications, events and services, click here to join The Superyacht Group Community and become one of our members.
Profile links
---
Click here to become part of The Superyacht Group community, and join us in our mission to make this industry accessible to all, and prosperous for the long-term. We are offering access to the superyacht industry's most comprehensive and longstanding archive of business-critical information, as well as a comprehensive, real-time superyacht fleet database, for just £10 per month, because we are One Industry with One Mission. Sign up here.
Related news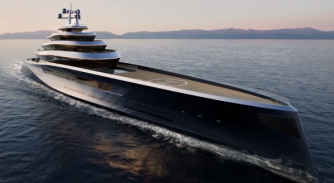 Named Aeolus after the Greek god of the wind, the superyacht is aligned with Oceanco's NXT initiative
Fleet
On Day Two of The Superyacht Forum, Lateral Naval Architects and PA Consulting will discuss the Hydrogen infrastructure strategy
Business
The industry pioneers have outlined their vision for the future of the company ahead of an exciting show season…
Business