Oceanco reframes challenges for a better future
The tides are turning on what owners want from their yachts, and as an industry, it's up to us to keep one step ahead…
We need a fresh understanding of how owners want to live their lives now and tomorrow. New kinds of spaces that prioritise shared experiences and connection will be key; they are more inclusive, even in arguably the most exclusive place in the world. And, of course, sustainability is an unavoidable subject. Oceanco believes it's a non-negotiable to make efforts to minimise the impact on the planet, and this trend is only going to be heading in one direction.
Such challenges call for an open-minded approach that is focused on finding solutions and looking ahead. Which is exactly how Oceanco builds. This year, a selection of Oceanco yachts has been put out into the world that embodies this approach
New beginnings for Koru and Seven Seas
In recent weeks, Oceanco's two latest yachts were delivered to their owners: 125m three-masted schooner Koru (pictured below) and the 109m motoryacht Seven Seas.
Koru's name is taken from the Maori for "new beginnings", and she has certainly lived up to it concerning her colossal scale and technical capabilities. Not only is the largest yacht built by Oceanco to date, she is the world's largest sailing yacht and the longest yacht to be built in the Netherlands, reinforcing Oceanco's reputation for industry firsts.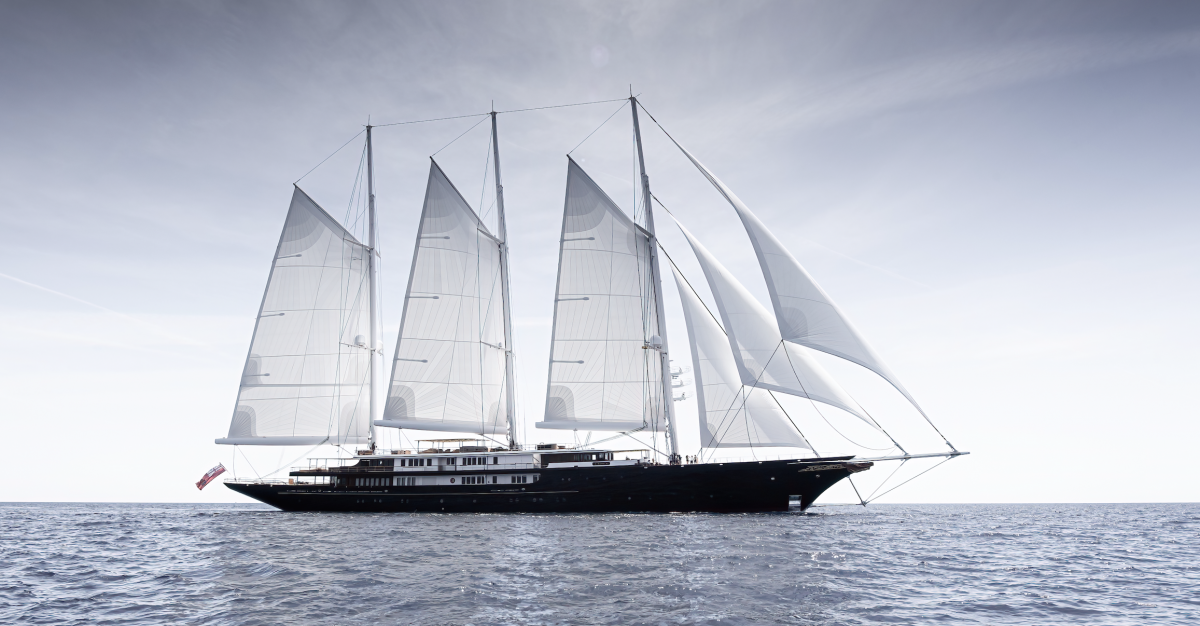 Displaying a beautifully proportioned profile, Seven Seas (pictured below) is a spectacular example of graceful contemporary design. Her exquisite use of natural materials and glass offer guests an unparalleled outward-looking experience. The result of a creative collaboration between Sinot Yacht Architecture & Design and Molly Isaksen Interiors, Seven Seas underwent an extensive optimization process, resulting in her outstanding performance and seakeeping credentials. She is also the first LY3-compliant yacht to feature a Marine Evacuation System.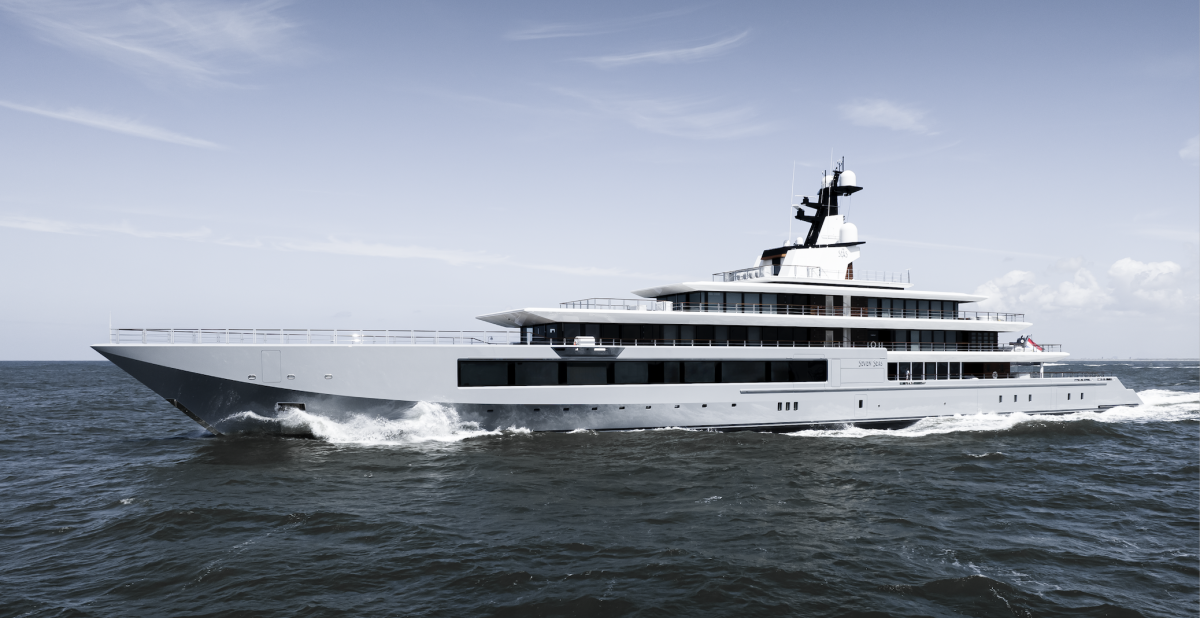 With a drive to bring positive change and exciting yachts to the world, Oceanco's achievements are continuing through 2023. These major milestones prove that the industry's leading pioneer shows no sign of stopping on its mission. And we are all invited along for the ride.
An Icon is reborn
Earlier this year, Oceanco revealed a revolutionary project that the company has been working on for some time. The yacht is not a new build in a traditional sense nor a refit. It is a rebuild; an existing yacht transformed into a new, contemporary vessel – both in technical and aesthetic considerations – bringing added value not only to its owner and other stakeholders but to the wider world. Its name is H.
The project took a high-tech yacht from 20 years ago and made it IMO Tier III compliant, in line with any yacht built today. H has also been given a new look – a new identity – rather than a facelift and repaint, hence why the scope of the project evolved beyond a refit to what is considered a full rebuild.
It is a complex process to plan and execute such a broad scope of engineering and construction work on an existing yacht. Oceanco relished the challenge, and it was beneficial that the owner's representative for the project was Richard Hein of The A Group, who has a long history of working with the builder, while many of Oceanco's current in-house team were involved in the yacht's original construction two decades ago.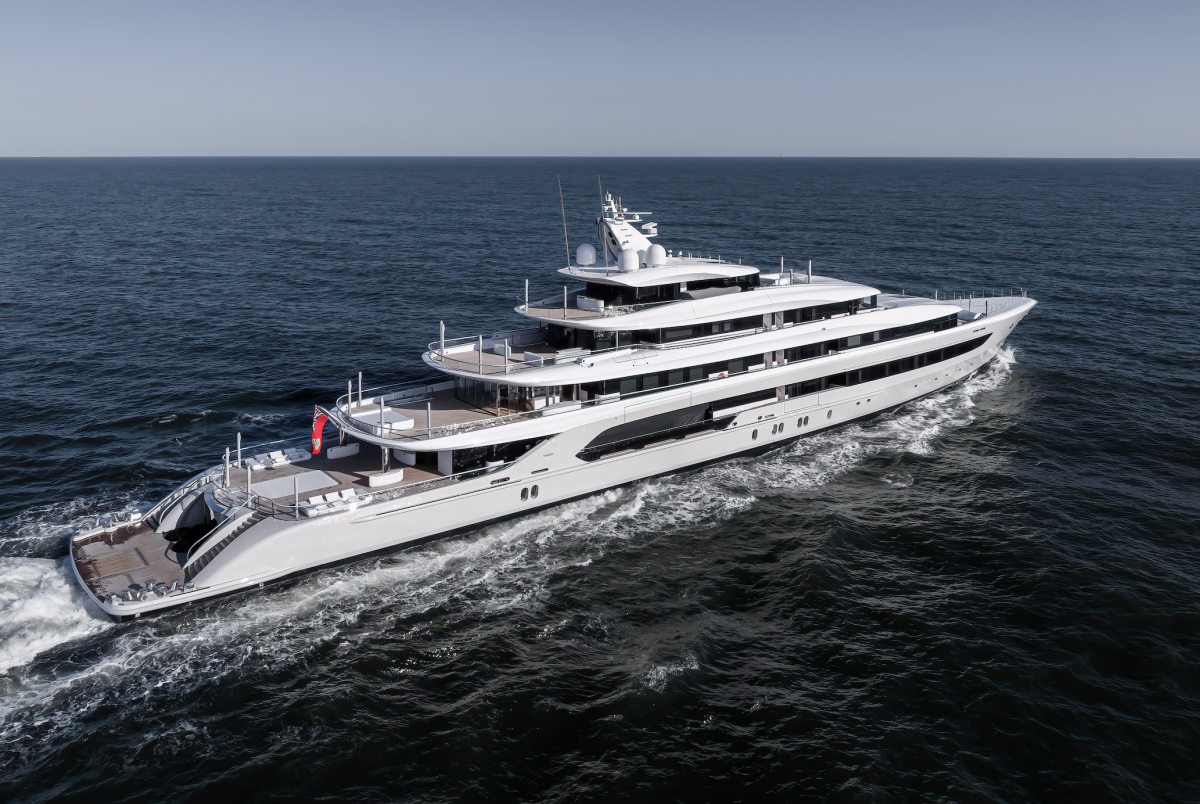 The rebuild took three years to complete, including a 10m hull extension and an entirely new superstructure, as well as interior layout and look from Reymond Langton Design. Oceanco estimates that the yacht benefited from a year's reduced timetable for completion, in other words, a 25 per cent improved efficiency in lead time, thanks to the decrease in time spent on engineering and hull construction – while also maintaining the Oceanco pedigree.
The hull form was modified to become more efficient, increasing its cruising range from 6,000nm at 14kn to 7,500nm at 12kn. The technical systems – including full energy architecture, bridge, navigation and communication systems, and cabling – were entirely replaced with modern equipment that meets rigorous IMO Tier III standards.
Importantly, most of the original hull was retained during the rebuild. To offer some figures on the carbon footprint of this rebuild versus what a new build would have represented: Oceanco calculates it reduced carbon emissions by 50 per cent in terms of aluminium for the superstructure, steel for the hull, and their transportation – amounting to just over 2,000t of carbon.
And of course, H now has an operational profile equivalent to that of a yacht built today, rather than 20 years ago. At a time when the yachting industry is increasingly mindful of the impact that newly built vessels have on the planet, it is pertinent to highlight that bringing an existing yacht's environmental profile up to date with contemporary standards can have as much, if not more, of a positive impact.
It is Oceanco's ambition that this landmark project will inspire owners of existing yachts to benefit from the gift of time while adding value to their ownership experience as well as the planet. Through this novel approach, past icons have the potential to become the new faces of today and tomorrow.
Shaped by the winds of change
Named after the Greek god of the wind, Aeolus is the second yacht aligning with Oceanco's NXT initiative, which aims to design and build the most exciting yachts of the future by collaborating with thought leaders and innovators from a wide spectrum of sectors. It is the embodiment of what Oceanco is aiming to achieve with NXT – and the yacht is simply breathtaking to look at.
A game-changer in every aspect, this 130m Oceanco yacht design was created by Giles Taylor, known for his revolutionary work at Rolls-Royce, alongside interior designers Njord by Bergmann Design House and technical partners Lateral Naval Architects, ABB and MTU.
Taylor set out to create a yacht that would meet the evolving needs of today's clients, who are no longer drawn to having an excess of formal rooms and guests on their yachts, and who prioritise connection, reflection and experiences on board. Aeolus is designed for the rebels and rule-breakers, the 'young-minded' clients who are creatives, visionary leaders, innovators and big thinkers. Those who are driven to create impactful change in the world yet wish to stay out of the spotlight themselves, and who want to shape a new future of yacht design and construction.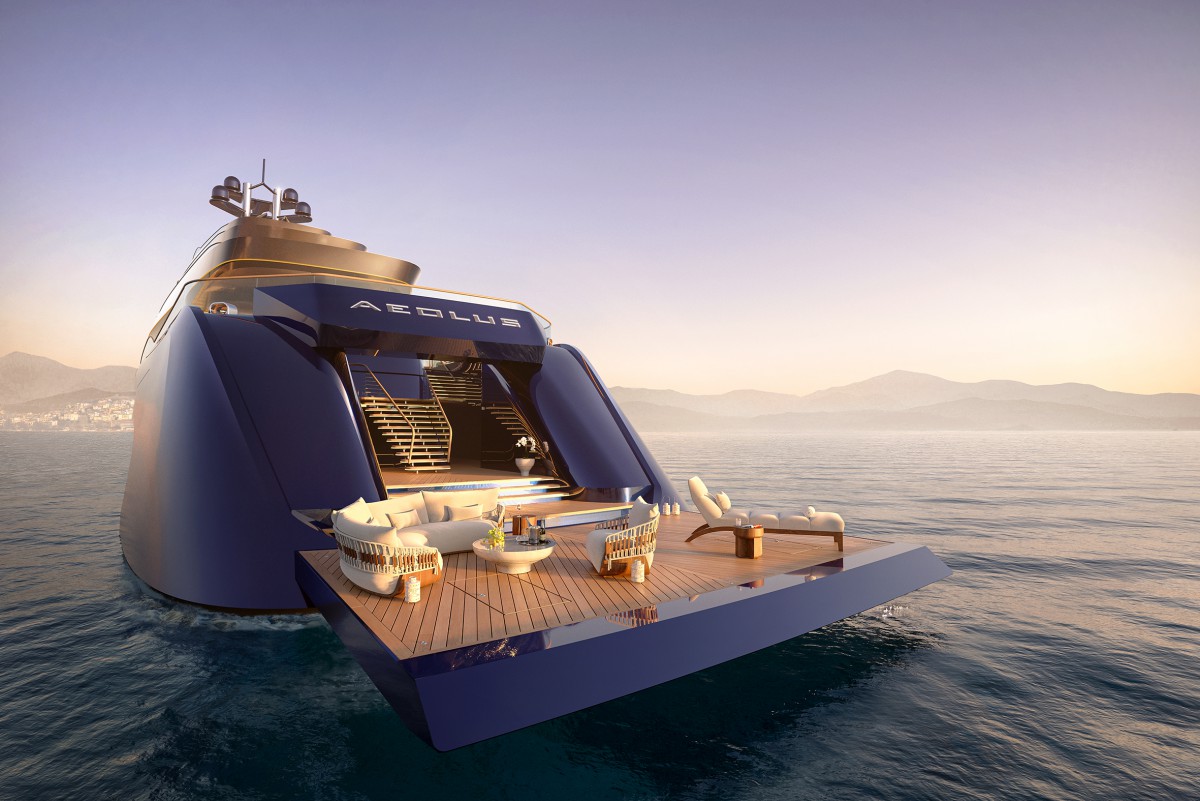 A natural, private retreat and seaborne sanctuary, Aeolus accommodates just enough suites for family and favoured guests. The vessel's surroundings maintain a sense of privacy while also adapting to its owner's lifestyle and daily needs, allowing a free-flowing customisation that continues to evolve throughout the journey on board. The unique owner's deck, with a bar and relaxation area located above, can be kept private or opened up for socialising, while vast, multi-use spaces are intuitively shaped to make the interior feel welcoming and open, without confining boundaries.
Aeolus's owner makes no compromises on technology in their daily life. So when it comes to their time on board, the bar should be set equally high. Enter Aeolus Aura, delivered by ONE. Harnessing immersive technology to create a uniquely elevated user experience, this novel, life-enhancing integrated support system assures a sense of connection, comfort and belonging on Aeolus.
They say the only thing you can't buy more of is time. Yet through Aeolus Aura's pioneering smart technology, each day spent on board is enhanced to make the most of time spent on board. Using computer learning to tailor the yacht's technology touch points to its owner and guests, Aeolus Aura delivers a seamless, intuitive and non-intrusive experience that is fully adaptable, safe and secure. Developed by the customer-focused technology experts at ONE, Aeolus Aura evolves based on an owner's unique needs and preferences, so the options are endless.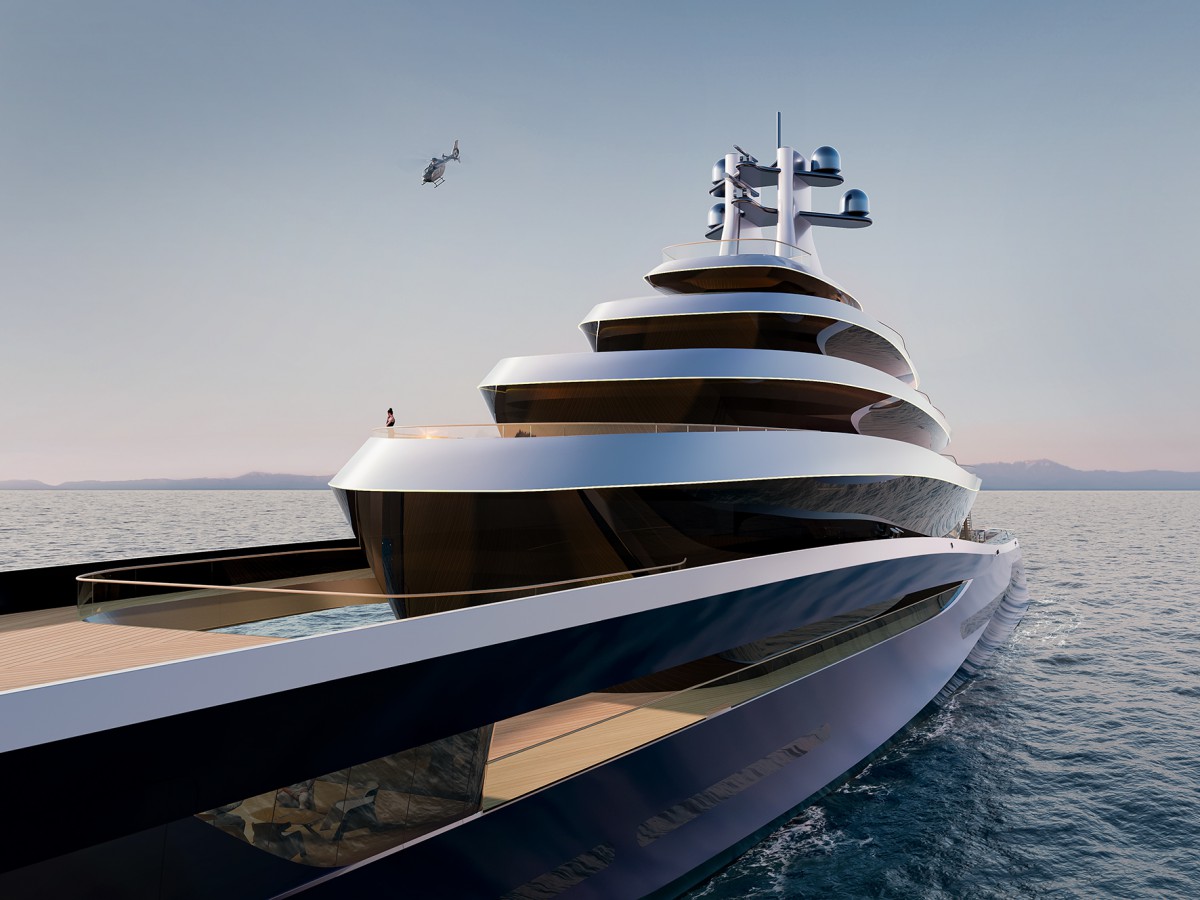 Aeolus's interior has a strong language of introducing fully sustainable and traceable materials, including biomaterials, at its core. its creators have curated a selection of forward-thinking suppliers to fit out Aelous most sustainably and consciously possible. One of the most remarkable innovations that have emerged from Aeolus is the energy transition platform, or ETP developed alongside Oceanco's technical partners Lateral Naval Architects, ABB and MTU.
This adaptable energy architecture enables a future-proofed pathway to net zero by spanning the approaching energy transition. Aeolus is initially configured to be state of the art today, fully procurable and warrantable as an advanced diesel-electric architecture. In its final 'end state', the yacht would be configured with a 100 per cent alternative fuel hybrid of fuel cells and internal combustion power generation. Critically, during its lifespan, a pre-strategised and intermediate upgrade can be implemented, dependent upon the advancement and commercial availability of technology.
Shaped by the winds of change, Aeolus heralds a new era for dwellings on the water that is characteristically on brand for Oceanco. Promising a transformational impact on those who experience the yacht, it offers its owner the opportunity to buy a ground-breaking yacht of tomorrow today.
Profile links
---
Click here to become part of The Superyacht Group community, and join us in our mission to make this industry accessible to all, and prosperous for the long-term. We are offering access to the superyacht industry's most comprehensive and longstanding archive of business-critical information, as well as a comprehensive, real-time superyacht fleet database, for just £10 per month, because we are One Industry with One Mission. Sign up here.
Related news