Extinction Rebellion invited on stage at TSF
We provide the full unedited transcript of what Extinction Rebellion had to say at TSF……
The Extinction Rebellion Group offered food for thought at this year's The Superyacht Forum event after turning up on the final day to protest against the existence of the industry. The group arrived at roughly 9:30am on Wednesday morning with a megaphone and banners to peacefully protest against the complicit behaviour of stakeholders in yachting - they also made it clear they would not be using superglue or tins of tomato soup. We invited the group on stage to speak candidly to the nucleus of the industry about their reasoning and motivations.
Full unedited transcript below: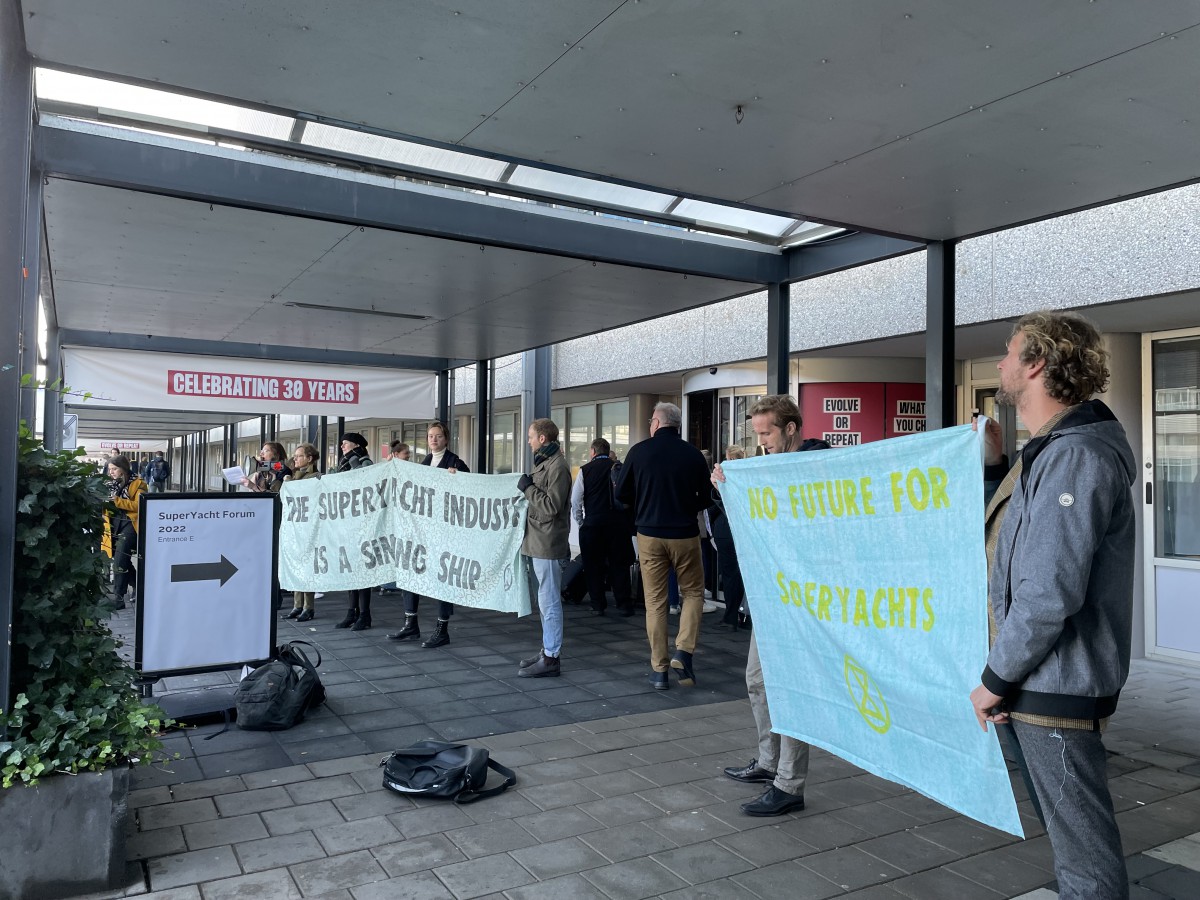 Martin H Redmayne: Elodie, the microphone is yours. Elodie is from Extinction Rebellion. What this means, is that the Superyacht market is on the radar, as we have said several, several times. And I've just had this protest happen in the forum as we would have expected the protest to happen. But why not listen to the protest as a group… and maybe respond? So I have asked them to speak for 10 minutes, to bring their banners on stage and have their say. Elodie, have your say, but please don't shout, speak nicely. You can sit down if you want.
Elodie (Extinction Rebellion): I'm good. I'm good. I'm good standing. Okay. So I totally understand why you're inviting us on stage right now. This, of course, looks much better than kicking us out. And I really want to avoid being used as a greenwashing opportunity. I really want to be clear that what we're saying here is not that you should make this industry more sustainable. It's not that we need to have electric superyachts or hydrogen-powered Superyachts or I don't know what? It's that this industry has no place in the energy transition. For all the people that are here, the message we really want to get across is that you as an industry, you're going to lose your social licence to operate whatever you're doing. And if you really, truly care about sustainability, there is no place for that in the superyacht industry. Jump ship. Do something useful.
We need boats, but sustainable boats are not superyachts. Yeah. And if you stay in this industry, the only thing you're going to continue doing is greenwashing the hobbies of the super-rich. I can fully understand why you find superyachts very interesting. I used to find them absolutely amazing when I was a kid. I went to an engineering school where they did naval engineering. I ended up doing ocean physics. I'm now working in climate sciences and I'm really, really, really scared when I see already the climate crisis unfolding before our eyes. We're now at 1.2 degrees. The sorts of changes that we're seeing, we're not exactly expecting for them to happen so fast. There are already people losing their lives in floods, for instance, as we saw in Pakistan. And most of the people that are already dying, they are not responsible for most of these emissions. And what you have to understand is that Superyachts, they're the most caricatured example of that injustice. They only exist as super toys for super-rich. They only exist for them to lavishly spend all the money that they got from highly polluting industries.
By continuing to work for them, you're giving them the possibility to do that. By working on solutions to have more sustainable, I don't know, pools and chairs or whatever, you're just giving them the possibility to continue doing this. So this is what we're here to say today. Just stop working for this industry. There are a lot of other things that you could do with a background in naval engineering or whatever or being a crew member. And we don't think that there is a place for the Superyacht industry in the future. Yeah… Ban Superyachts!
Martin H Redmayne: Okay. No shouting. No shouting. All right, listen. I'm not going to have a long discussion on this because we haven't got the time. We have a programme to keep to, but I want to make sure you understand. We hear you.
The market is trying to change dramatically. What I think is important - We are not bad people. We're very smart, fun-loving people that do a lot of good stuff. All the things we do with our yachts, right, as an industry, typically do more good than most other expensive fuel-consuming assets in the world. Believe it or not. You do not know the full picture, but I would love to work with you to get the full picture about how much good and how many people are employed by this industry. Several thousand people are employed by this industry and do a lot of very positive things, and we all understand your message, and we thank you very much for coming on stage.
Elodie (Extinction Rebellion): Yeah, I just want to add that we fully know that these kinds of events are done to be able to, you know, to keep your social licence to operate like, you know, that more and more people are getting angry at this, you know that as people are trying to reduce their carbon footprint, seeing the super-rich, thinking that they can escape what's happening in the world by going at sea with these huge luxury boats, people are going to find it more and more unacceptable. So that's why you're trying to look more sustainable. And even more, something like from my own experience, because I work in sea research. You're even doing science washing, which is extremely funny, inviting oceanographers, for instance, to come on board or to design ships.
Like, there is this very big ship that's going to be used for part of the time as a superyacht and for part of the time as a research ship. And of course, like if you work in the Arctic, like I do, like, it's really nice to think, oh, yeah, I'm going to be able to have a pool on my research boat instead of having an old research boat like we usually do. But this is all intended just to be able to continue doing this. And we think there is no way that you can continue making superyachts. And it is not only because of their highly polluting behaviour, it is not only because of the amount of resources, not useful resources that it uses, it's also because of the model of society that it shows, a model of society where if you have the money you can just get whatever you want. You can get submarines, you can get helicopter pads, you can have a carbon footprint of thousand times, a million times bigger than the average person and get away with it - and this is the model of society that we want to protest.
So, again, I understand you are nice people, I studied with people that are very similar to some of you, actually, I wouldn't have been surprised if I recognise someone here in the room, and that's why I want to get that message across to you. Just stop working for climate wreckers. Stop working for the super-rich that don't give any shit. And sorry, I'm not being super polite anymore, but stop working for them. Stop greenwashing their hobbies. Jump ship. There is no place for you in the Superyacht industry if you truly care about sustainability. Thanks.
Martin H Redmayne: Thank you. Thank you very much.
Various chants of 'No more superyachts' and 'extinction rebellion' are heard as the protest group exit the stage
Martin H Redmayne: Okay… Now close your eyes. That was all a bad dream. All right. So, listen, that wasn't a staged wake-up call. That was a real wake-up call. And I think this is something we've always, always thought will happen one day. And thank God it happened here.
Extinction Rebellion is a global environmental movement and its aim is to use nonviolent civil disobedience to compel government action. Although their methods may be highly controversial, this event should at the very least serve as a warning to the superyacht industry. This group, in particular, should be applauded for their formality, because it won't be long before these protests become far more frequent and far more significant. The TSG Editorial team are in contact with members of the Extinction Rebellion Group and will aim to broadcast the wider perception of the industry to our readership over the next 12 months in order to open a dialogue that previously did not exist.
---
Click here to become part of The Superyacht Group community, and join us in our mission to make this industry accessible to all, and prosperous for the long-term. We are offering access to the superyacht industry's most comprehensive and longstanding archive of business-critical information, as well as a comprehensive, real-time superyacht fleet database, for just £10 per month, because we are One Industry with One Mission. Sign up here.
Related news