Building for Pacific cruising
What are the key considerations when building a yacht suitable for undertaking Pacific cruising with ease?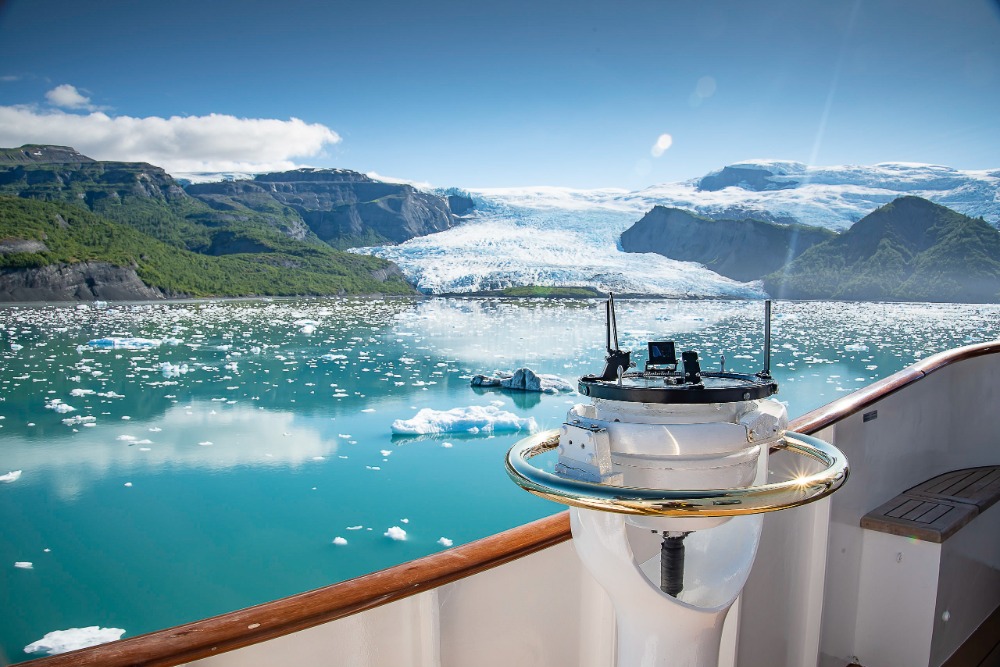 The Pacific incorporates a range of extreme weather, climate and geographical conditions: from the icy and hostile seascapes of the Northwest Passage, to the tropical paradise of French Polynesia. The range of elements encountered when cruising the breadth of the Pacific present unique challenges for any yacht and, as such, there is a lot to consider when building a yacht capable of cruising the region.
While there is no universal definition of an explorer or expedition yacht, there are certain technical features that, when incorporated at the design and build stage, can make exploring the Pacific by superyacht a whole lot safer, easier and more enjoyable. One of the most important considerations when cruising the Pacific is the need to be autonomous, meaning the ability to spend long periods at sea without having facilities nearby to refuel, provision or discharge waste.
Nick Cutler, captain of 39m S/Y Vagrant, is a veteran of the Northwest Passage, having cruised the region while he was captain of 46m M/V Pioneer. During this time, he learned that a full range is an "absolute must" for any vessel wanting to explore the region. "There are good refuelling opportunities on the east coast of Greenland, but once up into Northwest Passage, it's imperative to be self-sufficient on fuel," he recalls.
"A very important add-on to this is the realisation that main engines and gensets were rarely shutdown. The distances are huge, so it was comforting to know we had range, and in the early weeks of our adventure we quickly realised that traditionally anchoring for the night in a suitable-looking bay was short-lived. Ice and smaller bergs travel fast in the current and we often found ourselves hauling anchor at the most inconvenient times of the night to avoid incoming ice. We also found that the weather and wind direction can change instantly. We, therefore, spent our evenings with the main engines in idle and the bridge manned and ready for manoeuvre."
EYOS Expeditions has organised trips for superyachts all over the Pacific aboard a variety of different vessels and knows only too well how one can encounter every kind of condition imaginable. Understanding that most yachts that are designed for only Mediterranean and Caribbean cruising can be impractical in the more demanding locations, EYOS works with shipyards to incorporate features for expedition operations during the design phase and increase the capability of the yacht.
Recently, EYOS worked with Damen Yachting to provide advice for its SeaXplorer range, including a 'wish list' of features based on its experiences taking yachts to regions throughout the Pacific. "We looked at every aspect of what would make a superyacht more capable and enjoyable in remote areas and put forward 150 design criteria," says Tim Soper, co-founder of EYOS Expeditions, agreeing that range is one of the most important requirements for any vessel cruising around the Pacific. "There are some big distances to cover if you don't want to be limited to the most-travelled routes between islands."
"A lot of explorer yachts are advertised with 5,000 or 10,000nm ranges, but this can be misleading. Not only is this calculated on a certain economic speed, but one also needs to consider range in terms of endurance for everything else."
Soper cautions, however, that autonomy is not just about fuel range. "A lot of explorer yachts are advertised with 5,000 or 10,000nm ranges, but this can be misleading," he adds. "Not only is this calculated on a certain economic speed, but one also needs to consider range in terms of endurance for everything else. To cover the big distances in the Pacific you need a lot of storage capability for provisions, garbage, and anything else, since supplies can be limited away from the larger islands and ports. We notice that a lot of yachts are really short on storage, particularly traditional Med-Caribbean yacht designs that are being adapted to explorer yachts by simply adding some fuel capacity and changing the lines."
Another important factor for Pacific cruising is how to optimise the yacht's interior layout, with specific considerations depending on region. "With 24-hour daylight and the very long passage times [in the Northwest Passage], we found that many of our guests would be 'up and about' at odd hours, some wanting to visit the bridge for a chat and others simply disorientated by the light," adds Cutler. "If I was building a boat then a dedicated library or viewing room would be a must – a communal space where guests, guides and senior crew can spend time taking in the panoramic view, listen to safety talks or nature lectures, or simply chat over a coffee and recap the drone footage of the day."
Extra berth space for mission-specific personnel joining a cruise to a remote area is also a major consideration. "If you are going to cruise the Inside Passage and Alaska, you will need to have pilots on board if operating for a certain number of hours and the yacht is over a certain size," advises Soper. "And a guide is always wise when going ashore in bear country. Often, yachts are used to the model where they bring a guide on board for the day but, if going to really remote areas, you might need one or more on board for the entire trip. It seems like you can never have enough berth space."
If the guests are going to properly explore all the different regions of the Pacific, they will also need access to an array of equipment. And one of the most important pieces of equipment that needs to be considered at a yacht's design stage is a tender. Winston Joyce-Clarke, captain of M/Y Seawolf, has extensive experience cruising the Pacific and understands how crucial a tender is to a yacht's operations in these areas.
"The big obvious in terms of technical design is the access to the water via the tenders on board," he points out. "I'm not an advocate of towing tenders across open ocean, so the vessel should be able to house them on board. If the yacht doesn't have a helicopter, then it's wholly dependent on a tender programme, which should be really versatile. You want a tender that is open-water capable as well as flexible – it has to be the dive boat, the fishing boat and the resupply boat – with the primary vessel acting as the hotel ship and the tender being used for most of the exploring."
The various weather conditions can also have an impact on the vessel from an operational standpoint. "The ice and also the manual work of removing the ice build-up does take a toll on the yacht's gloss," says Cutler. "Although we kept the vessel 'shipshape' at all times with owners on or off, one must be realistic and remember that it was simply too cold to have the deck team exposed to the elements for any traditional chamois routine. Owners should be realistic in their expectations of gloss retention and paintwork for deck-side house-keeping – shipshape and tidy rather than waxed and bladed. The snow and ice are quite gritty and we found a lot of pumice and stone making its way back on board."
Joyce-Clarke would encourage minimising the amount of brightwork that a boat has, and prefers light-coloured exterior finishes. "There is a lot to be said for painting the boat a pale shade of grey rather than dark blue, and even pure white ends up being a maintenance issue," he explains. "In addition, you want to try and consider the elements of construction that would help minimise the crew's time spent on aesthetics and allow them to only focus on basic cleaning and maintenance."
"There is a lot to be said for painting the boat a pale shade of grey rather than dark blue, and even pure white ends up being a maintenance issue."
Joyce-Clarke adds that the extreme temperature and weather conditions can also have an impact on the heating and cooling system on board. "Having a comprehensive idea about how refrigeration, air conditioning and heating is going to work in extreme temperatures is important because HVAC chill water systems struggle when the ambient sea water temperature drops below 4°C or rises above 28°C. So the yacht will need to have a proper heating and cooling system for multi-region cruising."
For cruising in the icy regions of the Pacific, some might also consider ice class or an ice-strengthened hull. For Soper, the need for ice class depends on the client's intentions. "If you are building an expedition yacht to go everywhere, then an ice-class hull makes sense, but we always consider the mission and what the client wants to do," he says. "There is a lot of talk about ice class, but for a private vessel the class is somewhat secondary to the yacht's actual capability. What is more important is the real-world capability of the yacht; it is possible to have ice strengthening without an ice class, which would allow you to do things in a private application that you wouldn't otherwise be able to do."
It is important to note, however, that an ice-class hull can compromise on performance in ice-free waters. The correct hull shape and construction, while also considering protection for stabilisers and propellers, may result in enough capability for what the client wants to do in ice, even if it's not technically ice-rated.
Joyce-Clarke agrees; "Building to a high level of ice class for year-round operations in polar regions, when the yacht is only likely to go cruising at high latitude during the summer season, is not necessary. The yacht should take into account that the majority of time will be spent in the tropics, and will be able to tread lightly for those few weeks it ends up going to cold destinations that are genuinely ice-choked. It would be preferable to have retractable stabiliser fins, but most competent ice pilots will take exposed fins into account when manoeuvring in close proximity of ice."
At the other end of the spectrum, cruising in French Polynesia, yachts will encounter lots of atolls with shallow lagoons, many of which need a relatively shallow draft to get into. But, as Soper points out, a shallow draft compromises the comfort of the vessel on open-ocean crossings. "If you are setting out to explore the whole Pacific, a deeper draft is preferable, so the vessel is comfortable for long voyages," he says. "And while it may not be able to enter some of the smaller lagoons, you can have tenders or a helicopter on board so that the yacht can stop outside and then use these tools to explore the lagoon."
The new-build market is flooded with designs labelled as expedition or explorer yachts – with many incorporating some or all of the aforementioned features and others simply featuring rugged lines – which could cause confusion for prospective buyers. The fact is, however, that exploration is subjective and, in terms of cruising the Pacific, almost any yacht can be an explorer. What matters is what the yacht can do when it gets there and whether it has the right design and tools to enable guests to enjoy the destination to its full potential.
This article appears in full in the recently-published The Pacific Superyacht Report. For complimentary digital access to the magazine, please click here.
Image: Icy Bay on the Gulf of Alaska as seen from M/Y Arctic P, courtesy of Ken Burton/EYOS Expeditions
Profile links
---
Click here to become part of The Superyacht Group community, and join us in our mission to make this industry accessible to all, and prosperous for the long-term. We are offering access to the superyacht industry's most comprehensive and longstanding archive of business-critical information, as well as a comprehensive, real-time superyacht fleet database, for just £10 per month, because we are One Industry with One Mission. Sign up here.
Related news