Arksen 85: A new wave of exploration and philanthropy
A look at the capabilities of these 27-metre boats and at the build philosophy of the company that hopes to help reframe the ownership model…
The debate as to what constitutes a true 'exploration' yacht is somewhat semantic in the traditional superyacht industry. If it's just about cruising remote regions, the majority of today's fleet have the capability to visit almost anywhere that the owner and crew wish.
Large yachts, with transatlantic ranges, multi-purpose tenders and, in many cases, helicopter support, can cruise extensively. The fairing and paint may suffer for it, and the tender outboard leg may take a few knocks as unseen reefs are clipped but, by and large, they can get the job done. Most then become explorers by default. Designed for transatlantic crossings and Mediterranean cruising, these tried and tested hull shapes and engine configurations can then be applied for more remote cruising.
The explosion in popularity of exploration-style vessels has felt partly like the traditional superyacht market turning its focus to a new design trend. The Range Rover analogy has become cliché, but it rings true – matte paint, axe bows and a submarine around what, when listed as a spec sheet, amounts to a fairly unremarkable set of numbers.
True exploration yachts are a different breed and constitute a far smaller sub-section of the fleet, scientifically outfitted with design considerations taken from hardened research and commercial vessels that have been tested in the harshest conditions on earth for generations.
This small sub species of yacht is growing in number but it still exists in the upper echelon of the pricing structure. A 50-metre-plus exploration vessel also requires a large crew and associated operating expense, with high fuel consumption and, crucially, an inevitably high impact on the regions they visit.
The top-down reapplication of superyachts for exploration purposes is a fundamentally inefficient (and expensive) approach. The Arksen philosophy is more specialised: designing vessels from the ground up that are specifically tailored to maximise capabilities and minimise extravagant design inefficiencies to ensure the environmental impact is as low as it can be within the operational requirements.
However, Arksen is pushing the responsibility of its vessels and prospective owners further by developing a series of scientifically supported philanthropic programmes to help a circular ownership ecosystem that actively engages with vital conservation efforts.
Arksen's 85 may offer a new entry into the exploration market. In a yachting industry driven by a relatively small market with a low product variance, Arksen aims to shake this up.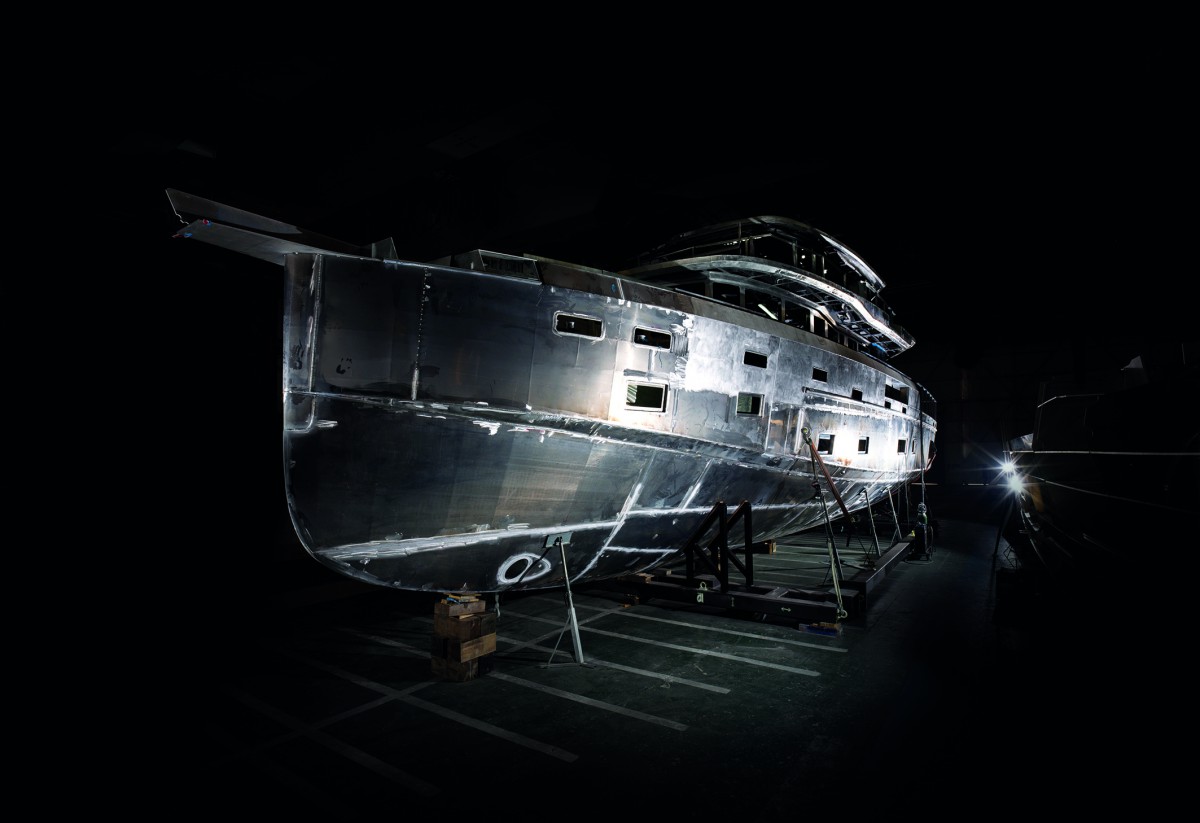 "I believe that we will see a fundamental shift over the next few years," says company founder Jasper Smith. "I meet hundreds of CEOs and founders each year, and I don't recall meeting a single person under 30 who had any interest in owning a big white yacht for the Med. In my view that model is dead already, it's just taking a while to die. As the audience trends younger, the model shifts to experiential, to shared ownership, to rental, to adventure and, above all, to supporting climate-change mitigation."
The Arksen 85s may soon occupy a fascinating niche within the superyacht industry. The brochure and detailed statistics, layout and capabilities make for impressive reading – but they don't tell the full story.
"The 85s are over-engineered versus any other boat in their class," says Dominic Byrne, sales and marketing director at Arksen. "In terms of safety, redundancy and every aspect of safety we have double, and sometimes triple, systems in place. We expect that these and future models will be pushing the limits of what to expect from a vessel in this class, and we have built a vessel that is up to the challenge."
The capacity for adventure in a motoryacht is built on having a range that can truly explore the world. Island-hopping through Southeast Asia or the Mediterranean is vastly different from safely tackling the Polar regions or the expanse of the Pacific. "The 7,000-mile range, as listed, is a conservative calculation," adds Byrne. "The reality is that in good conditions and at efficient speeds it may be even longer."
It's worth considering where this places the Arksen 85 among the superyacht fleet. With the caveat that range is a subjective measure dependent on many external factors, The Superyacht Agency has supplied the fleet averages, taken from the listed cruising range from nearly 6,000 yachts on its database:
• 30-50m: 2,367nm
• 50-90m: 4,827nm
• 90m+: 6,970nm
While these really are just numbers on a page until completed in the field, I suggest playing around with these distances on Google Earth. (As a side note, this is also how a surprising amount of passage planning happens on exploration yachts, just don't tell the Flag surveyor.) Using the measurement tool set to nautical miles, in five minutes at my desk I ticked off the following hypothetical expeditions in my imaginary 85:
• Panama to the Antarctic Peninsula – 4,546nm
• Darwin to Oman via Cocoas Keeling Islands and the Maldives – 5,081nm
• Baha California to Auckland via French Polynesia and the Cook Islands – 5,479nm
Of course, not every crewmember or owner is qualified or prepared to make these voyages. Industry-wide, there's a fundamental misunderstanding as to how likely an owner of a typical yacht is to cross a significant way on board their typical yacht. In fact, the operational cycle of the traditional industry requires that they don't. Crew need holidays, interiors need to be stripped down and the galley needs a break from full service.
Long crossings often provide the chance to do all of the above. But the 85 is not a typical vessel. Sitting at the inflection point between an owner-operated large launch and a fully crewed large exploration vessel, the 85 seems poised to break the status quo.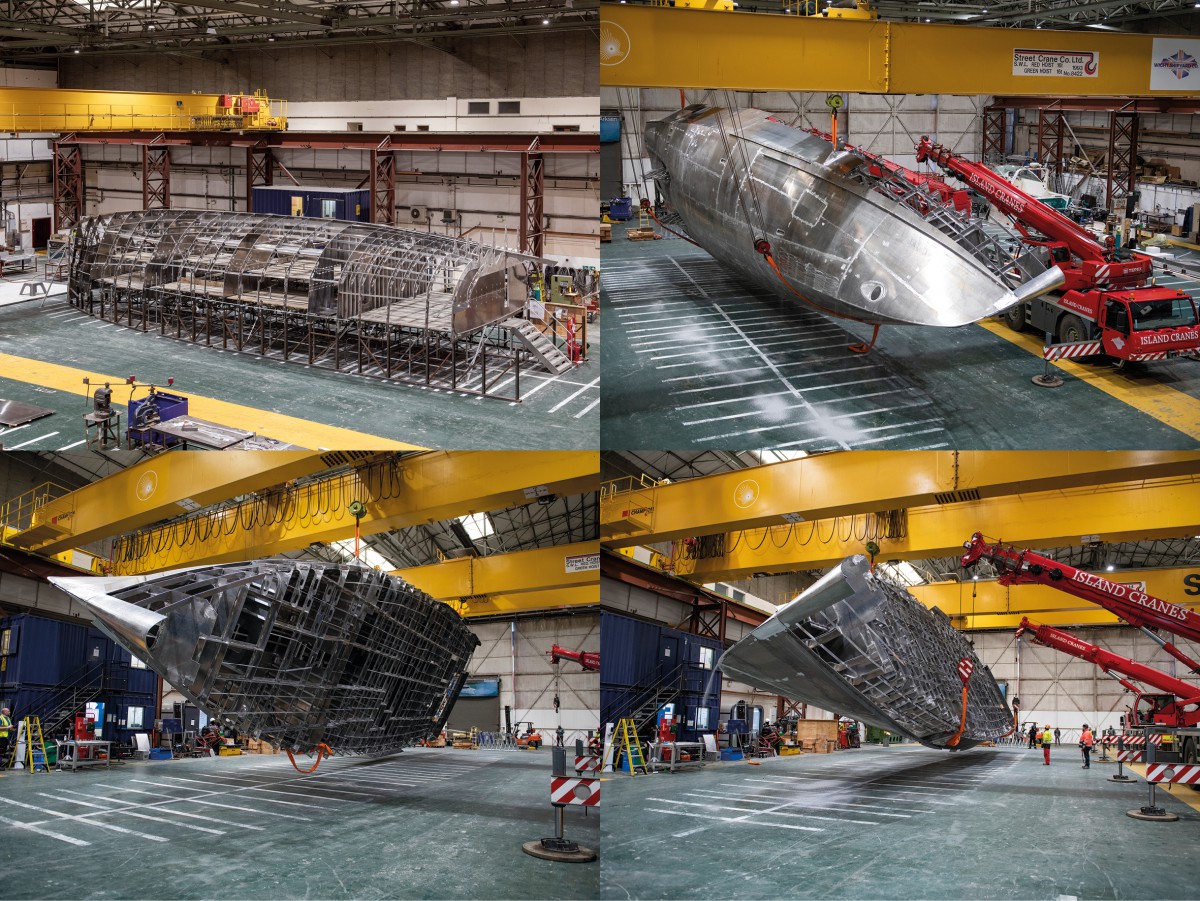 The Arksen 85 hull being flipped.
Ambitiously listed as having the capacity for up to 14 guests and crew, the levels of interaction will likely be more reminiscent of a 100-foot sailing yacht, with less strict demarcation between guests and crew. With the rise of low-Earth-orbit (LEO) satellite connectivity approaching ubiquity, an ambitious owner and yacht may indeed tackle these distances as a team.
The first of the two hulls due to launch this year has been designed with the optional hybrid battery system. For this, Arksen has teamed with Praxis Automation Technology to produce a hybrid system that will provide around 24 hours of battery hotel-load operations, as well as a 30 to 40-mile range of cruising which can be further augmented by the use of solar panels on the superstructure.
Limited by existing battery technology, and its associated weight considerations, this is less than that offered by its much larger hybrid cousins. It is, however, enough to explore in emission-free silence the varied and isolated coastlines and inlets for which it is designed. The 85 will have the advantage of unprecedented access to these areas because of its low 1.55m draft. Previously, the realm of sailing multi-hulls and tenders, the 85 will undoubtedly get close to the action. The low draft and wide beam also give high levels of stability for this size of vessel because the 85 is also designed to right itself if capsized.
The idea of maximising the through-water efficacy of motoryachts is not often high on the marketing campaigns. In a world of abundant fuel and powerful engines, style often triumphs over function. Most boat brochures from similar sized vessels that filter across my desk still have top speed listed like a badge of honour. However, simply put, most motoryachts are inefficient in their use of power.
Stubbornly pushing bow waves against their will and with fuel-consumption rates roughly equivalent to a forest fire harkens back to a naive age and an industry disregarding its impacts on the environment in which it operates.
The 85s, and Arksen, have taken a more future-focused approach, working with Humphreys Yacht Design, a race specialist, as opposed to a traditional motoryacht naval architect, to maximise hull efficiency and fluid dynamics. The wide beam has created a large aft deck and a distinctive space, with modular design options created to be both utilitarian and comfortable, as well as support the use of the vessel as a scientific platform.
Waste reduction is a key part of any sustainable circular economy. In the case of a shipyard, this is usually framed and marketed with respect to the build process and operation. In the case of Arksen, Smith says this is also about not wasting the capabilities of these assets. By providing sea time for scientists and designing the vessels for a multi-use lifespan, prospective Akrsen owners are encouraged to proactively engage and support the research that can conserve the ecosystem in which they operate.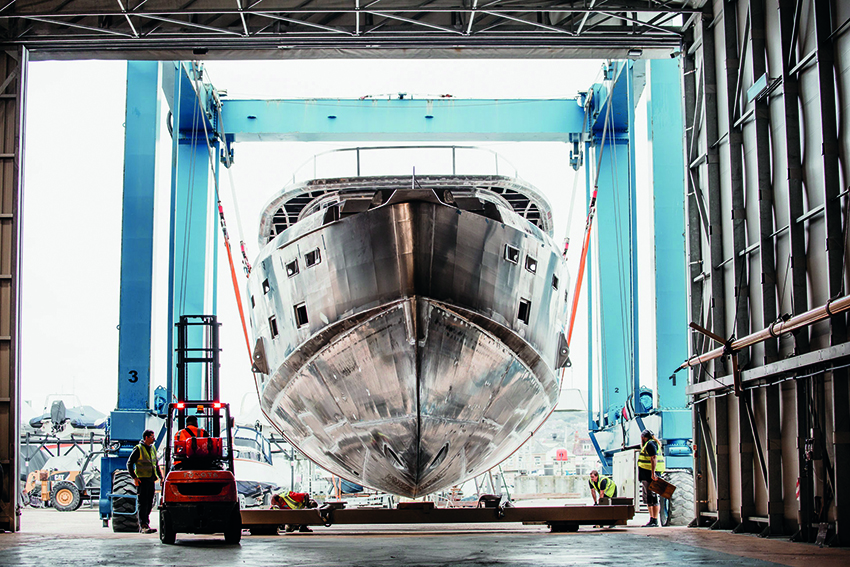 The Arksen 85 leaving the sheds before technical outfitting.
The seatime pledge, whereby each Arksen sets aside part of its operational cycle to scientific research, is a key pillar of this. "We feel that as an owner you have a responsibility to use at least part of its sea time to support scientific research," says Smith "It is a relatively simple step which can have a large and long-lasting impact on the future of ocean health. The more owners sign up to this, the more it will become the social norm. This is why we design our vessels to enable a wide variety of research, to encourage our owners to donate time.
"If you have the top one per cent of income earners accounting for 15 per cent of emissions and 10 per cent of the world's population responsible for nearly half of the world's carbon pollution, it makes sense to start with the niche segments. Also, if you can change the minds and habits of a few influential and well-connected individuals, you can start to form a social shift."
Arksen has also established the '10 per cent for the ocean' charity, providing an easy way for people to understand and engage with marine-focused projects that urgently need support. Hopefully, a new generation of owners will push this fascinating fleet to its limits and the Arksen philanthropy can positively disrupt the lingering industry apathy towards conservation efforts and the ecosystems in which they operate.
The first two 85s will be hitting the water at the Wight Shipyard near Southampton in spring and summer before embarking on expansive trips with experienced owners.
This article first appeared in The Superyacht New Build Report. To gain access to The Superyacht Group's full suite of content, publications, events and services, click here to join The Superyacht Group Community and become one of our members.
Profile links
---
Click here to become part of The Superyacht Group community, and join us in our mission to make this industry accessible to all, and prosperous for the long-term. We are offering access to the superyacht industry's most comprehensive and longstanding archive of business-critical information, as well as a comprehensive, real-time superyacht fleet database, for just £10 per month, because we are One Industry with One Mission. Sign up here.
Related news