"Commercial marine sectors are much more advanced than the superyacht industry in terms of regulations on sustainability," opens Briand at a press conference in his London studio. "The commercial shipping industry has the Energy Efficient Design Index (EEDI) but nothing like this has yet transferred into the superyacht industry."
Briand is one of the founding members of the Water Revolution Foundation which has recently launched its Yacht Assessment Tool, a software tool designed to balance the environmental, economic and societal needs for sustainable development within the superyacht industry. The software analyses the eco-design of a vessel while also providing a lifecycle assessment. "[When creating the Water Revolution Foundation] We didn't want to simply create another greenwashing machine, we believe that this [organisation] can make tangible difference," he continues.
The designer's minimalistic style is born out of a desire to make the hull shape as efficient as possible. "I am fighting against the traditional shape keeping the waterline as long as possible," explains Briand. "The longer it is the less it is going to consume, the hull slices through the water with much less resistance and drag. I believe that further regulation on design is inevitable so a more efficient hull could also greatly increase refit value."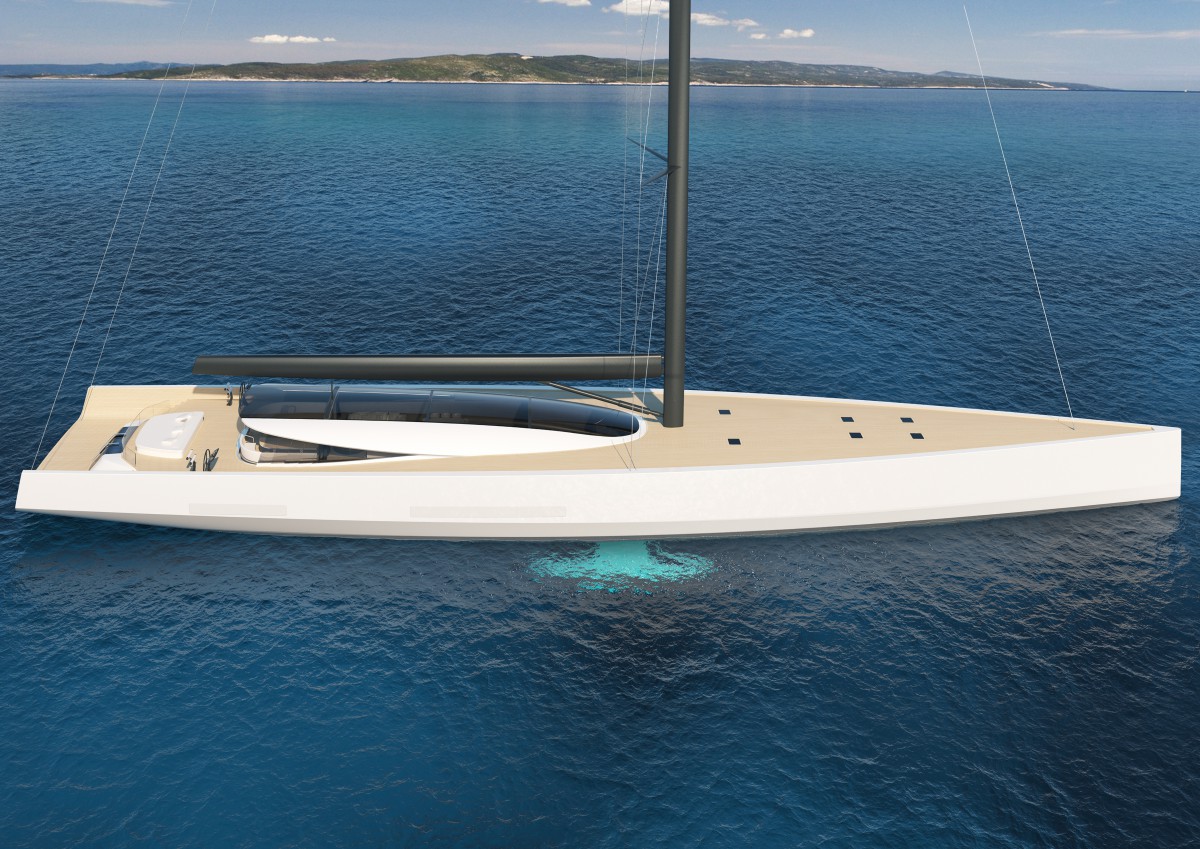 With a background in sailing, Briand firmly believes that the future of sustainable superyacht designs lies in the sailing world, which is why he came up with his concept for a 60m sailing yacht. "In the superyacht industry we have reached a glass ceiling, we need lateral thinking," he remarks. Currently named Perfect, the project boasts a small but powerful ketch with a traditional, carbon-fibre mast and rig with an inverted bow.
The vessel also features a hydro generator that captures energy from the water, although increasing the resistance slightly means less speed for the vessel, it generates usable energy for the boat. "This technology already exists in smaller boats and we are trying to bring it to the larger yacht market. Cruising at 12 knots can capture up to 180KW and can move up to 450KW when cruising at 80."
"The tradition of sailing is currently fading away," concludes Briand, "but if our industry is to prosper in the future, I believe that solutions such as these are key."
The future of superyacht design will be discussed at The Superyacht Design Forum 2020, the theme for which will be "The Future of Planet Superyacht". Taking place at Design Centre Chelsea Harbour from 12th-14th May, we will be taking a close look at the sustainability of the industry from a design perspective and what changes need to be made in order to ensure future prosperity. Click here to register interest for this event.
Profile links
---
If you like reading our Editors' premium quality journalism on SuperyachtNews.com, you'll love their amazing and insightful opinions and comments in The Superyacht Report. If you've never read it, click here to request a sample copy - it's 'A Report Worth Reading'. If you know how good it is, click here to subscribe - it's 'A Report Worth Paying For'.