The Industrialist: Barin Cardenas
The founder of The New Yachts Company offers a fresh perspective on the state of the US client pool…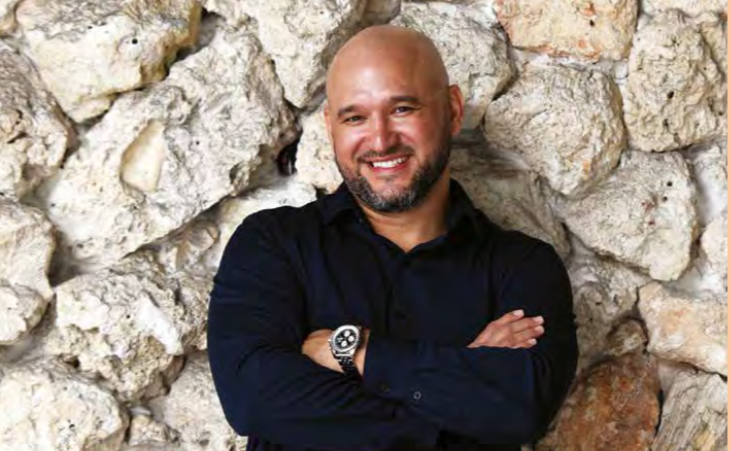 Our collaboration with Barin Cardenas was, in many ways, fortuitous. When we were evaluating candidates for the Industrialist section of The Superyacht Americas Report, Barin's latest superyacht concept, Maharani, designed by Vripack, was gathering serious traction among clients.

Having analysed how he has marketed and promoted Maharani, and understanding Cardenas's approach to engaging with a new generation of client at a time when the industry finds itself suffering from an identity crisis of sorts, he was the perfect choice for a candid and honest conversation.

WM: Barin, in many ways, you're leading the charge in terms of attracting next-generation North American clients to our industry. Recent top-level numbers have brought into stark contrast just how important this expansion of the client pool is, so how pointed do you feel the client shortfall is?

BC: I'm a little concerned, to be honest. I've been in the yachting industry for 18 years, and when I first started we were still on dial-up Internet; boat buyers looked to brokers, dealers and magazines for information. Relationships were earned by direct contact, either in person or by phone, and then the Internet came along and [the industry wasn't] prepared. Information, correct or not, became readily available online and clients became harder to construe. They started communicating via email, and that all too important personal touch slowly started to erode. Yes, it affected all industries, but for our tight little industry, which was shrouded in mystery and all about personality, who you know and what you can bring to the table, when you look at how far the world has come since, ours hasn't really come along far enough.

WM: As an industry, what we sell is pleasure but I'm not convinced enough people involved in the lifecycle of the vessel know how to convey that.

BC: We're a very proud industry, and it's about 'quality, quality, quality'. But 'quality' is a relative thing. Quality to me is defined by how well something works at its intended purpose and for how long will it do that, but all too often in our industry, quality is a way of saying 'our yacht will break down less'. While we as an industry are fixated on that, it's somewhat irrelevant to buyers. They want to buy something that works, and they don't care about us harking on about how high the quality is because when they pay millions for something, they expect it to work. For our industry, it's about being the ultimate entertainment experience. That's where some yards outwit and outsell other yards that have better construction methods and better quality, because they wholeheartedly understand that what we sell is entertainment, and they place an emphasis on the user experience. Make products that work for their intended purpose and make the experience of owning them a fantastic one.

WM: You and I are lucky enough to go on a lot of these boats, and we can become numb to the quality of the fixtures, fittings and finishes. But you know when you walk on a great boat because you can instantly imagine the experience you'd have on board. And the new generation of clients invest in that experience, but I feel we've been slow to adapt to that shift.

BC: We need to listen more and make that specific client's dream come true. If the client wants a dramatic design, we give them drama; if they want a zen boat, we have to try and give that to them; and if they want a boat that goes incredibly fast, we have to build a fast boat. We have to satisfy the product needs, but we also have to tailor the discovery and build experience to match the desire, and if we can do that the industry grows.

WM: So is that the modus operandi for The New Yachts Company?

BC: I wasn't born out of wealth, so I wasn't really exposed to it until later in life. I got a college job that allowed me to attend some exclusive events in South Florida, and I got to see what you could do with money. It wasn't about buying things; it was about the experience you could attain with wealth, and this resonated with me.
When I first got into yachting, I had a chance to get involved in the creative process and customise boats for clients. So it's always been in me to be receptive to the client and their needs; because I was young, I never told them how it should be done, just because that's how it had always been done. And that was the perfect recipe for me to learn how to truly listen for what our clients desire, not just what they say.
"I never told clients how it should be done, just because that's how it had always been done. And that was the perfect recipe for me to learn how to truly listen for what our clients desire, not just what they say."
I moved into brokerage, but I have always focused on new construction. I've done 60-something builds – small, large – in Taiwan, China, Italy, Northern Europe, America – from sportfish boats to superyachts. And when you spend so much time on such different projects, you learn a little bit from all of these. For me, it became a question of what we could do to specialise in, and enhance, the new-build process.

WM: And, ultimately, your aim is to improve the owner experience?

BC: One-hundred per cent, but not just once the yacht is in the water. Our philosophy is to make each phase of the ownership process exciting – from the discovery process, through construction and to delivery. It's what we call Dream, Build, Play. I feel strongly that if more builders and brokers bought into that, [the industry] would be pushing more units.

WM: That ties in nicely with your concept of 'human-centred design' that underpins Maharani. Can you tell me what inspired it, and what it encompasses?

BC: We've long championed creating yachts to please the five senses. This is where we go area by area in a yacht and ask ourselves what do we see, hear, feel, smell, and how close is food and drink? This is a simple test that leads to something feeling just right, whether we like the decor or not. We see Vripack's 'human-centred design' as an extension of this philosophy where we ask ourselves, 'what does our owner want to feel?'. Start with that most basic desire and create for it. With Maharani the feeling was intuition.

We originally launched the PRIME Megayacht Platform in 2016, with Next by Azure Yacht Design as the first design to join our collection. Shortly afterwards, we began developing an equally trend-setting sub-100-foot boat for a separate client, this time with Vripack where Bart and Marnix introduced us to Virtual Reality. We quickly discovered that VR is an amazing product-development tool, because although the renderings and GAs looked amazing, when you walked the main deck [using VR] it just didn't feel right. We were able to feel spaces and see angles that would otherwise have been impossible to note until well into a build. The experience was powerful enough to make us redesign that deck and it was a great call.
"We quickly discovered that VR is an amazing product-development tool, because although the renderings and GAs looked amazing, when you walked the main deck [using VR] it just didn't feel right. We were able to feel spaces and see angles that would otherwise have been impossible to note until well into a build."
WM: You have a really keen insight into the North American client demographic. What's your interpretation of the market at the moment?

BC: Politics aside, the economic feeling is one of stability. Recent tax-law changes have brought about new opportunities and, more importantly, new potential boaters. With yachts, people don't necessarily think about buying boats when they're making money. In a downturn, our clients are buying assets at a discount to expand for the future, and in an upturn, they ride those investments. It's when things are stable and there's nothing to grab their attention elsewhere that they consider the elite entertainment that we offer in yachting.

WM: What's your prediction for the short- to medium-term trajectory of the market, and the future of the industry as a whole?

BC: If we continue in the way we are now, I don't see a dramatic shift because there's way too much in the world to distract our clients away from yachting. We should be working closer together to improve our data-sharing, create more yachting options and attract new boaters, but with things as they are, it's going to be more of the same.

However, there are a few things that, if we change, could dramatically grow our business. Firstly, we should create far more programmes and events aimed at introducing kids and families to the beauty of the ocean. Instil the passion for yachting from an early age through education. Next is how people find and research us online. MLS [Multiple Listing Service] sites are no sexier than used-car listings. We need to do better to present our products in visually compelling formats and in a way people can understand.

Finally, our industry tends to have a perception issue that needs major attention. Owners are often looked down upon as yet another rich guy throwing his money around. This stigma may not be pushing many out of yachting, but may be preventing many from entering. What's interesting is that new-yacht construction attracts many self-made entrepreneurs. People have worked really hard, risked much, sacrificed more, and got a few lucky breaks along the way to get to the point where they can own their dream. We should celebrate those stories. Let's celebrate our owners who take a chance on a designer, on a builder, on a team, and – in the process of creating their dream – help thousands of people around them to keep their dreams growing.
This interview appeared in full in The Superyacht Americas Report. Click here to subscribe.
---
Click here to become part of The Superyacht Group community, and join us in our mission to make this industry accessible to all, and prosperous for the long-term. We are offering access to the superyacht industry's most comprehensive and longstanding archive of business-critical information, as well as a comprehensive, real-time superyacht fleet database, for just £10 per month, because we are One Industry with One Mission. Sign up here.