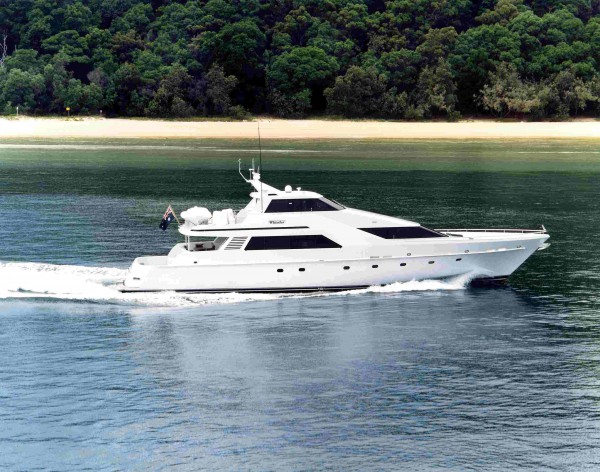 Yachting has often been said to be the most extravagant pastime anyone can have. That's why so many owners refer to their involvement in the market as a 'passion'; it's not something that can be quantified – or indeed justified. As I sit down with Terry Peabody, owner of 32m M/Y Whistler, we are discussing his venture into yachting and how comparable it is to running a vineyard (Peabody is the owner of Craggy Range, a winery in Hawke's Bay, New Zealand). "The wine industry is not for the faint-hearted. When you first start out, you have no income but lots of capital spend. That's why it's one of the most expensive hobbies you can have," he explains.

Whistler, built by Australian shipyard Norman R. Wright & Sons, is named after the prominent mountain resort north of Vancouver, Canada, where the Peabodys have spent considerable time for more than 20 years, returning each holiday season. "Whistler [the resort] is a real bonding place for us. Everyone looks forward to it. We have a big home so we can cater for everyone. Christmas dinner is usually 20 people, and it's a nice name for a boat."

Peabody and his wife Mary spend around a month each year on the boat. Located in Brisbane, Australia, Whistler is moored just minutes away from Peabody's office which, he explains, is why they spend so much time on board. "It only takes me 15 minutes to get from my office to the boat. If we had to fly to the boat, we wouldn't use it as much." A keen fisherman, Peabody has spent time on the Great Barrier Reef and the Whitsundays, as well as many trips boating off the Canadian coast for its plentiful salmon.

"Whistler is 19 years old. It doesn't look like it because [she has] been beautifully kept, with a great crew. The captain, Craig, has been with us almost since the beginning. We just love the boat, and it's the right size for us." Peabody, a businessman with companies across the globe, isn't interested in maintaining a large vessel and the difficulties that go with it. "I have friends that have huge boats, but to me, I have staff all over the world, I don't need any more! To have a boat with 15 or 20 crew on board, I find that a chore. It's a liability. We only have three staff when we're travelling and that works really well."
"I have friends that have huge boats, but to me, I have staff all over the world, I don't need any more! To have a boat with 15 or 20 crew on board, I find that a chore. It's a liability. We only have three staff when we're travelling and that works really well."
Peabody was not so lucky with his first boat. Built in Taiwan, there was a fire at the shipyard that completed destroyed the yacht just weeks before she was due to be launched. "That was just a terrible start and if I would have had any sense I would see that as a bad omen," he recalls. They started the process again but were never happy with the final product, which Peabody describes as "heavy" and "badly designed". As a result, the Peabodys took a considerable amount of time to ensure Whistler was built exactly to their requirements. "We spent two or three years designing Whistler, and it was custom-built. So the first boat was a good experience in the sense of it being a learning curve."

Throughout the build of Whistler, Peabody relied on his captain and interior designer to be on site as much as possible – one reason why it was such a smooth process. "I think it's awfully important to have people [on site] full time when you're not there. I was very involved, and we gave an enormous amount of thought to it." Peabody's meticulous approach to the build, maintenance and organisation of his yacht is also evident in other elements of his life. This attitude means the final product is exactly as he wants it. "We've had our home in Whistler for over 20 years, we've had our home in Australia for almost 40 years, our place in Seattle for 25 years. When we build things, we build them well and build them to live in," he says.

When, two delicious glasses of wine later, Peabody imparts his final piece of advice, his comments are related to the wine market, but could just as easily be applied to yachting. "Anyone going into this needs to know exactly what they are doing," he concludes. I'll say cheers to that.
Profile links
Norman R. Wright & Sons Pty. Ltd.
---
If you like reading our Editors' premium quality journalism on SuperyachtNews.com, you'll love their amazing and insightful opinions and comments in The Superyacht Report. If you've never read it, click here to request a sample copy - it's 'A Report Worth Reading'. If you know how good it is, click here to subscribe - it's 'A Report Worth Paying For'.