S/Y Genevieve rescues 16 from capsized vessel in Caribbean
Captain Thomas Auckland of SY Genevieve, explains in detail the sequence of events that resulted in the rescue of a group of 16 near St Kitts…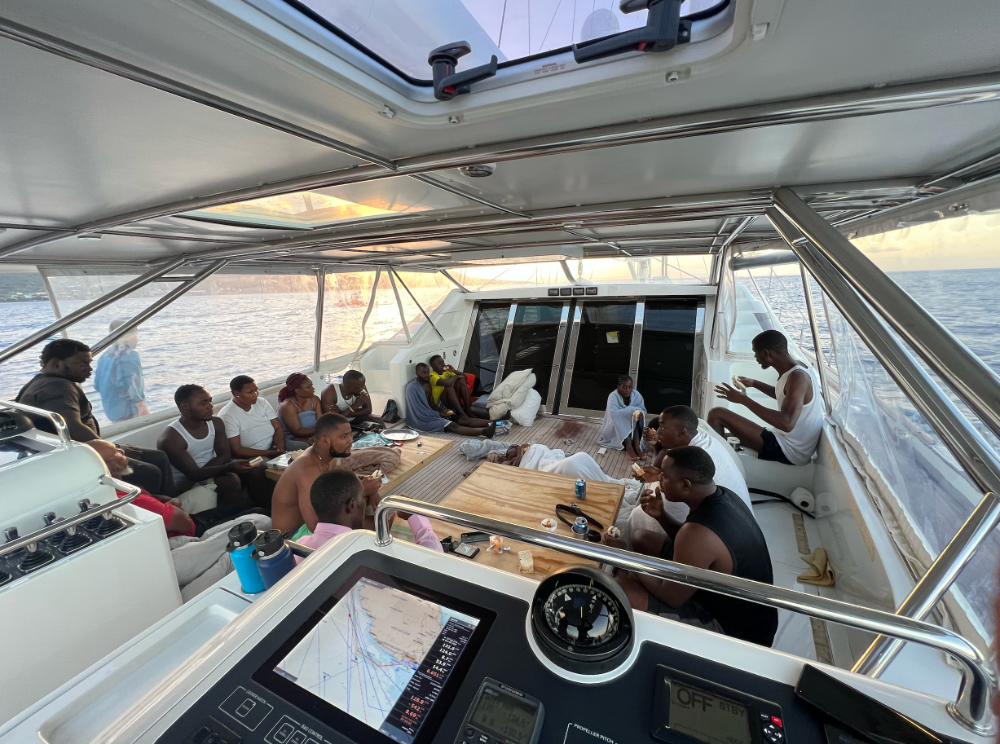 The following account has been detailed by Captain Thomas Auckland, of the 37m S/Y Genevieve. Starting at 23:30 on 27th March, while motor-sailing from Antigua to Saint Maarten, approximately 16nm NE of Conaree, St Kitts, the lookout onboard heard a faint noise that sounded like a woman's scream. The yacht was immediately throttled back, and then both the captain and lookout heard a clear audible scream.
Four crew were then positioned around the vessel with torches or searchlights, with the first mate in charge of all radio communications and alarms. Six minutes later retro-reflective tape was then discovered with one casualty in the water hanging on to a damaged lifejacket. The crew then used a small circular fender, attaching an additional buoyancy aid to aid grip, fastened to a rescue line to then throw downwind at mid-ships. The casualty was pulled to the stern, where he was retrieved via the swim platform at 23:39.
"While we had not compromised our safety," says Captain Auckland "we had taken a considerable amount of water into the lazarette, and it was clear that this was not an ideal way to retrieve someone from the water in this sea state (roughly two meters & 20kts). By the time he reached the cockpit, he was unconscious. We continued our search, knowing there was at least one more person, a woman, still in the water, but unable to ascertain if there were further persons at risk."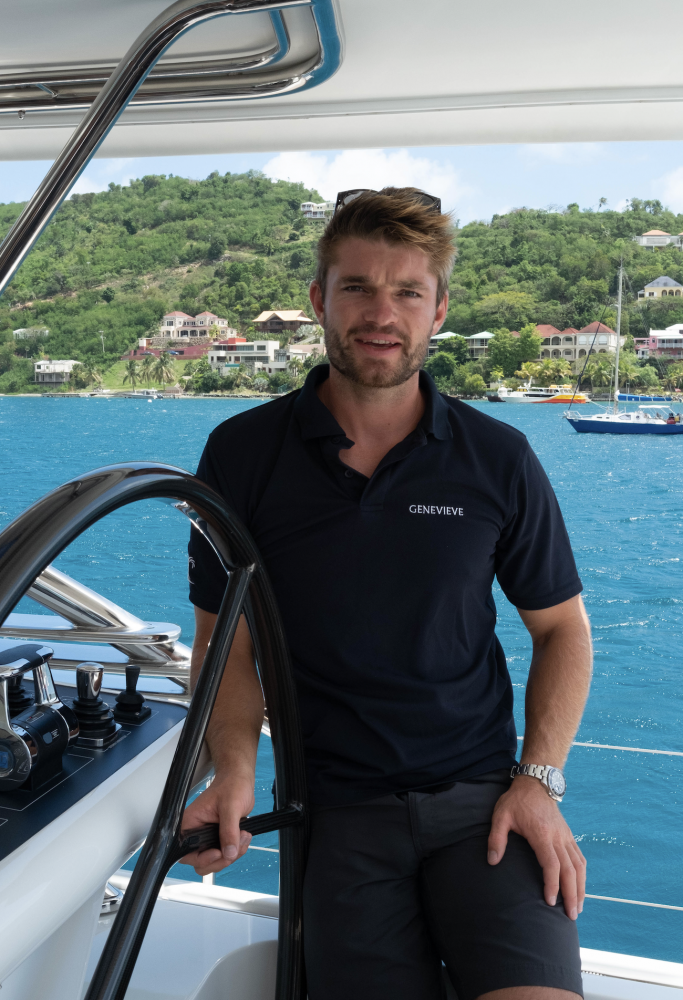 Captain Thomas Auckland
At 23:57 a woman was spotted clinging to a white plastic barrel, approximately 400m downwind of the first casualty. They were recovered in the same way, and once in the cockpit, she informed the crew that she had been travelling on a small boat which had left Antigua, bound for St Thomas (USVI) with approximately 32 people onboard before it broke down, took on water and capsized.
Captain Auckland discharged two red parachute flares at this point, and with no knowledge of whether or not the vessel in question was still afloat, the decision was made to continue slowly downwind, assuming that if afloat it would have more windage than the casualties in the water.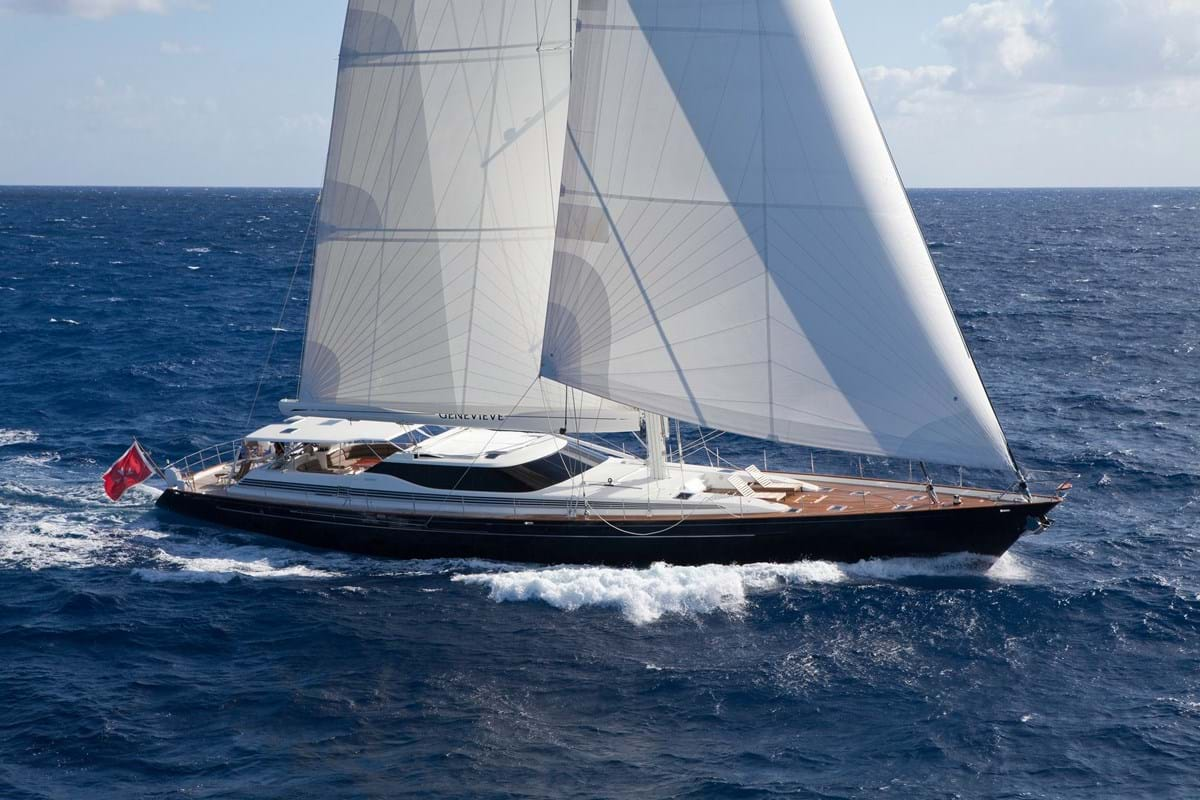 37m S/Y Genevieve
At approximately 00:28 plastic drums were spotted floating in the water, as well as the light of a mobile phone, and eventually the upturned fishing skiff La Belle Michelle with 15 persons straddled on the hull approximately 1.1nm from the first casualty. Captain Auckland outlines the rescue plan, as they assessed the scene:
"All the crew assembled on the aft deck, and together we quickly constructed a plan of how best to remove the individuals from the capsized vessel. This was a solid-hulled boat with two upturned outboards, so bringing it alongside in the given prevailing sea state was never a viable option. We, therefore, used the floating line and fender attached to a long Dyneema tail, which was floated downwind to them; then the line was tied around the leg of one of the outboards by one of the casualties, under instruction from our crew.
We brought this to our STB stern and onto a primary winch for control. This line was at once under several tonnes of load, so once it was affixed, we were very reluctant to move it. We then used a rescue sling with a thick Dyneema tail for grip and an additional safety line attached. This rescue sling proved invaluable."
According to Auckland, each casualty pulled themselves along the rope to the starboard quarter and transferred to the rescue sling, which the crew then used to pull them to midships and hauled clear of the water. Although using a halyard to clear the 2m freeboard was discussed, the roll was too severer for this to be a safe or viable option.
The on-scene roles were broken down as follows;
Captain: throwing the rescue sling, communicating with casualties, removal from water at midships.
Engineer: hauling casualties upside deck, communicating with casualties, removal from water at midships.
First Mate: ensuring rescue line and safety were free to run, resetting the sling, and removal from water at midships.
Chef: ensuring rescue lines and safety were free to run, removing casualties from the water, and then clearing the side deck.
Stewardess: triage, assessing injuries, getting casualties into the cockpit, water, bedding etc.
Deck/Stewardess: illumination, using the large spotlight to light the vessel and then the casualties as they came across.
"The casualties were at first clearly reluctant to entrust themselves to the rope," says Captain Auckland. "Only two of the persons were wearing life jackets (who turned out to be the drivers) and most of them were unable to swim. We later discovered that they were wearing all the clothes they owned, often three pairs of jeans, and over six upper layers each, which obviously made swimming very challenging. (Even though this made the casualties very heavy, this ended up proving helpful, as it gave us something to hold onto as we pulled them on board)."
"After three or four persons had been successfully retrieved, they needed much less encouragement to come across, and the process worked very well providing they left the vessel one at a time, as holding the 'tow line' as it was under load was clearly very challenging. The teamwork displayed by the crew here was astounding, without them creating such an effective process of recovery, there is no way we would have got those 14 people off that hull."
"It became apparent that towards the end the casualties were becoming less and less physically able, and unfortunately the last casualty fell from the hull and was unable to make it along the line. We remained attached to the hull searching for the last individual until 01:57. Thereafter, I decided that marking the upturned hull with lights strapped to a lifejacket and cutting it loose was the best option, as I felt the situation was becoming hazardous. In hindsight, this was perhaps my biggest regret, as we had spare PLBs on board and should have affixed one, as this would have served as a helpful search marker for MV Britannia, who had just taken up the role of on-scene MRCC."
At 03:42 S/Y Genevieve was permitted to depart the scene, and it headed directly to Basseterre in St Kitts, approximately 34nm away. Upon arrival, the group of Cameroonian Nationals were transferred ashore via a coast guard vessel, and captain Auckland gave official statements.
"I think what I take away most from this is just how well the crew performed under immense pressure," says Captain Auckland "They were all making very sensible and rational decisions in a situation in which they have had very little training. We of course were incredibly lucky to hear a scream in the dark over the wind, and also unbelievably lucky that we were able to save so many people.
"We have sat together with an industry professional and dissected the night's events in great detail, and we are also discussing it very openly among ourselves. All of the crew, myself included, are still in the stage of processing all that occurred. It is affecting everybody in a slightly different way, but knowing that there were 32 people on board, and only 16 survived is perhaps the hardest part for us all to comprehend.
"I sincerely hope that none of you ever have to encounter such an event during your time at sea, but if you do I hope this account may be of some use. In conclusion, never underestimate the importance of good watch-keeping – and rest assured that the teamwork and professionalism exhibited by your crew will leave you feeling very, very proud."
I would like to thank, MRCC Fort du France, MV Britannia, Marine Assist Osprey, SY Midnight, St Kitts Coastguard and the numerous other vessels, that came together so selflessly, it is an honour to sail the waters with you."
---
Click here to become part of The Superyacht Group community, and join us in our mission to make this industry accessible to all, and prosperous for the long-term. We are offering access to the superyacht industry's most comprehensive and longstanding archive of business-critical information, as well as a comprehensive, real-time superyacht fleet database, for just £10 per month, because we are One Industry with One Mission. Sign up here.
Related news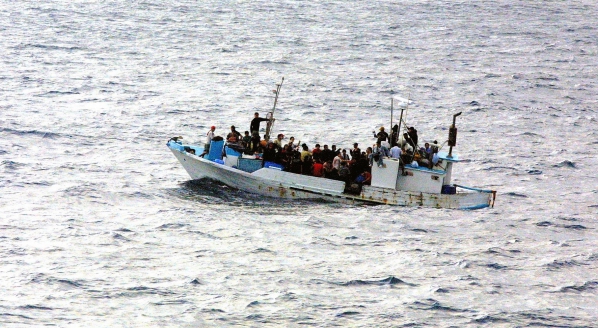 The number of migrant and refugees that have lost their lives this year in the Mediterranean has risen to nearly 900
Owner