Dutch superyacht builder Heesen Yachts has completed the construction of 56m M/Y Galvas, formerly Project Neptune, which is currently en route to begin its summer season in the Mediterranean. Based on Heesen's 55m FDHF Steel Class engineering platform, this is the third yacht Heesen has delivered this year, which is the most for any shipyard in the Netherlands.
On the design front, Galvas was a largely British affair with exteriors by H2 Yacht Design, interiors by Reymond Langton and custom artworks by DKT. And, while the yacht has been designed to fit the 'Heesen family look', the 56m superyacht is a fully custom design.
On the design front, Galvas was a largely British affair with exteriors by H2 Yacht Design, interiors by Reymond Langton and custom artworks by DKT.
This is actually the first time that H2 Yacht Design has worked with the Dutch superyacht builder, and aesthetically speaking, is a collaboration that has worked well. Galvas features a series of sweeping windows and subtle nuances from her sisterships, such as the metallic bridge wings and hidden tender hatches on the yacht's bow.
With a gross tonnage of 770gt, Galvas has the capacity to accommodate 12 guests in what has been described as an elegant and refined interior design, which features an impressive collection of custom DKT artworks. The owner's brief to Reymond Langton was to create a bright and elegant interior with a contemporary design interwoven with subtle design details and artworks to create a rich but refined atmosphere.
Galvas is the second Heesen project to comply with Lloyds 100A1 SSC YACHT LMC LY3 and IMO Tier III exhaust emission regulation which has been made possible thanks to the yacht's SCR catalytic system that reduces NOx exhaust emissions.
Now with nine yachts on its books, including project Boreas, which was launched last week, Heesen has been operating at full capacity. Heesen Yachts is also the only shipyard in 2019 to deliver three yachts in three consecutive months, an impressive statistic that is demonstrative of high level at which the shipyard is currently operating.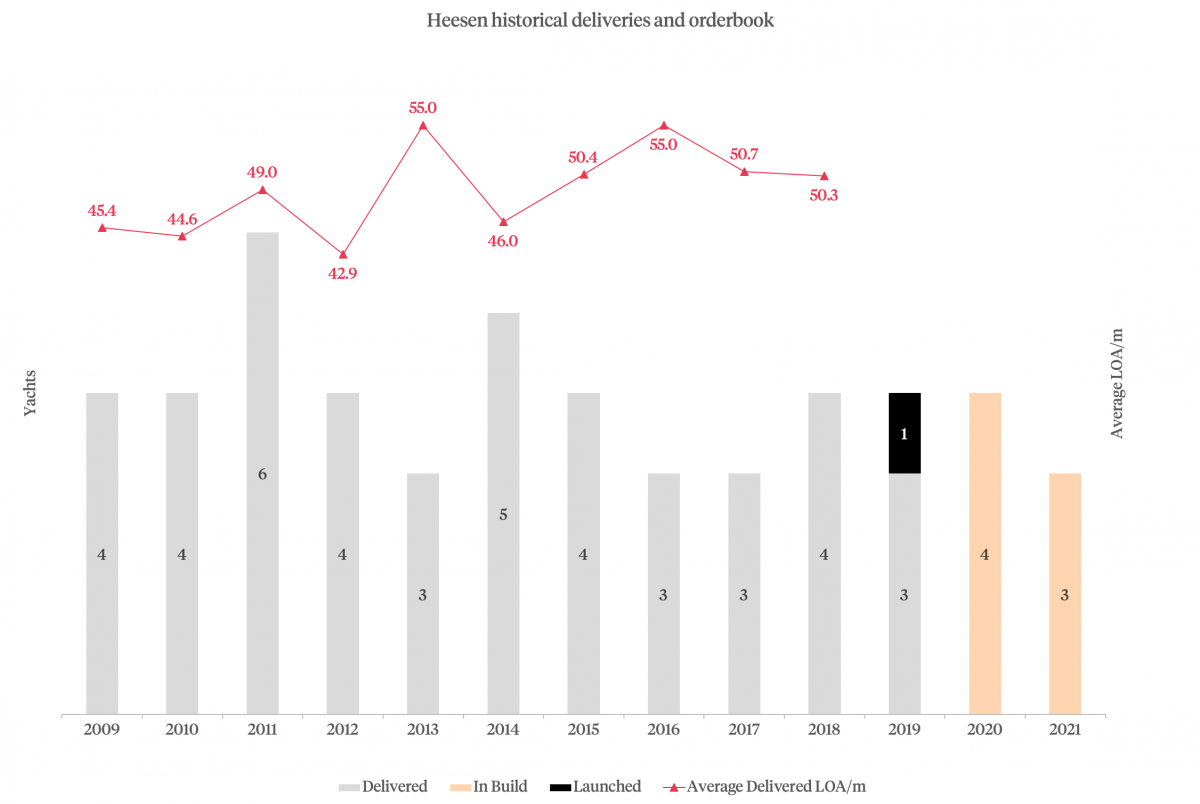 As announced this year during the HISWA Tour 2019, Heesen is focused on yachts above 50m in order to evolve with the market.
"In 2018, the market in our core segment, which is the 50-80m range, grew slightly and we still see a stable and slightly growing market looking towards the future," said Mark Cavendish. "I'm purposefully not mentioning anything below 50m as we are really not building anything that size any more. We are not standing still; we are constantly evolving to meet future trends."
Since the delivery of M/Y BookEnds in 2017 all Heesen projects have been of 50m or above. In the last five years, the shipyard has delivered 17 projects, of which three are below the 50m threshold.
The average LOA of the projects on the Heesen order book is 55.62m, which confirms Cavendish's point concerning the focus for the shipyard.
Images: Dick Hothuis
Profile links
---
During the COVID-19 Crisis as a good will gesture, while many people are at home, in port, on board or working remotely, we are allowing our loyal and expert audience, complete and complimentary access to our SuperyachtNews Premium Content and unlimited access to our digital library of The Superyacht Report - issues 175-200. Click here to sign up now.