Peter Marino has commissioned more than 300 site-specific works of art.
PMA projects currently in design or recently completed include a Cheval Blanc hotel in the historic 'La Samaritaine' in Paris; the Cheval Blanc Beverly Hills Hotel; a flagship for Bulgari in Place Vendome, Paris; a flagship for Dior on Avenue Montaigne in Paris; new buildings for Chanel in Miami and Beverly Hills; a complex of buildings in Greece; a Louis Vuitton flagship in Ginza, Tokyo; an art foundation in Southampton, New York; condominiums in Miami; numerous private residences worldwide.
Select completed projects include 'The Getty' an 11 story mixed use building with apartments and two art galleries in NYC (2018); a high rise tower for Chanel in Tokyo's Namiki district (2017); Chanel flagships in Seoul (2019), Paris (2019), NYC (2018), Chicago (2018), and Istanbul (2017); Louis Vuitton flagships in Place Vendome, Paris (2017), London (2018); Seoul (2019), and a building for Louis Vuitton in Los Angeles (2015); Dior flagships in London (2016), Beijing (2016), Seoul (2015), New York (2014, 2010), Los Angeles (2012); Hublot in NYC (2016); 'Boontheshop' in Seoul (2014); 170 East End Avenue in NYC (2009); the Chanel Ginza Tower in Tokyo (2005); the Armani building in NYC (1995); and Barneys flagships in L.A. (1991) and NYC (1990).
For furthering art and culture, Peter Marino was named a Chevalier de l'Ordre des Arts et des Lettres (2012) and an Officier de l'Ordre des Arts et des Lettres (2017) by the French Ministry of Culture. Cultural design projects include 'The Manufactory of Extravagance of Meissen and Chantilly at Musee Conde (2020- 2021); 'Counterpoint: Selections from The Peter Marino Collection' at Southampton Arts Center (2017); 'Fire and Water' an exhibition of his sculptural bronze boxes at Gagosian Gallery in London (2017); 'Memento Mori: Robert Mapplethorpe Photographs from the Peter Marino Collection' in Tokyo and Kyoto (2017); 'One Way: Peter Marino' at the Bass Museum of Art in Miami (2014-2015); 'Beauty & Power' an exhibition of his Renaissance and Baroque bronze collection at the Wallace Collection in London.
Peter Marino purchased and restored the former Rogers Memorial Library at 11 Jobs Lane in Southampton, New York, and will open Peter Marino Art Foundation in the summer of 2021.
Peter Marino's distinguished honors include 22 citations from the AIA for architectural design excellence. He is Chairman of Venetian Heritage Foundation and on the board of directors for International Committee of L'Union Centrale des Arts Décoratifs. He holds an architecture degree from Cornell University and began his career at Skidmore Owings & Merrill, George Nelson and I.M. Pei/Cossutta & Ponte.
News summary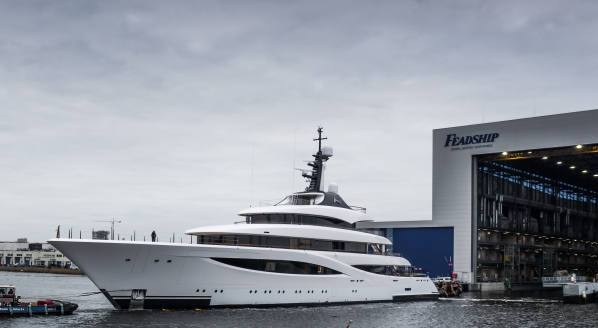 Feadship announces the launch of their new 71m superyacht Juice in Amsterdam…
Fleet