Brodosplit JSC is a member of the DIV Group and is at the head of group of companies with a long and bright tradition. Brodosplit is one of the most famous European shipyards. It was founded in 1922 by merging several smaller shipyards in Split, on a location near the airport, as well as cargo and passenger international port and the historic city center.
The main activity is the construction of all types of merchant and passenger vessels and some types of specific purpose vessels, as well as complex steel constructions. Workshops and slipways of Brodosplit cover an area of 560.000 m2 with a total of 110.000 m2 of buildings. There are four completely equipped slipways with numerous machines, an abundance of equipment, means, and facilities, with the potential to build 300 meters long and 50 meters wide vessels.
Expert engineers, project architects, and designers implement all the design and engineering requirements of customers and clients from the initial idea to the final solution. In the process, they use modern welding techniques of steel and other materials, production of ductile and gray cast iron products, extensive architectural interior solutions, automation, and control of marine systems, integration, process equipment, and many other areas. Brodosplit experts can promptly design a project and start the production.
The expertise and experience of Split shipbuilders were the decisive factors for the Italian architectural and civil engineering consortium Venezia Nuova to select Brodosplit as its partner in one of the biggest civil engineering projects in history of Italy. We delivered 63 steel gates for the "Mose" project aiming to protect the Venetian Lagoon from tides. Brodosplit will forever be remembered in the history of one of the most famous cities on the water in the world.
Address:
Put Supavla 21
HR-Split
HR-Split
21000
Contacts: News summary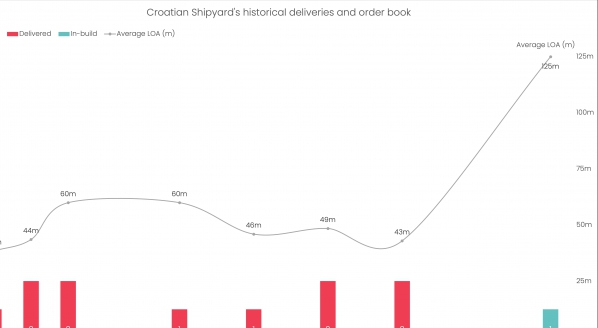 Rumoured for a 2025 delivery, it may join a small set of 100m+ sailing yachts on the horizon…
Fleet