Lazzarini Pickering Architetti
Lazzarini Pickering Architetti is a multidisciplinary architecture practice with offices in Rome and Milan and a working base in Sydney. The practice has gained international renown in many fields of design, from urban master plans and architecture to the restructuring of historical buildings, restaurant, retail and hotel design, from nautical and furniture design to graphics and branding. They also have considerable heritage experience exemplified in their recent work for the Villa Borghese Museum in Rome.
[LPA] have extensive experience in the design and construction of large private residences as well as the restructuring of important historical buildings, the sensitive and contemporary reuse of the heritage fabric playing an important part in their portfolio. Apart from the many smaller houses they have built, LPA have designed 6 villas of sizes between 2500 and 3500sqm as well as a family compound of three villas between 1800 and 3600sqm in Bantry Bay, South Africa.
Lazzarini Pickering Architetti has also worked extensively in Marketing and Branding strategy having collaborated with Hermès, Montblanc, Valentino, Wally Yachts, Ferrero and Fendi with decades of experience in the luxury market including a twenty-year working relationship with Fendi art directing events, fashion shows, showrooms and boutiques. Between 1996 and 2003 they directed the design of all Fendi Boutiques around the world including 80 built in the period 1999 to 2001. The practice is currently developing or has recently built projects in Italy, France, Switzerland, UK, USA, Lebanon, Montenegro, Australia and Indonesia. With a considerable amount of the office's work carried out internationally over the past thirty years, they are well structured for collaborating remotely with local teams.
Lazzarini Pickering Architetti has received many awards including the AR+D Prize, Compasso d'Oro, the Gold Bundesrepublik Design Prize, the Millennium Yacht Design Award and the Dedalo Minosse Architectural Prize.
L'Architecture d'Aujourd'hui (France), Frame (Holland), Inside (Australia), Interni (Italy) and AIT (Germany) have all published monographs on the practice. In 2018, Lazzarini Pickering were included in "Interni" magazine's selection of 100 "International Icon Architects". In 2014, Quodlibet published a 264-page book titled "Lazzarini Pickering Architects".
News summary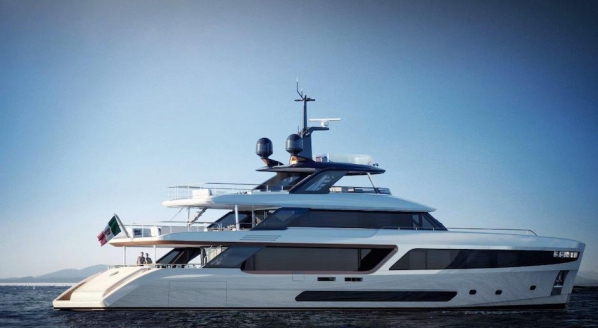 Benetti's 37m Motopanfilo is inspired by the 1960s but is distinctly NOT a retro-chic project…
Fleet