I'm incredibly excited to announce that our annual design event will be returning to Design Centre, Chelsea Harbour in June, but with something of a makeover. Rebranded and re-imagined, The Superyacht Design Forum, held on the 26th and 27th June, is being devised based on industry feedback to ensure that this really is an 'event worth attending'.
For a small industry, there are a huge number of events taking place throughout the course of the year, and often we can end up hearing the same talks and opinions, from the same people on the same topics.
However, we've always prided ourselves on investing time and effort in sourcing unique content, and now is the time to shake up the event programme once again. That's why we'll be introducing 'think & drink tanks', 'brain storms', and 'soap boxes with bubbles', tackling tricky subjects and charting new frontiers in the world of superyacht design.
I can wholeheartedly promise (as has Martin), that The Superyacht Design Forum will not include boring sessions where you simply listen to what you have heard before, from people who only know yachts. We want to create an event that could genuinely change the way we work, and debate topics in the broader context of design.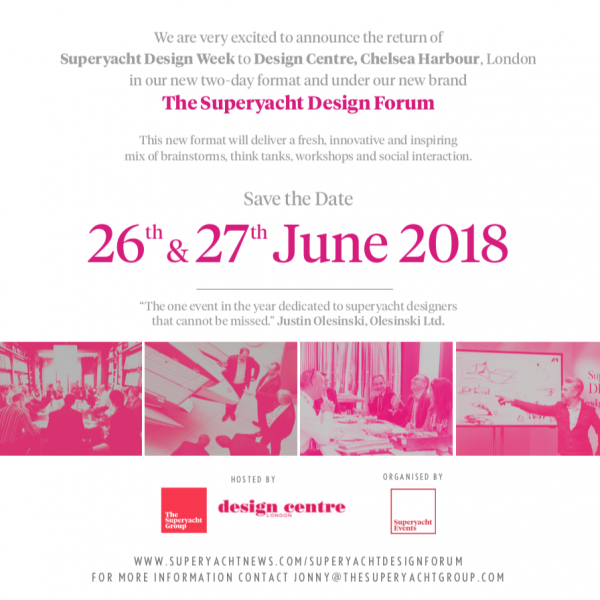 We want to gather speakers who can truly inspire us to think differently, meaning that many of the speakers will be from outside of the industry having mastered marketing, sustainability, engineering, design, architecture and so much more.
Over the coming weeks, we will unveil a fresh and engaging mix of brainstorms, think tanks and social events that will comprise the Forum. I am truly excited to unveil more in the near future.
To register your place, click here
---
If you have enjoyed reading this article, you'll love our upcoming event, The Superyacht Design Forum, taking place on 12 - 14 May 2020 at Design Centre, Chelsea Harbour. The Superyacht Design Forum provides anyone in the superyacht design world with a unique opportunity to explore new thinking and share smarter solutions for the future of superyachts. To find out more or to register, click here.