After 72m M/Y Solo was officially introduced to the market at the 2018 Monaco Yacht Show, her inky colour scheme and impressive technological offering certainly grabbed the attention of those who were lucky enough to get a glimpse on board. Four months later, I find myself still fixated with the thinking behind the project; wondering how its composition can boast some enviable operational statistics.
In September 2018 Solo gained the RINA Green Plus Platinum Award, a goal-based class notation awarded to those who are committed to environmentally-friendly yachting. From the outset, the project was intended to have some impressive operational statistics, which were made possible by the team at Ruggiero Naval Architects.
Speaking exclusively to SuperyachtNews, Vincenzo Ruggiero explained the technology behind the project. "Seakeeping qualities were requested to reach the higher standards considering Solo was to be a charter LY 3 vessel, and, manoeuvrability in closed areas was requested to be excellent," explains Ruggiero. "Project Solo began with the need to merge various inputs, opposing to one another: it was mandatory to respect the speed, with a reasonable power, leading to a ratio L/B quite high for this kind of yachts, as actually above 5.2.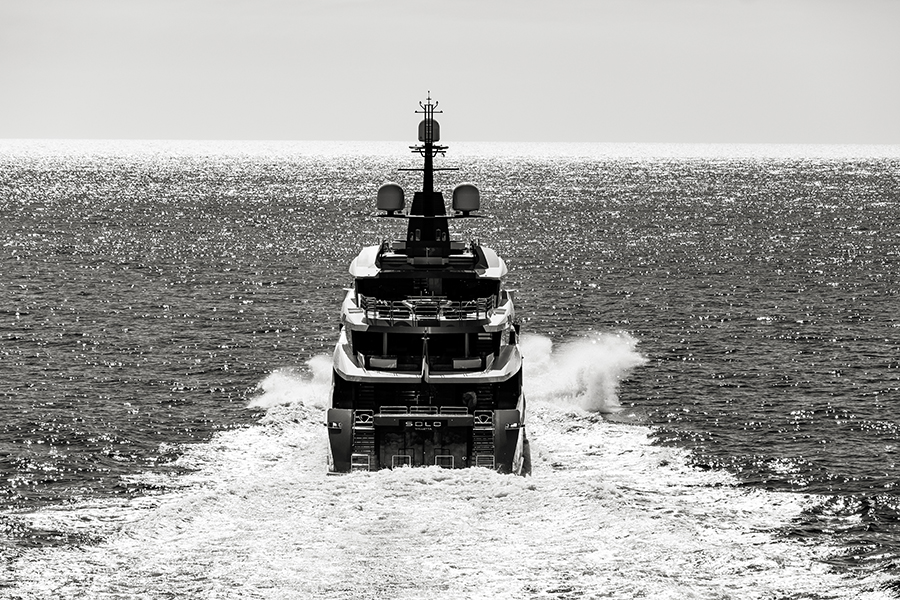 "The hull was developed following statistical analysis of existing yachts, through a database of about 40 hulls," continues Ruggiero. "This research led to a first definition of the hull shapes incorporating some dedicated solutions as the particular design of the waterlines at the bow around the influence of the bulb, fore of frame 45, correlated to a semi cylindrical body at middle length to provide enough inertia for the water planning area also allowing for increased volumes at tank deck level."
"The hull was developed following statistical analysis of existing yachts, through a database of about 40 hulls."

- Vincenzo Ruggiero, Ruggiero Naval Architects
This first solution was then put to the test with a variety of bulb shapes were tested with computational fluid dynamics (CFD) in order to validate the best possible water flow for Solo.
"Once initial performances were defined, the shipyard and myself attended at a full series of tank tests in Vienna, with models equipped with different solutions obtained from CFD for the appendages, such as stabilising fins, rudders, shaft brackets and different bulb designs, in order to evaluate the whole behaviour of the hull at all speeds," explains Ruggiero. "Tests were also performed to obtain the most efficient position for the main engines underwater exhausts to avoid excess of back-pressure in the exhaust and inefficient turbulences due to the proximity of the stabiliser fins."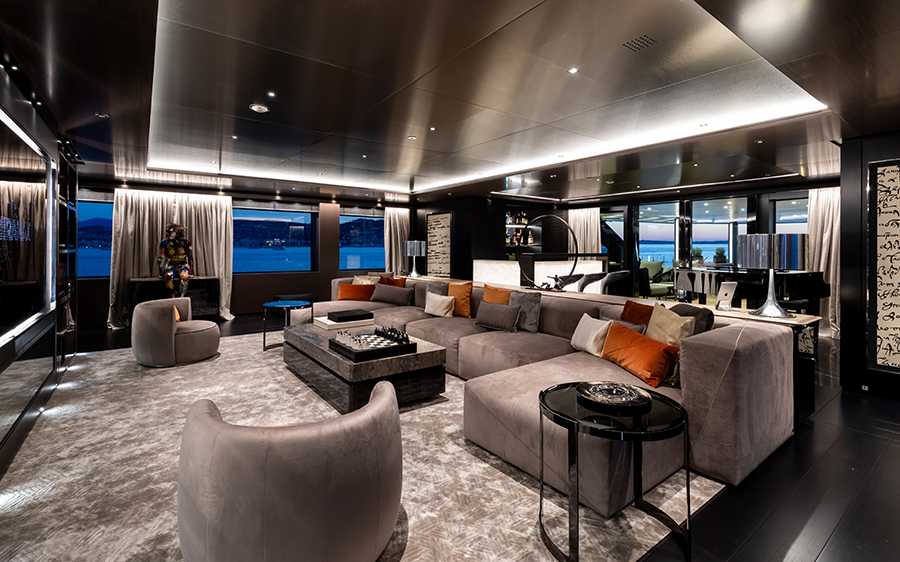 During this testing period, Ruggiero and his team studied the flow test and self-propulsion tests in the model basin to decipher the correct position of the rudders and allow an easy shaft dismantling and avoid loss of efficiency of the rudders or through excess vibrations simultaneously. Ruggiero also explains that the position of the propellers and their diameter were also evaluated in order to give clearance from the blade tip to the hull to avoid pressure peaks against the shell plating that would have reduced comfort.
"With all tests results in hands, the capacity plan was studied accordingly, in order to be able to use fuel tanks as ballasts to optimise the trim of the hull and use them as a damper for noise/vibrations transmitted by the engines and machineries through the structures," concludes Ruggiero. "The sum of all those evaluations made it possible to achieve an extremely good result in terms of speed, with a maximum of 17.5 knots instead of the expected 16.8 knots, in terms of fuel consumption, and in terms of optimised manoeuvrability and comfort on board."
Tankoa currently has three superyachts under construction, one of which (49.9m S502 Elettra) is scheduled for delivery this year. The shipyard also announced the opening of a new custom division that CEO Euro Contenti said would be "a competitor to Northern European shipyards, rather than Italian shipyards."
For more information on the state of the new build market, don't miss The Superyacht New Build Report, which is available to download now. To find out more or to subscribe, click here.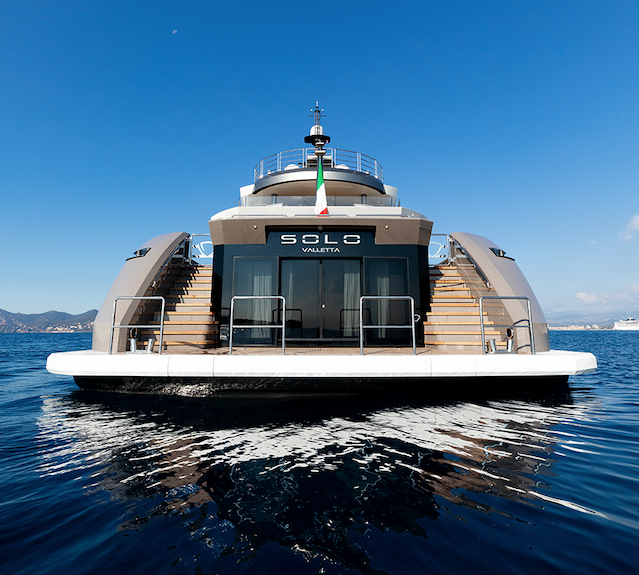 Images: Blue iProd
Profile links
---
If you like reading our Editors' premium quality journalism on SuperyachtNews.com, you'll love their amazing and insightful opinions and comments in The Superyacht Report. If you've never read it, click here to request a sample copy - it's 'A Report Worth Reading'. If you know how good it is, click here to subscribe - it's 'A Report Worth Paying For'.