The power of non-destructive testing for sailing yacht rigs
Can NDT unequivocally affirm a rig's condition or any problems that lie therein?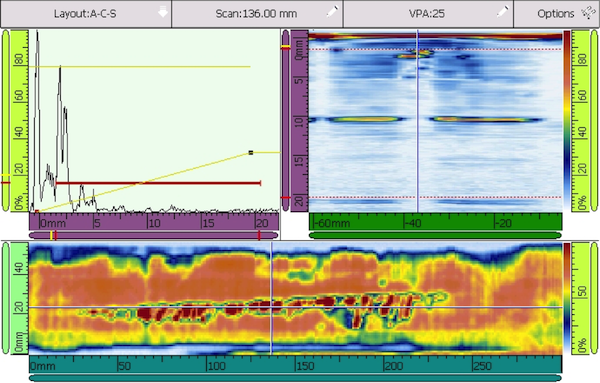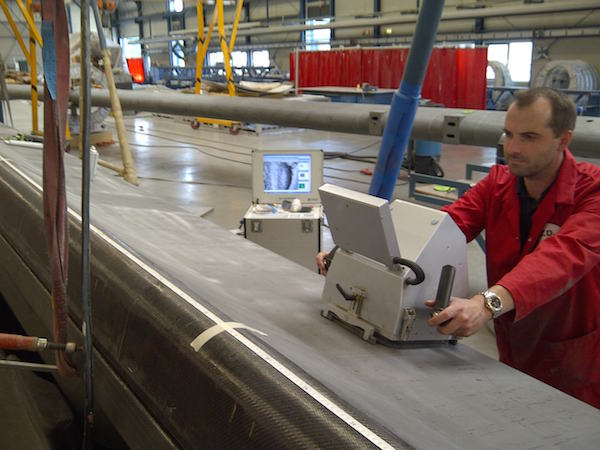 Insurers are increasingly worried about the growing size of carbon masts and uphold that a number of major failures of both masts and rigging that have occurred in recent years could have been prevented with an independent inspection regime involving non-destructive testing (NDT) prior to delivery and in service.
NDT is defined as the process of inspecting composite materials without causing damage: a component may look perfectly built and in pristine condition, but flaws may exist within the structure that are not visible to the human eye. NDT, therefore, allows a look beneath the surface in order to discover if any defects are present.
By far the most commonly used NDT for composite structures is ultrasonic testing, and this is the technique of choice for monolithic carbon masts. "Ultrasound enables us to measure the thickness of the mast wall and, through comparison to the design and interpretation of the signal changes, we can identify voids, porosity and inclusions in the laminate," explains Giles Waterhouse, NDT specialist at Marine Results. The reason for favouring ultrasound is because it is very sensitive to these types of defects. In fact, it is one of the few methods available for detecting porosity after manufacture.
Due to the complexity and size of sailing yachts, Marko Bakker of A-Plus Rigging believes that NDT is key to detecting and evaluating defects in materials. "Flaws can affect material in different ways and these can be caused by corrosion or fatigue," he explains. "NDT is an important process to guarantee structural integrity, as flaws or cracks can lead to loss of strength or failure in service."
The testing also allows an important collaboration between the surveyor and the designer and manufacturer at the build stage. "The interesting thing about any composite product is that it will inherently have defects in," says Waterhouse. "Even at aerospace level, they expect to find a certain amount of defects, but what is important is controlling the size of them."
Being involved at the build stage allows NDT operators to measure and record the size, location and intensity of the defects. It is then down to the designer to determine whether the detected anomalies are of concern to the structural integrity. Monitoring anomalies over time, through routine inspections, is key to ensuring these do not propagate, thus becoming an increased threat to the condition of the mast.
From an insurer's perspective, NDT methods offer a reliable source of information regarding a rig's condition. If the mast is checked and surveyed by an independent specialist, any anomalies or voids are identified and can be monitored throughout the vessel's lifespan, or repaired immediately if deemed serious enough.
The value of this information for insurers comes down to the fact that there is no class inspection equivalent for composite or carbon mast construction. A few companies have developed inspection training procedures and certification through the British Institute of Non Destructive Testing and the American Society of Non Destructive Testing. The Maritime and Coastguard Agency has also issued a guidance note recognising the importance of the examination and inspection of carbon fibre and composite masts and spars on board large yachts, developed in conjunction with Marine Results, Wadson Associates and Wavelength NDT expertise. However, there are no mandatory regulations surrounding the practice.
"A hull that is built to class will be inspected numerous times during the build," explains Paul Miller, director of marine underwriting at Hiscox. "When it comes to rigs, however, RINA and Lloyds both run rig certification schemes which simply check the calculations used and run their own Finite Element Analysis, but do not involve any NDT of the mast and assume that it is built perfectly."
As a result, Hiscox requests sailing yachts undergo NDT in order to establish whether there are any defects present. It can then be determined whether or not these defects are of significance and if they are likely to impact on the structural integrity, if so the defect can be repaired, which will potentially avoid any catastrophes. In many situations the defects identified are deemed to be of no major significance and can be monitored on a regular basis to see if they deteriorate in any way.
In an ideal world, Miller would like to see NDT on all carbon masts. "We are pushing hard for it and others are starting to follow our lead," he advises. "Owners wait a long time for their yachts to be built and do not want to lose the use of their yacht for six months or more whilst a new mast is built. In our view it should be part of the construction contract and the lawyers have a part to play here."
For a new build, Andreas Winistoerfer, CEO of Carbo-Link, recommends that a baseline analysis is a good place to start. The build stage NDT reports can then act as a baseline inspection for any future reports to be compared to, which allows any existing defects to be monitored accordingly and any new defects to be easily identified. From here it is advisable to test terminations and high-stress areas of both the rig and rigging after every mast pull, and certainly when concern arises from lightning strikes, crash gybes or heavy impacts.
But Winistoerfer also cautions that the information produced must be processed carefully. "Being able to identify defects within solid structural components is a powerful tool," he explains. "However, the true potential of NDT testing can only be realised when the results are presented in a clear, concise and understandable manner. When big decisions come down to the NDT results, correct interpretation of results needs to be ensured."
In light of this, it is vital to have a baseline inspection for comparison: a NDT inspection post impact or lightning strike is very insightful, but a far more powerful analysis tool if a build or first stepping analysis is available.
Non-destructive testing is occurring on a wider scale as project managers and captains are more aware of the benefits of it, insurers are requesting it and manufacturers are using it to improve on product development. With the evolution in NDT technology and training, the positive is that composite materials are very easy to repair with a detailed inspection, so having NDT factored in regularly could be the difference between a few months of repair or building a new mast altogether. The negative, however, is that with no standardisation yet to come from the classification societies, the industry is left wide open to a wide range of standards at the hands of the NDT operators.
This is an extract from an article in issue 174 of The Superyacht Report.
Don't miss the workshop on how to reverse the declining of the sailing yacht market at the Global Superyacht Forum - more information here.
Profile links
---
Click here to become part of The Superyacht Group community, and join us in our mission to make this industry accessible to all, and prosperous for the long-term. We are offering access to the superyacht industry's most comprehensive and longstanding archive of business-critical information, as well as a comprehensive, real-time superyacht fleet database, for just £10 per month, because we are One Industry with One Mission. Sign up here.