Superyachts see further with new cooled camera
Thermal camera specialist FLIR's newly launched top-of-the-range M500 cooled camera will give superyachts far-reaching sight in the dark…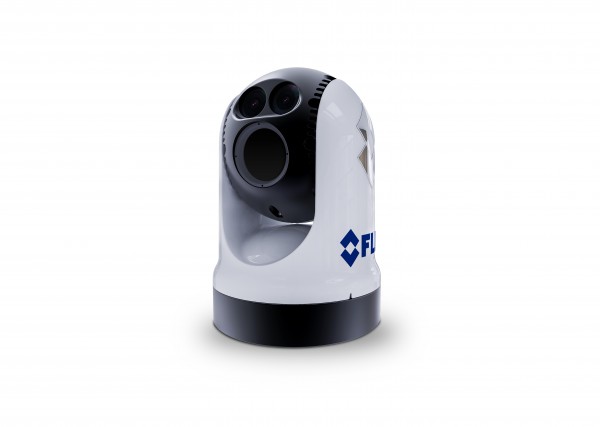 There's an enduring myth – stemming from propaganda put out during the Second World War – that eating carrots can improve your night vision. Given the nature of night navigation, it would be easy to imagine superyacht crews gorging on the vegetable before heading out on passage, but fortunately advances in modern technology have created a rather more efficient and effective alternative – the thermal imaging camera.
Once the preserve of the military and once commanding hefty price tags, the last decade has seen a slew of offerings from a variety of companies, ranging from handheld nightscopes to fixed, stabilised camera units that can be tied not only into navcomm systems but also security networks. As the technology has developed, so too have the prices come down to the point where even smaller leisure boats can consider having a thermal camera as part of their integrated helm suite.
Leading the way has been thermal imaging giant FLIR Systems, a company that boasts six divisions covering everything from military-grade equipment to instrumentation and measurement devices. Part of FLIR specialises in producing cameras for commercial applications, coastguard and police vessels and yachts, and it is within this sphere that FLIR has launched a groundbreaking new thermal camera – the M500.
The M500 will sit atop the range available to the general market, joining the current superyacht favourite M400 model, as well as the (relatively) more budget orientated M100/200 series. But what makes the M500 so special? "There are actually two different types of camera you can have when talking specifically about the maritime industry," explains Hans Groenenboom, sales director EMEA of FLIR's Maritime Thermal Systems division. "The majority of maritime cameras we sell to the industry for yachts and superyachts are so-called uncooled cameras. The thermal detector (called a microbolometer) is static, and it comes with certain limitations. The M500 uses cooled detector technology which means it will operate on the mid-wave infrared (MWIR) spectrum, as opposed to the long-wave spectrum of uncooled cameras."
That means that the camera is capable of far greater range. "The big difference between cooled and uncooled," Groenenboom continues, "is that an uncooled camera like the M400 has a maximum range of around 6km, but the M500 is capable of a 14-15km range."
The cooled camera uses cryocooling with helium to bring the detector temperature down to around -180 degrees Celsius, yet FLIR has managed to contain this within the same form factor as the M400. Other specs are similar, with a 640 x 512 image size and a 14x optical zoom that allows the operator to close in from a 24-degree field of view to two degrees (as opposed to zooming from 18 degrees to six degrees on the M400). The camera also utilises electronic stabilisation to give a steady image. "The only difference, apart from a black metal strip on the top for heat dissipation, between the M400 and the M500 is we took out the uncooled detector and replaced it with the latest in cooled technology," Groenenboom adds.
There are, of course, other drawbacks. First, the cooling system requires complete replacement after around 10,000 to 12,000 hours of use, and in addition the price tag is fairly hefty, coming in at somewhere between 2.5 to three times the price of the $80,000 M400 camera. There are other limitations too, at least in terms of distribution, due to the nature of the technology involved. "Instead of being able to release more technology for commercial and yachting purposes we get more restrictions these days because of the uncertainty in certain hotspots around the world," Groenenboom says. "If a customer wants to buy an M500 we need to apply for an export licence from the US Department of Commerce even though we have a general approval to sell the whole camera for commercial and yachting purposes. That normally takes two to three months, and it also depends on the owner – so we can't sell to a handful of countries such as China or Korea."
This also suggests that we may be at the limit of what tech will filter down from more covert operational use to general commercial markets. Groenenboom confirms this, saying that the military tech that FLIR has currently includes fibre optic stabilisation and HD camera capability, meaning attack helicopters, for example, can zoom in to a thermal target from several miles away and see the smallest details in perfect clarity. What's more, these cameras in themselves can cost anywhere from $600,000 to $1.2 million currently.
Besides, the M500 offers significant benefits for superyachts in itself if you want the reach beyond what the highly capable, 2016-launched M400 can do. Indeed, the M400 has proven a popular choice on many of the largest yachts built already, and orders for the M500 are likely to flood in as owners of the world's largest superyachts look to invest in the latest and greatest tech. "For example, we recently discussed three refits in Italy, and we've also recently done a very large yacht refit where we installed six of the M400 cameras," says Groenenboom.
FLIR Systems is due to officially launch the camera to the superyacht industry at the Monaco Yacht Show in September. Time for the crew can ditch the carrots once and for all…
You can read more about the latest in thermal imaging and its wide-ranging uses for superyachts in issue 182 of The Superyacht Report, available from 7 September.
Technology will also form a key part of The Superyacht Forum, taking place in Amsterdam from 13 to 16 November. Following a theme of A 10-year Blueprint for the Superyacht Market, the event will be an unmissable opportunity not only to get the inside track on the latest developments from key superyacht industry players, but also will offer the opportunity to network with more than 800 key decision makers and influencers from all corners of the superyacht industry. Click here for more details.
Have you subscribed to The 'new' Superyacht Report? If you are a captain, owner, yacht manager, chief engineer, first officer, broker, designer, senior shipyard management, an owner's representative, investor, or a family office, you are eligible for a complimentary annual subscription to the only superyacht industry publication worth reading. To apply for your VIP subscription, click here.
Profile links
FLIR Commercial Vision Systems
---
Click here to become part of The Superyacht Group community, and join us in our mission to make this industry accessible to all, and prosperous for the long-term. We are offering access to the superyacht industry's most comprehensive and longstanding archive of business-critical information, as well as a comprehensive, real-time superyacht fleet database, for just £10 per month, because we are One Industry with One Mission. Sign up here.