PMS and Refit - Why, What, How?
Ian Hornsby on the role that PMS can play in refit projects…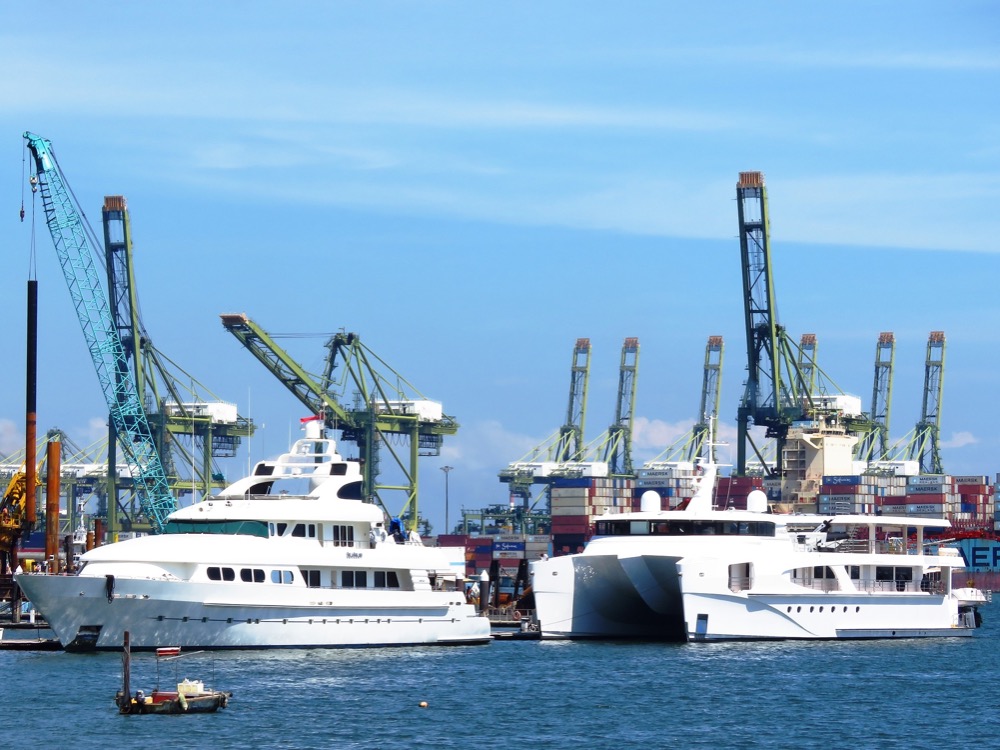 'it was twenty years ago today...' (a nod to Sergeant Pepper) that I founded Techman France, and PMS was a new acronym to yachting. Back then, the fleet was not yet long enough in the tooth to merit a refit, and warranty issues were handled with a phone call with a fax backup. Email was in its infancy!

A lot happens in twenty years. The Internet for one! Yet, with a few notable exceptions, PMS is still an alien concept to the shipyard, and the ever-more complex refits continue to muddle along in a mixture of email, spreadsheets and file sharing portals. It is the Internet, guys, but not as it could be in 2019!

On board, PMS is and always has been the domain of the Engineering department. Today, refit seems to have become the domain of the manager rather than the crew. The issue here is that PMS rarely includes Deck and Interior departments, and the refit managers are focused more on ISM, Critical Equipment, Payroll and Accounts than the overall technical story on board - until, of course, it is refit time. This is where PMS and Refit Work Lists come together or, more often, collide.

Crew are seldom equipped with the broader knowledge and experience to manage a refit, which is all about time & money, contracts, scheduling, coordination, quote negotiations and quality control. Conversely, managers seldom have the detailed vessel information at their fingertips, because they don't have the time to dig deeply into daily operational issues and were not present at the build.

Why is this a problem? This data-disconnect is today's dilemma, since both ship and shore have a vital need to access one common pool of historical and evolving information. Lists of maintenance, refit work, installed and new equipment, manuals, drawings, certificates, previous work and on-going warranty work all exist somewhere, but they are scattered between the yard, the manager and the crew and not controlled.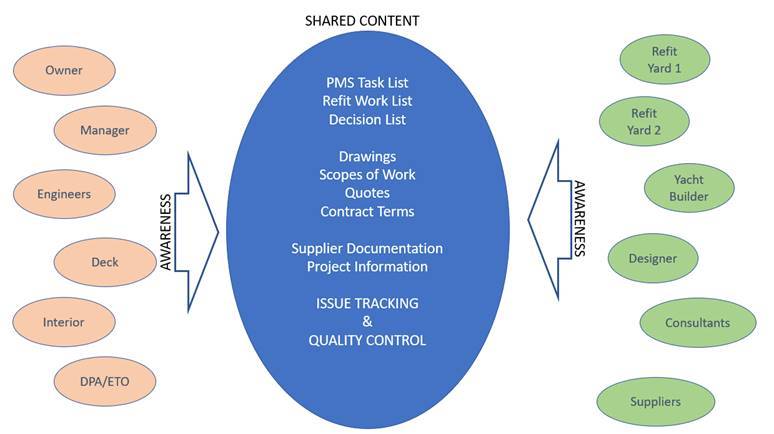 Despite the recent seminars about refit and PMS, and the agreement that we need to plan better and have more accurate information, we still share files and lists via DropBox and communicate in an ad-hoc way using email attachments and WhatsApp photos in random haphazard exchanges. Archiving is a matter of choice rather than a planned or organised official record.

This article cannot claim to be forward-thinking because, back in 2006, Techman was retained by a shipyard to help evolve a Customer Care initiative. The simple premise was that across all changes in ownership, management and across all different crews, the guys that built her know most about her, and the vessel can only benefit in the long run by the builder being closely involved in the through-life support.

I can hear a few hecklers and yes, in the heyday of yachting, the yards were too busy building to provide follow-on services. But the industry is maturing fast, where shipyards are now large enterprises, and rightly focused upon the long term, for themselves and therefore for their customers. This change of focus towards the recurring revenue of refit helps their own reputation, the overall quality of their fleet and incentivises shipyards to offer more comprehensive packages at launch. Done right, this inevitably trickles down to the owners and helps preserve value.

Now we have established the Why, let's consider the What.

What will help all this to coalesce into an improved culture is awareness and information. Awareness is growing nicely, thanks to the various articles, seminars and blogs on the topic. However, information is still the big lag. It's not for a lack of information. To the contrary, we probably have too much! But it is scattered between different parties, in different formats, and of different versions. Research bodies such as Gartner confirm that it is the quality and availability of accurate information that drives success in business, not simply the quantity of information. In yachting, that information is spread randomly between shipyards, crew and managers.

The point of this article is that information should be defined, controlled, centralised and securely shared. After all, this is the 21st century, and there are great tools out there to achieve this.

To use a cocktail analogy, your Sex on the Beach would be less enjoyable if the vodka, cranberry juice, peach schnapps and orange juice were all served in separate glasses, and you had to check the expiry date of the OJ yourself! In a yachting equivalent, I have yet to encounter a yard, manager or crew that can pull out a full service history of the boat(s) they build, manage or operate. Yet this is paramount to preserving value to the guy who employs them: the owner.

So, armed with the Why and the What, then How do we progress? This is all about the boat owner and the quality, reliability and retained/resale value of his yacht. I would propose that the future is not about the manager having a twenty-boat fleet all using the same Excel refit worklist, although that is very much the right approach for today's menagerie fleet. Boats do change owners, who do change managers, who do change crew, so this only provokes the question of information ownership.

Nor is it about the chief engineers' preferences for a card index over the latest PMS App, because statistics tell us that his tenure on board is likely to be shorter than the manager's. Whatever his choice, the next guy might have a different view on which system is best. We have migrated many boats to and from our system over the years.

Objectively, the optimum solution for the vessel, and therefore for each subsequent owner, is for the new build yard to play a far greater role in the through-life support of the vessels it produces. It just makes sense. Of course not all shipyards are the same, and many are still maturing, so some owners and crew would be reluctant to endorse this approach. But this is also something of a wake-up call for the maturing shipyards, because the larger more established yards will inevitably 'steal their cheese' as the shipyard customer care culture evolves.

Such a customer care project is a complex playing field containing many moving parts, not least of which is a central data hub in which to structure, store, update and selectively share the salient information. As we read above, the only permanent presence in the life of any vessel is the shipyard that built it. And whether the builder establishes a refit division to support their yachts or partners with an independent refit yard that is better placed geographically, the builder should be taking the lead.

The larger yards might invest in extending their in-house ERP/MRP software, while the smaller yards might more readily and more rapidly adopt a white-label solution like Hub Ware and Deep Blue, branded to their name. The humble Office365 has also come a very long way in the last five years and should be considered. It now contains an array of functionality that can be employed by simply upgrading the shipyard licenses to Microsoft's range of Business offerings.

In conclusion, the concept of the shipyard portal has truly come of age and really does represent the best route forward towards owner satisfaction. Yards that do not embrace this change risk being impacted commercially, as they miss the opportunity for refit revenues and the repeat business that stems from customer satisfaction.
---
Click here to become part of The Superyacht Group community, and join us in our mission to make this industry accessible to all, and prosperous for the long-term. We are offering access to the superyacht industry's most comprehensive and longstanding archive of business-critical information, as well as a comprehensive, real-time superyacht fleet database, for just £10 per month, because we are One Industry with One Mission. Sign up here.