More than just filler
Boero releases results of an independent extreme temperature cycling test on its paint and filler system conducted by Wrede Technologies…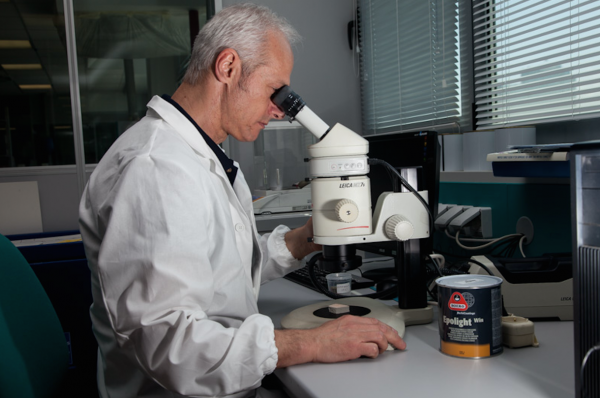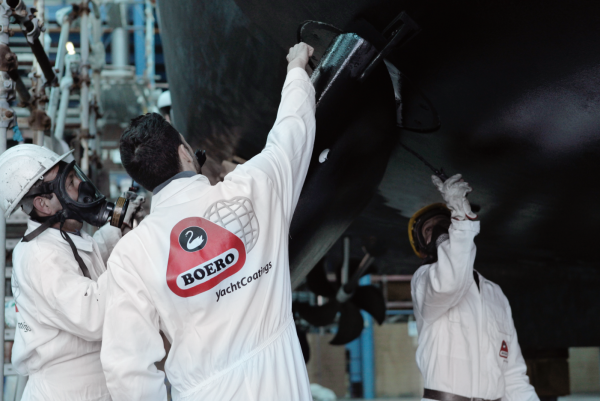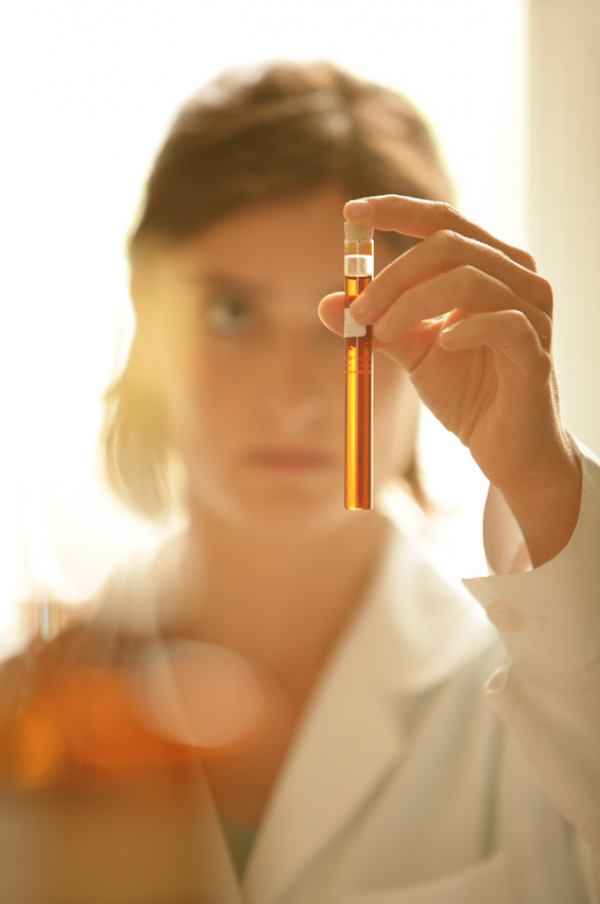 Italian coatings company Boero YachtCoatings has released details of an independent test that was carried out in the Spring of 2017 on various filler and paint systems conducted by Wrede Technologies (Wretec) in Germany. The tests were designed to push filler and paint systems to their limits by subjecting them to extreme temperature variations to assess their resistance to cracking and their overall performance. Several products from different manufacturers were included in the tests, including both commercially available paint systems and prototype or development products.
The tests were designed by Wretec 'to simulate an environment which represents the harshest (e.g. coldest) possible thermal conditions a superyacht will ever be exposed to during its lifetime' and involved preparing a complex-shaped test panel for each filler and paint system, then using a cooling container to push the ambient temperature down to -30 degrees C and up to around 25 degrees C (with a peak temperature test cycle of 80 degrees C for a period of one hour). With three temperature cycles run over the course of several days, the tests were designed to give an exaggerated and accelerated simulation of real-world extremes, and would prove the perfect testing ground for the fillers.
So how did the tests come about? "The story goes back to around 2011-12," says Andrea Cavalleroni, business development representative in Boero's Yachting Business Unit. "We got in touch with Wrede Consulting when one of the major northern European shipyards charged them with testing various fillers for the refit of a significant superyacht – they wanted to avoid the cracking problems they had had with the previous manufacturer of the filler and paint system. In the end, out of all the manufacturers available on the global market, Boero was chosen for the project as a result of those tests.
"More recently," Cavalleroni continues, "we heard about some tests that Wrede Technologies was conducting on temperature resistance. A decision was quickly taken, as we were interested in being involved in the tests for proving the high quality of our paint systems. The tests they did tend to focus more on the fillers because those are the products that are more stressed during extreme temperature excursions."
The tests were comprehensive, with a sharply contoured panel for each system built up with varying thicknesses of the fillers, and then put through extreme temperature cycling. For Boero YachtCoatings, two test panels were created using the two standard paint systems. The first included (from primer to topcoat) Delta 3000/Epolight Win/Epomar/Delta UC HB/Epoply/Challenger Pro, while the second included Boero's Epoyacht filler in place of the Epolight Win. The filler thicknesses were varied across the test panels, ranging from zero to four layers of 5mm thickness each.
The results prove very interesting. In a series of four cycle tests (at -15 degrees C, -28 degrees C, -28 degrees C for 72 hours, and +80 degrees C to -28 degrees C) both Boero YachtCoatings paint systems passed all tests. One other competitor paint system also passed all the tests, but two others experienced significant levels of failure in the filler on two and three out of the four cycles respectively. The names of the other products are not known due to the confidential nature of the independent testing conducted by Wrede. Therefore, Boero YachtCoatings is the only manufacturer to have two paint systems (including the two different fillers) on the market that have successfully passed the full cycle of tests.
Boero YachtCoatings – as any paint system manufacturer – of course conducts its own product tests, but for Cavalleroni the key was that the Wretec tests were standardised and showed a direct comparison with other paint systems on the market. "We do perform heat testing and with a specific focus on fillers to test various physical and mechanical properties," he confirms. "It's quite interesting also that the Wretec mock-up was curved and used different thicknesses of the fillers – I find it quite interesting and realistic."
The Boero YachtCoatings paint systems are currently used on 640 yachts above 24m, and with paint being such a prime consideration of any superyacht project, performance in tests such as this demonstrates just how far filler and coatings technology has come. And for Boero YachtCoatings, it has proven to be an endorsement of the development work the company has undertaken. "We had an excellent feeling going into the tests that our products would [perform well], but of course you never know until it's over," Cavalleroni smiles. "It was definitely positive feedback and this is especially important as it was an independent company testing it. Moreover, being compared to other commercially available brands proves what we always knew about our products from experience on over 600 superyachts but which had never been directly compared."
For more on coatings, the coatings market and a technical look at the development of anti-fouling and ceramic clear coats, head to our coatings-theme issue 178 of The Superyacht Report. Have you subscribed to The 'new' Superyacht Report? If you are a captain, owner, yacht manager, chief engineer, first officer, broker, designer, senior shipyard management, an owner's representative, investor, or a family office, you are eligible for a complimentary annual subscription to the only superyacht industry publication worth reading. To apply for your VIP subscription, click here.
Technology will also form a key part of The Superyacht Forum, taking place in Amsterdam from 13 to 16 November. Following a theme of A 10-year Blueprint for the Superyacht Market, the event will be an unmissable opportunity not only to get the inside track on the latest developments from key superyacht industry players, but also will offer the opportunity to network with more than 800 key decision makers and influencers from all corners of the superyacht industry. Click here for more details.
Images courtesy of Boero YachtCoatings
Profile links
---
Click here to become part of The Superyacht Group community, and join us in our mission to make this industry accessible to all, and prosperous for the long-term. We are offering access to the superyacht industry's most comprehensive and longstanding archive of business-critical information, as well as a comprehensive, real-time superyacht fleet database, for just £10 per month, because we are One Industry with One Mission. Sign up here.