Incorporating submersibles on board superyachts
There are many different aspects that need to be considered when deciding the set-up for submersible operations…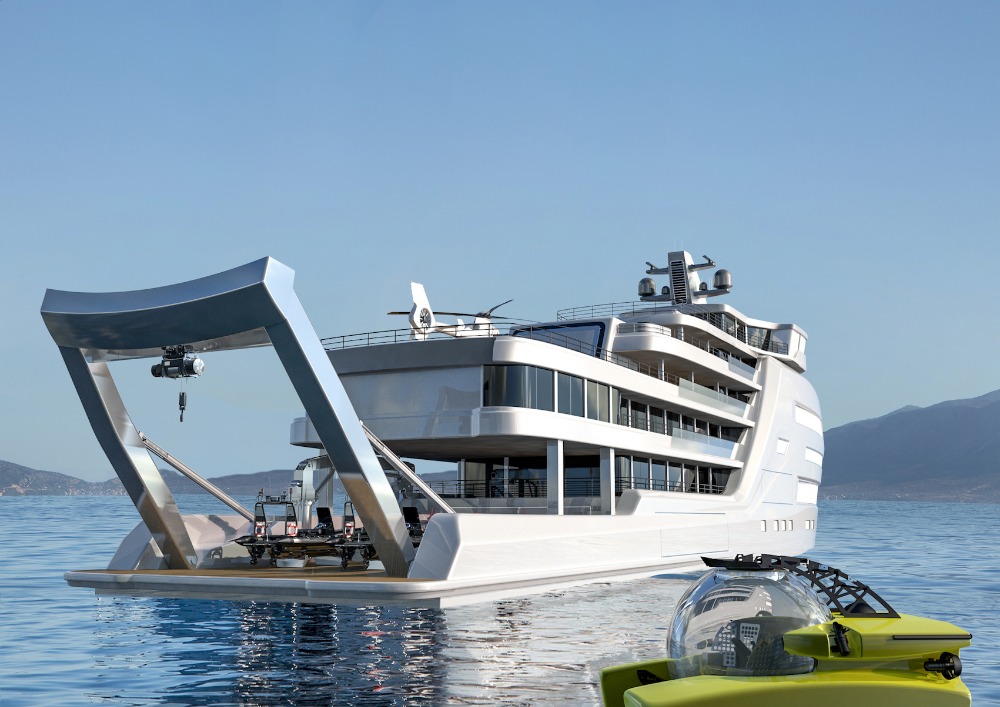 An on-board submersible is possibly the ultimate toy for those owners seeking an individual and adventurous superyacht experience, with some of the latest models on the market capable of reaching staggering depths and accessing the remotest parts of the ocean. While a wide variety of factors need to be considered before deciding what model of submersible is appropriate, how that submersible will be integrated on board the yacht also needs to be looked at just as closely by the yacht's designer and shipyard. Firstly, what size and performance profile of submersible will best suit the client's needs? Secondly, how can the submersible be stowed and integrated seamlessly on board alongside other tenders, helicopter and toys?
"When we receive the request to include a submersible on board, the first consideration is what model of submersible it will be as this will affect the dimensions of the crane and the balance of the boat," says Filippo Rossi, sales and marketing manager at Lynx Yachts. "Once this is defined, we can build up a platform around it. We have found that it is likely that the owner might want a larger-sized model in the future, so we always recommend incorporating the option to allow for something bigger on board."
Gill Schmid Design is a firm with experience of explorer yachts that have submersibles on board. "Submersibles are highly complex machines, and even something like access in and out of a submersible needs to be a consideration, especially in terms of floor-to-ceiling heights," says Veronika Schmid, co-owner and director of Gill Schmid Design. "This, along with the consideration for launching operations, are for us the main aspects we need to address when designing a tender space or aft deck for the use of a submersible."
"Submersibles are highly complex machines, and even something like access in and out of a submersible needs to be a consideration, especially in terms of floor-to-ceiling heights..."
When considering different options for the submersible's placement and launching operations, the main factor influencing this will be its purpose for use. "When we have a client who is clear on how they intend to use the submersible, it is much easier to design and build a platform that meets their needs," adds Rossi. "We ask clients whether the submersible will be used just for diving and observing marine life or if it will be used for research and perhaps picking up materials from the seafloor. If it is to be used for research, then the layout would be completely different. We would need to incorporate space to store any material that was collected with dedicated hatches to transfer the materials inside.
"It would also be advisable to have two cranes – one for the submersible and one for the materials. For a client who is very active and intends to do lots of different activities every day, then the submersible will need to be able to be launched very quickly. But someone who doesn't mind taking their time and will be using the submersible all day will consider different launch and recovery options."
There are multiple methods that can be used to launch and recover a submersible from a yacht, and the crane selection will largely depend on where the submersible is placed. Some shadow vessels or commercial vessels may consider a submersible platform or even a purpose-built ramp but, typically, a submersible is launched from a yacht via a crane. With many different models of cranes on the market, the most suitable will depend on the type of vessel, operational requirements and budget. At a very basic level, the crane will need to be able to handle the weight of the submersible, and as the submersible may be equipped with optional extras, it is advised to allow for a crane that has a Safe Working Load (SWL) that is at least 100kg above the weight of the submersible.
Most recently, the Gill Schmid Design team has undertaken a few designs with an integrated retractable A-Frame for launching operations. These configurations were the result of discussions with clients, their captains and the company building the submersibles. An A-Frame on the stern is the best option if using the submersible daily, so that the sub can be launched where the water is most flat. Lynx Yachts also uses an integrated design so the A-Frame can be camouflaged into the bulwarks and superstructure of the vessel and the top of the frame can be removed, which means it's not visible when not in use.
An A-Frame on the stern is the best option if using the submersible daily, so that the sub can be launched where the water is most flat.
The downside of having a A-Frame and submersible on the stern is that it takes up valuable space where most clients would prefer to have a beach club. Rossi advises that another optimal position for a submersible is on the main deck because this keeps the beach club area free but still ensures easy and stable launch-and-recovery operations. It would also be straightforward to add this set-up to an existing yacht as long as there was enough space on the deck. "As always, the best choices involve compromise," adds Rossi. "For clients who don't intend to use the submersible every day, a single-arm crane with storage on the side of the boat would be sufficient."
In terms of deck fixation, most submersibles usually stand on their own skids and do not require a special cradle, so they can be positioned directly on the deck. In this case, rubber strips are needed to protect the deck as well as to provide additional friction. Ample lashing options are also required to ensure the submarine can be properly secured at sea.
Schmid also advises working closely with the company building the submersible during the early design stages of the yacht. "Recommendations for placement, clearance, equipment and launching can be considered early on and incorporated more efficiently into the overall design," she says. "During this phase, we also consult with captains experienced with these types of operations and draw on their knowledge of day-to-day operational and maintenance issues. This is important, especially for the design of an explorer yacht or support vessel which are on the more performative and operational side of yacht design."
A submersible on board can be a very enriching addition to the superyacht experience, but almost as significant as the choice of model is the placement and launching and recovery options built around it. Without a carefully considered platform discussed in detail with designer, shipyard and manufacturer, even the smallest oversight or miscommunication in this process might affect future operations and, essentially, hinder how much the submersible is used and enjoyed by all on board.
The full article can be found in Issue 196 of The Superyacht Report. Click here to subscribe.
Image courtesy of Gill Schmid Design.
Profile links
---
Click here to become part of The Superyacht Group community, and join us in our mission to make this industry accessible to all, and prosperous for the long-term. We are offering access to the superyacht industry's most comprehensive and longstanding archive of business-critical information, as well as a comprehensive, real-time superyacht fleet database, for just £10 per month, because we are One Industry with One Mission. Sign up here.