Clear thinking
Use of glass in yacht projects has grown significantly over the last 20 years. What does the future hold for this technology?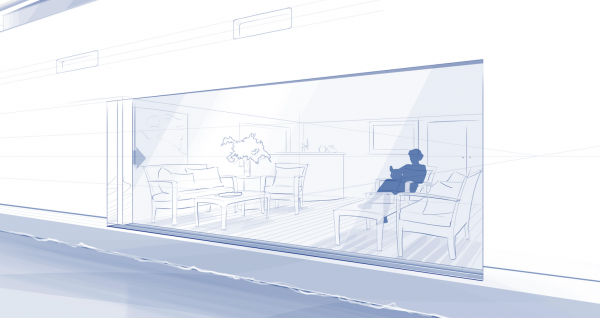 It's easy to see why glass is becoming one of the the most important elements in a successful yacht design. Larger expanses of glass help to draw the outside in and reveal the beauty of the seaward surroundings – and surely this is one of the primary reasons to own a boat? One only has to think of classic designs such as Enigma (ex-Eco) and the impact their unusual glass styling continues to have on the yachting conscience to see just how much of a key factor this seemingly fragile material can be.

We have come a long way over the past few years, from the thick and weighty slabs of tempered glass to ever larger panes, ever more complex curves, ever thinner laminates and ever improving processes to increase strength and durability. "Yachts are looking for high-strength glass for durability, and also because the stronger the glass, the thinner you can use – and thinner glass is lighter, which is a big deal for the designers," begins Steven Miller, product manager at ProCurve Glass Design – the marine division of architectural glass specialist Bent Glass Design.

Designers frequently dream of creating bigger and better things with glass, but as is often the case these concepts can stretch the bounds of reality in spite of advances in size and strength. It is what makes Feadship's annual Future Concept challenge so interesting in itself – every element of the designs, no matter how unconventional they might appear, have been considered and studied to ensure they are theoretically possible to be in-build within a five-year time frame.

Two classic examples of this in relation to glass were the Aeon and Breathe concepts, in 2009 and 2010 respectively, both of which featured underwater glass in aft viewing lounges. "Aeon had lots of windows in the middle, and the Breathe concept had a viewing lounge in the aft end with windows on both sides underneath the waterline," says Ronno Schouten, design manager at De Voogt Naval Architects. "It was with Breathe that we really started to do more research on the feasibility of it construction-wise, and also talking to glass suppliers. You could say, in fact, that Breathe was the base for the aft underwater lounge on Savannah, our 83.5m yacht, launched in 2015."

The process of converting those concepts to reality was extensive. To address potential problems of stability should the glass break, the designers had to calculate what would happen if the whole compartment was flooded. Moreover, there were structural considerations, and the glass had to follow the contours of the hull that it forms a part of. "How do you include the glass in that area?" asks Schouten. "It's the weight set-up, and, of course, there are several glass panes together. But in fact there are two panes – an inner and an outer – separated by about 30cm, and both panes are strong enough to comply with all the rules. In fact, the glass there is much stronger than all the steel around it."

Schouten says it is only in the past five to 10 years that such projects have become viable. "I think in the last decade, the knowledge about glass has increased, and also the awareness of yards, engineering companies, naval architects and flag and class," he continues. "I would say that 10 years ago we wouldn't have known how to do it, and class wouldn't have accepted it, even though it probably was possible back then as it's not the glass technology itself that has changed." He acknowledges that the glass is stronger, better and easier to use, but basically it's more about the knowledge of glass and knowing how to do all the calculations that has changed. "Certainly, if we had done it 10 years ago the glass would have been much thicker and not so nice looking," he says. "That's where the progress has been made in glass tech."

The subject of class and type approval is obviously a major factor in the development and, in particular, the practical use of new glass technologies. For Schouten, the process of class approval for Savannah's underwater lounge was lengthy but not something they doubted they would successfully negotiate. "I think it was a good process," he says. "What I always emphasise is that first, if we design something we have to know for sure ourselves that it's safe. It's not that we're trying to convince class to rubber stamp the design when we're not sure of it ourselves. We did a lot of testing and calculation and we involved class from really early in the process. I think the discussions with class are not that difficult."

It is a view backed up to some extent by Miller, who says that class is starting to open its eyes to the possibilities of what modern glass can do. "We've seen recently, specifically with Lloyd's, that they've been much more interested in working with us to get this thinner glass approved because they see that the designers and the builders want it," he says.

"In the past, it was more us trying to force the issue because glass isn't a very well understood material, unlike steel or aluminium, so there's been some hesitancy to push the limits of what could be done and sticking with the tried and true tempered glass that's been used for 50 years on boats." Miller felt the class societies were sticking with that tried and tested tech because they didn't want to push it too far. "But we're seeing the advantages of the chemical strengthening and these high-tech, high-performance laminates," Miller adds. "We're seeing what that can do and the changes that it could have in the industry, so class are much more willing and interested in working with us to do that. It's going to be a little more of a partnership, I think, working together to get these products reviewed and tested and approved for use."
Aside from weight and thickness, new films and layers are being introduced that offer further possibilities for innovation and use on board. The most common of these is the pyrolytic or heat-reflecting layer – particularly important for keeping air-conditioning loadings low and reducing problematic thermal variations in the interior. While these coatings have been around for a while, the more effective they were, the more they tended to affect the transparency or tint of the glass to which they were applied. Things are moving on, however, and builders such as Dynamiq are tapping into new technologies being developed in other industries such as Southwall's XIR solar control film – used in the luxury automotive industry – that reflects 50 per cent of radiated heat while blocking almost all UV rays without significantly impacting light transmission.

So what is happening in the labs of today to shape the glass of tomorrow? "The strength of the glass is really the biggest thing we're researching and working on right now," says Miller. "Along with that, it's about using ultra-thin glass." Interestingly, he also believes it is not the superyacht sector that is pushing maritime boundaries. "The boats and designers in the 10m to 25m range seem to be doing more innovating in my experience," he says. "They are trying to do something different or unique, particularly with custom or one-off boats. They are always asking what is the biggest pane we can do, how big a front windshield or skylight can be or what is the tightest curve we can create. For the superyachts from 40m and up, we've seen them sticking with a more traditional approach – something that's pretty well understood in terms of cost, reliability, lead time and what it's going to look like."

That doesn't mean superyacht designers aren't looking at innovative ways to use glass; Feadship says glass used to account for seven per cent of a yacht's profile, but now it's closer to 20 per cent or more. And with projects such as Venus, or with Luiz de Basto's 90m Cosmos concept at Oceanco, it is clear that glass is becoming an ever-more integral aspect of design.


A version of this article originally appeared in The Superyacht Report...
Image courtesy of Feadship.
Profile links
---
Click here to become part of The Superyacht Group community, and join us in our mission to make this industry accessible to all, and prosperous for the long-term. We are offering access to the superyacht industry's most comprehensive and longstanding archive of business-critical information, as well as a comprehensive, real-time superyacht fleet database, for just £10 per month, because we are One Industry with One Mission. Sign up here.