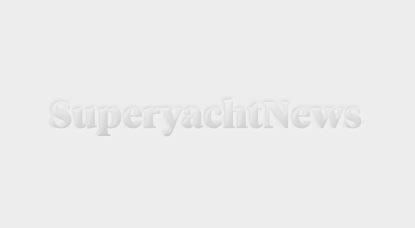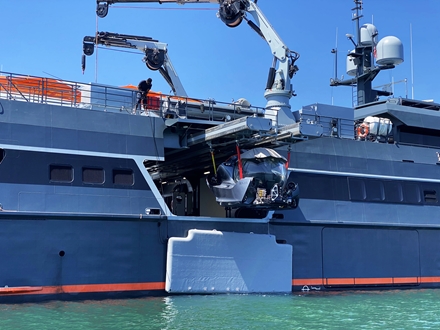 SEAmagine successfully delivers its latest Aurora submersible onboard M.Y. HODOR
Date: July 8th, 2020
SEAmagine Hydrospace Corporation announced that it has successfully delivered its latest Aurora submersible onto Motor Yacht HODOR, to join the support ship's numerous other tenders and toys currently on board. This ABS classed SEAmagine submersible is a 3-Person Aurora model featuring an impressive, fully transparent, acrylic cabin with a 1000m depth rating capability. The gradual reopening of activities from the COVID-19 lockdowns has finally allowed this delivery to take place and for SEAmagine's and HODOR's crews to go ahead and install the submersible in its new home.
The Aurora submersible models represent the latest in manned submersible technology with key features and benefits that are a culmination of SEAmagine's expertise which has seen over 12,000 dives accumulated on the company's fleet with a perfect safety record and a recognized track record in reliability. The Aurora Submarines incorporate all its key features with a focus on elegance, style, and attention to detail.
One of the Aurora's distinctive features is its ability to give truly expansive field of views to the occupants. The cabin's large hyper-hemispherical window offers a superior unobstructed field of view for the passengers since there are none of the typical overhead entry hatch or ballast structures usually fitted above and around the window that eliminate much of the overhead view available to them. Similarly, there are no long front pontoons or side structures that remove the occupants' peripheral views. The Aurora's unique design accentuates the large transparent spherical cabin to a new level and offers the most wide-open views all around, giving a truly underwater panoramic experience for its passengers.
Another valuable feature of the Aurora subs is the unique entry and exit arrangement for passengers. It is superior to all other concepts in comfort, ease, and safety. The elegant teak top deck offers an excellent boarding platform safeguarded by two retractable hand rails on each side. A staircase leads passengers through the large entry hatch into a spacious cabin. As passengers make their way to their seat, their attention will be drawn to the vast expansive view of the ocean.
The Aurora subs are fully electric and have a top speed of 3.5 knots with a power source based on leading pressure balanced battery technology rated to 6000m deep. More importantly than top speed is the Aurora's unmatched maneuvering agility underwater which is achieved with six large powerful propulsion thrusters that act in unison and allow the vessel to be controlled much like a drone underwater, with an incredible degree of freedom and accuracy. Combined with fantastic views for the pilot, this is an important feature that allows the pilot to navigate the sub very close to an underwater viewing area without disturbing the sea-life, whilst still managing water currents and navigational obstacles. The Aurora's superior maneuvering abilities directly affect the owner's overall underwater experience by ensuring that the sub can give passengers superb up-close encounters with the newly discovered sea mounts and sea life and be capable to do so confidently with regularity and safety.
SEAmagine Hydrospace Corporation, based near Los Angeles California, has been designing and building small personal submarines for over 25 years and it has pioneered a long list of firsts in the manned submersible industry since it was founded in 1995. The company produces 2 to 9 person models of its Auroras for depths ranging from 100 meters to 2500 meters. SEAmagine has a solid reputation in providing dependable long-term technical support for its vessels worldwide and in assisting yacht captains and crews at delivering exceptional submarine experiences to their owners.
For More Information:
Contact: Charles Kohnen
President & CEO
Email: charles.kohnen@seamagine.com
Office: +1 909 626-6262
Cell: +1 909 702-9461
Address: 2133 Porterfield Way, Unit A
Upland, California, 91786, USA
Website: www.seamagine.com
---
The entity that submits this press release to SuperyachtNews.com hereby accepts sole responsibility for the facts, accuracy and completeness of the content. All content and mediums submitted are an acknowledgement of the suitability for publication. SuperyachtNews.com accepts no liability or responsibility for any inaccuracies or errors made by the submitter in this regard.
---
If you like reading our Editors' premium quality journalism on SuperyachtNews.com, you'll love their amazing and insightful opinions and comments in The Superyacht Report. If you've never read it, click here to request a sample copy - it's 'A Report Worth Reading'. If you know how good it is, click here to subscribe - it's 'A Report Worth Paying For'.