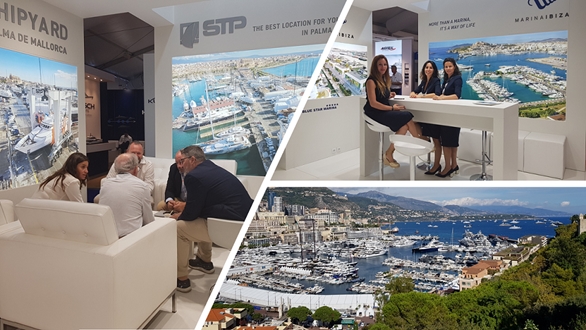 The nautical sector celebrated its most prestigious show in Monaco, where IPM Group once again had its usual stand at Quai Albert 1er where it received captains, friends, collaborators and customers from all the Group's companies: STP Shipyard Palma, Marina Ibiza, Marina Port de Mallorca, Marina Palma Cuarentena, Varadero Valencia and Varadero Ibiza.
During all four days of the show, they offered information about the news for the season.
STP'S EXTENSION AND NEW WEBSITE
For its part, STP Shipyard Palma took advantage of the show to communicate that it expanded and renovated its facilities and infrastructure to meet the increasingly demanding expectations. Works to improve the facilities or the acquisition of the 1,000 TN travelift and a restructuring in the organization of the shipyard that includes a new parking area are some of the measures taken to offer a better service to its customers.
To this news we must finally add the update of its website that, in addition to having a very functional design and navigability, incorporates an interesting commercial support tool to all professionals who work in the yard and that facilitates the client's search for professionals in each area of yacht's ??refit and maintenance.
It is a business directory which facilitates its customers a search by type of specialty. Given the need that STP perceived before the arrival of new clients and the continuous requirement of information on accredited industrialists to work in the facilities, this practical directory was launched and will undoubtedly be a promotional platform for all certified professionals according to the quality and safety criteria to work at STP's facilities.
This initiative has been pleasantly received by all companies and customers.
NEW LUXURY SHOPPING AND RESTAURANT AREA
Marina Ibiza maintained its prominence during the summer season completing the experience of the shopping, leisure and entertainment offer already existing in the marina, since three major changes have been made this summer.
The only luxury shopping area that exists in Ibiza has been inaugurated with the inclusion of exclusive prestigious brands such as Dior, Dolce & Gabbana and Hublot - with their special and exclusive capsule collections for these outlets in Ibiza - Bulgari - with high jewelry pieces that can only be found at Marina Ibiza and Tag Heuer or Giuseppe Zanotti among others.
On the other hand, ROTO restaurant is revolutionizing Ibiza. Unique for its location, for its decoration, for its kitchen and for its concept in general, it has been since its inception the fashion store in Ibiza this season. Even before its opening, it already had a waiting list and its commitment to the authentic connection with the soul of real Ibiza, the Ibiza of the 70s, that link with the land, the sea and the air make this restaurant something unique in the world. A place where it seems that time does not pass, where you want to stay and enjoy.
And finally, a change in the landscape and general aesthetics of the marina, as well as a strong commitment to the environment creating many more green areas that provide a fresh environment and a pleasant walk. This action together with the implementation of several original initiatives aimed at preserving the environment in which it is located, are two factors that have made this port the most "eco-friendly" marina in Europe.
NEW TRAVELIFT AND SPECIALISTS IN VARADERO VALENCIA
One of the most recent ítems of news is the incorporation of a new travelift in Varadero Valencia with a lifting capacity of 300 tons, more than double the capacity which they can currently lift.
The construction of this new travelift is from Cimolai Technology SPA in Italy and will improve considerably in technological aspects compared to the previous 150 T model. It will have a length of 17.20m, 10m wide and 15.20m high. A total of 16 wheels, 8 of which will be motorized to offer greater maneuverability. Its 215-hp Volvo Diesel engine will allow yachts of up to 300 tons to be transported, which will be lifted through 16 slings and 4 lifting points, 3 of them movable for greater adaptability when assembling the bolts, adapting to the yacht's dimension. A highlight of the new travelift is that its engine meets the legislative demands of the Stage IV / TIER 4F regulations.
With this new travelift, Varadero Valencia can take yachts of up to 45 mtrs out of the water, with 9 meters of beam and a maximum draft of 5 meters.
IPM GRUP AT BALEARIC YACHT DESTINATION
IPM GROUP, represented by Marina Ibiza and STP Shipyard Palma, take part as founding members of the Balearic Yacht Destination Project which had its own stand next to IPM Groups's booth. This is a project whose purpose is the presentation and promotion of the Balearic Islands as a 360º nautical destination, ideal for leisure and for boat repair, which offered a cocktail during the show where all members of the sector and their clients came to enjoy of an afternoon among friends.
UPCOMING SHOWS FOR IPM GROUP
To close this great year, IPM Group will maintain its presence during the FLIBS nautical show next November, and METS also in November, thus closing the annual calendar of shows for 2019.

---
The entity that submits this press release to SuperyachtNews.com hereby accepts sole responsibility for the facts, accuracy and completeness of the content. All content and mediums submitted are an acknowledgement of the suitability for publication. SuperyachtNews.com accepts no liability or responsibility for any inaccuracies or errors made by the submitter in this regard.
---
If you like reading our Editors' premium quality journalism on SuperyachtNews.com, you'll love their amazing and insightful opinions and comments in The Superyacht Report. If you've never read it, click here to request a sample copy - it's 'A Report Worth Reading'. If you know how good it is, click here to subscribe - it's 'A Report Worth Paying For'.