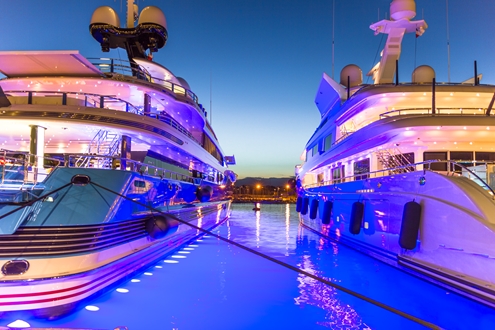 The Superyacht Group held a Superyacht Summit in Hainan at the end of 2018, where the focus was very much getting together experts in the industry to develop a strategic plan for China.
With offices in Singapore, Shanghai and Hong Kong, the Brookes Bell teams have witnessed growth in these three markets first hand.
Yacht markets in the Asian region have rapidly developed over the past 5 years, yet ICOMIA has been collecting data for both the China and Singapore yachting markets for a number of years.
In terms of Superyachts, Singapore was the trailblazer in the region and the yacht market is reaching maturity with significant yachting infrastructure including services, marinas and yacht clubs. Since 2000, the Singapore Maritime Academy (SMA) has offered maritime education and training – navigation, marine engineering, and maritime transportation management.
Hong Kong similarly has been one of the first markets to embrace Superyachts through charter as a holiday option or even for a day to cruise the various bays.
For the Superyacht market in China, there has been this imposing question mark over the past fifteen years as to whether China will rule the waves and if so – when. Admittedly, China has had a stop/start run at it due to various reasons including fluctuations within the economy and regional politics. Now as the millennial generation are becoming wealthier, their travel habits and lifestyle choices are becoming more and more decadent – Superyacht charter and ownership is a big part of that. Therefore the recent talk of a "revolution" may look like that from the outside, but from our viewpoint it's been very much an evolution.
"Expats used to be the driving force behind the yacht market in Asia but more and more Asian nationals are now entering the market. Leading Asian-based dealerships and brokers need to work to overcome the lack of knowledge and general understanding of the boating lifestyle as it is a hurdle to many new to superyachting." – Adam Whittle, Global Superyacht Division
Pan-Asian, multi-disciplinary teams
Brookes Bell has been based out in Asia for 9 years (Shanghai was first in 2010) and offer the Asian market the extra layer of service the Clients need, with a team of 20 people across the 3 offices; Cargo Scientists, Coatings Specialists, Master Mariners and Marine Engineers, Fire Investigators, Metallurgists, Naval Architects and Fuel Chemists.
This multi-disciplinary team is invaluable when things go wrong on a Superyacht and an incident can happen anywhere in the world. In Asia there is a vast amount of water to be covered – the Asian region is 5 times bigger than say the Mediterranean from a Superyacht cruise perspective.
"Our three offices join up the region in terms of the services offered. If there is a fire or casualty on a Superyacht anywhere in Asia, we can respond quickly and provide our expert services." – John Gibson, Marine Engineer, Head of Asia
John continued:
"Beyond the initial fire or casualty inspection, there are a whole raft of legal aspects that need to be addressed, as well as the insurance claim and sometimes disputes need managing. We provide our skills in a number of different ways when these incidents occur – taking a problem solving approach and we also act as expert witnesses in court when needed."
To pass on this invaluable knowledge to its clients, Brookes Bell regularly hold seminars in Hong Kong, providing a platform for seeking solutions and looking to the future of the marine industries; and the next is due to be held in the first half of 2019.
The future is undoubtedly bright for the Superyacht markets in Asia, with marinas bursting at the seams in Singapore and Hong Kong and the number of UHNWIs in the region. The Chinese Superyacht industry will continue to grow and evolve and with it new innovations will emerge and be shared across the world.
"The luxury market in Asia is booming and we are seeing an increase in both the charter and ownership of large luxury yachts in the region. Brookes Bell is well established in the yachting world with over 30 years' experience of dealing with incidents in Europe and the USA and Caribbean. This is an exciting emerging market to be a part of and we look forward to the next stage in the journey." – Adam Whittle, Global Superyacht Division.
Further information at http://bbsuperyachts.com
or Call +44 1512360083
---
The entity that submits this press release to SuperyachtNews.com hereby accepts sole responsibility for the facts, accuracy and completeness of the content. All content and mediums submitted are an acknowledgement of the suitability for publication. SuperyachtNews.com accepts no liability or responsibility for any inaccuracies or errors made by the submitter in this regard.
---
If you like reading our Editors' premium quality journalism on SuperyachtNews.com, you'll love their amazing and insightful opinions and comments in The Superyacht Report. If you've never read it, click here to request a sample copy - it's 'A Report Worth Reading'. If you know how good it is, click here to subscribe - it's 'A Report Worth Paying For'.