Learning to Tango – sailing the new Wallycento at MYS
We take Wally's new Wallycento Tango out for a quick sail, and discover that quick is not all she has to offer…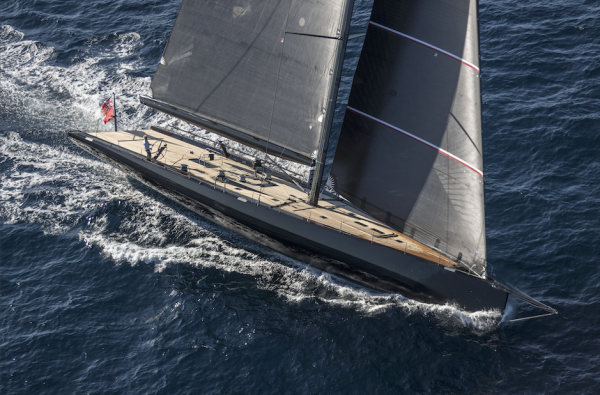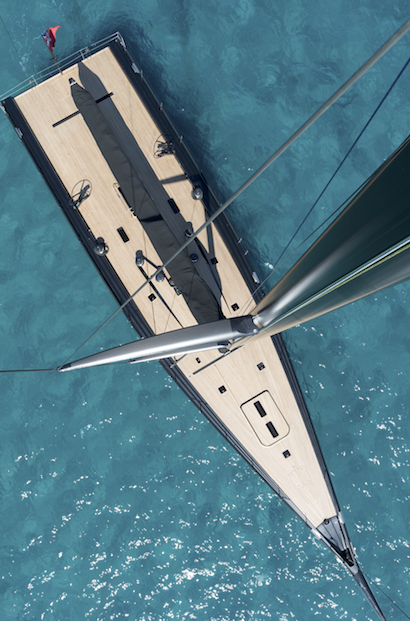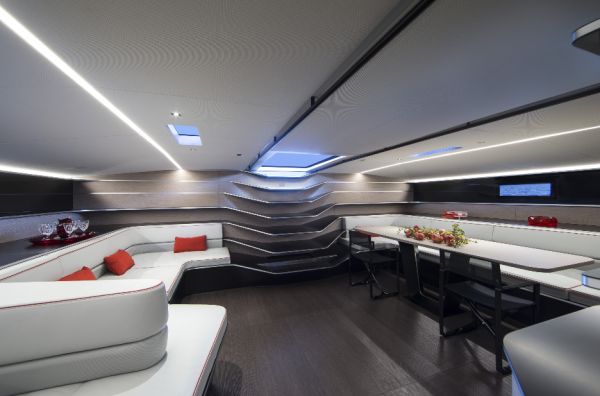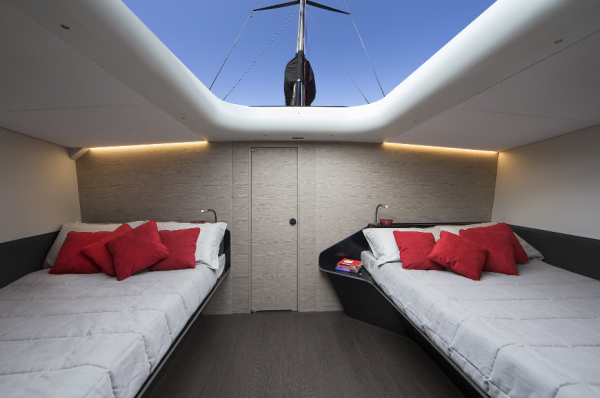 While the pleasures of a large, comfortable cruising sailing superyacht are hard to deny, there can be few things as thrilling as coaxing a bit of speed out of a thoroughbred cruiser-racer. So it proves the day before the Monaco Yacht Show begins as we saunter off aboard the latest Wallycento for a trial sail. Granted, the wind is hardly playing fair, delivering a paltry 6 knots true. Today will not be about blasting across the bay to Beaulieu at full tilt, but rather experiencing what a finely balanced, carefully considered performance design can do when it counts – when those larger, heavier cruising boats are reaching for the throttles and furling their sails away for the day.
Our ride is Tango, a Mark Mills-designed new entry to the Wallycento fleet. This new, 30.48m yacht follows the same box rule ethos as her sisters, designed to give competitive racing while still offering the comforts of performance cruising for her owner and guests. As the fourth Wallycento she already has competition, and although delivered just 10 days before we trial her, next week she will be at the Voiles de St Tropez with 14 other Wallys, including those three Cento sisters – the 2012-launched Open Season, 2013's Magic Carpet3, and Galateia which arrived in 2015.
So how does this yacht differ from the others, and what corners of the box rule have the designers explored? And what of Mark Mills, a designer making his first forays into the world of Wally? How did Mills Design get involved in the first place? "I got a call from Luca Bassani, who had a client interested in doing a Cento," Mills tells me as we wait for the jib to hoist. "The client had a number of major design offices on his shortlist and Luca wanted to throw a wildcard into the pot – he'd seen our 2014 world championship-winning 72-footer Alegre, which features a similar ramp deck design to Tango. It was really his intervention that got us on the table, and the client was willing to consider someone who didn't have a track record in these boats yet but who looked like they were bringing something to the table. We had a lot of ideas that we thought were right, and the client was receptive to that."
Among those ideas were an innovative mast raking system, the ramp deck design which gives ease of passage fore to aft and for moving sails and other equipment, a central engine room for weight distribution, and a deck layout borne from racing yacht design, but which fits perfectly with the minimalist styling typical of Wally. The design process was, in fact, a team effort, with Mills Design joining forces with Valenica-based specialists KND Sailing Performance and New Zealand structural specialists PURE Design & Engineering. "KND really bring the computer horsepower to allow us to trial things – we did I think 49 different hull shapes in velocity prediction programs (VPP) and computational fluid dynamics (CFD) software trying to narrow down the best solution and the best combination of features," Mills explains. "There's so many different areas of hull shape that are bringing different strengths to the design. The ability to package all the different bits of the hull in the final one that gets built is very powerful, and I think their involvement was key for that phase."
Notable in that hull design is the aft end – Mills has eschewed the trend toward hard or soft aft chines, which typically improve performance off the wind, opting instead for a more rounded aft in order to preserve upwind performance. It shows as the jib flies up the stay from deck to fully set in just seven seconds – the tech team worked hard on the gear to maximise hoist speeds – and we settle into a gentle but fine-tuned beat, matching the true wind speed and occasionally exceeding it. As the log creeps toward seven knots boatspeed in just under six knots true wind, the feel of the helm is a delight. Two gearing settings mean she can react to fingertip touch, or give a little more leeway depending on how much movement and sensitivity you like in your helm. She is balanced, and easy to keep on track in these conditions, and clever mast-rake considerations mean she should not become a handful when the wind picks up either.
"Rudder angle is a really important upwind component towards optimum upwind performance and to do that you need to be able to rake the rig to adjust the centre of effort to influence how much rudder you then have to put in," Mills explains. "In light airs you want more rake back to load up the rudders and give you some [rudder] angle, and as the breeze comes on you want to rake the rig forwards and reduce that to keep the rudder angle at 3-3.5 degrees." Most boats this size end up stuck at a single rake setting because it's hard to move the rig around. "We went in from the outset convinced that this was a key variable we needed to bring," Mills continues, "and we worked all the way through to make sure we could deliver that."
The construction of the boat fell to performance specialist Persico Marine, who are no strangers to high-tech composite boat building – their portfolio includes America's Cup yachts, maxis, Volvo Ocean Race boats, TP52s and others at the highest echelons of racing. Building a yacht that is destined not only for regattas but also for cruising was something of a challenge, but that didn't stop the yard taking a technical approach. "This is the first project that we say is a proper sailing yacht and not only a racing machine," enthuses Persico CEO Marcello Persico. "It was a challenge for us not only to bring experience of racing type projects but also to work with interior systems." This is borne out by the staggering numbers involved – Persico says that the yard spent 100,000 hours on the composite construction and assembly, a further 30,000 hours for the interiors construction and outfitting, and 15,000 hours on the systems installation. The net result is impressive though – the composite structures total eight tons, and the interiors and outfitting weight comes to just 2.5 tons.
Not that the interior has suffered – while sleek and clean, and hardly sumptuous, Tango has a grace and style that is quite stunning thanks to her interior design team at legendary design house Pininfarina. "This boat really has all the best features of Pininfarina, because first of all it's absolutely innovative, it's very modern, contemporary, but projected into the future," says Paolo Pininfarina, chairman of the Pininfarina group. "It is essential, it is fluid, it is dynamic and it is seamless – the surfaces are seamless, so it has both Wally and Pininfarina DNA in it. It is elegant too – elegance is difficult to define but it is sort of sensuality, minimalism, functionality, and safety also. If surfaces are fluid and seamless then the boat is safe and it's good for both cruising and racing. The boat is fantastic," he adds, "and it's the result of fantastic teamwork."
There's little doubt that the combined team – Wally, Persico Marine, Mills Design, MYT and all the other companies who have played their part – have created something quite special. She may look and give the feel of a racer, but Tango is more than just a speed machine. "You can see from the result that the boat has been really thought through to be better," says Luca Bassani. "But still it's a Wally, which means it's a cruiser-racer not a racing machine. When you look at the boat from the outside you believe that it's just a racing machine, but it's not. It's a boat that can give you good results and win races, but also good comfort for cruising, and this is a typical Mediterranean cruising boat. It's the kind of boat Wally has developed for 20 years," Bassani concludes. "It's a cruising boat that can be fast and easy to sail."
Photos: Wally / Gilles Martin-Raget and Toni Meneguzzo
Profile links
---
Click here to become part of The Superyacht Group community, and join us in our mission to make this industry accessible to all, and prosperous for the long-term. We are offering access to the superyacht industry's most comprehensive and longstanding archive of business-critical information, as well as a comprehensive, real-time superyacht fleet database, for just £10 per month, because we are One Industry with One Mission. Sign up here.