As the superyacht market continues to grow, both in terms of the size of the active fleet and the size of the vessels themselves, berthing space in the Mediterranean is becoming an increasingly covetous commodity. This is especially true for the very largest vessels for whom the berthing options are few and far between. This summer, IGY Sète Marina opens in the south of France. The brand-new marina, conveniently located with Barcelona and the Balearics to the west and La Ciotat, Marseille, and the rest of the Cote d'Azur to the east, can comfortably accommodate vessels up to 180m alongside with an 8m draft throughout.
"Due to the unique physical aspects of the site, as well as IGY's longstanding relationship with some of the largest superyachts in the world, we believe that IGY Sète Marina will be an incredibly attractive proposition for the active fleet," explains Richard Kettle, General Manager of IGY Sète Marina. "There is a fantastic opportunity here for owners to acquire long-term berthing at hugely competitive prices, with the additional option to sublet."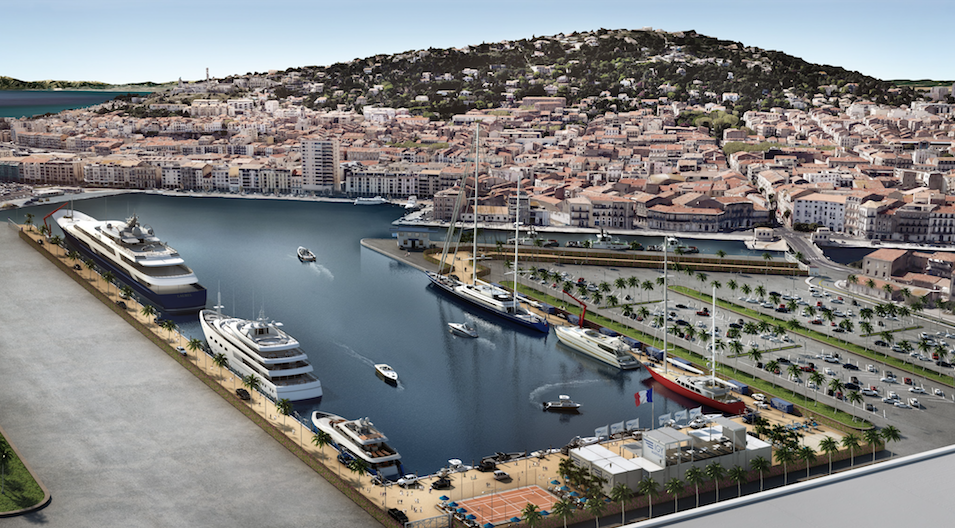 Rendering of Sète Marina
Given that the Sète facility is the only new purpose-built superyacht development in the Mediterranean, the IGY team was able to approach this site with a clean slate. In doing this, they were able to make the marina as functional and flexible as possible, providing everything that prospective clients desire. As a result, IGY Sète Marina guests will not be hampered by the restraints experienced at older marina facilities.
"We are fortunate that the basin itself is in an enclave of protected water within a commercial port, which, by default, provides us with ISPS security in the development," continues Kettle, "however, the real benefit of the facility is that we had an empty quay that allowed us to design the facility from scratch and provide all the power that modern vessels require. This also allowed us to prepare for future planning opportunities to increase capacity at short notice with little adjustment to the current infrastructure. If the owner of a large vessel purchased a long-term berthing option, we are able to make bespoke improvements to their berth space on the dock by installing customized storage, additional lighting, CCTV and other security measures should they require it."
IGY Sète Marina will also have fibre optic internet, in-slip fuelling, grey & blackwater pump-out, recycling, and the collection of hazardous materials.
Sète's location makes it ideal as a homeport or wintering destination. Notably, Sète is placed between some of the world's most prestigious refit yards including Monaco Marine in La Ciotat and MB92's facilities in both La Ciotat and Barcelona. "You have an almost unlimited range of work that can be completed in the marina itself because of the location within the commercial port" adds Kettle. "There are a number of artisans and local suppliers that are capable of providing services to a superyacht, and the quay offers enough space to accommodate alongside cranage services."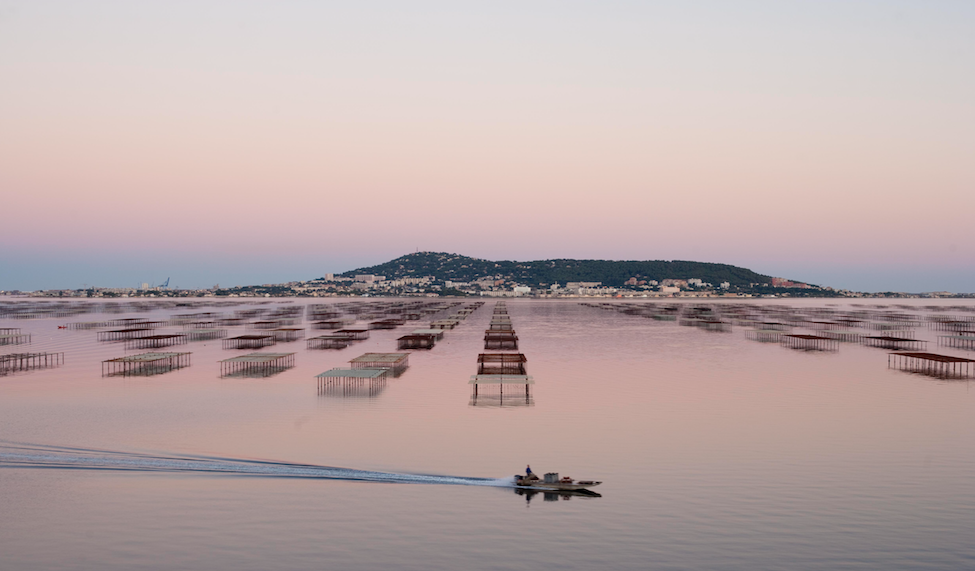 Oyster farm in the Thau basin
As well as being on the doorstep of some of the Mediterranean's most prestigious refit yards, the facility is a stone's throw away from some of the superyacht market's most revered locations including Cannes, Nice, St. Tropez, and Monaco. As such, for owners and guests that are looking for the quintessential French experience away from the Riviera's well-trodden haunts, Sète provides the perfect setting to experience the coastline at its rustic best with the area famed for its seafood and, most notably, its oysters. Festivals celebrating art, cuisine, and music abound in this hitherto undiscovered gem. In order to maximise the myriad opportunities in and around Sète, IGY has partnered with a number of local businesses to create a concierge service for the region that ensures owners and guests are able to gain exclusive access to various restaurants, events and activities.
"We have all kinds of maritime activity in Sète, and the sea has been a massive part of our culture. We have France's largest deep-sea tuna fishing fleet, local fishermen, canal pleasure craft, small cruise liners, and a large oyster and mussel industry, all offering a huge variety of maritime flavour. The only types of vessels we were missing are superyachts. Four years ago, we introduced yachting to the region and since then we have had yachts up to 50-60m. However, we were learning as we went because the yacht market requires a specific set of skills that we were unaccustomed to which is why we are excited to have attracted IGY to build and manage the marina," explained Fabien Luais, director of the Port de Plaisance of Sète.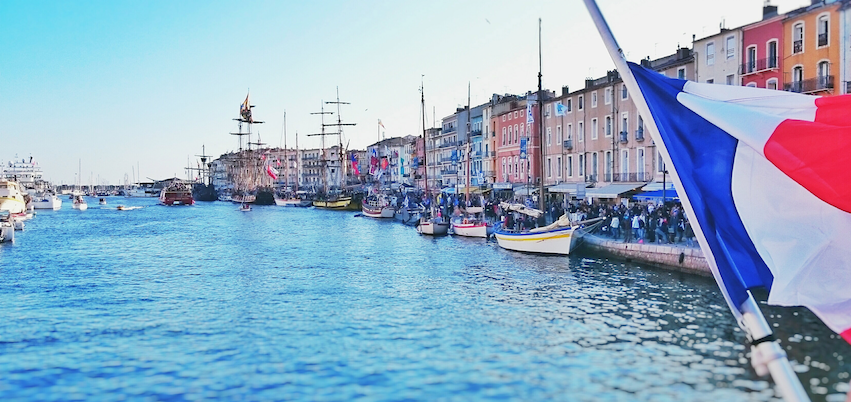 Sète has a rich maritime history
Working with superyacht captains is an entirely difference experience as they have unique expectations for the vessels, their owners, and crew. As such, in order to develop a marina in Sète, the Port de Plaisance of Sète decided to partner with a specialist to evolve a section of the port to accommodate superyachts. The location for the marina is perfect for superyachts; protected docks, ISPS security, and depth, but the port needed the expertise of an experienced marina partner like IGY to help manage the project as well as handle the operations of the completed marina. The Port Authority is very pleased with having the IGY team on board because superyachts are their core competency and they have already developed an exceptional network in the United States, Central America, Mexico, the Caribbean, and Porto Cervo, and now Sète can be counted amongst the world's premier superyacht facilities."
Central to the IGY team philosophy has always been a focus on the well-being and entertainment of captains and crew. Anyone who understands the superyacht market appreciates the truth in the statement, "happy crew: happy owner".
"In my role as General Manager I am entirely focussed on making sure that the captains and crews are looked after and having a good time," Kettle says. "We have built a portfolio of trips and days out in the local area, be it kitesurfing, paddle boarding, wine tasting, oyster tasting, skiing in the Pyrenees or simple trips to the beach."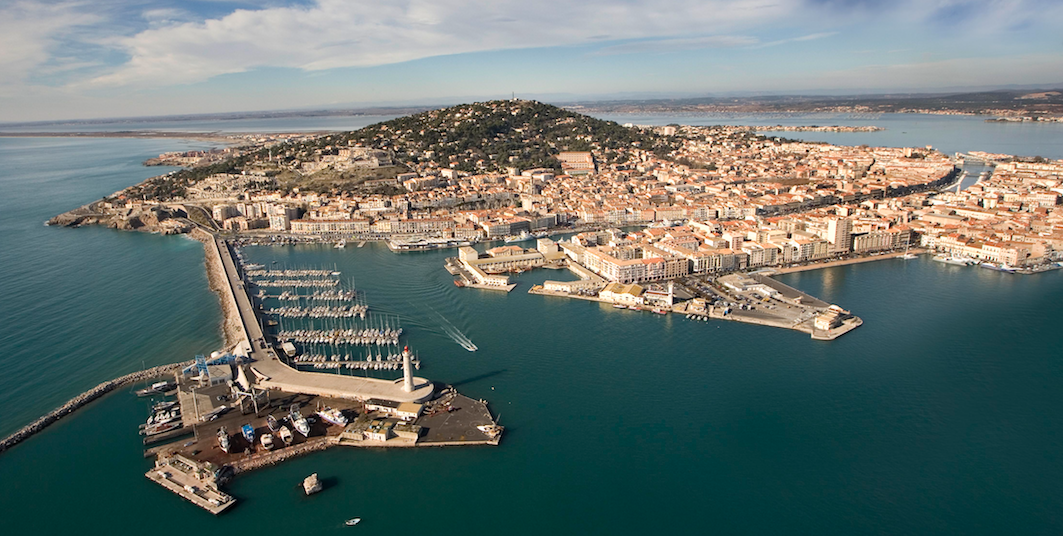 Sète from above
IGY Sète Marina is accepting reservations and currently the most modern marina that IGY has ever created, managed or owned. The clubhouse, which will be completed this winter, will feature a lounge and fitness centre, showers with changing facilities, a roof-top terrace, full concierge services, and a business centre equipped with Wifi. The marina will provide bicycles and scooters for the crew to explore the many various delights of Sète, and shuttles will be available for trips to nearby Montpellier - France's fastest growing city and the area's metropolitan and transport hub.
While the clubhouse is expected to be completed in the winter of 2019, IGY Sète Marina is open for business now. With alongside berthing for superyachts up to 180m within a specialist superyacht marina, Sète provides one of very few opportunities in the Mediterranean for the world's largest superyachts to berth alongside and benefit from the wealth of amenities and facilities that today's owners, guests, captains and crew have come to expect.
Profile links
---
If you like reading our Editors' premium quality journalism on SuperyachtNews.com, you'll love their amazing and insightful opinions and comments in The Superyacht Report. If you've never read it, click here to request a sample copy - it's 'A Report Worth Reading'. If you know how good it is, click here to subscribe - it's 'A Report Worth Paying For'.