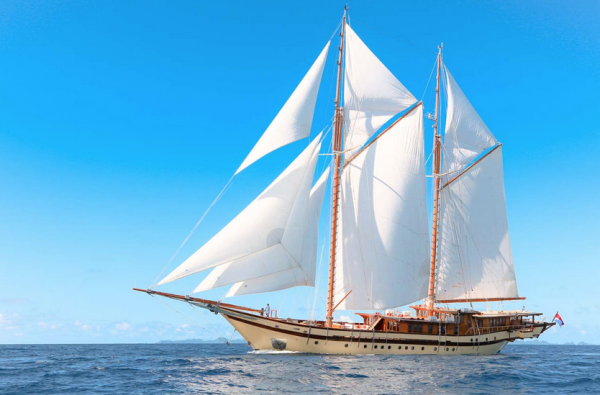 They say you should walk a mile in someone else's shoes in order to fully understand their perspective, and as I was speaking to Dominique Gerardin, co-owner of 65m S/Y Lamima, I wondered if there was an equivalent term in the sailing world. You see, before Gerardin took on the challenge of Lamima he was a yacht captain for almost two decades. When he announced his plans to leave his job, travel to Indonesia and build a wooden sailing yacht, one of his clients decided it sounded like a surefire plan and offered to go into partnership with him. Now, with nearly 150 days' charter booked for the year ahead, Gerardin sat down to explain why he believes his crew are key to his success.

"The advice I would give to anybody [who] wants to start chartering is that they need to really take care of the crew," says Gerardin. "If they cannot do that, then they shouldn't start a business. It cannot work." In Gerardin's experience, crew welfare is often discussed, but never really acted upon. "When you talk in the yachting industry, everybody says the crew is more important than the boat, but nobody agrees to take care of them, and I think as crew you can feel that."
"When you talk in the yachting industry, everybody says the crew is more important than the boat, but nobody agrees to take care of them, and I think as crew you can feel that."
As someone who spent 17 years working on busy charter vessels, Gerardin places huge emphasis on the wellbeing of those working on Lamima. "Many people treat their crew like employees and I think that is wrong," he continues, citing that the long working hours, close quarters and frequent trips away from family is the reason why the traditional employer-employee relationship is not truly applicable in the yachting world.

For Gerardin, a significant reason why charter trips on board Lamima are so successful is because of his inherent knowledge of sailing and how a vessel works. "So many people own a boat and don't really understand the boat," he explains. If an owner is new to the industry, they should work with a captain who has years of experience, and trust their advice. Gerardin also believes the fewer barriers between captain and owner, the better. "I am against management," he explains. "I don't like it because you put something in between the owner and the captain."

Furthermore, he believes communication is not just about the owner making demands that crew have to follow without question, but rather about drawing on each of the crew's experience to ensure the smooth running of the boat. "It's not a monologue, it's a dialogue," adds Gerardin. "A dialogue between the owner, the captain or the engineer. Sometimes I know more than them and sometimes they know more than me."
This expertise isn't limited only to the crew's roles on board. Lamima, an Indonesian-flagged vessel, employs a fully Indonesian crew – something Gerardin insisted upon. "This is what is so unique with Lamima. How could a westerner describe Indonesia to other people? How are they going to talk to villagers in Sorong or Raja Ampat? How would they talk with the chief of the village? It doesn't make sense. On Lamima, it's 100 per cent Indonesian."
"It's not a monologue, it's a dialogue," adds Gerardin. "A dialogue between the owner, the captain or the engineer. Sometimes I know more than them and sometimes they know more than me."
He admits that the good relationship he has with his crew did take time, and was helped by his previous experience as a crewmember. "The crew are comfortable with me because I told them to be, because I make them feel comfortable." Gerardin, who spends up to three months a year on Lamima, then reveals that when there are no guests on board, he often eats in the crew mess. "I think that the crew are fantastic because they have a very good package and they can see that I am fully behind them. Not only in the money, but it's also about respect and trust." He reports that his vessel has no turnover of crew, an impressive feat for any yacht. Gerardin's experience as a captain underpins his approach to his crew, who are vital to his ongoing success on the charter market. "I trust my captain 100 per cent, I respect all my crew well and they feel it and give it back to me. Every time I go on the boat, it's like visiting family."

Of course, not every future owner will have spent years working as a captain, but the lessons, experiences and seatime that each captain has built up should be respected by owners. Perhaps then, in the yachting world, we should encourage owners to sail a nautical mile in someone else's deck shoes?
---
If you like reading our Editors' premium quality journalism on SuperyachtNews.com, you'll love their amazing and insightful opinions and comments in The Superyacht Report. If you've never read it, click here to request a sample copy - it's 'A Report Worth Reading'. If you know how good it is, click here to subscribe - it's 'A Report Worth Paying For'.