A recipe for success
How much does a yacht's selection of tenders and toys impact its popularity on the charter market?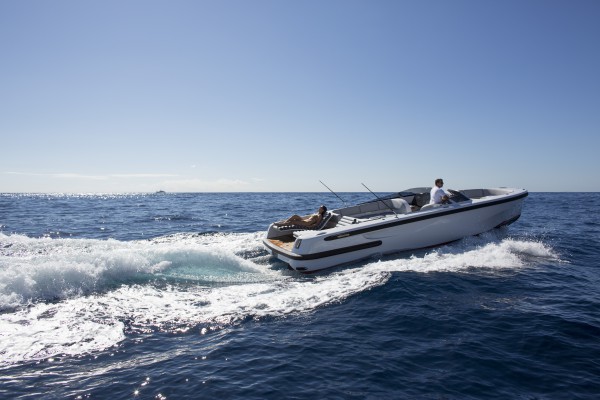 Clients will consider a number of factors before they finally choose their charter vessel: the crew, the location and the price to name but three. But how important is the selection of toys and the yacht's tender? As clients become more discerning in the saturated charter market, more owners are looking to promote their yachts by having a wide selection of equipment available to guests. We speak to a selection of charter brokers to ascertain what clients are looking for,

"With any yacht that is on the charter market, the competition is really fierce and the supply is far exceeding the demand. Therefore, it is absolutely critical that a yacht is outfitted with an incredible array of water toys," begins Shawn Z. Laird, charter management director, North America, at Northrop & Johnson.
Today, owners and captains are engaged more than ever in the purchase and management of the equipment on board. "It is important to most clients looking to have a great vacation, and the number one thing I always tell my new owners is, 'Here is what you really need to have to stay in the competition when placing your yacht on the charter market'," says Laird. The basic selection on board any yacht will include a tender, a jet ski (or WaveRunner), a water ski, a wakeboard and snorkeling equipment.

When looking through the selection of yachts available for charter, the tender is a huge consideration. First and foremost, it is used to transport guests to the yacht at the beginning of their stay, as well as back to shore when necessary. "It is really important to have a large, high-quality tender," says Frances Edgeworth, charter broker for Fraser. "When guests want to go ashore, they do not want to get wet on their way to a fancy restaurant or a club."

In recent years, owners have begun to pay more attention to the design of tenders, seeing them as not just a method to travel between A and B but also part of the whole journey. "Clients are definitely starting to think beyond the yacht itself, and are starting to factor in the entire package, rather than just focusing in on the yacht. They want to look at the amenities, and tenders are a big part of that," says Tom Southern, vice president, sales and marketing, at Pascoe International. "There is no doubt in our mind that clients, be they charter or owners, are paying much more of an active role in tenders than [they were] a couple of years ago," he adds, echoing the sentiments of many charter brokers.
"Clients are definitely starting to think beyond the yacht itself, and are starting to factor in the entire package, rather than just focusing in on the yacht. They want to look at the amenities, and tenders are a big part of that."
When it comes to toys, it would appear the more varied, the better. "Inflatables are king," says Jackie Guenther, charter broker at Denison Yacht Sales. "We see a lot of interest in slides, inflatable trampolines, Jungle Joes and blobs." The only negative aspect to these is the time needed to inflate them; some larger slides can take more than two hours to prepare before they are ready for guests to use. In addition to these, Guenther explains that WaveRunners and Seabobs are hugely popular on the charter market, with each yacht expected to have at least one of each.

Some toys have declined in popularity, and many charter brokers cite the level of accessibility as key to this. Toys that require a certain level of skill or cannot be enjoyed immediately may take a back seat. Anne Sterringa, senior charter broker for Camper & Nicholsons International, says, "A few years ago, a lot of boats left the windsurfer on the shore and took kayaks, as everybody can use them. It gives the client a nice feeling of independence so they can explore and go off by themselves."

Mirroring the rise in popularity in explorer, expedition vessels, many guests are now looking to have more adventurous toys, such as submarines. Erik Hasselman, commercial director at U-Boat Worx, a manufacturer of personal submersibles, believes there is a growing trend of guests wanting to try something different. "I think that people have come to realise that it is not just about sitting on the deck and drinking champagne anymore, and that yachts present a very nice platform to explore. People start with helicopters or scuba diving and then submarines are a logical next step if you want to go a little bit deeper and enjoy a bit more comfort." Although these technologically advanced toys are not for everyone, they offer an exciting alternative for the more adventurous guests.
"I think that people have come to realise that it is not just about sitting on the deck and drinking champagne anymore, and that yachts present a very nice platform to explore."
Interestingly, Laird believes the importance of toys is now also influencing the design of the yacht itself as there has been a shift in the focus and daily use of the vessel. "On a lot of boats now, you're seeing beach clubs, and having one is so important; it goes hand in hand with water-toys activity, from sunrise to sunset," he says. "From my perspective, I think beach clubs are replacing the upper sun deck because that is where everybody hangs out. If you have that, you're going to be more attractive and be above the competition." Whereas, in past years, owners may have seen toys as a small, even insignificant part of the yacht, now the accessibility and stowage is a crucial part of a guest's engagement with – and enjoyment of – the vessel.

A client's request for toys varies from charter to charter. Sterringa explains how the make-up of each individual group is a key indication of their preference for equipment. "If it is a young group with sporty people, water toys will be very important; if it is a family with teenage children, that is also going to be very important," she says. The age group hugely influences the requests for toys, as Edgeworth also explains, "I work with a lot of millennials who are much more likely to want active and explorer toys."
However, the equipment on board can also dissuade a group from choosing a particular vessel. Sterringa continues, "You might have people who hate jet skis and, because of the noise they make, they will not want to take the boat that has jet skis on board. If you charter a sailing boat, you want to have a quieter experience, and the number of toys would not be so important. So it depends very much on the group."

If toys are a key part of a client's wish list, would it be feasible for charter brokers to offer them the opportunity to select tenders and toys from an external list, and these would then be supplied with the yacht for the duration of the charter? There is a certain amount of flexibility, especially with toys that take up a smaller footprint or ones that are inflatable, but this is less practical for tenders. Similarly, with specialist equipment such as submersibles or jetpacks, the importance of crew-training cannot be underestimated, and if the toys are not native to the yacht, the guest's experience and safety could be compromised.
Another option is to have a support vessel that is wholly dedicated to tenders and toy equipment. The advantage of this is that the support vessel can travel ahead of the mothership to set up all the toys in advance. It also allows the mothership's tender stowage area to be utilised in other ways, meaning more room on board for guests.

The significance of toys, and a high-quality tender, is clearly essential to today's charter clients. It is impossible to cater for everyone's individual needs and requirements, but to stay relevant and popular on the charter market a wide range of toys is essential, with the younger clients driving forward the more adventurous – and specialist – equipment. The industry must provide a wide selection of products that caters for as many different tastes as possible if it is retain all of its charter clients.
As we look towards writing The Superyacht Tenders Report, we will be looking into the latest trends in the tender market. We will be reporting on the development of the E-tender market for example, and how this relates to the growing importance of the green agenda and sustainability, alongside examining many of the new products that the tender market has to offer.
Image courtesy of Pascoe International
Profile links
Northrop and Johnson (Brokerage)
CAMPER & NICHOLSONS INTERNATIONAL
---
Click here to become part of The Superyacht Group community, and join us in our mission to make this industry accessible to all, and prosperous for the long-term. We are offering access to the superyacht industry's most comprehensive and longstanding archive of business-critical information, as well as a comprehensive, real-time superyacht fleet database, for just £10 per month, because we are One Industry with One Mission. Sign up here.