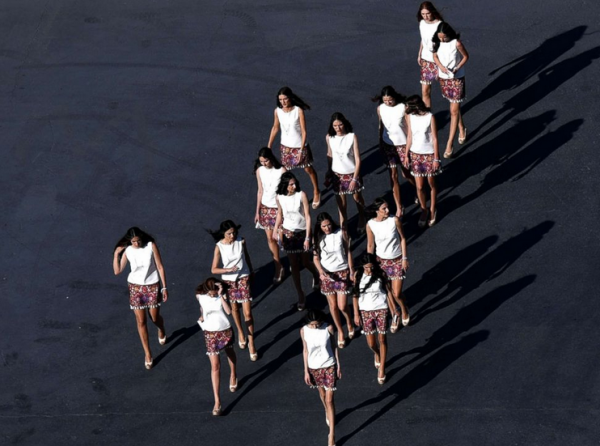 In February of this year, Formula One made an announcement: they would no longer be employing 'grid girls'. Grid girls, who have been an ever-present feature at races across the world for decades, were normally employed to walk around the track before the race, promoting sponsors and interacting with the drivers. Typically young, attractive women, many of the grid girls were models, paid to appear throughout the season at various tracks.
In a statement on the organisation's website, Sean Bratches, managing director of commercial operations at Formula One, explained the reason behind stopping this long-established practice. "While the practice of employing grid girls has been a staple of Formula One Grands Prix for decades, we feel this custom does not resonate with our brand values and clearly is at odds with modern day societal norms." Instead of 'grid girls', Formula One explained that they would be introducing 'grid kids', young motorsport fans who can get up close and personal with their racing heroes. This new initiative was unveiled at the first race of the season in Melbourne last week.
Crucially, Bratches highlighted the antiquated nature of using women to parade around the tracks, "We don't believe the practice is appropriate or relevant to Formula One and its fans, old and new, across the world." By engaging with the younger generation of motorsport enthusiasts, Formula One not only hoped to champion the sport among a new generation of fans, but also modernise its methods of promotion.
Now, anyone who has attended a boat show will not be able to escape the throngs of beautiful young women who work on stands, hand out promotional merchandise or line the gangways of yachts. As the Spring boat show season is almost upon us, should the yachting market take note of Formula One, and perhaps think about its use of models as a means of promotion?
As the Spring boat show season is almost upon us, should the yachting market take note of this, and perhaps think about its use of models as a means of promotion?
There is no doubt that, traditionally, yacht marketing has been prone to stereotype. Part of the lifestyle sold to potential customers is young, beautiful women in bikinis drinking champagne on a yacht; the promotional girls used at shows is an extension of this. However, this message isn't working with the elusive 'new breed' of potential yacht owners. With the ever-increasing prominence of female UHNWIs, superyacht companies should adjust to their tastes (and, to quote Bratches, "modern day societal norms") by moving away from the yachting trope of beautiful young women and (normally) older, wealthy men as the only clientele.
Instead of perpetuating a message that yachting is an 'old boys club' (or, at the very least, a traditionally male dominated past time) by using female models, shouldn't yacht companies market the product itself and the once in a lifetime experiences that can be achieved by spending time on board? This is a more powerful message, and one that might be more in step with the times…
---
If you like reading our Editors' premium quality journalism on SuperyachtNews.com, you'll love their amazing and insightful opinions and comments in The Superyacht Report. If you've never read it, click here to request a sample copy - it's 'A Report Worth Reading'. If you know how good it is, click here to subscribe - it's 'A Report Worth Paying For'.