The best things come in small packages
Is it beneficial to learn your trade on board smaller superyachts before moving through the size ranges?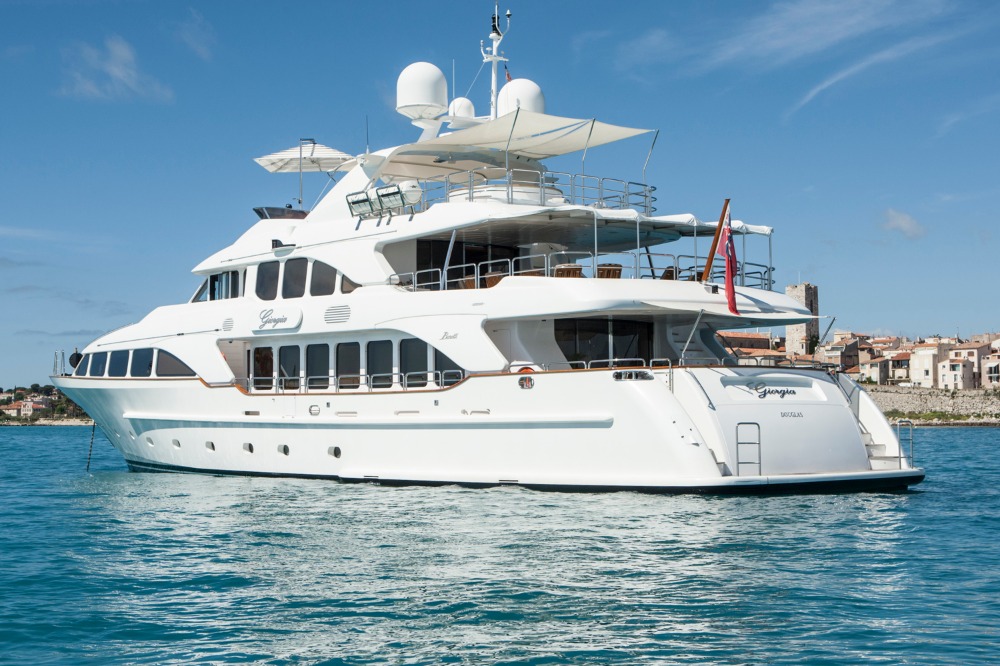 In their haste to join the largest, most prestigious yachts, further their careers and climb the superyachting ladder, do some crewmembers miss out on essential parts of their education? Is it more valuable to start smaller, get a good feel for the industry, highlight a career path and then begin the ascent through the size ranges and towards more senior positions?
"In my opinion, crew that come through the smaller yacht size ranges, perhaps 30-45m to begin with, are far more likely to be exposed to what I consider the yachting basics," says Guy Booth, captain of motoryacht Aurelia, a 37.3m Heesen. "Crew on board these vessels will learn to live in smaller spaces. With smaller crew cabins and mess areas it becomes increasingly important to pack wisely and manage your personal – and other people's – spaces effectively."
This may sound overly simplistic and even patronising, but Booth outlines his dismay at the number of green, or greenish, young crew who have not had to develop these basic skills. On smaller superyachts, there is greater pressure to learn these basic elements of living at sea and they will serve any crewmember well down the line.
"Living within smaller spaces isn't just about learning to be tidy, it's also about learning to live in close proximity to other people, day in, day out,"
"Living within smaller spaces isn't just about learning to be tidy, it's also about learning to live in close proximity to other people, day in, day out," continues Booth. "It's about learning to be patient and tolerant of individuals that you may not agree with 100 per cent of the time. It's about learning to manage disagreements, cultural clashes and different personalities with maturity and maintaining a healthy working relationship in the meantime, for the sake of the owner and guests."
On 100m+ vessels, the crew dynamic tends to be very different. There is no need to get on with everyone when crew numbers can be as large as 60 or 70. As a result, some of the essential people skills that are learnt on board a smaller superyacht, including learning to interact with owners and guests, are simply not required, and this can be to the detriment if those same crew end up moving down the size ranges.
"When you are on board a 35m charter yacht with 12 guests, you will get to know all of them individually throughout the course of the charter," explains Joseph Robinson, lead recruitment consultant at Faststream. "On the largest vessels, you don't really get the chance to engage with owners and guests, and when the situation arises you may not be prepared."
Owner and guest interactions are not always as simple as they may seem. While it is in no way difficult to speak politely, guests do not want to interact with a well-spoken robot. Understanding how the line that needs to toed between professionalism and familiarisation varies from owner to owner, and guest to guest, is all part of the learning process, and this can only be developed through exposure to a variety of people and circumstances.
It is also important to understand how expectations vary through the superyacht size ranges," says Katie Burton, senior consultant at Faststream. "From 30-50m, crewmembers are going to have varied jobs with numerous responsibilities, and the same is true of 50-90m vessels, albeit to a lesser degree. However, when you move beyond 90m, responsibilities are limited to specialist tasks."
Booth explains that while on board Aurelia there is no shortage of occasions where he, as captain, has had to chip in and help out with a variety of tasks if their usual practitioners are otherwise engaged. "Working on a smaller superyacht you learn a real diversity of skills. Upskilling in this way and learning to work as a team will create more potential career pathways, as well as making your skills more desirable to current and future employers."
"Working on a smaller superyacht you learn a real diversity of skills."
The biggest yachts, Booth adds, are, out of necessity, incredibly departmentalised. To run them any other way would be chaos. As a result, employers of vessels are not necessarily looking for candidates that have a limited amount of varied experience, but for candidates who would be content to focus on very specific tasks. For some green crew this may be appealing, for others it may not.
"One past stewardess from Aurelia is now working on a high-profile 100m+ superyacht as the purser," continues Booth. "She highlighted the route she wanted to take in her career and she quite rightly took it. However, I know for a fact she is capable of driving all the tenders on board that yacht, as well completing other necessary tasks." While, in this case, her job doesn't require knowledge of the roles played by other crew on board, knowing what goes into your colleagues' jobs is important in developing a sense of understanding and empathy for what others are doing on board, something best learnt on board smaller superyachts.
More than just instilling an appreciation for what others are doing, developing a variety of skills and learning to engage with guests and other crew is something desirable on any size of vessel, but is best instilled when working on board a smaller superyacht. "Generally speaking, people who have worked on smaller superyachts are more accustomed to hard-work days," Burton explains. "They have a knowledge of how the yacht works, they are a lot more hands on, they work longer hours and they are more prepared to help out with a variety of tasks. They drive the tenders, they've held watches and they have far greater all- round experience."
Booth is prepared to go one step further. When hiring crew, as a bonus attribute, Booth looks for candidates who have experience on even smaller vessels. To really fit the mould, although Aurelia is a motoryacht, Booth wants crewmembers who have experience of sailing and have developed a certain instinct for conditions and how they may affect the yacht. While such candidates are not always immediately available, Booth's point is clear. Qualifications are all well and good, but there is no replacement for experience, time served and breadth of knowledge and skills – and these are easier to come by on board smaller superyachts.
Profile links
---
Click here to become part of The Superyacht Group community, and join us in our mission to make this industry accessible to all, and prosperous for the long-term. We are offering access to the superyacht industry's most comprehensive and longstanding archive of business-critical information, as well as a comprehensive, real-time superyacht fleet database, for just £10 per month, because we are One Industry with One Mission. Sign up here.