Ice, ice ready
How can crew best prepare for the extreme conditions of the polar regions?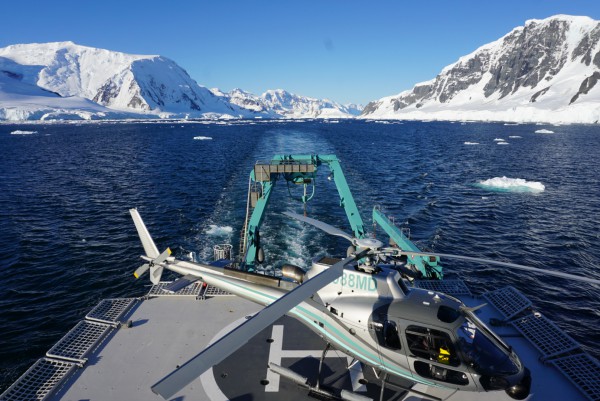 Although the majority of superyacht voyages remain in the hubs of the Mediterranean and the Caribbean, long-distance cruising to remote locations is becoming more popular with both owners and charter clients. Evidently, those who travel to the remote polar regions will encounter conditions very different to those in St Tropez or St Maarten, so in what tangible ways can crew prepare for visiting such climates?

EYOS Expeditions is a company that specialises in planning and executing trips to far-reaching places, and CEO Ben Lyons says they offer a full turnkey of services – from preparing the yachts and its crew, to accompanying the crew on the trip as certified ice pilots. "We will have a pre-polar meeting (PPM) where we go to the yacht and we meet with the captain, the chief engineer and the chief stewardess, and we talk through the planned expedition and we try to give them a sense of what is going to be required of them, and what our roles are going to be," says Lyons.

The PPM is not only an opportunity for the EYOS team to talk the crew through what to expect and prepare for, but also to assess the yacht from a technical perspective, and this will dictate where the yacht can go and when. They will then tailor the itinerary and the programme to meet the capabilities of the yacht, looking at aspects such as frame thickness or visibility from the bridge.

When it comes to regulation for yachts and crew, the International Maritime Organization (IMO) recently adopted The Polar Code. "The Polar Code came into force on 1 January 2017 and will be enforced as of 1 January 2018. And, as of 1 July 2018, all officers in charge of a navigational watch will need to be Polar Code certified," explains Christoph Schaefer, an experienced captain and founder of SuperyachtGLOBAL.
However, this can vary between flag states; Republic of the Marshall Islands (RMI), for example, requires all vessels, irrespective of size, to be compliant but Schaefer explains that the code does not differentiate between private or commercial yachts. "The delicate environment and the difficulty in responding to emergencies dictate that all vessels are compliant with the code, irrespective of their status as commercial or private vessels." It is significant that these environmental concerns of the regions are seen as paramount and the vessel's (and crew's) capabilities are above 'normal' codes of regulations that change between commercial or private vessels.
"The delicate environment and the difficulty in responding to emergencies dictate that all vessels are compliant with the code, irrespective of their status as commercial or private vessels."
Schaefer sees the code as a great step forward for the industry, recognising the number of yachts now visiting these areas, and believes the focus on crew training will improve the safety of vessels. However, Lyons stresses that these courses should not be seen as a direct alternative to years of experience travelling in the region. "The course is great, and it's really useful [but] it's not a substitute for actually having worked in the ice for 10 years," he says. "Five days in a classroom is absolutely not comparable to 10 years in the field. And so because of that, we always put an ice pilot on board from our team. The ice pilot is on board as an advisor, they are there to advise the captain and operators about safe operations and practices when navigating down there."

To become an ice pilot, captains must complete an advanced polar-code training course and demonstrate practical experience within a polar environment. EYOS Expeditions also manages the permits needed for yachts travelling to the region, ensuring the vessels become a member of the International Association of Antarctica Tour Operators (IAATO). "By becoming a member, you are agreeing to certain procedures, policies and protections of the environment, but at the same time you are also joining the IAATO search-and-rescue emergency plan, which is a big incentive as you have a built-in emergency response network," explains Lyons.

Jack Hargreaves worked as an ETO on board a research vessel that journeyed to Antarctica. The yacht spent three months around the Antarctic peninsula, travelling in and out from Ushuaia, Argentina down across the Drake Passage to the edge of the Weddell Sea, and Hargreaves advises any yachts travelling to the area to be thoroughly prepared and expect a huge range of weather patterns. "[Take] a spare set of everything. It's so much more expensive to ship anything down to the remote places on the planet, so it pays to be prepared," he says, adding that such preparation is key to a smooth journey. "For a yacht to go down to the deep south, it needs to prep all running machinery for cold conditions. The AC and heating systems will be put through their paces and all deck machinery will need to be assessed regularly as the extreme cold can have detrimental effects if left unchecked. Ice build-up on deck surfaces can be particularly hazardous to crew safety."

Addressing changes in a yacht's daily management system, Hargreaves explains that as the environment is so delicate, crew need to be aware of what is left behind is their wake. "The entire continent is a wildlife-protected area so no incineration and nothing goes over the side." Hargreaves also advises crew to be extra cautious. "Be aware of the environment you are in. It's one of the last great wildernesses of the planet, so we only take photos and leave footprints."
"Be aware of the environment you are in. It's one of the last great wildernesses of the planet, so we only take photos and leave footprints."
The unpredictable and extreme weather conditions can also affect the mental well being of the crew. Hargreaves explains that everyone on board is at the mercy of the weather, and if it's bad, it can become quite claustrophobic. "We had a great crew family vibe, which was a nice foundation to build on, especially as the weather can be extreme down there. The chances to go outside can be limited, so cabin fever can set in." He adds that as well as potential changes in morale, your body clock can be significantly altered as – depending on your location – daylight can last for up to 20 hours a day.

Although many use the terms 'Antarctica' and 'Arctic' interchangeably, are different preparations required to visit these two regions? According to Lyons, there are two extra factors to consider when visiting the Arctic. Although both regions share many similar characteristics ("You are going to a remote, inhospitable environment full of wildlife and ice," says Lyons), in the Arctic, yachts may encounter the local population of Inuit, whose culture must be respected by visiting vessels. Secondly, and more dangerously, is the presence of polar bears, which dictates that yachts must have a certain amount of weaponry on board.

Hargreaves found that the most surprising thing about his trip to Antarctica was the fragility of the environment. "It's hard to believe such a huge continent of ice, complete with the complement of life it provides for, could be in such danger from people who live so far away. Most of us only see it through a screen and find it hard to visualise from the couch, but it's out there and it is in danger." Lyons adds that in his experience, any negatives of travelling to the region are outweighed by the sheer beauty and impressiveness of the yacht's surroundings. "It's one of the most amazing destinations you can ever go. To go there on such a small vessel is such an incredible privilege."
Image © Jack Hargreaves
This article originally appeared in The Crew Report issue 85.
Profile links
---
Click here to become part of The Superyacht Group community, and join us in our mission to make this industry accessible to all, and prosperous for the long-term. We are offering access to the superyacht industry's most comprehensive and longstanding archive of business-critical information, as well as a comprehensive, real-time superyacht fleet database, for just £10 per month, because we are One Industry with One Mission. Sign up here.