Crew welfare issues
Crew were surveyed about welfare issues, identifying key areas where the industry could improve crew well-being…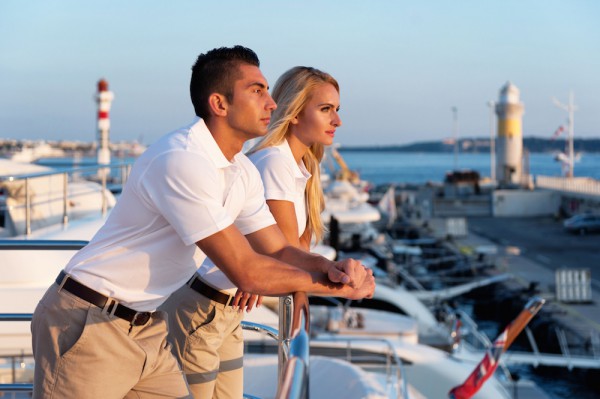 Compared with that of other maritime professionals, the welfare of superyacht crew has received little attention. This is partly because yacht crew do not tend to be grouped in the same category as seafarers working aboard other types of vessels that are perceived to have lower standards of living. Nonetheless, yacht crew do experience many of the same challenges as seafarers in the wider maritime industry, as well as some that are specific to their own sector.
At a time when recruitment and retention are increasingly important, the industry should be prioritising crew welfare across the board. In order to shed light on the situation, MHG Insurance Brokers, the International Seafarers' Welfare and Assistance Network (ISWAN) and The Mission to Seafarers joined forces last year to survey crew to discover their major welfare needs and identify where improvements might be made. Following the survey, which drew responses from more than 400 superyacht crew of varying positions, the data was collated in a report and presented to the industry.
The report highlights some common trends, the first revealing that 82 per cent of respondents had experienced low crew morale either 'sometimes', 'often' or 'always'. The comments attributed this to a variety of factors, most typically poor on-board leadership and lack of management-company involvement or influence, as well as lack of sleep, heavy workloads, inadequate shared facilities for crew and 'stagnant' or 'boring' itineraries. One respondent added that delays in salary payment can lower morale, as can a lack of shore leave.
In terms of mental health, 80 per cent of female respondents reported suffering from one or more cases of work-related stress, compared with 54 per cent of men. Interior crew fared the worst, with 91 per cent reporting suffering from one or more episodes. Many respondents said mental-health problems must be rife among colleagues, given the conditions of yachting: long hours, lack of sleep, little downtime or opportunity for exercise, little privacy, confined spaces and often poor communication and dynamics among crew. A common response was that the 'macho' culture – in which the subject of mental health is a taboo – would likely result in dismissal if mental-health issues were flagged up.
Many respondents said mental-health problems must be rife among colleagues, given the conditions of yachting...
Leadership was also highlighted as a common problem by respondents, with 62 per cent of crew having experienced problems with on-board leadership 'sometimes', 'often' or 'always', compared with 38 per cent of captains. In the comments, the leadership referred to involves not only captains but also other senior crew, owners and management companies, all of which vary in experience, attitudes and practices.
"Our owner is a first-time yacht owner who now lives on board and travels worldwide," was a comment from one captain. "I believe he does not comprehend the demands on the crew, seeing the travel as a kind of paid holiday rather than a challenging job." The effects of leadership also appear to be shaped by the size of the yacht; some respondents spoke of being more valued and made to feel like part of the family on small, private yachts compared to the more 'military' style of larger boats.
Respondents were also asked whether they had suffered discrimination, harassment or bullying from owners, guests or fellow crewmembers and, again, the responses varied between men and women, with 20 per cent of women saying they had experienced this 'often' or 'always' compared with eight per cent of men.
The comments suggest that sexism, ageism and racism are common-place in yachting. "There is certainly age discrimination," read one response. "It doesn't matter if you look young for your age, if you can keep up with the youngsters or even outpace them – if you're too old, you're too old. For captains in particular there are a lot of jobs now where they're not looking for the experienced captain, they're looking for younger captains because they're easier to get to do what you want them to do."
Some of the comments included in the report indicate a keenness to defend the status quo and a resentment of research into welfare that is seen as pandering to a new generation...
Some of the comments included in the report, many from captains, indicate a keenness to defend the status quo and a resentment of research into welfare that is seen as pandering to a new generation, which comes in the context of increasing regulation. Clearly, one of the problems with this sentiment and accompanying culture is the high degree of crew turnover that results. The research highlights some real concerns of crew that need to be addressed by the superyacht sector. As the ISWAN report was intended to launch a collective effort towards realistic improvements for crew, recommendations have been made by its creators for immediate step-change improvements to crew welfare.
These include improving new recruits' knowledge of what to expect as an add-on to initial STCW training; enabling more time for rest and relaxation particularly between charters; more rotational positions that make it possible for yacht crew to maintain a family life; increased involvement and visibility of management companies on board yachts; and a review of grievance procedures to offer an alternative model not dependent on chain of command.
Working on superyachts offers exciting opportunities for men and women and can provide immense job satisfaction. On the downside are the long hours and high-stress environments, the need to maintain perfect poise and deal with difficult situations at times of tiredness and the requirement to keep going regardless of one's physical or mental health. Many will say these issues are simply part of the package, but if the industry wants to improve crew recruitment and retention, simple steps should be taken to address them so that a middle ground can be found between crew welfare and a well-run boat.
Click here to download the full report.
As we collectively become more aware of mental health in the workplace and at home, a newer generation of individuals is emerging with different expectations of how business infrastructures should operate. At this year's The Superyacht Forum, we plan to discuss who will drive, operate, maintain and manage the ever-changing and growing superyacht fleet in the future and how what needs to be done to adapt to the next generation of owners and crew.
At the 2019 edition of The Superyacht Forum, in association with METSTRADE, we are 'Building For the Next Generation' to ensure that our industry will continue to prosper. Join us at the RAI from 18th – 20th November in what will be the most valuable and powerful meeting place for every key superyacht industry stakeholder by clicking here.
---
Click here to become part of The Superyacht Group community, and join us in our mission to make this industry accessible to all, and prosperous for the long-term. We are offering access to the superyacht industry's most comprehensive and longstanding archive of business-critical information, as well as a comprehensive, real-time superyacht fleet database, for just £10 per month, because we are One Industry with One Mission. Sign up here.