A ticking time bomb
What is the reality of complying with the Maritime Labour Convention's regulations of hours of work and rest?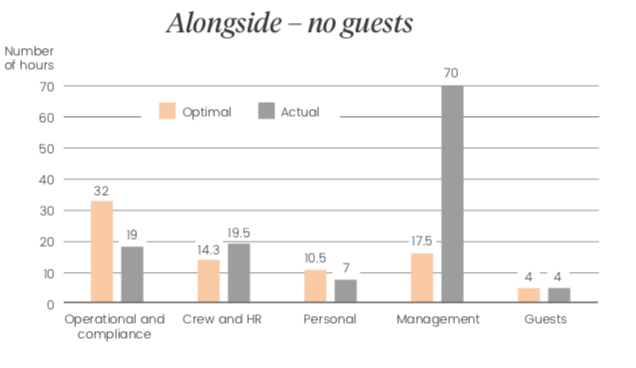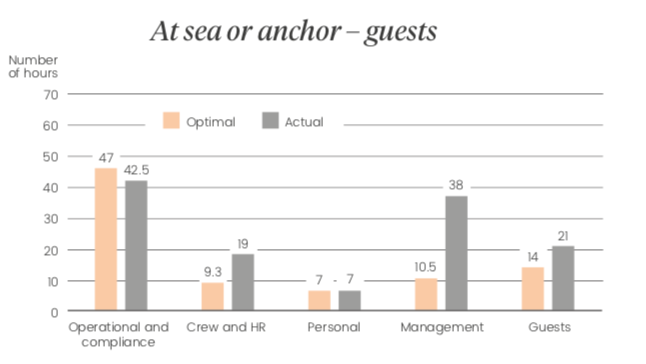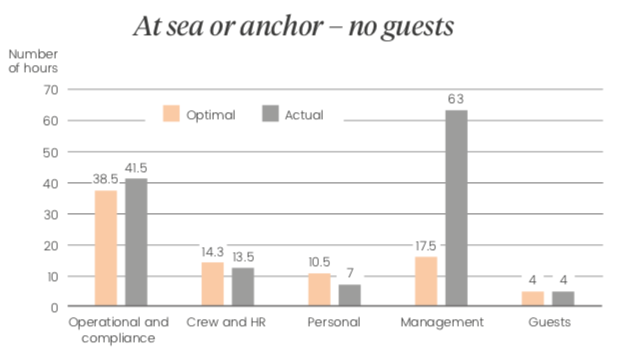 There have been many discussions about the difficulties of complying with the Maritime Labour Convention's (MLC) working hours of rest, but how can these be adhered to and monitored in reality? One captain, who wishes to remain anonymous, submitted his working hours to The Superyacht Group to highlight the difficulties of complying with the regulations.
The data (pictured above) illustrates the optimal working hours of a captain's weekly life, with the actual recorded hours. The three scenarios of himself and a second captain on board (alongside with no guests; at sea or anchor with no guests; and at sea or anchor with guests) indicate the discrepancies between the optimal number of hours and the actual number of hours spent on various situations. The highest difference indicated is the time dedicated to management, with the actual number of hours spent on this being significantly higher than the recommended amount. Similarly, the number of hours spent dedicated to 'personal' time (that is short rest breaks or meals) are much shorter than recommended.
The captain submitted the information to ensure awareness of the current situation and to determine changes to ensure safe operations and compliance. The captain has been chosen as the sample study; the hours of work and rest forms completed by all crew show that this situation extends to the majority, particularly those in senior positions. He also offered the following commentary: "In presenting the 'actual' hours of the captains, this acknowledges non-compliance with a maritime convention, and a non-conform- ance report has been raised with the safety provider. Mea culpa from both captains and there is a commitment to not continue in this manner from this presentation onwards."
Adequate rest is defined as a single period of at least six hours, with a further period that must be provided to a total amount of 10 hours in any 24-hour period. To put it another way, crew can work for only a maximum of 14 hours a day or 72 hours in one week. The difference between 'maximum hours of work' and 'minimum hours of rest' means yachts can choose to comply with one or the other, and the 'minimum hours of rest' actually allows the crew to work for 91 hours in any seven-day period. However, it is well documented that on many yachts, the crew are unable to comply with the regulations.
"It is a very serious topic – no one wants to really fess up to it," says the captain, who foresees that the industry will not address the issues until an accident occurs, and suggests the problems need to be dealt with at the very early stages of a yacht's conception. "It goes back to design; the bigger yachts don't have quite the right amount of manning. There's a systemic flaw, which I believe will end up with a yachting tragedy, due to fatigue, and everyone will brush it under the carpet, which is a shame for our industry."
"There's a systemic flaw, which I believe will end up with a yachting tragedy, due to fatigue, and everyone will brush it under the carpet, which is a shame for our industry."
He laments that lone captains are often used as scapegoats, with management companies or flag states citing their poor timekeeping skills as the reasoning behind non-compliance reports rather than looking at the problem as an industry-wide one. "It's a topic that yachting is trying to hide from. With the larger yachts, the companies that support them aren't administratively strong enough to cope with all the burden, and that then gets passed on to the vessels and, because of that, the captains and senior crew do a hell of a lot of management."
The captain, who is from a commercial shipping background, highlighted how different these two worlds are when it comes to the strict nature of adhering to working hours. He explains how in the commercial sector the captain must log their hours, and if you are in the 'red zone' (i.e. if you have surpassed the number of hours allowed by regulators) you are not allowed to set foot on the vessel. He believes the problem of adhering to restrictions on working hours has been somewhat ignored by yachts as they were seen as just a small subset of the sector. This is gradually changing as yachts grow in size and capacity, as well as being driven by the increasing transition of crewmembers from commercial backgrounds into the yacht world. "Yachting has done very well bypassing regulations for a long time. No one really cared as it is such a small sector within maritime. But as the tonnage gets bigger, the obligations more apparent and more of the people starting in yachting are commercial mariners, then this becomes of greater significance."
As well as highlighting the potential danger of crew fatigue leading to accidents, the captain also cites how breaking the working hours of rest can have a huge influence on the level of crew turnover. Following a particularly busy charter period, crew who are burnt out and overworked will be more inclined to leave, especially if the non-compliance to hours of rest has no end in sight. Although crew are drawn to charter vessels to maximise their income, the long-term effects of overwork and lack of sleep can outweigh the short-term gains of additional tips.
Moral and legal obligations aside, the idea of delaying a charter or cruise because of inadequate crew rest may not sit well with any client wishing to start their journey on their own schedule. The yacht's crew and management are under a lot of pressure to keep to a tight itinerary to accommodate the wishes of the owner or charter client. It would be remiss to not explore the commercial aspect of a busy yacht; during the season, in order to maximise the return on investment, back-to-back charters are a reality faced by many crews – and a welcome one due to the tips. Although it is impossible to generalise, and no finger can be pointed at any single link in the chain of communication between the yacht, manager, broker, owner and charter client, there is an unspoken agreement aboard many yachts to bend over backwards, or indeed bend the rules, to keep the client happy and accommodate as many charters as possible.
Ultimately, if a yacht continues to have non-compliance issues with no action taken to correct them, it is at risk of having its MLC certificate withdrawn and, with it, its capability to operate on a commercial level. Inherently, this threat is what drives the crew to forge documents as they are aware of the consequences that come with continual deficiencies. The risk of the owner not being able to use their vessel, as well as the possibility of crew injury or fatality, should encourage them to instil a working environment on board that adheres to crew hours of rest.
---
Click here to become part of The Superyacht Group community, and join us in our mission to make this industry accessible to all, and prosperous for the long-term. We are offering access to the superyacht industry's most comprehensive and longstanding archive of business-critical information, as well as a comprehensive, real-time superyacht fleet database, for just £10 per month, because we are One Industry with One Mission. Sign up here.