NAUTIQ reveals open-source design files project
Patrick Coote gives TSDF delegates an exclusive introduction to a project that provides designers with proven commercial platforms for designs…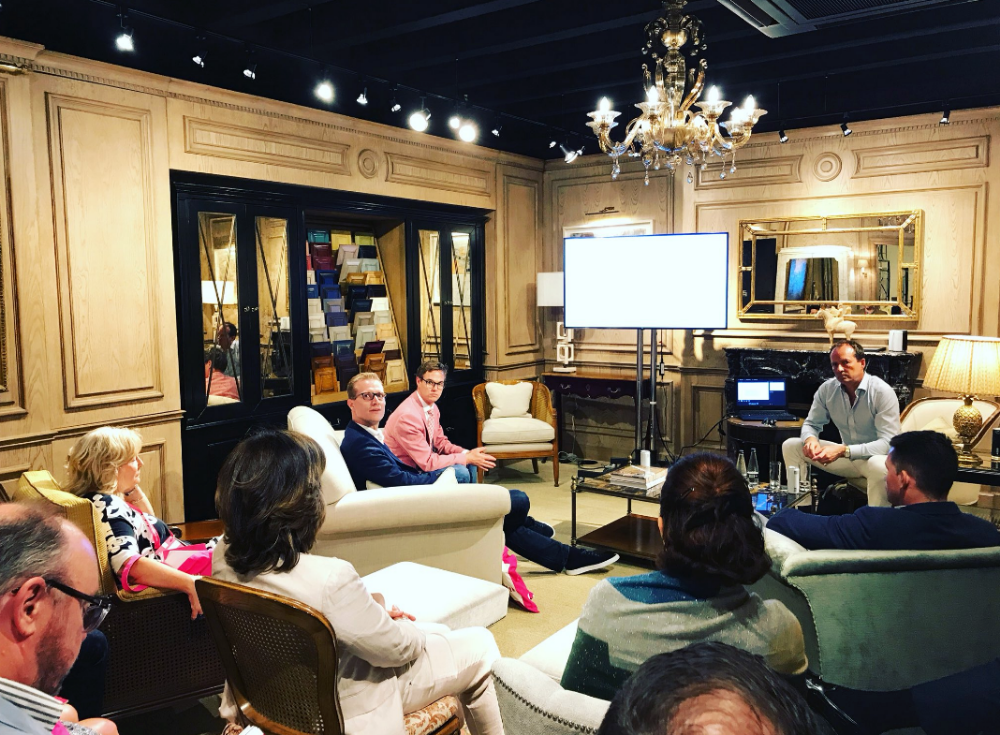 On the opening day of The Superyacht Design Forum, delegates got a sneak peek into a project that family office, NAUTIQ and yacht design company, Vripack have been collaborating on for the past 18 months.
It's a project that, according to NAUTIQ's director, Patrick Coote, fits the brief of younger, more ambitious and increasingly rational yacht buyers; buyers who seek greater tangible value from their vessels and want the assurance and economic efficiencies of a pre-engineered and proven platform, in contrast to an untested and one-off prototype.
Coote explained to the audience that when he arrived at his former company, Blohm+Voss, in 2013, there was a strong focus on extreme, custom engineering solutions driven ultimately by "pure aesthetics". The 95m motoryacht, Palladium, had been delivered three years before and was the 'poster yacht' of the moment, and one of the pages in the yard's sales and marketing presentation was of the yacht's passarelle.
"It was incredible, this passarelle," Coote explained; "the way it folds, the complex hinging mechanism – it was a machine; it was a work of art. It was regularly put forward as an example of what the best of the best looks like, but I always found that to be a little bit odd." Years later, Coote had a conversation with a client who was also questioning if a passarelle that costs a million euros, and is extremely complex and well-finished, gets you from your boat to the quayside any easier than a wooden plank that costs €10.
This led Coote and the client to a wider conversation: "If something is complex, shiny and polished, does it make it more or less fit for purpose? If you can eat your dinner off the floor of an engine room, does that make it a better engine room? Where has the industry gone in terms of what we're trying to deliver our clients?"
Coote and his client began to connect dots on how commercial platforms differ from superyacht platforms. Well, firstly, commercial platforms need to be low-cost to produce; they need a short delivery time because they need to be operational as soon as possible; they need to be built in such a way that the vessel does not sit in the yard for three months per year undergoing maintenance; and they need to be built on a tried and tested platform, which is the outcome of sensible and rational business-minded decisions.
"If something is complex, shiny and polished, does it make it more or less fit for purpose?"
For a new wave of potential yacht buyers, the commercial platforms were ticking many boxes, but could they be 'beautiful' enough repurposed as superyachts? "The word 'commercial' has negative connotations – you think of rusty fishing boats. My perception changed when I visited Ulstein [a Norwegian commercial shipbuilder] in 2014," Coote said.
Coote visited the yard on behalf of a client who had commissioned a design based on one of its X-Bow platform supply vessels (PSV). He admitted that he naïvely had somewhat low expectations of the yard. After all, he was from Blohm+Voss. "I started walking around this vessel and it was absolutely incredible. I remember thinking that there are simply no superyachts on earth with this technical specification, operational capabilities, quality of components and redundancy levels. It was a product that the superyacht world could only dream of."
Building the client's design on that platform wasn't going to be a case of upgrading a commercial platform to make it superyacht user-friendly, but downgrading an incredible, over-engineered and over-powered product to superyacht levels – a complete reversal of our understanding.
At around that time, others also started to pursue similar projects: Ulstein started working with Espen Øino; 107m Ulysses (now Andromeda) was being built by Kleven; Rosetti Superyachts was coming onto the scene; and Damen was receiving serious interest from adventurous owners, so recognition of the usability of these platforms for superyacht designs was growing.
So, NAUTIQ appointed Vripack, which has done the engineering, naval architecture and/or design for over 7,000 commercial and non-commercial vessels, and over the last 18 months they have visited an array of commercial shipyards, predominantly in Northern Europe, which they identified as being of the highest quality.
"We've looked at every commercial platform you can think of," Coote reflected. "We were really delving under the skin to see how the technical spaces were laid out and we began to narrow down a group of platforms that appeared to be appropriate as the foundation for a superyacht design." They were rarely, if ever, perfect in their exact form, but one could benefit from a lot of the design and engineering that had gone into existing vessels.
"We started asking a lot of questions: Does it have the right engine space and arrangement? Is there anywhere for a beach club or owner's staterooms? Could you extend it at the aft or in the midships? If we add superstructure, will it have stability issues?"
"I remember thinking that there are simply no superyachts on earth with this technical specification, operational capabilities, quality of components and redundancy levels."
Coote explained that with manageable adaption, you could build on a platform that has already been used – and fine-tuned – sometimes over 50 times, at a considerably lower price, and still with a full-custom interior and superstructure designed according to the client's wishes by the designer of his or her choice.
The outcome of their quest for suitable platforms is that NAUTIQ has entered into agreements with several different commercial builders and have secured the exclusive rights, firstly to adapt their platforms and secondly to market them within the superyacht sector.
Over the next few months, they will launch open-source design files of all the platforms, which will be made available free of charge to yacht designers, allowing them to customise the superstructure, interior and general arrangement while working around the fixed, 'red-line' engineering areas.
"It gives yacht designers and buyers the security of a proven platform, which allows for faster designs for clients, better pricing, faster engineering and a faster project." The platforms will be free of charge, and the remuneration for NAUTIQ is via a simple licence agreement with the yards if and when a project goes to contract.
At the end of Coote's session at The Superyacht Design Forum, a member of the audience asked whether it was possible to transfer the platforms between the yards for the best price, and I think it's worth highlighting that, as Coote rightly answered, it would not make sense to do so because you lose the efficiencies that this project is vested in creating.
It would only make sense to use the yard that ultimately engineered the platform and has already built multiple vessels based on that platform. If a client took it elsewhere, the yard would have to start the pre-engineering work from scratch.
It's a very clear trend that clients want a more fulfilling experience from their yachts, so this is undoubtedly a positive step, because we, as an industry, must strive to design and build products that can deliver the desired experiences for clients. And with a more logical and rational approach to the entire process, we can deliver a product that is better value for money.
Profile links
---
Click here to become part of The Superyacht Group community, and join us in our mission to make this industry accessible to all, and prosperous for the long-term. We are offering access to the superyacht industry's most comprehensive and longstanding archive of business-critical information, as well as a comprehensive, real-time superyacht fleet database, for just £10 per month, because we are One Industry with One Mission. Sign up here.