Baltic 142 features Dynamic Stability System
Baltic Yachts' latest in-build carbon composite project hosts an innovative package of new technologies…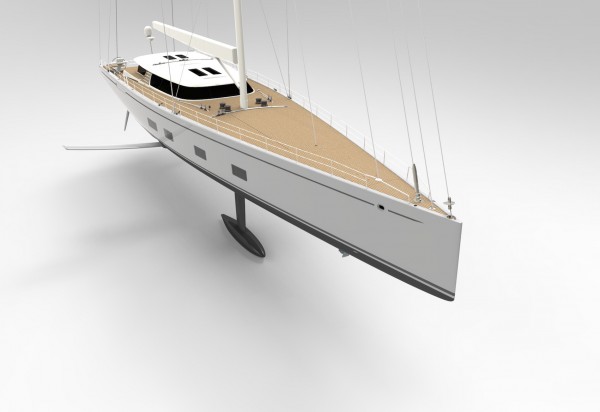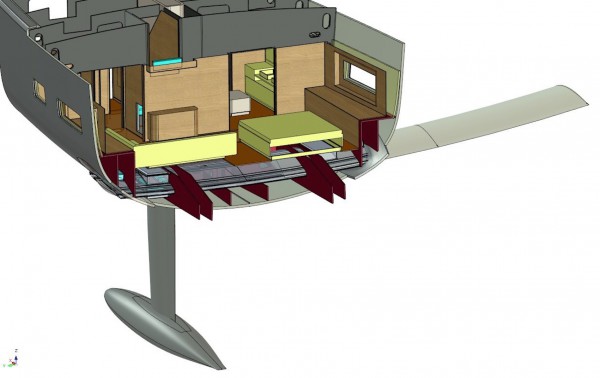 Currently under construction at Baltic Yachts and scheduled for delivery in 2019, the carbon composite Baltic 142 custom sloop will be one of the most technologically advanced high-performance sailing superyachts on the water. Commissioned by an experienced yachtsman and repeat Baltic client, the project is designed for fast and comfortable long-distance cruising. Significantly, the yacht will be equipped with a Dynamic Stability System foil that, when deployed to leeward, creates lift to dramatically reduce heel, increase speed, dampen pitching and enhance comfort.
The Dynamic Stability System (DSS) will comprise an athwartships, 9m-long moving foil, built into the yacht just below the waterline. This technology has proved highly effective on smaller yachts, but this will be the first time it is used on a yacht of this size. To keep a yacht upright, traditionally lead is added to the bottom of the keel, and on race boats crew are placed on the rail. This has been taken a step further with movable ballast solutions in the form of water ballast and canting keels, with both features having been implement on superyachts. The DSS, however, provides an appealing alternative with other persuasive advantages.
While canting keel or water ballast systems weigh down the weather side of the boat, DSS technology works in the opposite way: it lifts a boat's leeward side. To do this a lifting foil, mounted just above the waterline when the boat is upright, is projected out from the leeward side of the boat. During manoeuvres the foil is slid to the new leeward side where it generates lift, forcing the boat to sail more upright, thus allowing it to be trimmed for more speed. Additionally, the foil's position underwater dampens pitch and roll, improving rig efficiency while reducing motion and strain on the helmsman. Velocity prediction figures for the Baltic 142 are also indicating anything between a 5 and 20 per cent increase in speed with the foil deployed, depending on conditions.

America's Cup technology from Ben Ainslie Racing (BAR Technologies) in Portsmouth UK is being used to help design and engineer the roller bearing and drive systems which enable the foil to deploy under load and extend 6.3m to leeward. "The foil will run on four sets of 25 composite roller bearings contained in titanium cassettes," explains Roland Kasslin, head of research and development at Baltic Yachts. "The outboard cassettes will bear the upward load and the inner cassettes the downward load when the foil is deployed."
In terms of the DSS technology's safety, the foil extends outboard less than the boom or the mast when the boat is heeled, so it is unlikely the foil would come into contact with another yacht or structure. It is, however, designed to break away on impact. Without the DSS foil, the yacht would maintain sufficient stability from the keel and, while the sails might need adjustment, the yacht would remain safe – any certified yacht is required to have minimum stability.
In conjunction with Farr Yacht Design and composite engineers Gurit, the design team has built a slight blister into each side of the hull to increase beam locally and provide a greater distance between the two sets of bearing cassettes to spread the loads more efficiently. The team has also invested considerable resources into ensuring the foil is reliable in operation and is completely safe in all conditions. The foil will be moved using an electric captive winch positioned at deck level.

Baltic Yachts is coordinating the design and engineering team for the project, which includes naval architects Farr Yacht Design in the USA, composite experts Gurit in the UK, Infiniti Yachts (who developed the DSS technology) and ISOTOP Composite in France (who are building the carbon/foam foil).
An interesting consequence of using the DSS foil is the knock-on effect it has on the yacht's righting moment, as explained previously, which in turn affects the amount of ballast the yacht needs and has a bearing on rig design and sail plan. To extract good performance from modern boats with big sail plans, most have significantly more weight in their keels than would be required for safety. More weight means more sail, and more sail means greater rig height, which in turn means a deeper keel and more effort to move the boat in light air, not to mention more cost. The implementation of the DSS, however, means less keel weight is required as the foil provides stability, meaning less sail, less draught and less overall displacement. Building the lightweight, easily driven hull in carbon composites ideally suits the system – the Baltic 142 will displace just over 140 tonnes lightship.

Gordon Kay, and his team at Infiniti Yachts, has been key in developing the DSS over the past eight years and is working with Baltic Yachts to optimise the 142's performance. "We are in a new era of efficiency – sailing with DSS is about efficiency rather than brute force," he says. "This isn't just about speed but increased stability, reduced heel angles and much less pitching, making for a far greater level of comfort." Kay adds that in 25 knots of true wind just aft of the beam, the Baltic 142 could reach 25 knots of boat speed in flat water with about 9° of heel (more than 10° less than a conventional yacht and five knots or so faster).
Other features of the Baltic 142 will include a square-top mainsail, an automated running backstay system and two underdeck sail storage drums. Dutch carbon spar specialist Rondal is providing the mast and rig package. North Sails is studying an innovative quadrilateral headsail design with two clews.
Heading up the naval architecture team, Farr Yacht Design has drawn a yacht with a straight stem and subtly aggressive lines. The Baltic 142's accommodation for eight guests in four cabins has been styled by Lucio Micheletti who, in conjunction with Farr Yacht Design, is also responsible for the outboard look and deck styling, including the unusually long, solid bimini that extends over the cockpit. With powered windows, which lower at the touch of a button, the cockpit provides an inside-out environment with natural airflow and complete sun protection. The focal point of the interior will be a deck saloon with panoramic views outboard and direct access into the cockpit areas.
The project is also breaking new ground for the yard with a diesel-electric propulsion system that will aim to reduce fuel consumption and be considerably quieter than conventional systems. Because of its high voltage capacity, the system will drive equipment that would traditionally be operated by heavy and space-hungry hydraulics, including the bow thruster, rotating stern drive leg and captive winches.
Under power, the Baltic 142 will not be driven by a conventional internal combustion engine, but by a magnet motor directly connected to the propeller leg protruding beneath the hull. A permanent magnet motor uses magnets instead of wound copper bushes and is much more efficient. Because of its small physical size compared to an induction motor, and high-power output, it needs to be water-cooled.

"The propulsion motor will be powered by six banks of lithium ion batteries, which in turn will be charged by two generators," explains Kim Kolam, electrical design engineer at Baltic Yachts. "Between them they can produce 420kW – enough to propel the yacht at full power and run all hotel and sail handling requirements simultaneously." Kolam adds that in quiet ship mode – using battery power only while underway – the yacht could run for about six hours at half speed.

To make a system like this possible, it operates on what is known as a mid-voltage level of 700 volts so that equipment can be run electrically rather than hydraulically. Other advantages include a saving in weight due to smaller cable sizes and reduced noise and vibration.
In addition to the package of performance-enhancing technology, the yacht is being designed to be service friendly. "This yacht is equipped with a lifting keel which can be locked in position to take the yacht's weight so that she can sit on her keel safely, use a synchro-lift or dry dock and not have to depend on a crane or a large mobile lift," concludes Henry Hawkins, CEO at Baltic Yachts. This means that when the yacht is in more remote parts of the world, she can use commercial facilities, rather than have to seek out specialist yachting centres which may not be practical.
In a further move to reduce the hassle of unscheduled maintenance, the assembly of the diesel electric propulsion system has been contracted out to Visedo, a specialist company headquartered in Finland with a global service network. The Cummins diesel engine element can be serviced almost anywhere in the world and the electric motor or permanent magnet motors and their control systems have been well tried and tested in other fields.
While this latest Baltic project looks to push the boundaries of technology found on most modern sailing superyachts in many different ways, perhaps the most exciting feature will be the DSS foil. The commercial DSS story has been one of gentle growth as acceptance has taken longer than expected, especially when considering the gains are across the board in terms of both performance and comfort. The systems may have first been adopted by small racers and maxi yachts almost 10 years ago, but seeing it on board a 43m project just shows that the technology has made serious gains.
The development team claims that the biggest interest in DSS is now coming from yachts over 30m, as well as from mid-size performance yachts. One of the greatest benefits of DSS for superyachts is that it finally represents the solution to the perennial design issue of never being able to have a deep enough draft. On a superyacht fitted with DSS, the displacement can be reduced, with the added stability provided by the retractable foils, producing the increase in performance and comfort increasingly sought in the sector.
Profile links
---
Click here to become part of The Superyacht Group community, and join us in our mission to make this industry accessible to all, and prosperous for the long-term. We are offering access to the superyacht industry's most comprehensive and longstanding archive of business-critical information, as well as a comprehensive, real-time superyacht fleet database, for just £10 per month, because we are One Industry with One Mission. Sign up here.