The sense of freedom, the rushing wind and water: experiencing the sea on a yacht moving in perfect harmony with nature is a passionate experience.
Since 2007, the same passion has been driving Solbian to produce Solbianflex photovoltaic panels: innovative, flexible, light and highly efficient. They provide energy where it is needed, a natural and environmentally-friendly source.
Giovanni Soldini was one of the first sailors to choose Solbianflex panels for his adventurous oceanic crossings, testing their quality and reliability in the harsh conditions on board.
Solbianflex panels are particularly suited to sailing yachts, but they are equally suited to applications in electric mobility, caravans and campers, trekking, tents and mountain huts, emergency structures and building integrated projects.

Many good reasons for choosing Solbian:
Because we guarantee the quality of the product and its duration in time.
Because our panels are very resilient, thin (less than 2 mm) and extraordinarily flexible, able to adapt to curved surfaces, such as the deck of a boat.
Because our panels are ultra-lightweight: only 2.1 kg per square meter, compared to 12 kg and more of traditional panels.
Because we manufacture the SP series, with the most efficient solar cells on the market: high power even in very small dimensions.
Because our panels are bespoke to the customer's requirements: clients can choose the number of cells, colour, shape and electrical characteristics to obtain a result that suits their needs perfectly.
Because the ease of installation, both permanent and removable, is one of the strengths of Solbian: from structural adhesive to steel eyelets, all the different fixing methods provide easy installation.
Because we offer a wide range of accessories, designed and manufactured for the marine industry.
Because Solbian panels have been tested in extreme conditions by great heroes of sailing: Giovanni Soldini, Ambrogio Beccaria, Boris Herrmann and many others.
Because our products are certified according to IEC 61215, IEC 61730 and IEC 61701 (salt mist). Solbian has also obtained ISO 9001 Quality, OHSAS 18001 Safety and ISO 14001 Environmental certifications.
News summary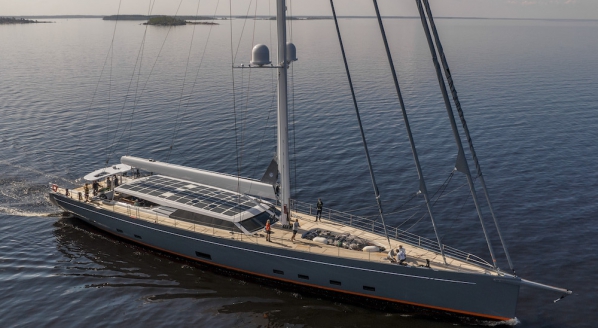 Baltic Yachts will present the 146 PATH at Monaco Yacht Show with the largest solar system installed on a sailing yacht…
Technology
Press releases
No press releases