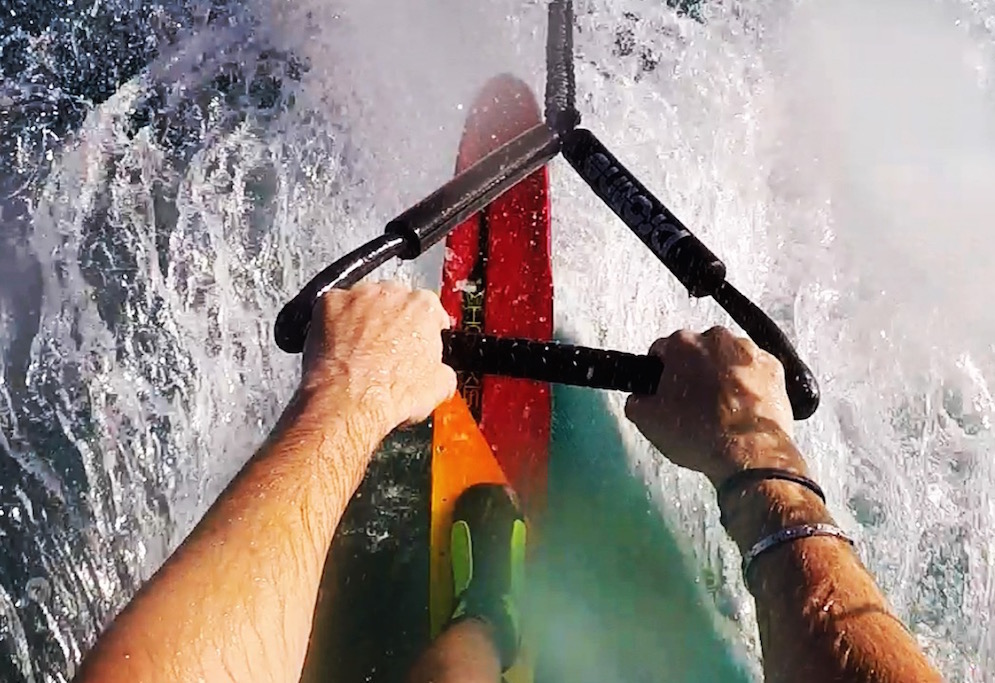 The Royal Yachting Association (RYA) has launched 'A Voluntary Code of Practice For Watersports In the Superyacht Industry'. Launched last week at the Monaco Yacht Show, Richard Falk, RYA training manager and chief examiner, is quite clear in the reason for launching the code of practice: "Because crew are trained on yachts, not toys".
The crew sector is one that is seeing increasing regulation, but Falk points out watersports is one area that lacks regulation – which, if we don't want regulation, is not necessarily a bad thing. "On-board watersports are generally unregulated. The only way to keep them unregulated is to self-regulate," Falk explains.
The code, launched at the Professional Yachting Association (PYA) Headline Sea Changes Forum during the Monaco Yacht Show, is voluntary. There is no legal requirement (yet) to adhere to it. But the code itself does not give guidelines on various watersports practices; it offers guidelines on what to think about when putting together a yacht's individual procedures for watersports. "It's about assisting you in what you need to think about when setting up your own procedures," explains Falk, who adds that the code "is not a one-size-fits-all solution".
The code, which can be downloaded here, begins by confirming Falk's above statement, clearly reading: "The following pages are not intended to provide all the answers, but rather to assist you in knowing what questions to ask in determining how watersports activities will be managed on board your vessel."
---
"On-board watersports are generally unregulated. The only way to keep them unregulated is to self-regulate."
- Richard Falk, training manager and chief examiner, RYA

---
The advice considers number of factors, including concurrent activities ("Having two activities running concurrently with conflicting safety management requirements may appear simple in theory but in practice could prove less than safe. Consider running a timetable of activities grouping together sports that complement each other."), lookouts ("Having dedicated lookouts on board the mother ship can augment the safety cover of the group") and the different between tuition or fun sessions ("Understanding the needs and experience of your group prior to their arrival on the bathin platform is the key to the successful outcome of your session").
A highly pertinent section of the code is guest alcohol consumption – something, having spoken with a number of crew about this recently, is a problem in the context of watersports. "While crew may well be unable to influence the consumption habits of an on-board guest, the risk of accidents on the water can be rescued through more subtle measures. By scheduling on-water activities for earlier in the day or around times where guests are less likely to have been drinking, you will be enhancing their safety while not being seen to be impinging on their fun," the report states.
The guidelines also focus on the role of the safety boat, highlighting its primary function ("to ensure the safety of all those participating in activities afloat"), and therefore what must be considered when selecting an appropriate safety boat, from capacity and visibility to crew numbers and equipment.
Always a point of focus for the RYA, and quite rightly, is its advice about kill chords. This is an area Falk feels very strongly about and, quite openly tells
The Crew Report
, "Anyone who doesn't wear a kill chord on a boat equipped with one is a bloody idiot."
Download A Voluntary Code of Practice For Watersports In the Superyacht Industry
here
.
Image courtesy of watersports expert Captain Carl Sputh, M/Y
Starfire
---
If you have enjoyed reading this article, you'll love our upcoming event, The Superyacht Design Forum, taking place on 25 - 26 June 2019 at Design Centre, Chelsea Harbour. The Superyacht Design Forum provides anyone in the superyacht design world with a unique opportunity to explore new thinking and share smarter solutions for the future of superyachts. To find out more or to register, click here.