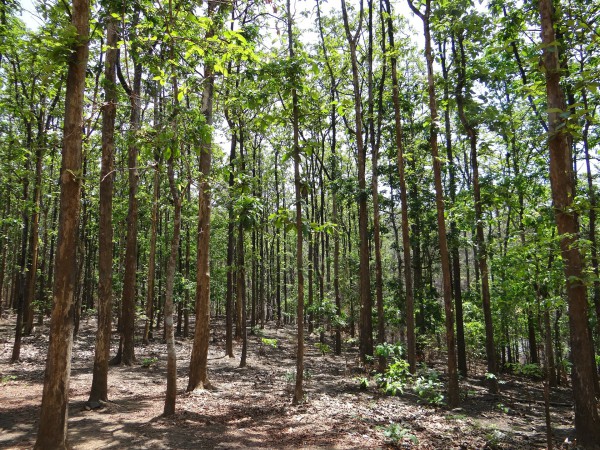 There are a number of restrictions on rare skins, minerals and stones that impact on the design of a superyacht. This allure of rarity often means that owners request such materials, but how can designers ensure that they are sourcing them in a sustainable way?
Adam Grant and Sarah Hickman, from the non-governmental organisation NEPCon led a discussion on the procurement of rare and illegal materials at The Superyacht Design Forum. Grant highlighted the quandary of sourcing legal, responsible teak from Myanmar. The organisation have been working on sustainable land and trade of forest commodities for over 20 years.
NEPCon have a platform that helps identify the provenance of materials. 'The Sourcing Hub' aims to carry out due diligence when it comes to legally sourcing items from across the globe. Free to use, the hub features details on the commodity, the country of origin and data on the level of responsible production.
The session outlined the history of Burmese teak, and why it is such a controversial material. Forests cover approximately 48 percent of Myanmar, and virtually all of these are publicly owned. The current political climate in the region means that the implementation of protection laws can be difficult. The government has recognised that the current systems in place have not been effective, but they have started to develop a comprehensive method to ensure a chain of custody. "The chain of custody is tracking the materials when they are coming from the source into Europe or the United States," explained Grant.
Prosecutions under the EU with these timber regulations has impacted the superyacht industry, with the presentation referencing a number of vessels and shipyards that are currently being prosecuted because of illegally sourced teak. However, the high level of discretion in the market means that many of these cases don't come to light.
Does the industry know that they are sourcing illegal teak? Or are they turning a blind eye? "We have a list of requirements for procurement" said Grant. The NEPCon team also highlighted the lack of awareness some contractors and suppliers have about the legal ramifications of not being diligent about their sources.
"Transparency is here already, the internet is making it impossible to hide. People need to embrace it," argued Grant. The presentation outlined that more and more countries are realising that they need to implement these trade legislations to protect themselves.
Grant also noted the community issues that can be encountered in forestry. Conflicts over land resources and the consideration of indigenous peoples are issues that need to be addressed. However, he acknowledged that as a Europe-based superyacht designer, it can be hard to check this, but it is changing.
NEPCon outlined the ways that those sourcing materials can ensure they are being diligent. Hickman recommends knowing the supply chain, obtaining and verifying documents, consulting regional stakeholders, carrying out on-site certification and avoiding certain products.
"We are a mission-driven organisation" explained Hickman, who is hopeful for more organisations in the superyacht market to embrace the information that they are committed to sharing.
---
If you like reading our Editors' premium quality journalism on SuperyachtNews.com, you'll love their amazing and insightful opinions and comments in The Superyacht Report. If you've never read it, click here to request a sample copy - it's 'A Report Worth Reading'. If you know how good it is, click here to subscribe - it's 'A Report Worth Paying For'.