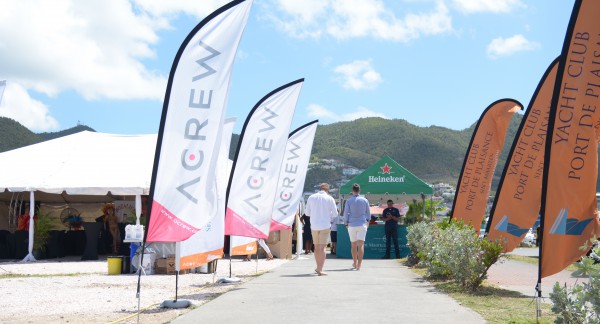 The Easter weekend saw a number of crew and industry professionals join together for the Sint Maarten Rendezvous. ACREW, who organised the event, said that it was a 'celebration of the island's resilient people.'
The programme was dedicated to a number of educational workshops, providing an opportunity for crew to socialise and also champion the region following the destruction caused by the hurricanes in late 2017. With crew and industry professionals from all over the world in attendance, much of the discussion focused on the importance of the yachting community gathering together to support the region. Grant Morris, first mate on M/Y Adastra urged yachts to "come here and stimulate the economy."
He added that the local economy is dependent on the yachting community spreading the word that the area is open for business, and that the region had made leaps and bounds recently. "Once word of mouth goes out about how awesome it is, it will encourage people to revisit Sint Maarten. It was devastating to see what had happened but I can see the people on the island have worked hard to get back on their feet. In the short time that I have been here, I have seen a big difference already. It shows how proud the people are about the island," he said.
Brendon Scanlon, mate on board S/Y Nakupenda, echoed this viewpoint. "Financially support the marinas, supermarkets and the restaurants. It is a lot easier for marinas to keep open with having boats sitting on their docks. Provisioning in the supermarkets, spending money in the stores, bringing tourists to the island. People are coming together as a group to rebuild, coming together as a nation."
"ACREW felt strongly that the 2018 event should go ahead despite the challenges caused by Hurricane Irma in the fall of 2017," explains Corinna Blanke, community manager for ACREW, speaking to SuperyachtNews. "We are proud to work alongside such a first class destination and look forward to watching our annual event grow over the next four years." The discussions and presentations over the course of the two days covered a range of topics, from financial security to cocktail making.
As the host marina for the event, Jesse Peterson for Yacht Club Port de Plaisance, explained the reason why it wanted to open its doors to the crew and industry professionals. "We differentiate ourselves from other marinas because of our crew focus and values. We believe it is important to promote crew, for them to develop their skills. We think it is necessary to keep on with the event to present that Sint Maarten is open and ready."
Speaking on the positive recovery of Sint Maarten, Peterson said that he had found "the turnout and overall support overwhelming," and that the presence of yachts in the region had been much more prominent than he had expected. "The occupancy and amount of yachts coming to Sint Maarten were much better than we anticipated. Not even four weeks after Irma, the first yacht, Orinokia, berthed in Yacht Club Port de Plaisance."
The event's success, as well as the prominence of superyachts in the region, is indicative of an area going from strength to strength after the destruction of last year.
---
If you like reading our Editors' premium quality journalism on SuperyachtNews.com, you'll love their amazing and insightful opinions and comments in The Superyacht Report. If you've never read it, click here to request a sample copy - it's 'A Report Worth Reading'. If you know how good it is, click here to subscribe - it's 'A Report Worth Paying For'.